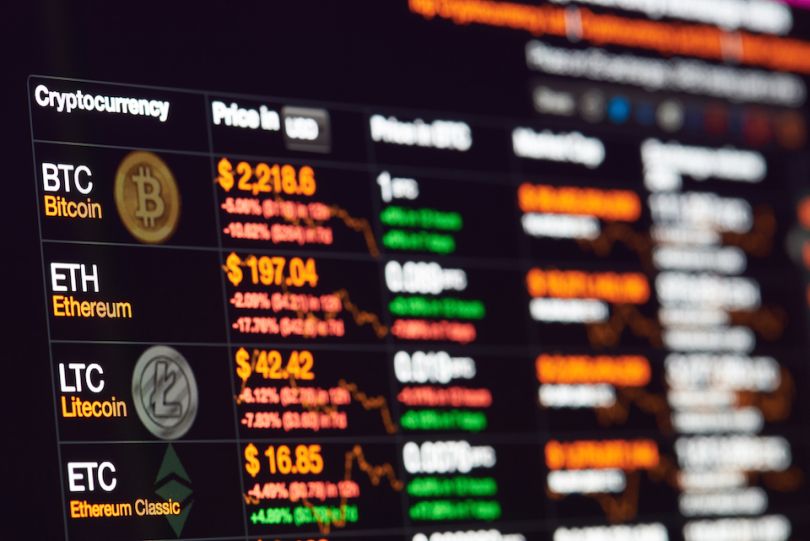 The cryptocurrency exchange market continues to wobble. Currencies plunged in November, while Bitcoin — despite losing 40 percent value in less than two weeks — modestly increased its share of the total cryptocurrency investment pool.
In other words: While the crypto market is mercurial, people seem to be sticking by Bitcoin.
Even still, at an investment conference in New York, chairman of the New York Stock Exchange Jeff Sprecher told an audience that, despite the ups and downs, digital assets would "unequivocally" survive to trade another day.
To understand where the market is headed and what that means for investors past, present and future, we turned to the experts.
Here's what Micah Winkelspecht, CEO of the Venice-based cryptocurrency and blockchain startup Gem, told us about today's crypto market.
Disclaimer: Though Winkelspecht has been working with crypto since 2013, he cautions that he's not a financial advisor and has crypto investments of his own.
The crypto long-view
Since its inception, cryptocurrency has seen its fair share of peaks and valleys.
"Like all boom and bust cycles, the cryptocurrency market reaches its peak and then comes back around," Winkelspecht explained.
The last major cycle peaked in December of last year — and according to Winkelspecht, it was huge.
"It was unlike anything I've ever seen. A lot of people compare it to the dot-com boom and bust cycle, and it's true that they do act similarly. But the scale of where we are in crypto is tiny compared to the dot-com cycles, where we were talking about trillions of dollars in valuation," he said.  
Right now, crypto has a total market cap of around $150 billion, down from its peak of $500 billion, he told us. Many experts agree it will go back up — but there's more than one way for the market to grow.
In terms of user growth and general crypto awareness, it's night and day since when we started Gem in 2013."
"In terms of user growth and general crypto awareness, it's night and day since when we started Gem in 2013," said Winkelspecht.
In 2010, when the CEO — then a software developer — first started tinkering with crypto, Bitcoin was the only currency on the market. That's certainly not the case anymore. This month, there are more than 2,000 cryptocurrencies on the market and over 15,000 markets, according to CoinMarketCap.  
And in the coming months, there could well be an uptick in investment activity. The holiday season is a big time for crypto knowledge sharing as families get together and talk about things like work, news — and investments.
According to Winkelspecht, there's generally a swell in interest concerning the crypto market following the holidays. We're certainly seeing early signs of that this year, with Google search volume around the topic spiking.   
The crypto learning gap
The promise of first-time cryptocurrency investors just around the corner presents a business opportunity — and that's where companies like Gem come in.
According to Winkelspecht, the most common way to track cryptocurrency assets is using Excel spreadsheets — and maintaining these sheets can be an unbelievably opaque and complicated process. Gem, which launched a personalized crypto portfolio app last month, is building a suite of products to help simplify things for investors.
"When you invest in crypto, you have to track what you have and where it is by hopping from account to account," said Winkelspecht. "Traditional finance doesn't work that way. When you want to buy a stock, you place an order through a broker and it's routed through many different exchanges." 
That's a problem for today's investors. But on the horizon is a new wave — people who are mulling crypto over but haven't yet taken the plunge.
"A large part of our app is geared toward helping our users discover and learn more about what they're investing," Winkelspecht said.
With that in mind, Winkelspecht left us with a few tips:
Tips of the trade
1. Yeah, it's volatile. "It is a risky investment," Winkelspecht told us. "There's no doubt about it." But it's also a market with a lot of opportunity. Things are happening — fast. "I always believed in the impact of this technology. The time horizon was just a little shorter than I had thought," Winkelspecht said.
2. The real hype is in the infrastructure. The excitement surrounding crypto extends well beyond the dream of making a quick buck. "You have to look at it like the internet in the '90s — it was hard to see what it would become. Crypto is like that. The infrastructure is being built, but we haven't seen those killer apps that drive demand," he said.
"The reason people are so excited about [crypto] is that they recognize the underlying technology will create a framework for how the future of the internet will work."
3. Be smart. This one is simple. "Never invest more than you are willing to lose in this space, because there's always a real possibility that — in the short term — you might lose it," he said.