For years, professionals have had a love-hate relationship with Fridays. On one hand, it's just a few short hours until two blissful days off, but on the other, you still have to roll out of bed and show up to work.
Tech employees are no strangers to working hard, which is why many local companies like to implement special Friday policies as a reward for a good week's work.
For PlayQ and Hawke, Friday policies are a way to strike a balance between helping employees diversify their skill sets and establishing a fun, friendly culture. We spoke with them to learn more about their programs.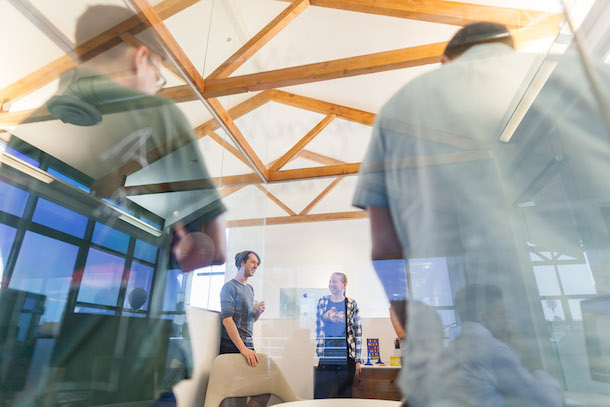 When mobile game developer PlayQ launched back in 2007, its founding employees decided Fridays would be spent exploring their new home: Santa Monica. Every week, the team would check out a new beachfront restaurant. Ten years, and many new employees later, the company is still all about its Friday meals, but now, the food comes to them.
How does PlayQ make Fridays special?
"Every Friday, our team gets together in the office lounge to enjoy a lunch catered by our favorite local eateries like Bludso's BBQ or Tuk Tuk Thai," said Ashley Bathe, recruiting manager. "However, the food is never the main event at a PlayQ lunch! We stream employee-curated playlists, break out old school board games (Operation is a huge crowd pleaser and Jenga never gets old) and power up the PlayQ-built arcade — all while enjoying the views of the Santa Monica Pier and the Pacific Ocean."
How did the routine start?
"This tradition goes back to the earlier days of PlayQ," she said. "Our team would pick a different beachside restaurant to try every Friday in an effort to explore our neighborhood together. Recently, our team went through a significant growth period so we brought the fun in house!"
What does it say about company culture?
"Our Friday lunch tradition was built around spending meaningful time together and it speaks directly to our company values," Bathe said. "The various components of the team lunches that have evolved over time are all strong reflections of the culture at PlayQ. At one point, it was suggested that we purchase an arcade at HQ to play during team lunches, and instead of ordering a prefabricated setup, the team came together to build a one-of-a-kind PlayQ arcade. Each member of the team contributed to the project, whether it was creating the spec docs, designing the custom graphics, purchasing the hundreds of required parts, assembling the internal hardware or painting the final touches on the body!"
What do you enjoy most about Fridays at PlayQ?
"More than anything, I enjoy the social component of team lunches," said Sara Tillotson, director of operations. "Our team is genuinely interesting, so it's always fun to hear about [people's] weekend activities. From baking macarons to re-upholstering old furniture to hiking the Sequoias — there are so many things that make our team unique, and team lunch is the perfect time to get to know each other better. I'm so happy that this tradition has grown with PlayQ over time and I'm excited to see how it evolves as we continue to scale!"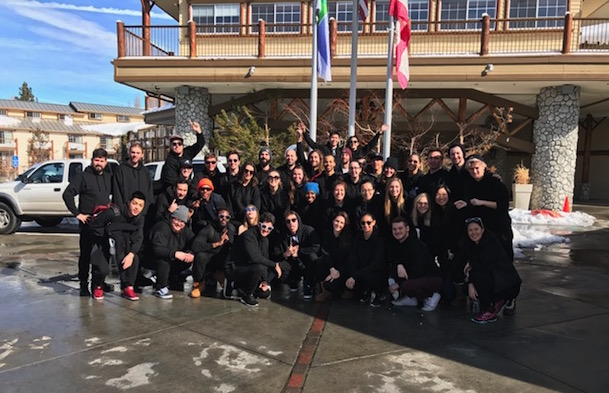 Headquartered in Santa Monica, Hawke Media celebrates each Friday with time dedicated to personal and professional development. It's a chance for employees to add new skills to their repertoires, as well as to celebrate company-wide and individual successes, helping the team end the week on a high note.
How does Hawke Media make Fridays special?
"Hawke U. is a company-wide education session each Friday morning at 9:30 a.m.," said Chris Ayan, head of marketing. "The purpose is to spend some time as a group focused on personal and/or professional development. Improving as marketers, professionals, and people in general, is critical for our continued success — especially in a dynamic and constantly shifting space. We also use the time to celebrate anniversaries and individual and team wins, update the organization on our success and impact the 'vibe' at the end of each week when people are generally feeling accomplished and enthusiastic. We try to keep the tone light and inspirational while adding concrete, actionable steps to improve performance and development."
How did the routine start?
"The routine started almost immediately when we were a smaller team," said Ayan. "Originally, the focus was more specific on channel activity, competencies in the marketing world and blocking and tackling in e-commerce. As our team got better, we started doing more nuanced educational talks, focused on personal and professional development in general and let the individual teams focus on specific channel activity."
What does it say about company culture?
"I hope that it says we care about our people and their continued growth," he said. "We buy bagels or breakfast burritos and it's also an opportunity to mingle with co-workers. We're a fast-growing company and everyone knows it, so we need to be equally committed to learning and growing as a team and as individuals."
What do you enjoy most about Fridays at Hawke
"I enjoy Hawke U because it's an inspiring and educational way to start my Friday," said Danny Klopfenstein, marketing manager. "Having 100 members of our team come together every week for an hour keeps you excited and engaged in challenging opportunities. It does a great job at challenging me to think about and plan my career and my next steps."
Images via featured companies.
Have a news tip for us or know of a company that deserves coverage? Let us know and follow us on LinkedIn.