The tech space is flooded with prestigious companies on the prowl for talent. So any reasonable candidate wants to know: "Why should I want to work there?" We asked employees from three companies to answer that question, telling us why they love where they work — and why you might like it, too. 
There might not be a more diverse team in all of LA Tech than Hyperloop One. With a wide variety of backgrounds — both personal and professional — the startup's revolutionary product demands expertise in hardware and software.  Consequently, that means they're always hiring. As the company preps for its big demonstration, senior welding engineer Kristen Hammer marvels at how the team is able to keep a work-life balance, despite the busy days and nights.
Favorite perk
I love the trainer coming in for evening workouts! It makes it easy to fit exercise into my schedule, and my coworkers are great motivators and competition!
Best work memory
The excitement from everyone around the company after our successful POAT (propulsion open-air test) last year will always be a great memory.
Favorite work story
A few weeks after I started working here, we had a VIP come in for a tour of our LA headquarters. We prepared a number of demonstrations to show the technology that we were working on. The entire company really came together for the final preparation, building test rigs and painting and finishing models. Everything went extremely well, and it ended up being just the beginning (for me) of the team coming together to pull off excellent things!
Proudest team achievement
Our team coming together to build Devloop! Watch for construction to finish. Testing is also to come soon.
Your sales pitch: why should people want to work for your company
I love a fast-paced work environment and challenging work, and Hyperloop One definitely meets both of those criteria. We are different than a lot of other companies, though, because we also have a culture that values work-life balance. As such, I am surrounded by brilliant, hard-working and happy people. You can't beat that!
Business strategy manager Josh Raycroft has seen a lot in his professional career, but Hyperloop One is definitely something new. While the opportunity to work on a game-changing transportation technology is one thing, the variety of work experiences keeps him entertained.
Favorite perk 
My favorite perk is not a perk, per se, but a benefit of working at such a vibrant company. It's being able to chat late at night with some of the smartest people I've met in my life about the cool stuff they're working on here and the cool stuff they've worked on in the past. A lunch conversation that begins with an ELI5 (stands for: explain it to me like I'm five) on gravitational waves might shift to talking about experiences designing rockets, and then end with a discussion of working in the U.S. Department of Transportation. 
Best work memory 
When I look back on the past two-plus years, the moment that stands out the most is being in Las Vegas in May 2016 for our POAT. I got to witness the engineering team's drive, excitement, relief and pride as they accomplished a pretty daunting task in a very short amount of time, and that energy was pretty contagious.
Favorite work story
One of my favorites is the story of my long-time friend and colleague getting interested in working for Hyperloop One. He is a pretty conservative guy. He was a rockstar at GE Aviation, my previous employer, and struggled a bit with the tough decision to make a bit of a leap of faith and move across the country to work for a largely unproven (at the time) startup. 
He came out to interview and killed it as expected, but played very hard to get. And not because he was negotiating details of the offer — he wanted to make sure this was a relatively safe bet and a good opportunity for him, rightly so. He went so far as ask for a week long shadow period for our engineering team to prove to him that we were worthy. We don't do this anymore, but we gave him the chance and he flew out to be with our engineers.
After the week, he was sold. He came on board full time, was quickly recognized as a rockstar and was given responsibility for one of our largest test campaigns. He's executed extremely well and has helped build a world-class engineering team. I'm very proud of him.
Your sales pitch: why should people want to work for your company
We work really hard and are all very driven to bring Hyperloop into existence. At the same time, everyone is extremely bright and knows how and when to ask the really tough questions we need to answer to make this a reality. It comes down to the ambitious mission of the company and the people making it happen.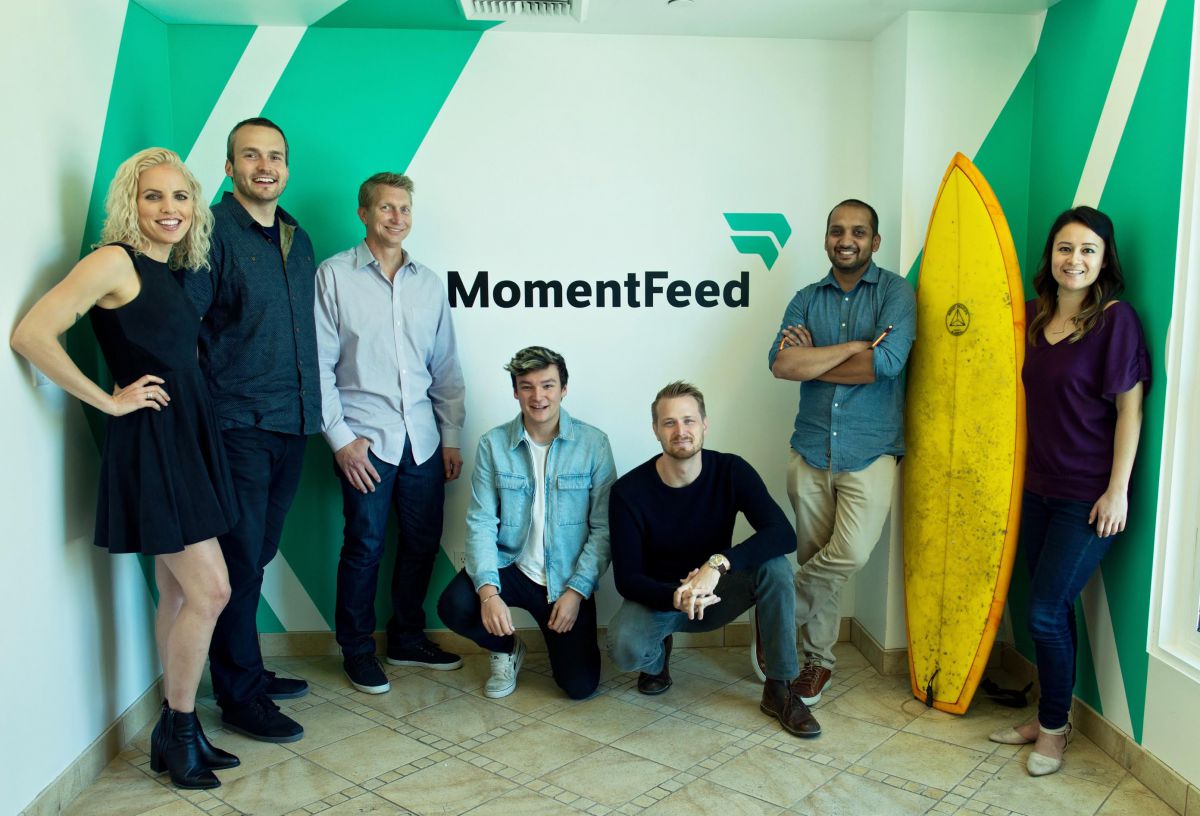 Located a few blocks from the Santa Monica pier, it would be easy to stop at "you should work at MomentFeed because of the beach." But there's more. For client success manager Meghan Greene, the company's success is one heck of a benefit.
Favorite perk
Unlimited PTO: Work hard, play hard.
Proudest company and/or team achievement
When we hit a run rate of $10 million in sales! It was a huge push for our team and it felt great to hit it.
Your sales pitch: why should people want to work for your company
The culture is incredible here at MomentFeed. Everyone is extremely supportive and we all work well as a team. Anything I say or do can make an impact. I matter and it's nice to see your hard work pay off!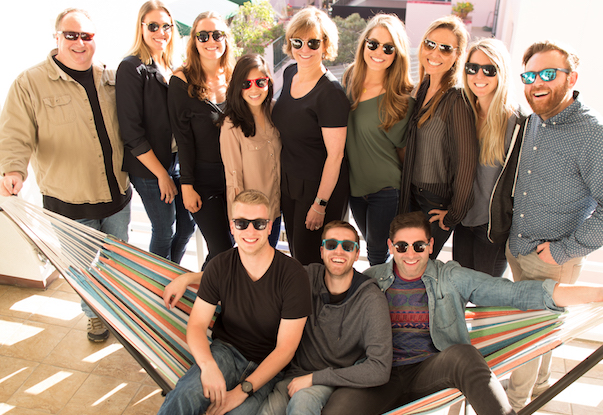 Company outings are fun, but when the sales team takes to the road to meet prospects, sales development rep Chad Kojouri feels the company grows exponentially.
Favorite perk
A tie between our commuter program and wellness program. I get paid to go to the gym and ride my bike to work!
Best work memory
We did a roadshow in Boston. Going business to business to meet prospects and talking MomentFeed was pretty exciting.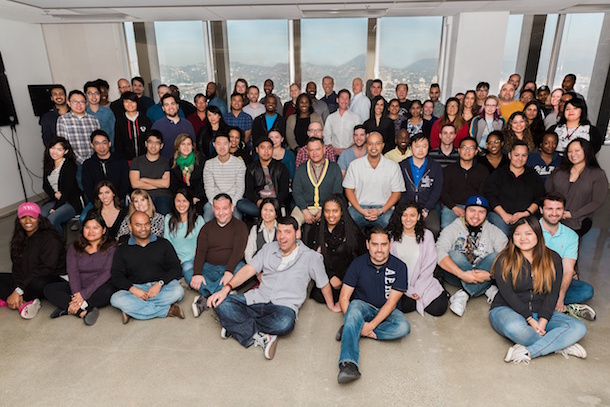 SaaS developer Verifi helps companies all over the world handle global electronic payments. Systems administrator IV Amanda Smith loves that the company offers the right balance of perks, ocean views and a laid-back atmosphere.
Favorite perk
The new 'Work From home Fridays' for the IT department. Not only is it convenient for us, but it also takes some vehicles off the LA roads during commuting hours. I also love that there is trust from the management about our schedules and we can work from home when the need arises. They want happy, productive employees, not just people filling desks at an office.
Best work memory
The Halloween parties and all the great costumes.
Favorite work story
I love telling people about the Peregrine falcon family that lives on the building ledge outside of our reception desk. The same couple comes back every year to nest and we have had two sets of babies since we moved to that floor.
Proudest team achievement
Processing transactions from two data centers simultaneously. This has been a goal for some time and it took a lot of cooperation and coordination between several departments to make it happen. It is a huge step toward pushing the globalization of the company forward.
Your sales pitch: why people should want to work here
Verifi is a growing tech company with great employees and a great corporate culture. We are constantly looking at and learning new tech and tools to make our jobs easier and to help the company grow even more. Continuing education is provided and encouraged.
Of all the perks companies offer, few if any, can say they share an office space with a family of Falcons. Verifi can, but that's not the only reason why software engineer IV Matt Dubord loves coming to work every day.
Favorite perk
It's a tie between Work From Home Fridays and the year-end performance bonus.
Best work memory
The first time my code was deployed in production. It's a good feeling to come to work knowing that your code is out there adding value to the company.
Favorite work story
I like telling people that from my desk I can see Downtown LA, the Hollywood Sign and the ocean. How's that for a view? We have an open office on the 25th floor and everywhere I look there's a great view. 
Proudest team achievement
Honestly, it was being hired at Verifi. I have long admired this company, so getting the chance to work here is a dream come true.
Your sales pitch: why people should want to work here
Verifi is a laid-back environment, full of software professionals. We're solving all of the hard problems you expect from scalability, using a modern technology stack based on Java, Akka and Spring 5. We are building our next generation platforms on reactive streams. This is a good time to join Verifi.
Images via participating startups. Responses have been edited for clarity and length
Have a news tip for us or know of a company that deserves coverage? Let us know and follow us on LinkedIn.