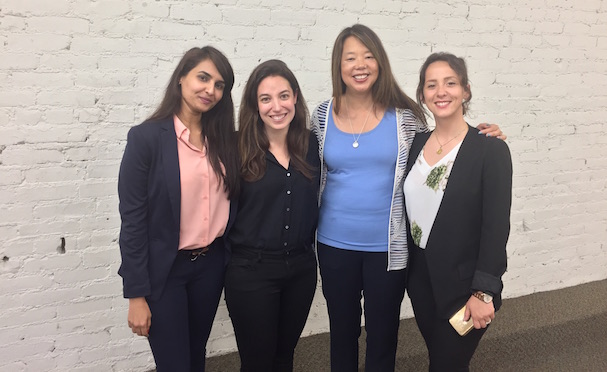 Despite all the success tech communities around the world have seen in the last decade, lack of diversity is still a major problem. To promote diversity and create awareness of tech markets in other countries — a more challenging proposition with the recent travel ban affecting individuals from six predominantly Muslim countries — the U.S. State Department partnered with Fortune to create the Global Women's Mentoring Partnership. The three-week program matches entrepreneurs from across the globe with leaders on Fortune's list of Most Powerful Women. 
For the past few weeks, Gladys Kong, CEO of Pasadena-based UberMedia, and Jill Wilson, SVP of game development at Jam City , hosted entrepreneurs from Kosovo and Pakistan, respectively. We caught up with Kong and Watson to learn what surprised them most about the experience.
How did you become involved with this mentoring partnership?
Kong: The Fortune Most Powerful Women team invited me to participate, and I jumped at the opportunity. I specifically requested a tech CEO, like me, as I believe STEM is the only global language these days. It was almost too perfect when I got paired with Hana [Qerimi], the co-founder and CEO of an edtech company in Kosovo that teaches children how to code. 
Wilson:  The moment I heard about the program at the Fortune Most Powerful Women Next Gen conference, I knew it was something I wanted to participate in, and immediately signed up.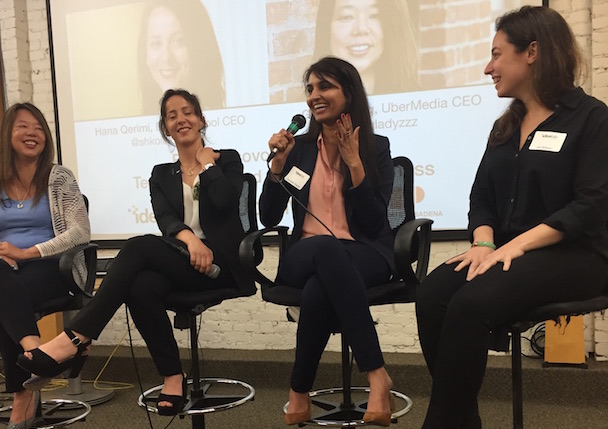 Given the current political landscape, how important is the program?
Kong: Programs like these are incredibly important. We must do all we can to support entrepreneurialism across the globe — particularly in countries with fewer resources than ours. There is so much we can learn from each other. It doesn't matter what language you speak — technology is universal and coding is the foundation.  
Wilson: This program and others like it that seek to help with the global advancement of women are incredibly important. This particular program opens so many doors for its participants to form a network with each other, with their mentor and mentor's companies, with politicians in D.C. and with [Fortune's Most Powerful Women] community members in LA and NYC. Giving rising-star women access to this type of support system can make a big impact on them achieving their goals, and it creates a butterfly effect where they go back to their home countries and share their new perspectives with other women, thus expanding the support system. There are big challenges facing women globally, and it really does take a village to solve them. Creating international "villages" through programs like this one can make a big difference.
How can the LA tech community become a more inclusive environment?
Kong: Just as we support international partnership programs, we must support each other. I've been fortunate to spend the majority of my career at Idealab with executive leadership that values diversity — both from a leadership and ideas perspective. 
One of the biggest challenges we face in the LA area is the area itself! There's so much innovation occurring in pockets across the region — from Pasadena to Silicon Beach — and we need to be creative to connect and not become isolated. This program, for example, allowed me to connect with Jam City and hear more about how they are transforming the mobile gaming industry. With UberMedia's focus on mobile insights, I see great ways we can work together! 
Wilson: Programs like this one are a great start to building interactions among tech companies to foster diversity. For example, this program gave UberMedia a platform to host an evening reception that brought tech companies together to discuss the importance of coding in schools, tech partnerships across the world and supporting female leaders. We owe it to the tech community of tomorrow to continue advocating for programs like this, and encouraging each other in any way we can to help future female leaders receive the support and foundation they need to succeed.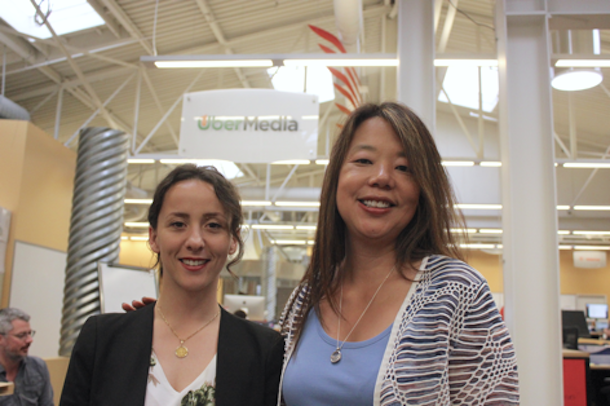 What has it been like working with your mentees?
Kong: One word: incredible! Hana is a bright, intelligent, determined leader who continues to persevere and excel. She started her company when she and her co-founder invested their savings of €1,000 to buy 10 computers and set up their classroom by themselves. In less than 18 months, she has expanded into two cities with 21 employees. 
I wanted to provide Hana with a rewarding experience at UberMedia, but I never anticipated how much we would gain from her as well. When word spread that Hana was here, many of my colleagues jumped at the opportunity to meet with and learn from her!
Wilson: It has been a fantastic experience working with Danielle [Sharaf, founder and CEO of Switch-ITC, a tech startup in Pakistan]. She is a smart, empowered, dynamic leader who isn't afraid to go after what she wants. Everyone here at Jam City feels lucky to have gotten to participate in the program. When my colleague, Lexi Biglow, and I were planning Danielle's schedule, we wanted to give her a well-rounded exposure to people at Jam City. She has had breakfast with a different woman at our company each morning, happy hours almost every night and a host of 1:1 meetings throughout the days. In our attempt to provide a great experience for Danielle, we ended up providing a really valuable experience for everyone in our LA headquarters who has gotten to know her and learn about her life as a tech CEO in Pakistan. 
Have a news tip for us or know of a company that deserves coverage? Share it here and follow us on LinkedIn.