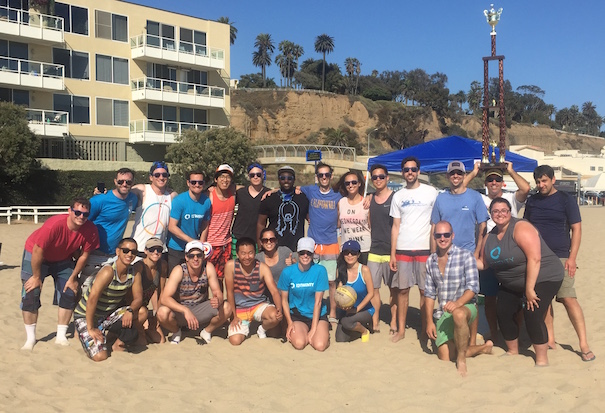 Landing a job after college has been a daunting experience since the turn of the millennium. 
And few people know this problem as well as Kenny Berlin. 
After earning degrees from Tufts, University of Texas and UCLA, Berlin discovered that the lack of university career resources was an issue across the nation. The most prestigious universities in the world all seemed to be operating their career centers on extremely outdated software.
In 2010, Berlin founded
12twenty Inc. is located in downtown Santa Monica. Walking distance to the beach and to a plethora of coffee shops, we got you covered.
, a data analytics platform that allows schools to aggregate and display their alumni employment statistics to students and faculty.
Around the same time, President Obama issued a mandate for universities to collect their alumni employment data in order to be eligible for US news rankings, making universities responsible for the outcome of their alumni's careers. However, most of the data was kept in-house, within institutions' archaic career centers.
"Why can't you have modern 2016 software and also be at a university?" Berlin said. "Why are those two things mutually exclusive? It's crazy. We've set out to change that by bringing the most intellectual institutions in the world up to speed."
The Santa Monica-based platform is now a full-stack career center, housing job postings, advisor scheduling, and event calendars. The service has more than 500,000 users at over 75 universities including Harvard, Stanford, Columbia, Cornell, Georgetown, UCLA and USC. The company is adding a new university client almost every week and Berlin credits the company's strategic origins for its current success.
"We were sophisticated about how we did the launch. We set up a really good foundation that let us grow as fast as we could. I think some companies rush into it and do it as fast as they can. They say, 'Oh we'll figure it out later.' And that doesn't really work. When you're collecting data like this, it has to be right and you have to spend a lot of time making high-quality software."
Rather than combing through thousands of loosely aggregated jobs, 12Twenty uses its data foundation to provide students with a select number of jobs that suit their experience and interests.
While many schools were collecting standard data for historically significant jobs, 12Twenty has kept the millennial in mind. By aggregating information on things like equity and company size, they have become a valued source for students hoping to join the startup work force. 
Their data has also helped eliminate the gender wage gap for UCLA students. Berlin reported that, thanks to the platform, female students were able to leverage the company's post-grad salary data to negotiate equal earnings.  
But Berlin views this as just the beginning for 12Twenty. The company is expanding its alumni platform in order to see what students are doing (and making) five or 10 years after graduation.