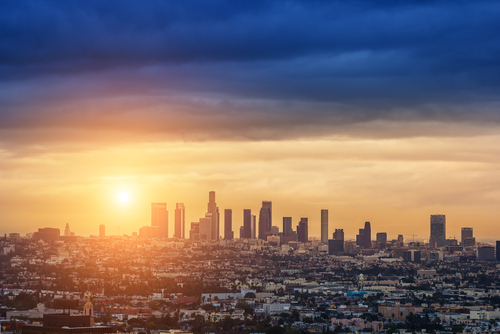 Inc. Magazine released its annual Inc. 5000 list of the fastest growing startups in the US, and the writing on the wall was splashed in bold letters: LA had a huge 2015. 
Due to the lofty number of LA-based companies in the top 5,000, Inc. ranked Los Angeles as the second-fastest growing tech community in the US, edging out upstart Atlanta for the honor.
Based on revenue growth over the last three years, LA-based Loot Crate came in first with a 66,789 percent three-year growth and $116.2 million generated in 2015. The box subscription service had a big summer, securing $18.5 million in early June before making waves at Comic-Con San Diego with a few limited edition themed boxes.
The Inc. 500 list, which is featured in the print edition of the magazine, featured 15 companies based in LA and Orange County. While Los Angeles County's 2015 has been well-documented, Irvine stole the show, securing four spots within the top 100 alone. Cylance, which secured a $100 million Series D round of funding in June came in at 26 after growing 7,613 percent over the last three years. Software developer Cirruspath wasn't far behind, coming in at number 41 after generating $6.3 million in 2015. BigRentz, a construction rental company, and PrescribeWellness, which develops software for medical professionals, came in at 48 and 52, respectively. The two companies generated a combined for $40.3 million in revenue in 2015.
It's easy to see why Dollar Shave Club was able to garner $1 billion when it sold in late-July. The Venice-based men's shaving business generated $152.4m in 2015 while growing 4191 percent over the last three years, which was good enough to nab the 65th spot on the list. Digital media published Render Media found itself just on the outside of the top 100, settling for number 101 with 3,238 percent three-year growth.
Rounding out the top 200 was a diverse group of LA-based companies representing a number of industries. Culver City's MeUndies finished at 105 with $16.3 million generated, while Burbank-based camera management software developer NETWORK OPTIX finished at 136 with 2,592 percent three-year growth. Irvine-based cybersecurity firm CrowdStrike, which ranked 144 on the list, saw 2,429 percent growth in the last three years. LA's Empire Flippers, a website brokerage platform, finished just behind CrowStrike with 2,253 percent growth in the past three years.
Santa Monica-based TaskUs growth since being founded in 2008 has been nothing short of explosive, but the company's 1,355 percent growth over the last three years had the company finishing at 288 on the list. eMerchantBroker, which provides payment processing services for merchants of all sizes has grown 1,038 percent over the last three years, edging out PayScout of Sherman Oaks, which boasted an impressive 1,005 percent three-year growth. Rounding out the list of LA- and OC-based companies represented in the top 500 was Rant Media Network, which generated $13.7 million in 2015.
There were several notable startups just outside the top 500. TechStyle Fashion Group, the company formerly known as JustFab, finished at 679 after generating 579 percent over the last three years. ZestFinance's 434 percent growth was good enough to land the company a position inside the top 1,000, along with Centerfield Media, which ranked as the 945th company on the list. 
Do you have a story to share? Let us know or follow us on Twitter @BuiltInLA.