18 Hayden Tract and Culver City Tech Companies Making Their Mark
Culver City and the Hayden Tract neighborhood are now home to some of the most well-known startups in the LA area.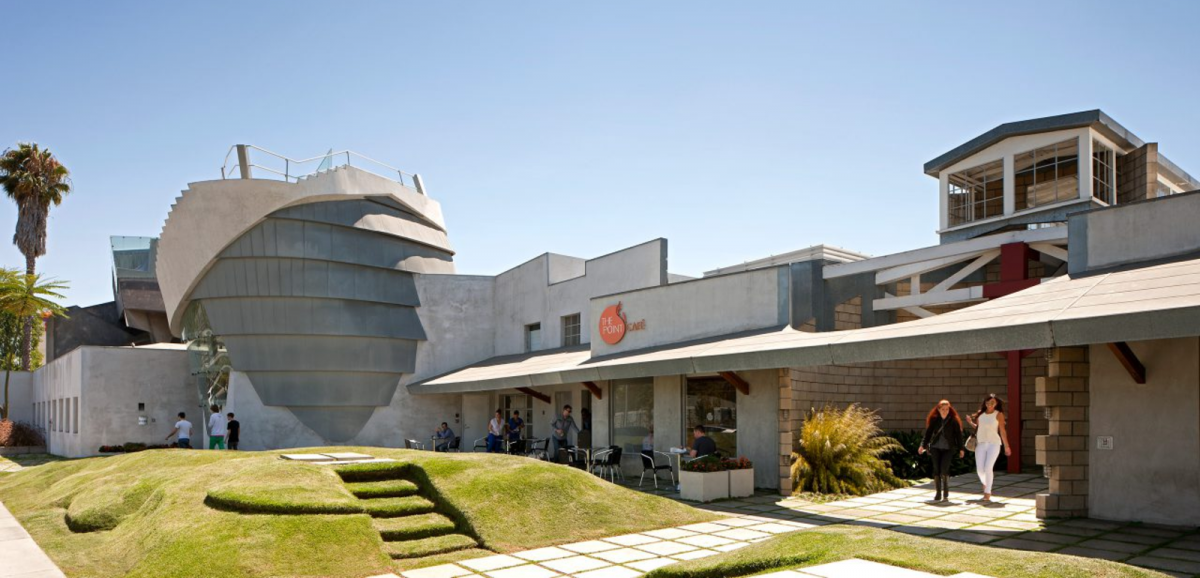 In Los Angeles, location is everything. This is especially true when it comes to the tech startups that call LA home. Until recently, it was almost uncommon to see a tech company headquartered outside of Santa Monica or Venice, but that's not the case anymore.
Culver City has always been an important place for the entertainment industry. Because of its central location, it's no surprise the neighborhood has attracted a number of tech companies over recent years, but the location many of them chose to set up shop isn't exactly where you would expect.
The Hayden Tract was a downtrodden industrial area named after 1940s glass developer Sam Hayden. But over the last 20 years, architectural firm Eric Owen Moss Architects and local developer Samitaur Constructs have teamed up to redevelop the stretch of land into a collection of architecturally stunning set of office buildings in what looks at times more like a Tim Burton movie set than a tech center.
Culver City and the Hayden Tract neighborhood are now home to some of the most well-known startups in the LA area. Check out the startups dominating the Culver City scene below.
Top Companies in Culver City & Hayden Tract
ChowNow
TikTok
Sweetgreen
Omaze
Clutter
Scopely
Jam City
Enervee
ChowNow offers a digital platform for food ordering that works with local restaurants so they can take orders through their own websites, Facebook and Instagram pages, Google pages and other branded channels. The service enables delivery within an 8-mile radius via the restaurant's own drivers or the ChowNow courier network and allows restaurants to set their own delivery fees and hours.  
Mothership is a freight marketplace that connects shippers with local drivers for last-mile deliveries. In addition to offering same-day local transit and instant online quotes, the startup also enables companies to track their shipments in real-time. Mothership was founded in 2017 and is growing quickly. The company has over 40 employees and recently moved into a new office in the Culver City arts district.
Omaze is an online fundraising platform that gives donors the chance to win unique experiences when they donate to their favorite causes. Omaze has raised more than $130 million for causes like Special Olympics, Water.org, The Trevor Noah Foundation and United Way, by offering chances to win some truly special experiences, including lunch dates with Matt Damon and Ben Affleck, a customized Jeep Wrangler or even tapas with Shakira in Barcelona.
Enervee's platform empowers utility customers to make more environmentally-friendly choices when shopping for everything from air conditioners and dishwashers to cars and gaming consoles. The marketplace gives each product a score based on a variety of environmental, performance and usage factors that help to steer the consumer towards making a greener purchase.
Sweetgreen is on a mission to make sustainably-sourced and scratch-made food more widely available. The company uses fresh, local ingredients, including healthy options like brussels sprouts, sustainably raised chicken, sweet potatoes and quinoa, in their salads and bowls. To date, Sweetgreen operates more than 100 locations in cities like New York, LA and Chicago.
CreatorIQ is an influencer marketing platform that helps brands to manage their marketing campaigns from one place. The "Creator Cloud" helps companies to search through the industry's largest database of influencers and creators to assess and qualify potential partners. Then, the collaboration and campaign management tools help to effectively capture how well the influencer is doing with your campaign. Disney, Salesforce, YETI and Sephora have all used CreatorIQ to source, collaborate with and pay their influencers.
MeUndies is a Los Angeles-based underwear & loungewear company best known for its softer than soft basics. Founded in 2011, MeUndies disrupted the $110B underwear industry when it launched the first online underwear subscription. Through the years the brand has inspired a passionate community of undie-obsessed individuals with its bold products.
Next generation storage startup Clutter has had a pretty big 2017. In June, the company closed a massive Series C, one of the biggest rounds in an unusually hot month in funding for LA tech startups. Now operational in nine major markets in the U.S., the company has a number of offices in the LA area, but the headquarters is situated in one of the major office parks in Culver City.
Founded in 2011, OpenDrives develops next generation storage technologies for filmmakers. Their price/performance metric is one of the first of its kind among high-end storage vendors, allowing studios to keep their film assets in an online form throughout the editorial and visual effects process.
TikTok's mission is to inspire creativity and bring joy. As the leading destination for short-form mobile video, TikTok offers a home for creative expression and a unique and joyful experience. The platform evokes a diverse range of immersive and entertaining videos, and the opportunity to unite around communities and shared emotions.
Talespin uses AI, augmented and virtual reality to help workforces to learn more skills. The company uses AR and VR headsets to train employees in both soft skills and object-based simulations that give employees valuable training for real-life situations. The Talespin platform also comes with a real-time analytics dashboard, so employees and supervisors can measure progress and work towards achieving training goals. Facebook, USAA, Nestle and UBS all use Talespin to train their workforces.
Honeybee Health makes it easy to search for, and order, medications online. To get their medications, Honeybee users simply need to search for their product and select the form, strength and count. Then, users can compare prices and manufacturers and have their medication shipped directly to their door.
Mobile game developer Jam City is located just south of National Boulevard on Eastham Drive. Formerly known as SGN, the company was founded by Chris DeWolfe and Aber Whitcomb, the same guys who created MySpace back in the early 2000s. The company's portfolio is impressive, with mobile hits like Cookie Jam and collaborations on projects involving Family Guy, Futurama and Peanuts.
When most people think of subscription services, they think of a small package showing up in their personal mailbox once a month. Founded in 2008, SnackNation isn't all that different, except that their audience is other tech companies. The company provides bulk orders of healthy snacks and drinks for businesses across the country.
Scopely, one of LA's most noteworthy gaming companies, recently closed a $60 million round less than a year after securing its Series B. Founded by Walter Driver, Ankur Bulsara, Eric Futoran and Eytan Elbaz, the company boasts a robust portfolio of games, including collaborations with "The Walking Dead," "WWE," "Wheel of Fortune" and Ellen DeGeneres.
Beats Electronics is Dr. Dre and Jimmy Iovene's media and consumer electronics startup. Aside from the fact that the company was founded by two of the most successful music industry professionals of all time, Beats has a particularly interesting backstory. A hit from day one, the company sold half its shares to HTC just four years after launching. Over the next two years, the company acquired those shares back in two separate deals before ultimately selling to Apple for $3 billion.
Digital media powerhouse PopSugar wasn't founded in LA and its headquarters are still in the Bay Area, but even this company isn't immune from LA's status as the entertainment capital of the world. The company's studio on Eastham is one of two offices in LA, with the other — dedicated to sales and marketing — falling just outside the boundaries of the Hayden Tract.
Zoic Studios is a technology firm that provides a suite of compositing and production management solutions for a number of media channels. Be it advertising, video games or commercials, the startup delivers awesome content for its partners. The company has been a resident of its 17,670-foot Eastham abode since way back in 2004.