The Future 5 of Los Angeles Tech, Q3 2022
Check out which LA startups might be building the next big thing in tech.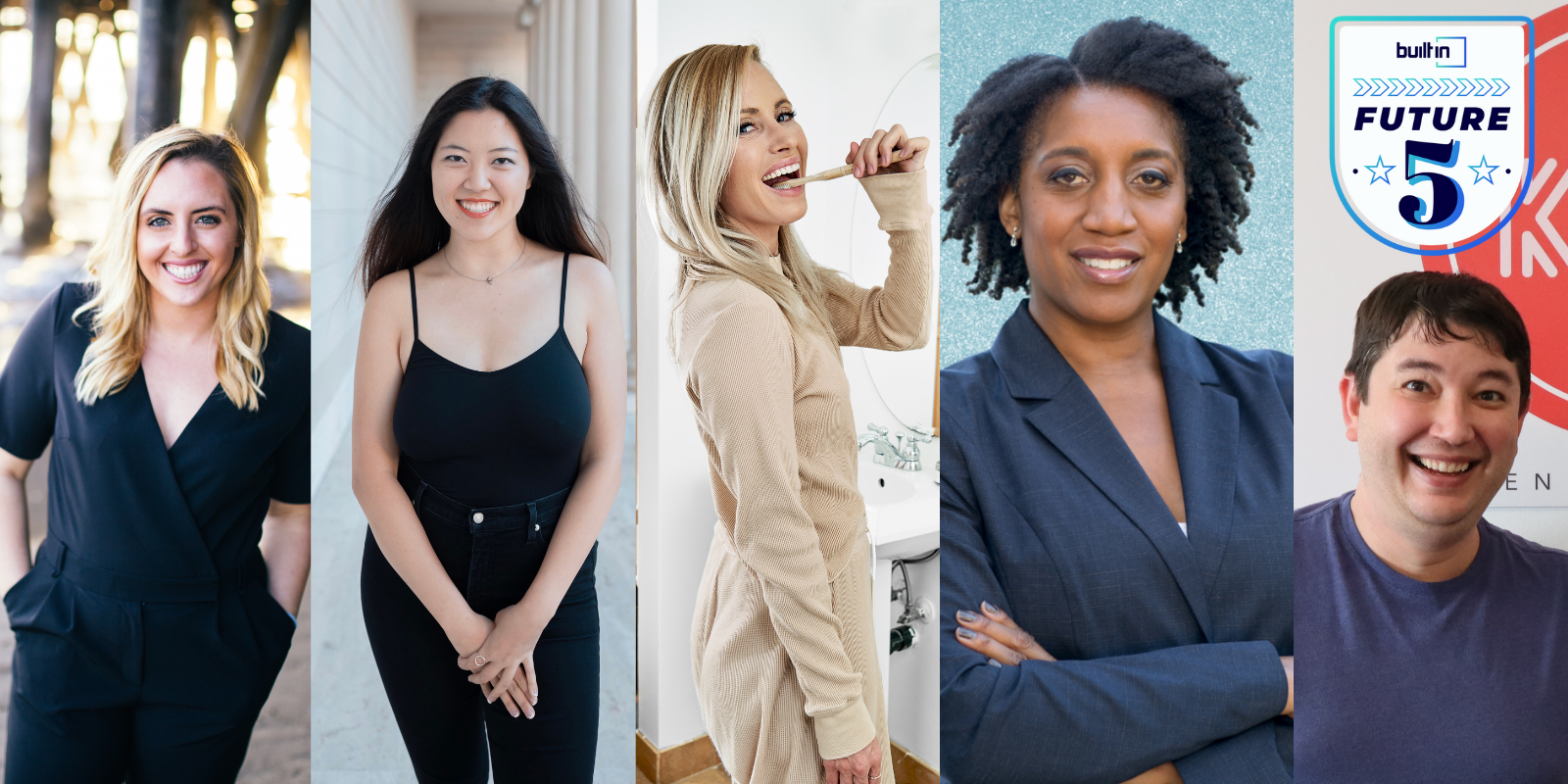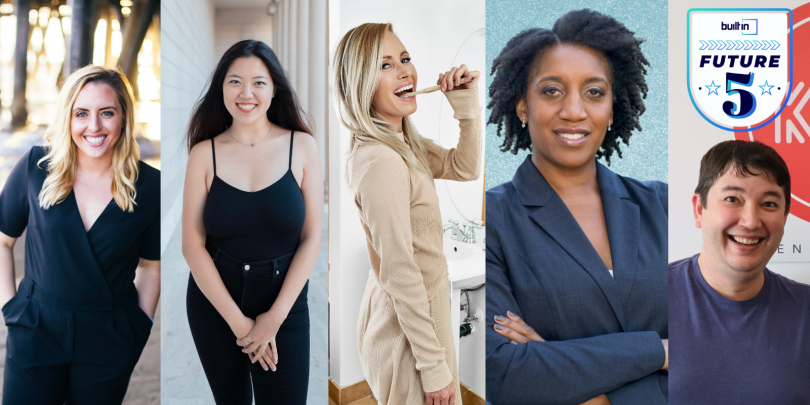 Sure, the latest initiatives from the Teslas, Apples and Googles of the industry tend to dominate the tech news space — and with good reason. Still, the tech titans aren't the only ones bringing innovation to the sector.
In an effort to highlight up-and-coming startups, Built In has launched The Future 5 across 11 major U.S. tech hubs. Each quarter, we will feature five tech startups, nonprofits or entrepreneurs in each of these hubs who just might be working on the next big thing. Read our round-up of LA's rising startups from last quarter here.
* * *
Tinseltown is much more than cinema and celebrities. As one of the nation's most prominent tech hubs, Los Angeles houses innovators across gaming, climate tech, Web3 and more. While big-name, longtime players in the industry have made their mark on the LA tech scene, the startups are shaping the growing market.
Built In spoke to a handful of these young companies that have devoted themselves to bettering the quality of our lives. From a family-oriented mental health platform to environmentally conscious toothpaste, learn more about what these tech creators are building. 
Built In's Future 5 Up-And-Coming LA Startups, Q3 2022
Bite (Sustainability/E-Commerce)
ChildNEXUS (Professional Services)
ETTA (Artificial Intelligence/E-Commerce)
Kitchen Data Systems (Software)
Zette (Digital Media)
D2C brand Bite is exploring how a revamped personal hygiene routine can benefit both people and the planet. Lindsay McCormick founded the company as a way to decrease the plastic pollution caused by everyday tasks and reduce the amount of plastic humans consume. 
The company developed a toothpaste using natural ingredients, and it shaped that toothpaste into chewable tablets. To lessen the amount of plastic that seeps into the environment, Bite packages those tablets in reusable glass containers.
"I found out a lot of the harsh chemicals, artificial flavors and preservatives that are put in most toothpaste are not there to actually clean your teeth, but they're there so it can be a liquid form factor," McCormick told Built In. "When you have a dry form factor like a tablet, you can end up with a much more natural ingredient profile while still having safe and effective ingredients."
Though toothpaste bits are its flagship product, Bite also offers a range of other products such as mouthwash tablets, plastic-free dental floss, whitening gel and even deodorant. All of its products come in refillable, eco-friendly containers and are available through its e-commerce platform.
Everybody learns and grows at their own pace. For parents wondering why their children are behaving a certain way or performing differently in class, ChildNEXUS hopes to offer the answers they need to help their kids reach their full potential.  
"Our whole mission is to help connect parents with reliable information that they can trust, and to help their kids thrive," Dr. Karen Wilson, ChildNEXUS' founder and CEO, told Built In. "And our whole goal is to help more kids who think and learn differently reach their full potential."
Founded by a pediatric neuropsychologist, the ChildNEXUS platfrom supports a network of about 90 interdisciplinary youth health service providers. When parents visit the site, they have the option to seek out these providers and schedule a consultation. Be it connecting families with an educational therapist or a speech pathologist, the company's goal is to lead its users to the next best steps for their child's needs.
The next stage of its solution will encompass virtual video conferences called learning groups. This resource will gather small groups of parents with children who are all encountering the same kinds of issues. 
ETTA wants to help fashion consumers say farewell to ill-fitting online orders. The company's solution works to make online clothes shopping more efficient for consumers, and in turn, optimizes the e-commerce space for retailers and the earth we all share.
"We are the future of fashion. We focus on the 'phygital' fashion space," Allie Burger, ETTA's founder and CEO, told Built In. "Our mission is to infinitely align the physical and digital selves, especially in this world where … the bulk of today's consumers are still living in [Web 2.0]."
Powered by artificial intelligence, ETTA's mobile app uses computer vision to scan a user's body and gather their measurements with 3D image data. This single sign-on capability unlocks a personalized shopping portal that connects that consumer to curated apparel from ETTA's network of fashion brand partners.
This application saves time for consumers, money for businesses and resources for the planet. ETTA will launch its consumer-facing solution in the spring. In the next 18 months, the company plans to launch its business-to-business SaaS platform that will serve brands, retailers, designers and manufacturers. 
Bridging the realms of food delivery and Web3, Kitchen Data Systems — casually referred to as KitchData — works with brick-and-mortar restaurants to help them launch virtual, delivery-first brands in partnership with celebrities, sports teams, influencers and other pop culture icons. 
KitchData's solution helps its customers create and scale their virtual food brand, from crafting menu offerings with the help of KitchData's chef to designing a logo and developing a marketing strategy. From there, the software matches brands with restaurants in KitchData's partner network that are capable of preparing that kind of food. The last step is launching the brand on apps like DoorDash and UberEats.
Thanks to Kitchdata's blockchain integration, fans can gain access to perks like discounted merchandise, exclusive content and gated interactions with their favorite celebrities when they order food from one of these brands.
"One of the biggest problems with virtual brands right now is a very low reorder rate," Mike Jacobs, KitchData co-founder and CEO, told Built In. "They're not really capturing the hearts and minds of the consumers. So for us, I see it as more of a loyalty or affinity program where we're combining what the celebrity or the brand's already doing [with food]." 
While print newspapers have become outdated, subscription company Zette believes access to quality journalism is timeless. The media tech startup partners with a range of publishers in hopes of connecting readers to legitimate journalism at an affordable price. 
"Access to factual information is critical in a democracy, both for elections and for civic engagement," Yehong Zhu, Zette's founder, told Built In via email. "Particularly during times of great crisis or economic uncertainty, it's important for Americans to have access to the right information in order to make the best-informed decisions about their lives and livelihoods."
Giving readers the chance to view a variety of news sources is one of Zette's main focuses. It allows readers to take in a wide range of journalism that addresses different social and political perspectives and worldviews. Furthermore, since the startup makes a point of only partnering with publications that maintain high standards of editorial integrity, readers can rest assured that the information they digest is credible. 
Anticipating its official launch this fall, Zette will offer readers access to more than 80 premium publications through its browser extension. For $9.99 a month, users will be able to read 30 paywalled articles from trustworthy outlets.