LA and Orange County tech companies raised nearly $7 billion in 2017, and that influx of capital means plenty of brand new positions to fill. Whether you're actively looking for a new job or just want to stay current on who's hiring, here are ten Southern California tech companies looking to add top talent this month.
Headquarters: 2415 Michigan Ave, Santa Monica, CA 90404
Founded: 2010
What they do: Headspace is on a mission to improve the health and happiness of the world by offering guided meditations designed to help with everything from stress and anxiety to relationships and sleep via their app.
The perks: Optional daily meditation, unlimited PTO policy, competitive salaries, full medical, dental and vision coverage,  a $75 gym stipend, career growth opportunities, speaker series, daily catered healthy lunches, quarterly hackathons, free parking.
The pitch: "At Headspace, we're looking for engineers who are excited about building products that meaningfully improve people's lives, who value elegance over complexity for its own sake when solving problems, and who care more about what's right than who's right." — Samir Uppaluru, engineering manager, growth
What the employees say: "It's a joy to come to work every day and be surrounded and supported by my coworkers. Headspace's mission to improve the health and happiness of the world challenges us all to be bolder, kinder and constantly curious. While I'm supported to lead a balanced, healthy life, I'm also challenged to grow into the most emotionally and logically intelligent version of myself. Headspace is truly a gem in the tech world." — Nathalie Huynh, software engineer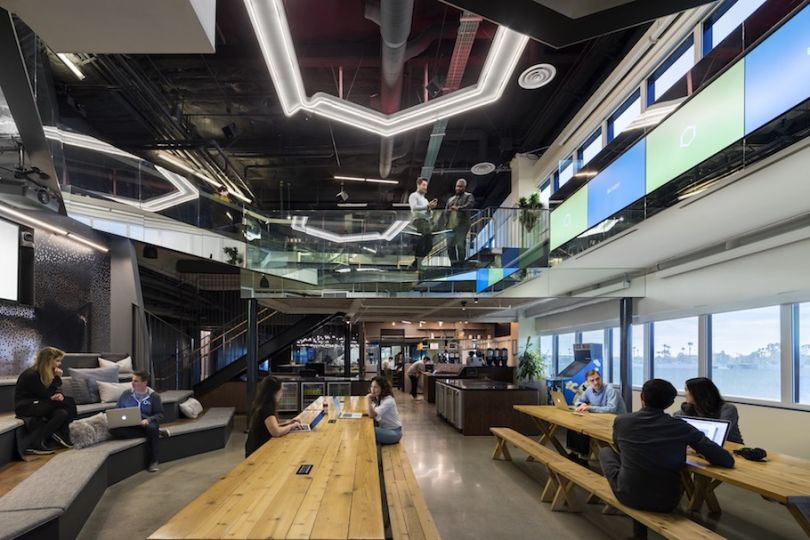 Headquarters: 1240 Rosecrans Ave., Manhattan Beach, CA 90266
Founded: 2014
What they do: BCG Digital Ventures is a corporate investment and venture development company that creates innovative new businesses.
The perks: On-site barista, alternative travel program, a flexible workplace, no-cost medical coverage, profit sharing retirement fund, and a space in the company's scenic Manhattan Beach headquarters.
The pitch: "We look for people with a passion for digital, including new technologies, new tools and the opportunity for disruption. Equally as important, we need our people to have an entrepreneurial mindset and real empathy for understanding users and their needs; we're here to build new businesses that drive value for our partners and solve real problems." – Ron Clark, strategic design director
What the employees say: "Every time someone new comes in our door at BCG Digital Ventures, my job is to become an expert in their field. I get to learn totally different industries from scratch, which is exciting because my interests change so often. I love getting exposure to incredible technologies and finding a way to apply them." – Hans Yang, product principal
LA headquarters: 350 S. Grand Ave., Suite 3910, Los Angeles, CA 90071
Founded: 2006
What they do: Headquartered in NYC but with a sizeable presence in the heart of DTLA, Taboola develops a content discovery platform that opens windows users never knew existed.
The perks: Catered lunches, flexible work hours, a game room with ping-pong and video game tournaments, three weeks paid vacation, a fully-stocked kitchen, company equity, generous health care benefits, commuter benefits, and more.
The pitch: "Taboola looks for individuals with a strong sense of self, who are inquisitive and passionate about their work. We want someone who is a self-motivated team player, who is also inspired by the impact their work has on the team." — Ning Ning Yu, VP, R&D
What the employees say: "I come into the office to a team that genuinely wants to help me grow as an engineer. I'm challenged every day to build products with the latest technologies, such as machine learning at massive scale. Everyone really feels like family, with big celebrations after delivering on big projects." — Jacob Moghtader, software engineer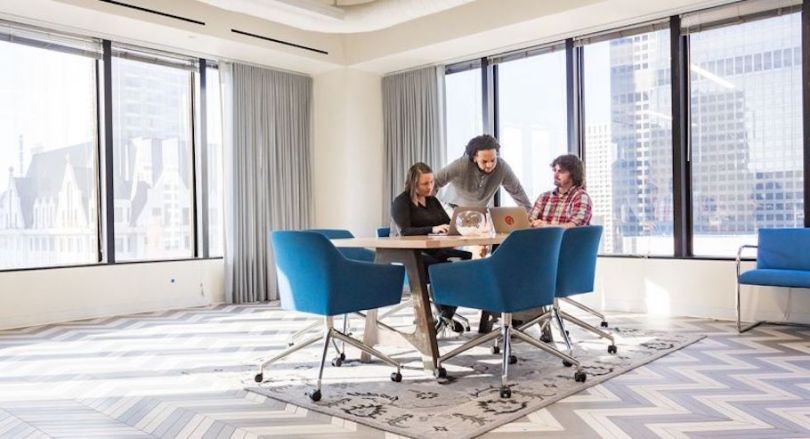 Headquarters: 700 W. 7th Street, Los Angeles, CA 90017
Founded: 2015
What they do: DTLA-based JOANY has built a platform that helps businesses and their employees take the pain out of selecting health care plans.
The perks: A highly competitive salary and equity option grant, 100 percent employer-paid health insurance benefits, company-sponsored parking/commuter benefit, catered lunches, fully-stocked kitchen with cold brew coffee on tap, unlimited PTO, an annual company retreat.
The pitch: "I love coming into work every day and not only working on exciting new technologies but also working with some of the best people I've ever worked with. The ideal employee will completely own a solution from start to finish. We love working with people who are selfless and can put their fellow employees before themselves." — Austin Fonacier, director of engineering
What the employees say: "It's super rewarding to build features that contribute to JOANY's mission, and it's a great place to come to work every day. The leadership is inspiring and they have hired an equally inspiring team. They have thought very carefully about their culture, and as a result, it's an environment that is exciting and challenging, but also supportive. On the tech team, this means that we have the freedom to take on interesting challenges in new ways alongside team members that have your back." — Julie Eubank, senior software engineer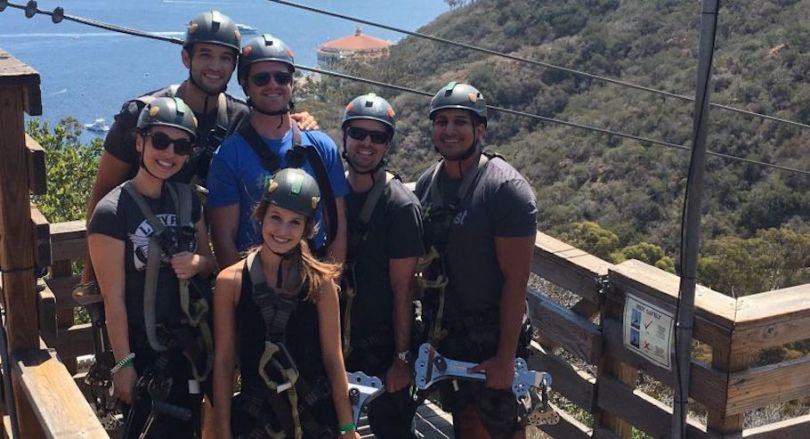 Headquarters: 14721 Califa Street, Los Angeles, CA, 91423
Founded: 2013
What they do: FloQast's cloud-based software platform helps busy accounting departments centralize workflows, assign tasks and automate time-consuming processes like tie-outs and reconciliations.
The perks: "Unlimited" flexible use PTO, equity, a brand new office with a fully-stocked kitchen, fully-paid medical, dental and vision benefits; a flexible spending account, group life insurance.
The pitch: "We have an interesting culture at FloQast — one that has been shaped by the founders' backgrounds as accountants and the very purpose of our software. We are a team building innovative software that helps accountants collaborate, produce high-quality work and ensure the integrity of their balance sheet. When considering a new hire, we look for people who are innovative, collaborative, take pride in producing high-quality work and have the highest integrity. Those who thrive at FloQast are self-starters, adaptable to change and have the desire to learn each day. Having a background in accounting is a huge plus, too!"— Mike Whitmire, co-founder and CEO
What the employees say: "Not very many people can say they are excited to come to work every day, but FloQast's culture is truly amazing; from the collaboration across an inherently competitive sales group to the involvement of the leadership at the top, you really feel part of a cohesive team. I am consistently challenged by FloQast's caliber of people and the passion that everyone exudes in disrupting the world of accounting. I am proud to be a part of my FloQast Family!" — Mandy Raeder, inside sales manager
Headquarters: 990 W. 8th Street Los Angeles CA 90017
What they do: Honey develops an e-commerce shopping tool that allows consumers to easily search for coupons during the purchase process.
Founded: 2012
The perks: Full medical, dental, vision, bonus program, 401(k) matching, equity, daily lunches, a commuter program, Joymode and OneMedical membership, happy hours, and more.
The pitch: "The people we're looking for at Honey are those that want a challenge every day and want to relentlessly uplevel themselves." — Glen Allison, COO 
What the employees say: "Each day I'm surrounded by people that want to help our users. It's a job where you're able to put real value back into people's lives." — Ryan Barnes, analyst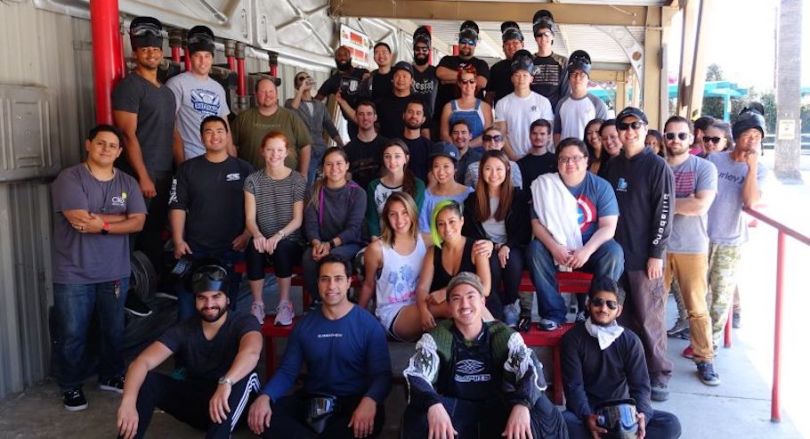 Headquarters: 19900 MacArthur Blvd. Suite 1000 Irvine, CA 92612
Founded: 1998
What they do: Cie Digital Labs is a startup studio that incubates, grows and spins-off new tech companies, which include Cie Games (acquired by Glu Mobile) and El Segundo-based ad tech company Nativo.
The perks: Monday lunch, every other Friday breakfast, monthly team building activities in the office, quarterly offsite team building activities, an employee of the month celebration, monthly birthday celebration, fully-stocked snack (including fresh fruit), two revolving beer taps, fully-stocked wine fridge, onsite gym.
The pitch: "We believe that innovation is the engine that drives humanity forward. We focus on accelerating innovation for large enterprises and being a growth accelerator for emerging startups. We are passionate about finding people who want to make their mark in this world and be impactful in the challenges they are solving. 
At Cie Digital Labs, we measure prospective candidates across this spectrum and focus on their future growth potential in our company. We spend a lot of time developing and advancing our team members into leadership roles. It is important that we find people who can not only be future leaders and organizational influencers but in my own eyes someone who can take over my role someday. Each team member is part of our secret sauce. You can feel the difference when you walk through our doors and interact with our work product. Our roles aren't for everyone. They are for the right ones." — Alvin Fong, COO
What the employees say: "The problems we solve are at a level of complexity that I've never before experienced. Working with such talented executives, project managers, developers and designers has taken my skills to the next level." — Pranav Khandelwal, lead Xamarin developer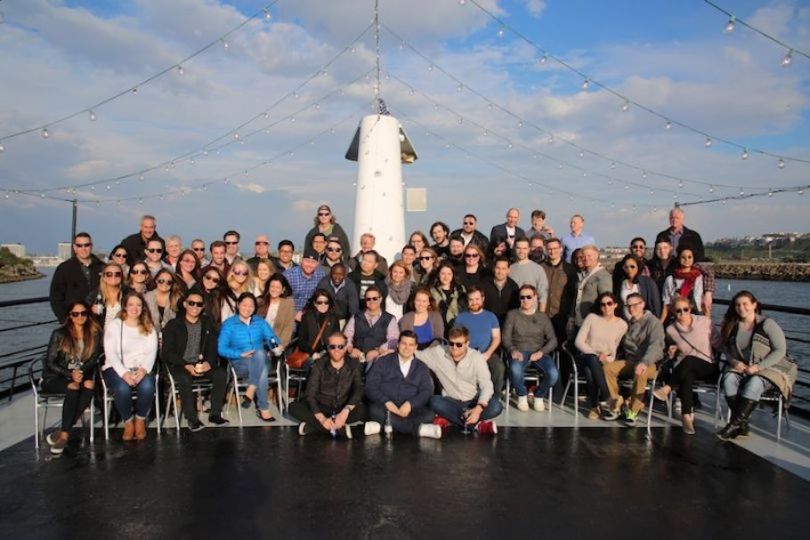 Headquarters: 6601 Center Drive West, Suite 700 Los Angeles, CA 90045
Founded: 2011
What they do: Appetize is a point of sale technology company that services clients in the sports, entertainment and professional services industry, helping clients manage thousands of sales with every event hosted.
The perks: Unlimited PTO, a dog-friendly office, company sponsored medical, dental and vision, 401(k), a stocked kitchen with beer on tap, a ping-pong table, brand new office in the penthouse with 365-degree views of the city, tickets to events, volunteer opportunities at events, and more.
The pitch: "Beyond brilliant technical skills, passion and an outstanding attitude, Appetize needs problem solvers who can think for themselves. We look for engineers who can quickly assess a challenge, balance technical and business needs, and feel ownership for delivering an exceptional product."— Jay Dorman, VP of technology
What the employees say: "Even after seven years, our CEO's name is still on some of the header files in the code base. The whole organization is tech-savvy, engineer-centric, and there is always someone around to have challenging conversations with. Working with smart and passionate people is great, and the diverse range of interests that my team brings (we have a snowboard instructor, guitar player and stand up comedian, among others) is both amazing and humbling. I love that I can start my day integrating a new gift card system, help the server team track down parking issues after lunch and end it discussing with the VP of engineering how to brew enough beer to supply the entire office. It's rare to find a place like this and it sounds cheesy, but I do look forward to coming to work." — Sewell Chan, software engineer
Headquarters: 3650 Holdrege Avenue, Culver City, CA 90016
Founded: 2011
What they do: Culver City-based e-commerce startup MeUndies has created the go-to subscription service for, well, underwear.
The pitch: "MeUndies sells underwear, sure. But because we're vertically-integrated, direct-to-consumer and handle everything from design to marketing to shipping, we bring our customers much more than just undies. It's more than a job. We're a team of kind, smart, diverse, and fun people who are building an amazing business and brand." — MeUndies
The perks: Competitive salary/equity packages, generous parental leave, 401(k), awesome health benefits, open time off and top-of-the-line hardware and software.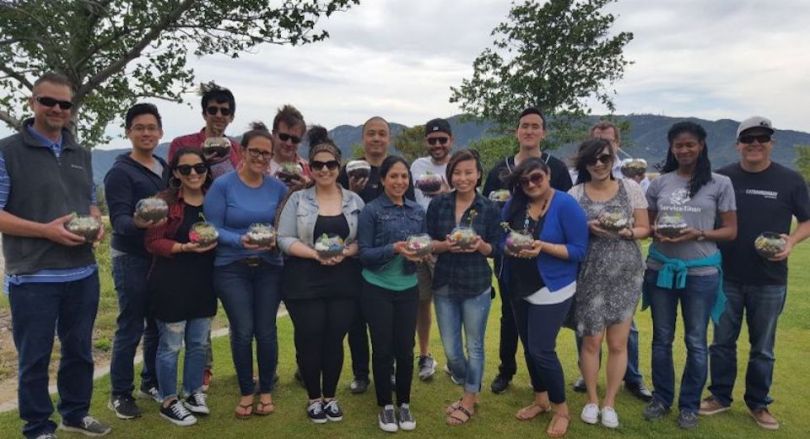 Headquarters: 801 N. Brand Blvd., Glendale, CA 91203
Founded: 2014
What they do: Glendale-based ServiceTitan has created a software platform that helps home service companies better manage their businesses.
The perks: 100 percent covered medical, dental and vision and 80 percent covered medical for dependents, FSA, HSA, flexible PTO, company equity, free lunches every day, team-building events, a fully-stocked kitchen, gaming area, and more.
The pitch: "We're looking for several qualities: Grit — not just hard-working people, but employees willing to work hard when things get hard. Anyone can work hard when things are going well, a gritty person will push through even when thing aren't. Self-aware — constantly looking at themselves and their results and looking for ways to improve Adaptable — sales, companies and prospects change, our team needs to be able to adapt based on who they are talking to, what's working and what's not, and change often. Curious — curious salespeople are better salespeople. They ask better questions, they listen better, they truly want to know how they can improve, or if there is a better way to do things. They pick up on subtle cues from a prospect/customer which allows them to ask even better questions and make the other person feel heard." — Kevin Dorsey, head of sales development
What the employees say: "What I love most about working at ServiceTitan is the ability to work on projects that will have an immediate impact throughout the organization" — Juanita De La Riva, senior talent acquisition coordinator