For a few years, simply having a job is enough. Long, hard hours doing grunt work is something that we expect as we grow as professionals, but eventually, there comes a point where job security and a paycheck aren't all that really matter. In an environment where companies are finding cool new ways to keep their employees happy, we talked to three local tech employees about why they love where they work.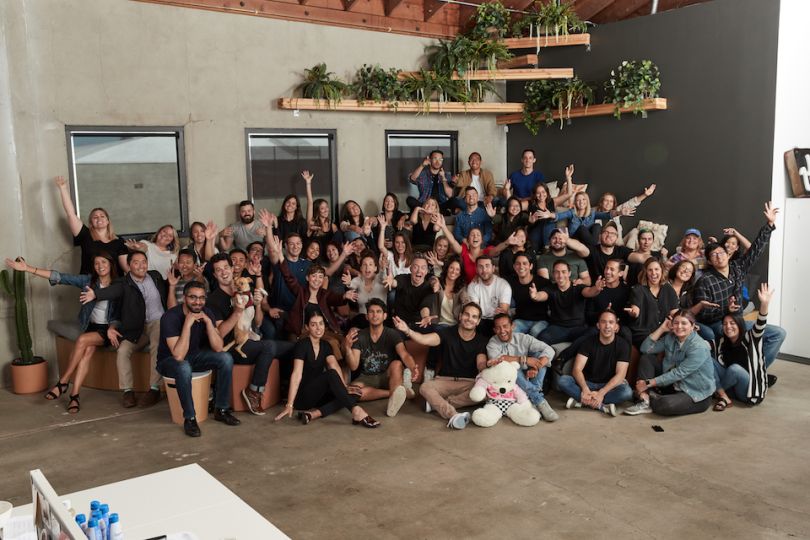 Founded: 2011
Headquarters: Culver City
One of the most decorated e-commerce brands in California, MeUndies has created quite the name for itself in the LA tech community, thanks in large part to the founders' decision to look to a few LA legends for guidance in growing their company. While the company powers through its busiest season of the year, there are a number of ways employees are keeping stress-free and having a good time at work, according to office manager Tori Coyne.
Favorite perk
The dog-friendly office and plentiful supply of LaCroix are amazing, but the perk I'm most proud of is our generous parental leave policy. It might seem boring or simple, but it's something so many other companies skimp on. While I don't plan on needing it for a while, I'm proud to work for a company that prioritizes family, healing and work-life balance.
Best work memory
The CX team hired a Dorothy impersonator to come to the office and sing the Golden Girls theme song to their team after a tough week. It was a small gesture, but it made everyone — not just the team — take a break from whatever was going on and have a good laugh.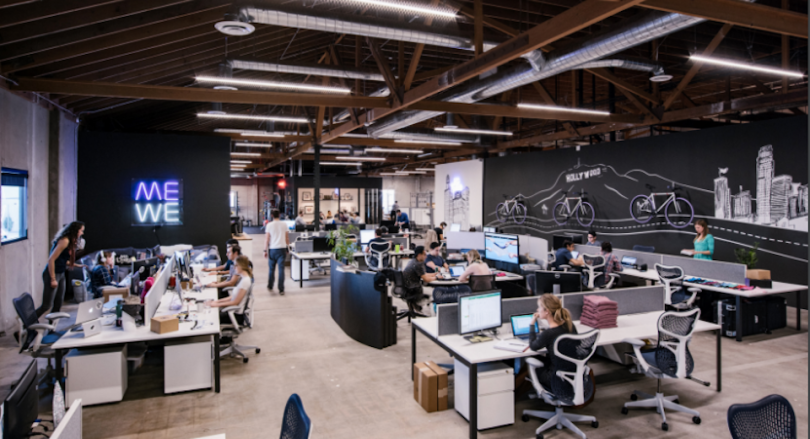 Favorite work story
We recently opened our second pop-up location in Palo Alto with a fun launch party. What most people don't know is it almost didn't happen because we were short on product necessary for launch. Instead of canceling the party, our founder, Jon [Shokrian] and one of our long-time fulfillment team members, Lewis, spent the night driving up north to pull all of the necessary product from our warehouse. This exemplifies what it means to be a member of the MeUndies fam. There are no egos and we recognize that every single individual team member is key to achieving our bigger goals.
Proudest company and/or team achievement
Our growth has been an amazing thing to watch and is something I am incredibly proud to have played a part in. I joined this company when we were 70 odd people in one crowded HQ. Since then, I've watched and participated in a warehouse move, a rebrand and product line expansion, and in return, I've grown immensely — both professionally and personally. I'm proud of who we are, how much we push one another to uncover hidden potential and of where we're headed.
Why do you work at MeUndies?  
MeUndies is not your average company. Every single person here is valued and we're all truly here for a reason. We make the world's most comfortable underwear, bralettes and loungewear, but we're not stopping there. If you want to come to work every day and be challenged to be better than the day before, surrounded by friendly faces and cute dogs, this is the place for you.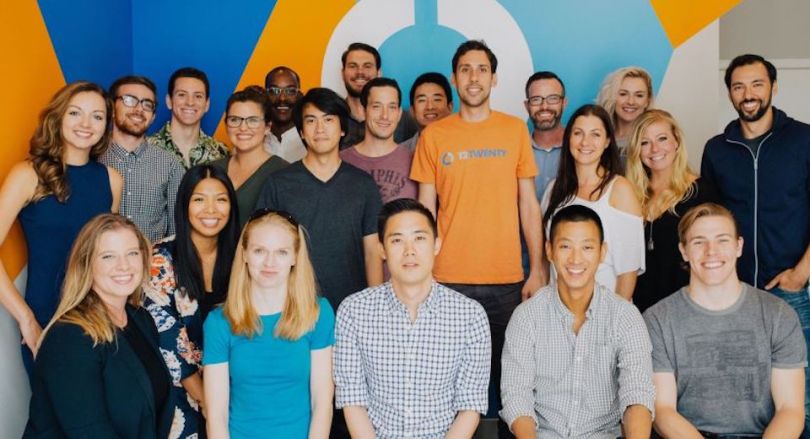 Founded: 2010
Headquarters: Santa Monica
Headquartered in the heart of Santa Monica, edtech startup 12Twenty's software platform integrates an on-campus recruiting tool with employer relationship management and student job tracking tools to help students kickstart their careers. While perks like free parking — which is pretty sweet, considering the company's proximity to the Third Street Promenade — and frequent company outings are great, it's the opportunities to develop as an employee that really impress lead data manager Jennifer Mann.
Favorite perk
My favorite perk? Honestly, our professional development opportunities. Just last week, I attended the 2017 Big Data Conference hosted by UCLA Anderson School of Management. I learned a ton of valuable lessons surrounding big data and product development, and I was happy to hear from top industry professionals. Hearing their experiences and taking in their advice left me feeling inspired and validated by the mission we're trying to accomplish here at 12Twenty.
Best work memory
One of my favorite work memories was our ops team white elephant party last December. It was only my third day with the company and I had no idea what to expect. All I knew was that I had to show up to Santa Monica Brew Works with a wrapped gag-gift. A few beers and many rounds of fighting over presents later, and I walked away with three things: a stomach ache from laughing so much, coworkers who I felt like I had known forever and a 16 month Justin Bieber wall calendar that still hangs in my kitchen. I can't wait for this year's white elephant party!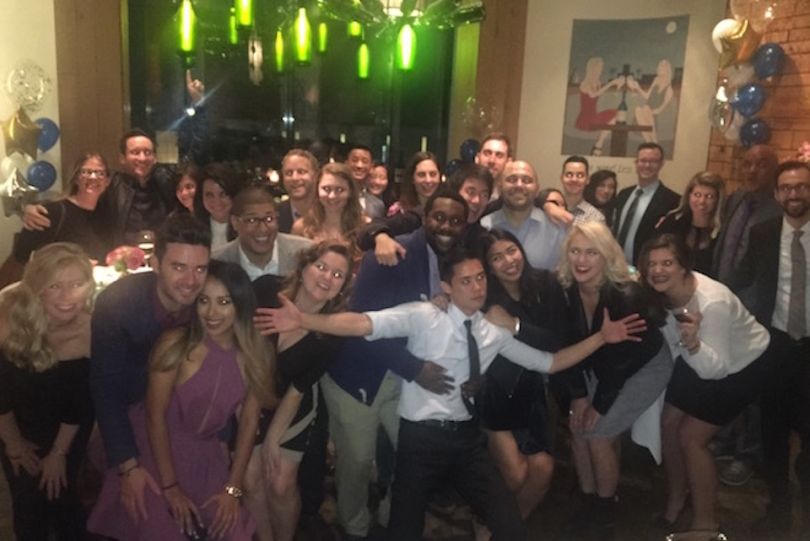 Favorite work story
Every year, our company does a March Madness bracket, complete with a giant poster in the office that is updated daily. Having gone to UCLA, college basketball is something that definitely brings out my competitiveness. As I filled out my bracket, I promised that I would be a force to be reckoned with. Fast forward and sure enough, nearly the entire company had a busted bracket going into the championship game, but I had the most amount of points and started prematurely celebrating my victory. Turns out, you shouldn't do that, especially when your CEO [Kenny Berlin] is the only person to pick UNC to win. Having to publicly congratulate him at that week's company-wide meeting definitely stung! Those weeks in the office were super fun, and this year it'll be better when I actually win the whole thing.
Proudest company and/or team achievement
The most recent win that sticks out to me is when I had the opportunity to speak to a student who uses our software. I met her at a conference and after explaining what we do at 12Twenty, she began complimenting us on the great experience she had using our product. Being able to organically come across positive feedback feels great, and it was definitely something I was excited to pass along to the rest of the company.
Why do you work at 12Twenty?
I love being challenged and forced to think critically; no two days are the same at 12Twenty. Being able to work closely with multiple stakeholders and teams across the company is something I value greatly because it helps me understand all of the different parts that are needed to make an organization function and execute on its mission. Also, I truly love the people I work with — not only do I spend every workday with them, but almost every day I'm doing something outside of work with them, like a yoga class or happy hour. Plus, working blocks from the beach and Third Street Promenade has its perks, too.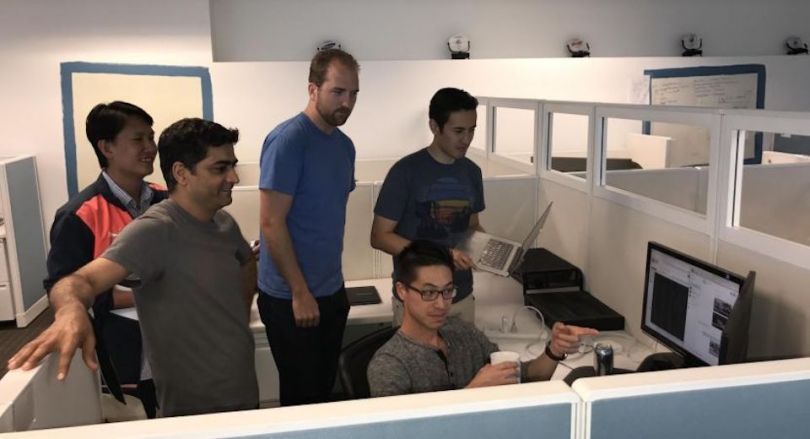 Founded: 2007
Headquarters: El Segundo
Ace Metrix offers advertisers a suite of tools to help understand how consumers are interacting with their ad campaigns in real time. With offices just off of Sepulveda Boulevard in El Segundo, the company provides its employees with a number of perks, but none of them are as important to software engineer Jason Templeton as the time he can spend with his child.
Favorite perk
My favorite perk at Ace Metrix is having a flexible schedule. As a young father, my schedule is constantly in flux and I love that if I have to go to the dentist or drop something off at my kids' school, it's not an issue. I have worked at a few places in the past where flexibility wasn't an option, so I had to cram all of my errands into the weekend, which did not always work. Having a flexible schedule makes life a little less stressful and gives me more quality time with my family on the weekends.
Best work memory
Some of my favorite work memories involve office pranks on any coworker who recently went on vacation. Some of the pranks include wrapping every single item in their cube in tinfoil, turning someone's cubicle into a Volkswagen bus and building a giant papier-mâché shark. Not that we only pull pranks on one another — our end of the year white elephant holiday party is a blast as well. We order some great food and laugh at all the hilarious gifts we end up getting for each other.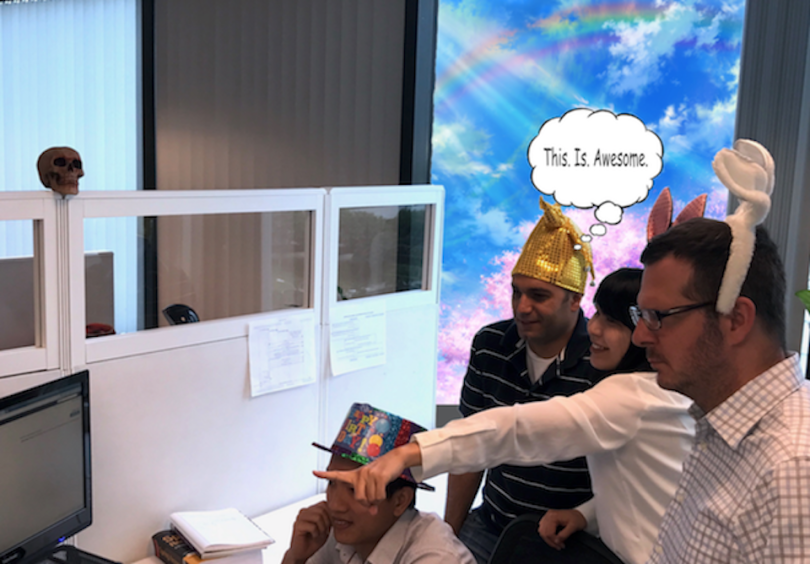 Proudest company and/or team achievement
My proudest team achievement was when my Node.js team collaborated with our system admin to architect a solution to our digital asset delivery application that outperformed our original design by 40 times.
Why do you work at Ace Metrix?
Ace Metrix has a tight-knit, team atmosphere. If there is a solution that you find is the best suited for a problem, there is a great chance that we could incorporate your solution. We are working on challenging problems with a modern tech stack and are always looking for great engineers.