Why are traditional scrubs so ugly? 
It was a thought gastroenterologist Gavin Jonas has carried during his 30 years of wearing unremarkable scrubs. Traditionally, those in healthcare have been required to don drab, ill-fitting scrubs that, while functional, can be hard to wear with pride. They're uncomfortable. They're unflattering.
But, after trying on a pair of scrubs his daughter had a hand in designing, Jonas was impressed: They were a cut above the dull, green uniform he was accustomed to. These scrubs were stylish. These were cool.
His daughter Michele was pleased. As an associate designer for FIGS, a medical apparel company, she'd helped create the sporty look that made her father look and feel so sharp. After dedicating his life to helping others, Michele said it was nice to be able to provide him with work attire he could feel good in.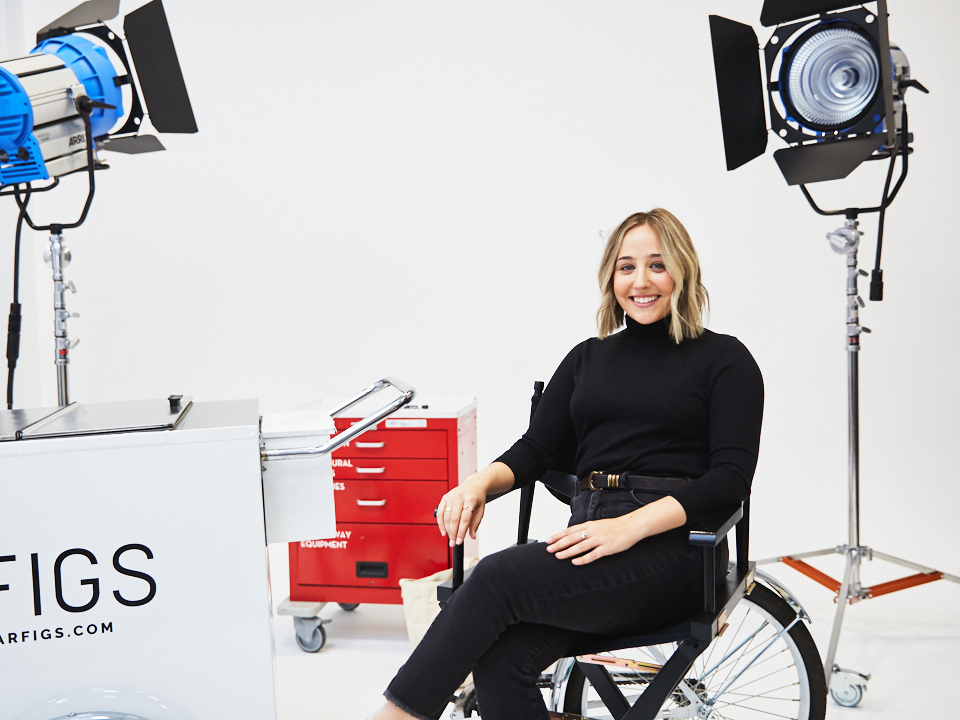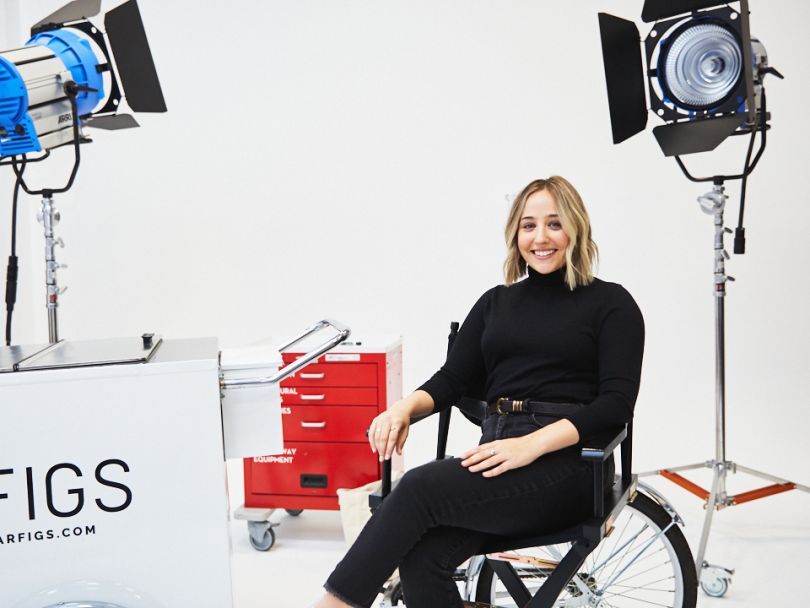 "One of the big things we believe in is that the impact of a set of scrubs is bigger than just a uniform," said Jenny Seyfried, vice president of brand at FIGS. "It changes the way you feel, the way you perform and how you feel about your profession."
In providing healthcare workers with an updated selection of scrubs, employees at FIGS say they feel they're giving back to those who sacrifice so much.
"I've found there is a void in companies that really do give back and have a forward-thinking mentality about changing how we work and changing the world," Jonas said. "Here, I can pursue all these great parts of being an apparel designer but also have the opportunity to work for a bigger cause."
To keep that passion alive, FIGS says it seeks to continuously inspire its team with motivational talks, roundtable discussions with the medical community and considerable emphasis on giving back. It all helps employees see the impact of their work and motivates them to continue doing good. 
"When you're in it for yourself, you're not in it to win it," said Gabriel Rodriguez, senior manager of customer experience. "It's when you're in it for others that the world really changes."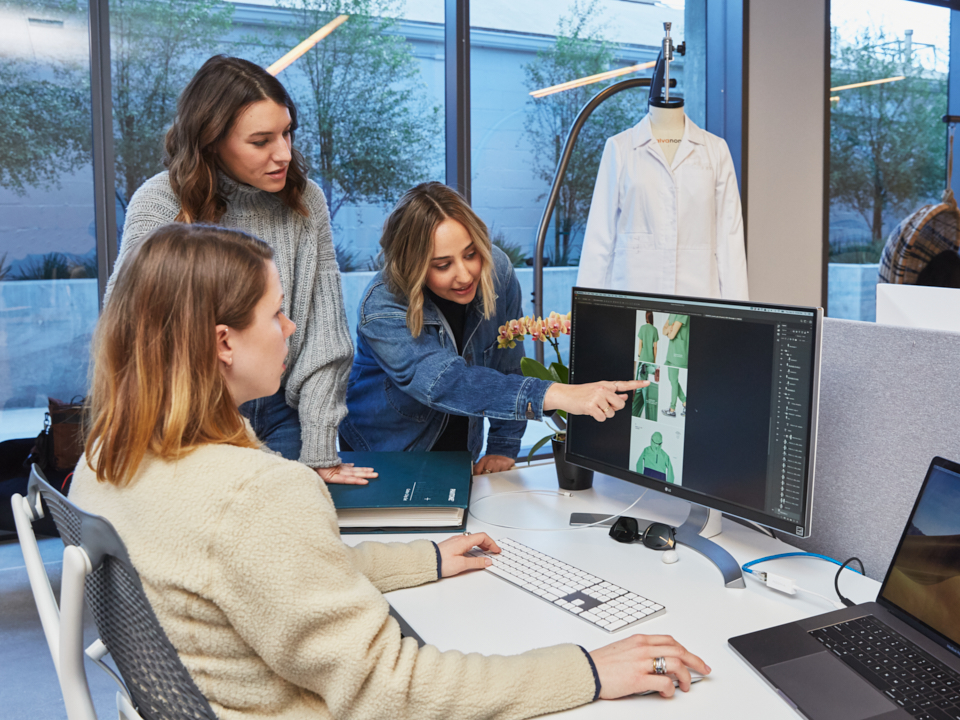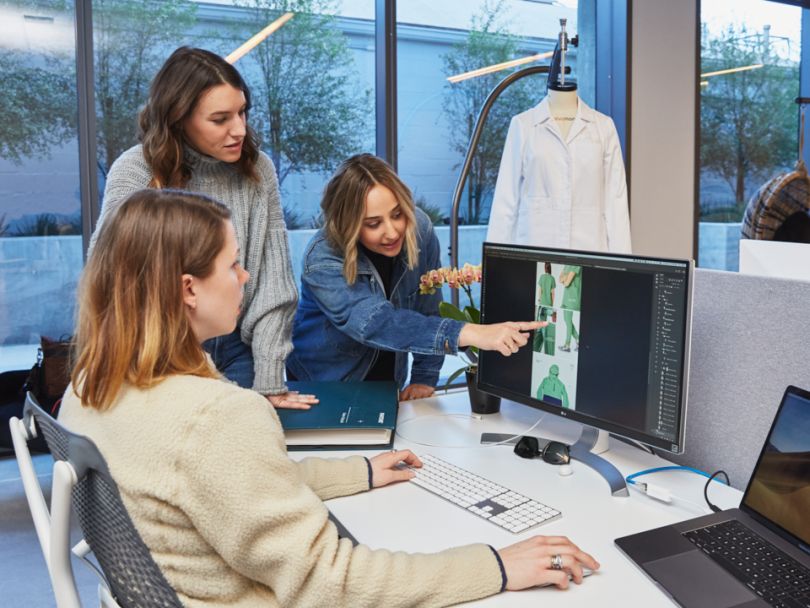 For those of us not in the medical community, what's the issue with traditional scrubs?
Rodriguez: The experience prior to FIGS was similar to going to a record store: you had to go hunting for your scrubs and you weren't always successful. Or, your hospital would provide scrubs to you. They were unisex, and that's what you got. We're here to tell medical professionals that it's OK to be stylish and to be comfortable at work. 
Seyfried: When you look at the industry before FIGS, no one cared about the person wearing scrubs. They were made out of the cheapest cotton that you could find, with no functionality or technical innovation. What we wear as athleisure to brunch has features that surgeons and nurses didn't have in their scrubs. All of our scrubs are moisture-wicking, antimicrobial for anti-odor, four-way stretch and liquid-repellent. They're actually doing things that serve the person wearing them.
Jonas: We've also expanded how scrubs fit. For example, if you wanted, you could wear a cooler, boxy top with your skinny joggers. Or, if you wanted to look more traditional, we offer scrubs that fit your body — like having different inseam lengths so if you are a petite woman, you can purchase scrubs that fit. I think that is so empowering.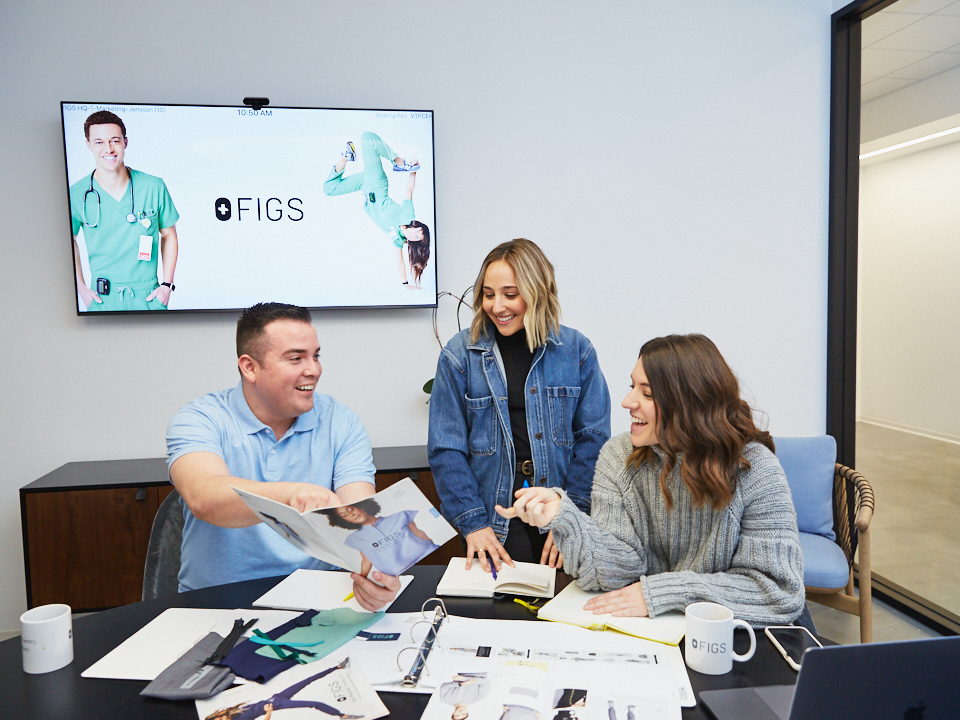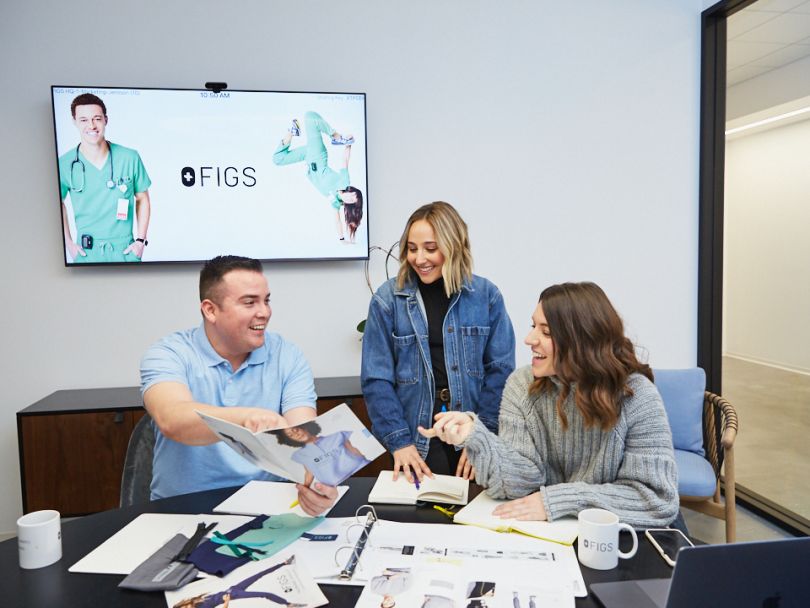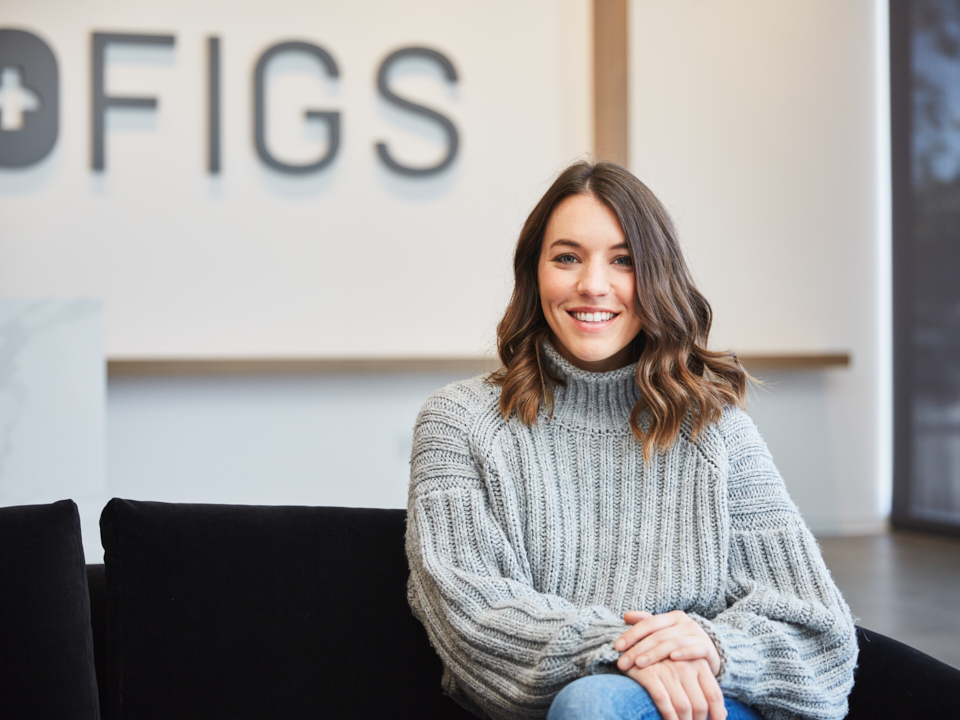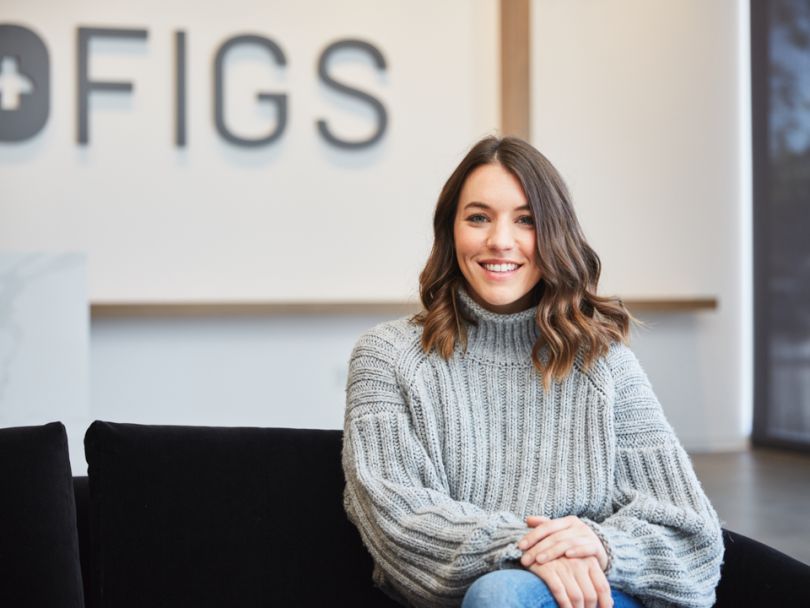 What kind of feedback do you get from the medical community?
Jonas: We try to do focus groups twice a year. In between, if we have a really cool idea that we want to run by people, we have an amazing group of ambassadors that give us feedback. At least in my department, nobody comes from a background of designing scrubs. So sometimes we need to hear, "I need a pocket for my syringe." That's not necessarily something that we would know. 
A woman in one of our focus groups was a surgeon who wanted to feel professional and confident. She felt that FIGS helped her because she was able to look good in her uniform with her colleagues while feeling like her scrubs fit her — she didn't have to worry about wearing a long sleeve shirt underneath. I think that was one of the moments when I realized how impactful the fit of our scrubs are: how you can move in them, how the waistband stays up and how they make you feel. 
Upping the ante on care
Recently, FIGS gave out seven scholarships to nurses for each day of National Nurses Week. They also sent a nurse and her friend to Las Vegas — a playful rebuttal to a senator's comment that nurses spend most of their shifts playing cards.
Rodriguez: We're very blessed to have another focus group every single day: our customers. We definitely share anything urgent or valuable with the team that needs to know about it. We want to tie everything up and make sure that their concerns are not met with empty ears.
As far as feedback goes, a lot of what we hear are requests for colors, and that's where I partner with our design production teams. We were getting a lot of comments that we needed to introduce pink for men's scrubs. We heard, we listened, we rolled it out and it did amazing.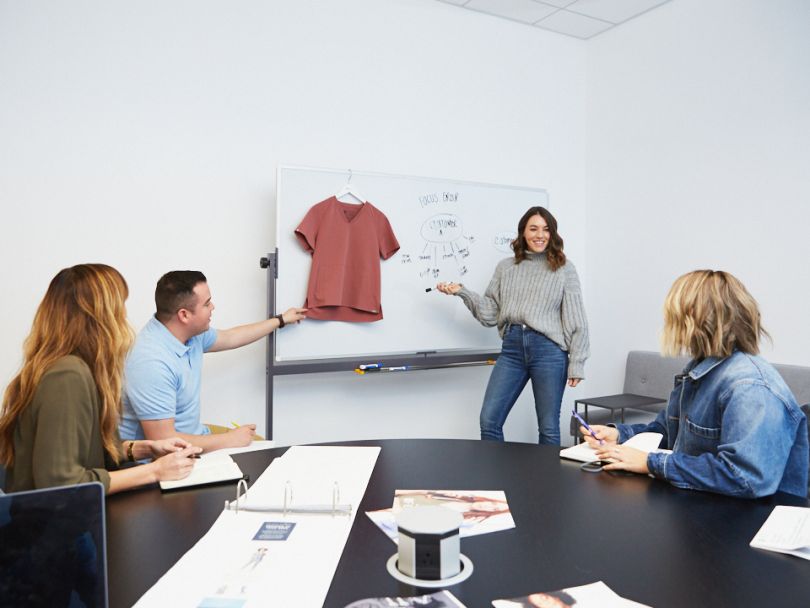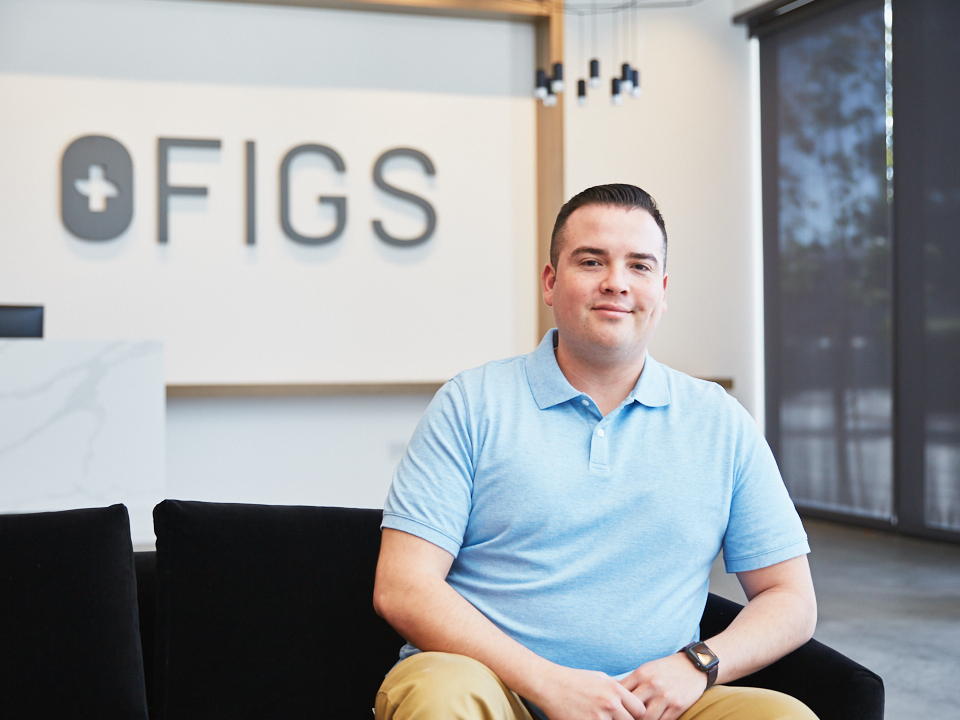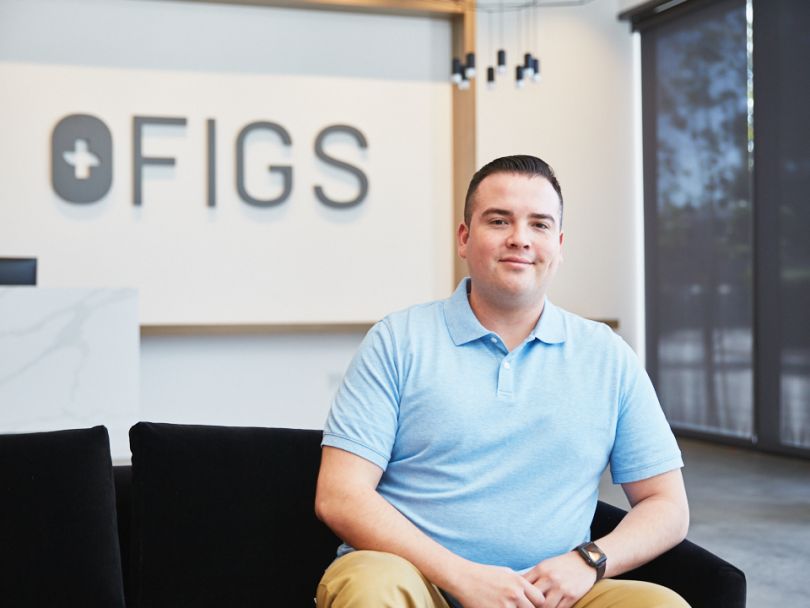 As with any job, it can be easy to fall into a routine and lose sight of the mission. How do you stay inspired?
Seyfried: We have something called fruitful talks, which is when someone who can teach us about life, business or an experience they've had comes in and sits with the whole team. We basically have an open Q&A with that person about leadership, success or even what they're reading. 
We also have access to an awesome community of medical professionals, and they play a big part in motivating our team here at FIGS. We started this ambassador program three years ago with medical professionals that we have built really close relationships with. 
Jonas: I drive by a hospital on my way to work and every single day, I see people wearing FIGS. You have to get excited when you see people actually use the product that you're helping to make. Working in the apparel world, you don't always get that kind of reward. Knowing that the customer is wearing their FIGS to do something amazing makes you feel even greater about what you're doing every day.
Giving back, near and far
Threads for Threads is an initiative FIGS started to donate scrubs to healthcare providers in need — at home and abroad. To date, the company has donated a few hundred thousand scrubs in over 35 countries.
How does this one, central mission affect how you all work together? 
Jonas: A big part of our culture is sharing. When you come in with an idea, it is rewarded — there's no reason to feel like you shouldn't be growing. I feel like I can go to Jenny and say, "I have this idea for something that has nothing to do with what I'm working on, but I wanted to share."
Seyfried: And that happens! We can't tell you what it is, but Michele showed me something and was like, "Isn't this funny?" And now it's our whole Q3 campaign.
I think we all communicate really clearly because we know that that holistic communication is what makes FIGS work and what keeps it being really special. 
Rodriguez: We have a lot of events that we throw for our team to have a great time, share our successes and get back to the human aspect of working with one another. It also inspires and cultivates ideas. The consideration that everyone has for one another — for their projects, work and everything else is special.