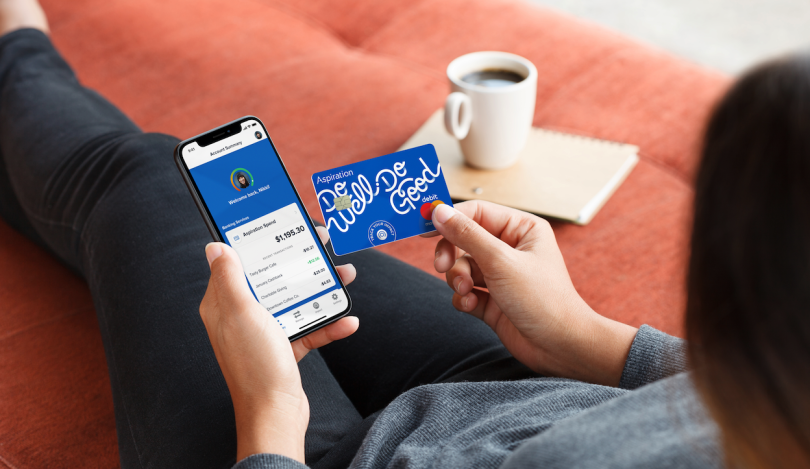 Aspiration, a socially and environmentally conscious banking startup out of Los Angeles, has closed on a $135 million Series C funding round.
Founded in 2013, Aspiration is an online-only bank, similar to other startups like Chime and SoFi. It provides several perks, including its "Pay What is Fair" initiative, which allows customers to pay as little as $0 in fees on investments. However, unlike other similar companies, Aspiration focuses on helping its customers be more socially conscious and environmentally friendly. Perks include debit cards made from recycled ocean plastic and an Impact Measurement Score feature that allows customers to better understand how their shopping habits can be more kind to the environment.
"Aspiration is really unique in that we are built around helping our customers both do well financially and do good in the world," CEO and co-founder Andrei Cherny told Built In via email. "We offer fossil fuel free deposits and investments, the ability to see your personal sustainability score and to plant a tree with every purchase you make on the Aspiration card, and let you make all your driving carbon neutral."
So far, about 1.5 million Americans have signed up to use the company's financial management and banking services, with more than $4 billion in transactions passing through its accounts. Cherny says the last two months have been the biggest ever for Aspiration when it comes to debit card transactions because, at a time like this, more people are "looking at both how they can save money but also how they can save the planet."
This most recent financing brings the company's total money raised to more than $200 million and was led by existing investor Alpha Edison. Former investors include Hollywood actors Leonardo DiCaprio and Orlando Bloom, both of whom are prominent environmentalists. DiCaprio also joined Aspiration's board of advisors last year.
Aspiration will use this funding to grow its services and product offerings, according to Fortune. Cherny also says the company will be hiring in its engineering, product, marketing and growth teams, but did not specify how many roles would be filled.