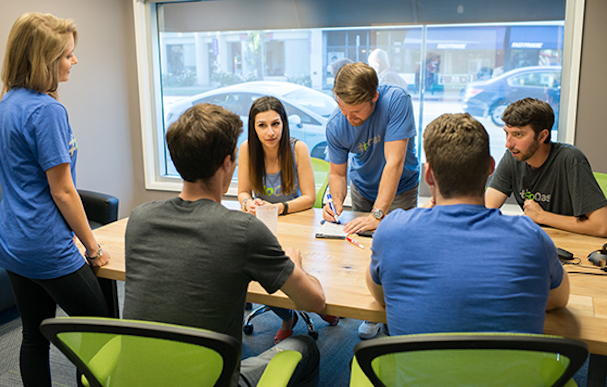 Mike Whitmire was hours into an interminable spreadsheet when an idea hit him like a ton of bricks.
"Why isn't there a Salesforce for accountants?"
Perhaps it was because he was responsible for using Salesforce to track revenue at Cornerstone OnDemand, or perhaps it was the glaring pain points in the process he couldn't quite ignore, but Whitmire didn't take long to act.
Within a few months, he was pitching the idea — which would eventually become FloQast — to partners at Amplify LA. Though they responded positively, there were a few minor holes in his plan: there was no co-founder, there was no product and there were no customers. 
Just as Whitmire started looking for a co-founder and CTO, a veteran Myspace software engineer was looking for a startup to join. 
But there was a caveat: it couldn't be sexy.
"Coming from Myspace, the whole attention economy that was burgeoning at the time was a massive turn off," said Cullen Zandstra, who would go on to accept a role as co-founder and CTO. "I got into computer science because I really like the utilitarian aspect of it. I liked building something that I felt had a purpose outside of getting an endorphin rush when someone gets a message on a social media site. When Mike pitched me the idea of an accounting software, I was like, 'Hell yeah!' It was just unsexy enough, and it was honestly exactly what I was looking for."
Together, the two built FloQast a minimum viable product that landed them a spot in Amplify's accelerator program. At its core, the software is an organizational tool that helps accounting departments centralize their workflows, assign tasks, maintain support documentation and automate reconciliations — something that previously had to be done manually.
"You can be an A+ student and get a 99 percent on all your tests, but when you're doing that over 600 transactions, that means you messed up at least six of them," said Whitmire. "That is unacceptable, and that causes problems when you review the workbooks and go through the audits."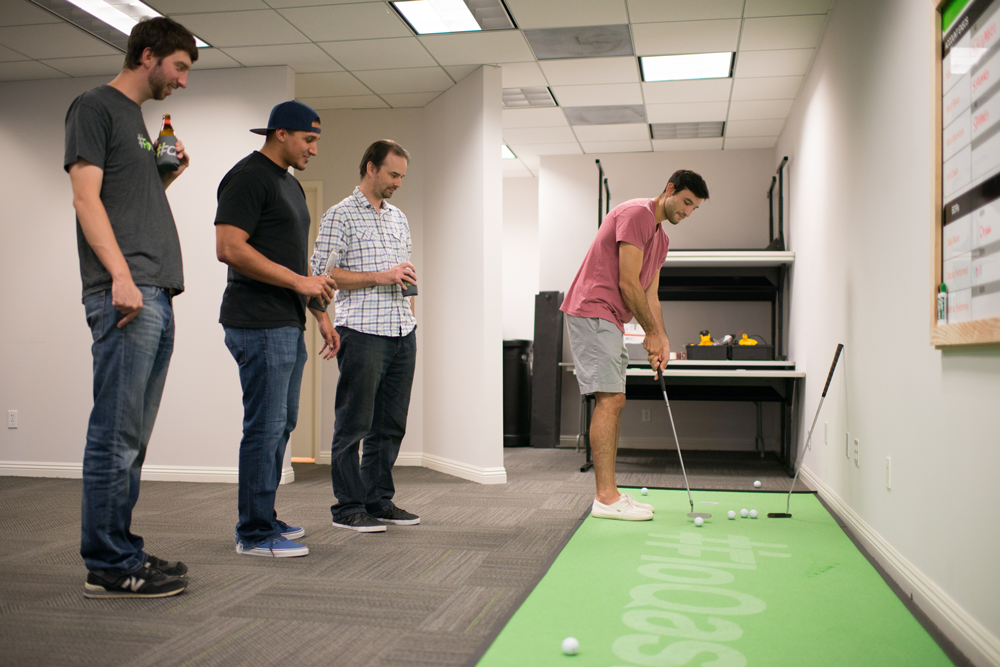 Though they came out of the program with $50,000, the next few months proved challenging for the team as they struggled to find buyers for their product.
"The post-Amplify months were incredibly valuable, both in terms of development of the company and the development of us as people," said Zandstra. "We had a very limited budget, and we were running into tons of 'nos.' That anxiety was really trying, but clients were telling us what they wanted in the product and we were able to make the changes. Those were dark days, but ultimately we benefited greatly from them."
The company gained enough traction to secure a $1.3 million seed round of funding in November 2014. As they scaled and added talent, Whitmire hit the fundraising trail again, a process he admitted was equal parts frustrating and confusing.
"The Series A was really hard," he said. "I was trying to convince people that the market opportunity was there and this was a big pain point that needed to be solved, and I kept getting these vague answers about us being too early and maybe circling back in six months. I got probably 60 to 70 'nos' and got three 'yeses.'"
Ultimately, FloQast was able to close a $6.5 million Series A in early 2016. Thanks in part to the timely funding, the company managed to build up to 40 percent growth quarter over quarter and develop a positive net churn of more than 20 percent, meaning that the company was successfully selling more uses of the software than they were losing customers. Based on these numbers, FloQast again hit the fundraising trail, closing a $25 million round this past June.
But this time, no one told Whitmire his company was too early-stage.
"I had funds reach out to us, and we talked about the value that they could bring to the table," he said. "I carved it down to five funds that I really liked, talked to them about it, and ultimately ended up with Insight Venture Partners."
With the company getting set to move to a new office in the coming months, it is actively proving the value of being headquartered in Sherman Oaks.
"The people at Amplify didn't think we would be able to attract a lot of talent because we were in the [San Fernando] Valley," he said. "So we went out and proved them wrong. People are sick of commuting to the West Side, so cutting out hours of traffic a day is a perk in and of itself, and we take the money we save on rent, and we pay people better."
Images via FloQast.
Have a news tip for us or know of a company that deserves coverage? Let us know and follow us on Twitter @BuiltInLA.