Elevate.Money Helps Everyday People Build Generational Wealth
Its fintech solution aims to democratize real estate investing and help more people build wealth.
Sure the latest initiatives from the Teslas, Apples and Googles of the industry tend to dominate the tech news space — and with good reason. Still, the tech titans aren't the only ones bringing innovation to the sector.
In an effort to highlight up-and-coming startups, Built In has launched The Future 5 across eight major U.S. tech hubs. Each quarter, we will feature five tech startups, nonprofits or entrepreneurs in each of these hubs who just might be working on the next big thing. You can check out last quarter's Los Angeles round-up here.
* * *
While understanding economics may seem intimidating for some, building wealth within our capitalistic society has become less complex thanks to new-age solutions. With platforms like Elevate.Money, you don't have to be a Wall Street mogul to make profitable investments. 
The fintech startup operates exclusively in the commercial properties sector of real estate investing and enables non-accredited investors to build portfolios that yield stable returns.
Typically, real estate assets are made available to accredited investors, or individuals who meet certain requirements concerning income, net worth and knowledge. These prerequisites create entry barriers, such as investment capital and experience, that keep others from taking part in this asset class. 
Elevate.Money's co-founders Sachin Jhangiani, Harold Hofer and Alex Cruttenden applied their expertise in tech, real estate and finance toward building a solution that could disrupt the historically inaccessible real estate investing space.
"Our approach is unique because we use our knowledge to bring more people into this world who may not have [had] access before," Jhangiani, Elevate.Money's CMO, told Built In via email. "Whether it is [a] lack of resources, education, economic class, social class or age, we just want to give more people the opportunity to open those doors with real estate."
Elevate.Money grants users access to shares in its real estate investment trust, or REIT. This allows users to earn passive income through fractional interest ownership. The company finds, purchases and manages all of the businesses in its portfolio. It uses Elevate Lens+, a proprietary underwriting model, to evaluate all of its potential investments.
The company makes a point of investing in long-standing, economically resilient businesses, like local gas stations or dollar stores, enabling investors to buy in at an affordable rate. When the company's portfolio tenants pay rent each month, Elevate.Money collects that rental income and distributes dividends to its shareholders at a yield of 6.5 percent. It also enables auto-investing, allowing users to set up recurring investments to incrementally add to their portfolio.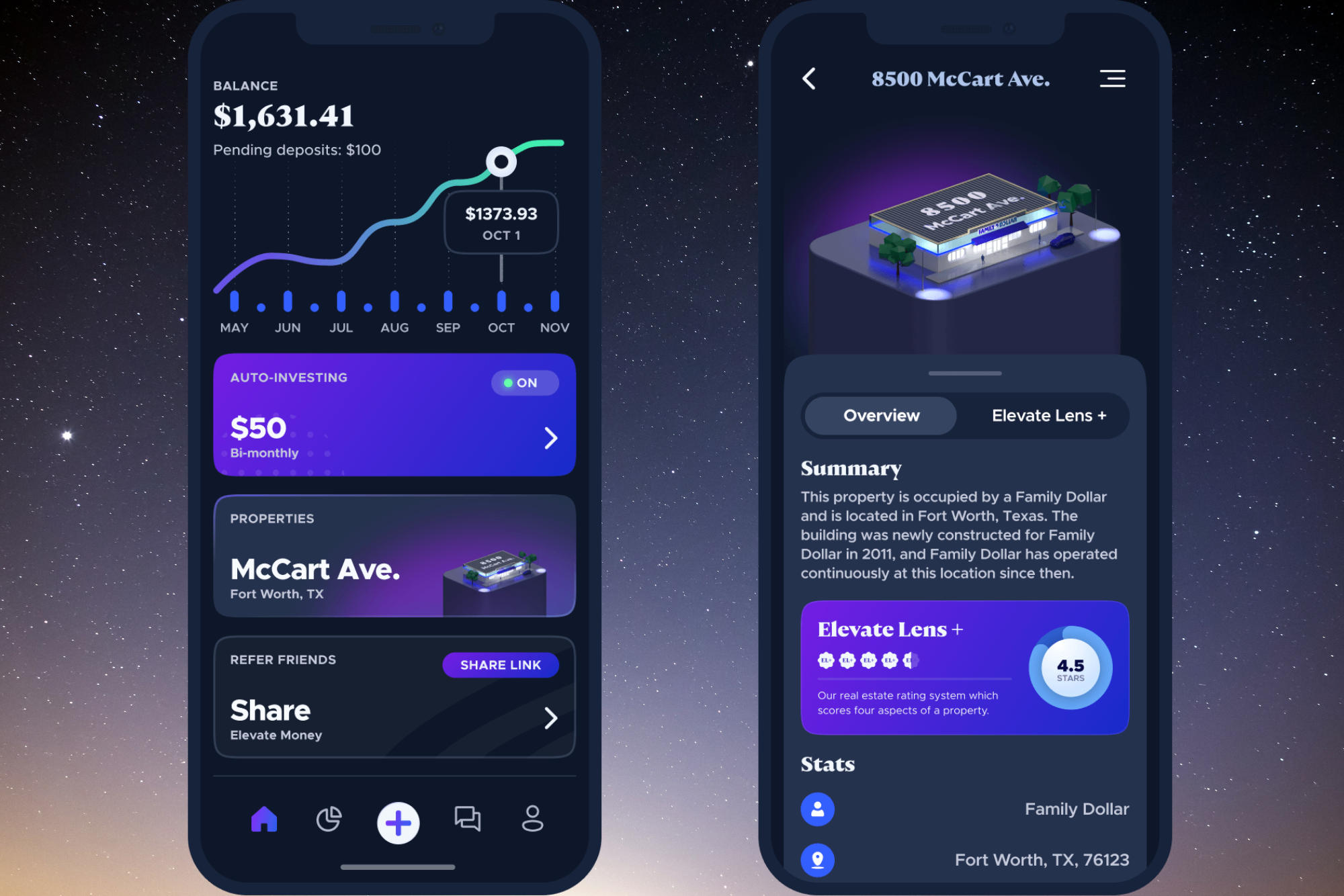 Jhangiani said Elevate.Money's ultimate goal is to become the Blackstone, a global leader in real estate investing, for millennials by offering consistent, predictable cash flow for its REIT investors.
"Young investors should have access to a real estate investing vehicle that has wealth-generating potential without the need for an expensive financial planner or having to be an accredited investor," Jhangiani said. "Our investors will become more financially savvy in investing and take the knowledge they got from Elevate.Money and continue to grow their portfolios."
In working to help others grow their wealth, Elevate.Money has seen substantial growth of its own. The company recently added a new CIO David Perduk and achieved $4 million in assets under management since his arrival. Additionally, 30 percent of Elevate.Money's users take advantage of the company's auto-investing offering. 
Elevate.Money launched its mobile app for iOS this past summer and has reached 13,000 users to date. It plans to offer the app on Android within the next year and has several other developments in the pipeline.
"In the short term, we are continuously refining and building out our platform to serve current investors and potential investors. Long term … we're fundraising so that we can acquire new properties to build our portfolio and bring our shareholders more dividends," Jhangiani said. "We'll continue to come up with new ways to educate and reward our users from a user experience side, and we're excited to narrow in on what that looks like."