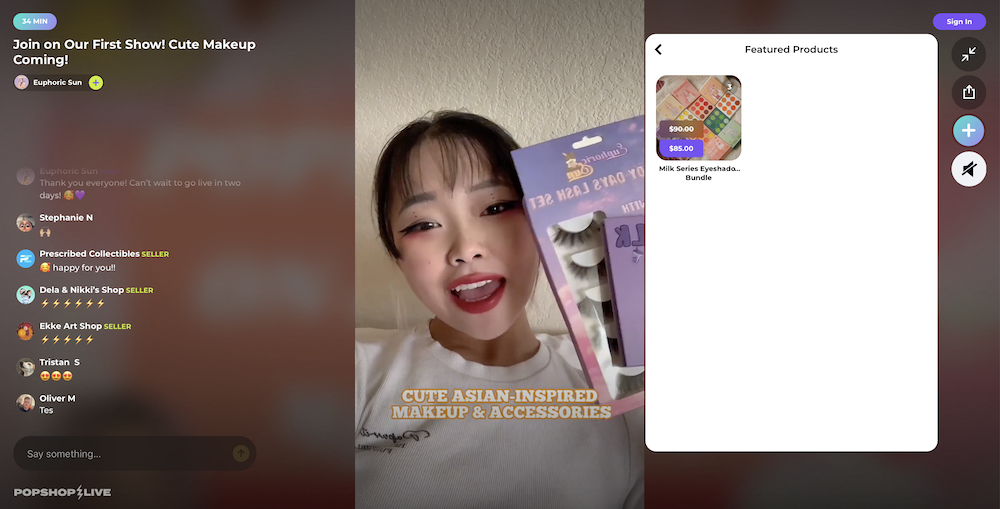 Shopping is fun but it can also be tedious. Walking around aimlessly from store to store, rack to rack, rifling through thousands of clothing options, sizes and colors. Luckily, Los Angeles-based company Popshop Live is providing prospective shoppers with an alternative to the traditional shopping experience. Now the company is receiving a fresh injection of capital to support its business journey. 
The livestream shopping network announced Thursday that it raised a Series A round led by Benchmark that brought its valuation to $100 million.
The startup chose not to disclose the final amount, but a source close to the deal told TechCrunch the round neared $20 million. The raise featured investments from notable celebrities like Hailey Bieber and Kendall Jenner.
"Livestream commerce is not just a trend in China and through the pandemic, it is an emerging multi-billion-dollar phenomenon whose growth is accelerating every day," Matt Cohler, board member of Popshop Live, said in a statement. 
Cohler is right, livestream shopping networks like Popshop have taken off in recent months. In May another LA-based live shopping app, Whatnot, raised a $50 million Series B. A month later, Chicago-based company Shopflix launched its own live shopping venture. 
Similar to Whatnot and Shopflix, Popshop marries the experience of in-person shopping with the accessibility of e-commerce. Merchants big and small can create and host their own live shopping experiences, allowing them to connect with hundreds of customers at a time no matter where they're located. 
Popshop Live merchants report higher engagement from the platform than on a typical weekend of in-person shopping, according to the company. 
"Popshop Live was a valuable alternative shopping platform as traditional in-person retail halted during the pandemic," Jill Renslow, executive vice president of business development and marketing at Mall of America, said in a statement. "Even as the world continues to open up and we welcome shoppers back, we plan to continue livestream shopping to reach new customers in a unique way."
Over the last three months, Popshop Live has increased the number of sellers on its platform by more than 500 percent, according to the company. 
"The first time I used the product it captured my imagination about what it could mean for how we shop, how we connect with others and our communities," Jason Droege, growth strategy lead of Popshop Live, said in a post to LinkedIn. "There's a really interesting dynamic that happens when sellers and buyers connect live that I'd never seen before and it made me think about the future of commerce and community differently." 
Following the latest raise, Popshop will continue to expand the range of products it offers on its platform to include vintage fashion items, furniture, collectibles and food products. 
The 30-person company also plans to triple its headcount this year to account for its rapid pace of growth. Popshop Live is now hiring for several remote-based positions across its engineering, operations and sales teams. 
Additional investors TQ Ventures, Access Industries and The Chainsmokers' Mantis VC participated in the round, among others.