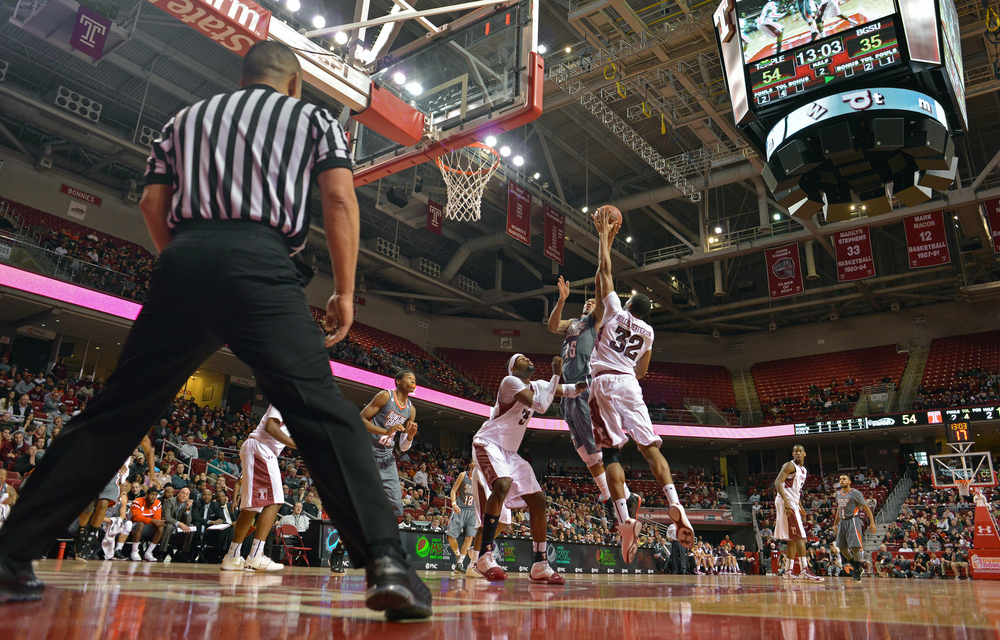 Ah, referees. Society's punching bags — perhaps since the dawn of time. 
The ire directed at refs may seem silly when your uncle is screaming at the television. (They can't hear you, Cliff.) Sometimes, however, refs really do blow it. Bad calls make uncles mad, but they also throw off tournaments and sap fans' trust in the leagues that command so much of America's attention — and money. 
Newly minted platform RefRatings is trying to do something about that. Its goal is to take the buzz generated by contested calls and channel that energy into one place: its app.
Fans can log on and vote on whether a call was accurate. That way, fans, commentators and league representatives get a clear picture of fan sentiment.
RefRatings cofounder David Dickey hopes the platform will serve to make sports leagues more accountable. But it probably won't make fans less fired up.
"People in the first Olympics probably thought their team was getting screwed," he told me.
For reference, looks like that was 776 B.C. 
The issue with measuring fan thoughts on refs' calls is that you may be measuring something else: team loyalty. Or at least that's what I assumed.
"People are pretty darn fair about making these calls," Dickey said. "We can look at the aggregate of everybody, the fans of, say, the Seahawks and the Rams and the unaffiliated together. Or we can break it down by just the Rams fans or just the Seahawks fans. They're doing a pretty good job so far."
In other words, the data can be filtered by team affiliation. 
Voting on calls isn't the app's only function. Fans can watch live play-by-plays, rate refs and weigh in on the correct call for a given play. They can start "tailgates," or group messages, with friends or fellow fans from the community. 
Gamblers can access in-app insights, then click over to their preferred sites to place a bet. Eventually, the platform itself will be gamified to let users bet on winners and losers and earn chips to cash in for tickets and memorabilia. 
In all the app's functions, the central theme is sports data, and that makes sense. RefRatings' founders have four Ph.D.s and a Master's among the three of them — and lots of experience using data to tackle big economics and public policy challenges. 
Now, the three huge Los Angeles sports fans are combining forces to tackle referee ineptitude.
Dickey, his wife Arsine Khayoyan and her brother Jack Khayoyan worked together to develop RefRatings and take it to market. They also collaborated with Black Dog Venture Partners founder Scott Kelly, former New York Giants head coach Jim Fassel and Arabian Prince, a technologist and founding member of hip hop group N.W.A.
"It's really a family affair," Dickey said. "[Arsine] actually knows more [Los Angeles] Lakers and NBA trivia than me, which is pretty impressive. And her brother Jack, who's my brother-in-law and one of my best friends, is a brilliant guy."
For now, the platform is ad-free and will make money from selling what it's calling "fan sentiment data" to sports books, earning commission from referrals to sports betting sites and selling subscriptions for access to advanced sports betting data. They plan to integrate ads in the future, Dickey said.
The team of three has no full-time employees and no outside funding, Dickey said, but it's currently in talks with its first outside investor. Dickey could not disclose the source or amount of the potential investment at this time. 
Fresh off its official launch last month, RefRatings is working on drumming up an audience. Dickey believes they will find that audience, he said, because the platform has key differences from other sounding boards, like Twitter. 
"This app is really going to be the ground truth for true fans. Like for super-fans," he said. "There are all kinds of cool ways we'll be able to aggregate and analyze this data, and that'll become meaningful data instead of being lost in a sea of, you know, non-sports-related data and people chiming in that really don't care that much, that are just trolling."
With RefRatings, fans may find a more fruitful way to make their opinions on referees known. I hope you're reading this, Uncle Cliff.