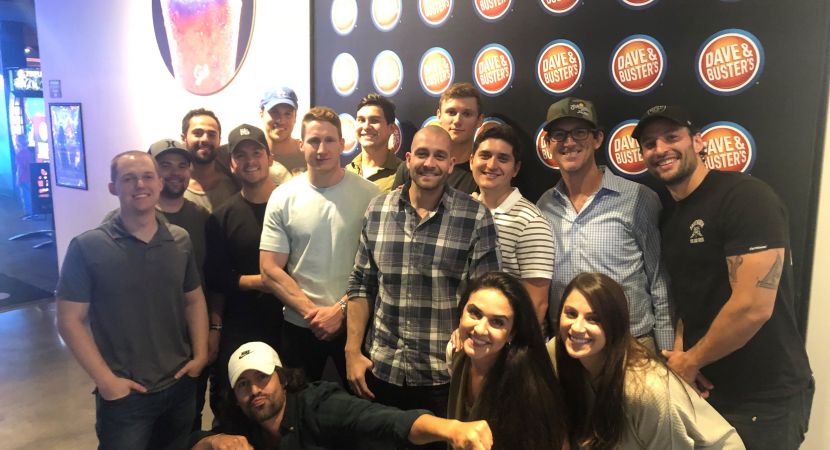 What do NASA, Tesla and MIT all have in common? The three hotbeds of innovation are all customers of PatSnap, a technology company whose software helps companies, universities and organizations around the world accelerate and streamline their innovation efforts. 
While PatSnap is headquartered in the United Kingdom, the company does have a tight-knit and fast-growing Los Angeles sales office that's helping propel the company's next stage of growth. We recently caught up with a local member of the team, Senior Account Executive Ray Costello, to learn more about the unique culture of PatSnap's Los Angeles office, the company's product and what the sales team looks for in new hires.
You joined PatSnap from Uber. What about the company made you want to join the team? 
The first thing that caught my attention was the product. The software is extremely robust and is effectively bridging the gap between intellectual property and R&D teams around the world. Our platform streamlines an organization's innovation efforts by analyzing patent data using AI and machine learning and also allows teams to collaborate and share market insights. I got the opportunity to join the LA office in its first 18 months of existence and shortly after our Series D closed. Joining a culture that is continuing to grow and evolve was something that I was looking for in a company.
PatSnap has offices around the world. Can you describe the company's culture from a high level, along with what makes the culture of the LA office unique?
PatSnap's culture is centered around always pushing the boundaries and continuing to disrupt the market. Our platform is continuously growing and adopting new additions and features. The Los Angeles office stands alone with its unique energy and way of doing things. We recently moved into a WeWork in Playa Vista, which we share with some of the top tech companies on the West Coast, including Facebook and Airbnb. Working in a creative atmosphere and having the ability to establish our own identity — we're the only office in the U.S. — allows us to function as startup within a company that has been around since 2007.
Being able to speak to, and collaborate with, people who are transforming their industries is exciting and rewarding, as is knowing that we are making their innovation methods more effective through our data insights."
We also heard you've got a fun office environment. What makes the day-to-day enjoyable, and how does your team celebrate big wins or milestones?
A typical day includes plenty of joking around and discussions similar to what you might hear when passing by a large group of friends. Music is constantly playing throughout the office and the energy stays at a high level. Small wins are recognized throughout the day with vocal celebrations. We put together basketball games a few times a month, oftentimes playing with or against other companies at our WeWork. Our team likes to celebrate wins and milestones as often as possible, whether with organized office events or just a group of us going out for drinks on the Venice Beach boardwalk.
PatSnap's product is unique in the tech industry. What's exciting, challenging or appealing about what you sell and the companies and people you work with?
We embrace the opportunity to work alongside some of the most innovative companies and universities in the world, including NASA, Tesla and MIT. The professionals we work with in these organizations are directing the innovation process and bringing new ideas and products to commercialization. Numerous healthcare companies utilize the platform when developing new molecules. Being able to speak to, and collaborate with, people who are transforming their industries is exciting and rewarding, as is knowing that we are making their innovation methods more effective through our data insights. Hearing our clients' success stories and watching their creations come to market makes it all worthwhile. 
PatSnap is a big proponent of professional development and promoting from within. How does the company encourage and enable employees to grow their skill sets and careers? 
Success at PatSnap can pay off in a number of different ways. There are metrics and programs in place to ensure that you move your way up the ladder and get to where you want to be professionally if you consistently perform. The team here is constantly promoting growth and doing so in a way where people are genuinely motivated to excel. For example, I have taken on side projects, such as participating in interviews and conducting training and role-play sessions for sales development representatives. There are also opportunities to grow your career by representing PatSnap at trade shows or workshops to increase brand awareness.
Your LA office is growing. What traits or skills does someone need to have to be successful at PatSnap?
To be a top performer at PatSnap, it is important to have a strong competitive nature and the ability to be independently driven. It's essential to contribute your own individual skill set while collaborating and learning from others around you. Having the awareness to identify what works well for you, and acquiring the skills that have brought others success, will go a long way to making you a valued member of our team. A desire for a strong work-life balance and a knack for adapting to not only our culture, but also our partners' cultures, covers the remaining bases.