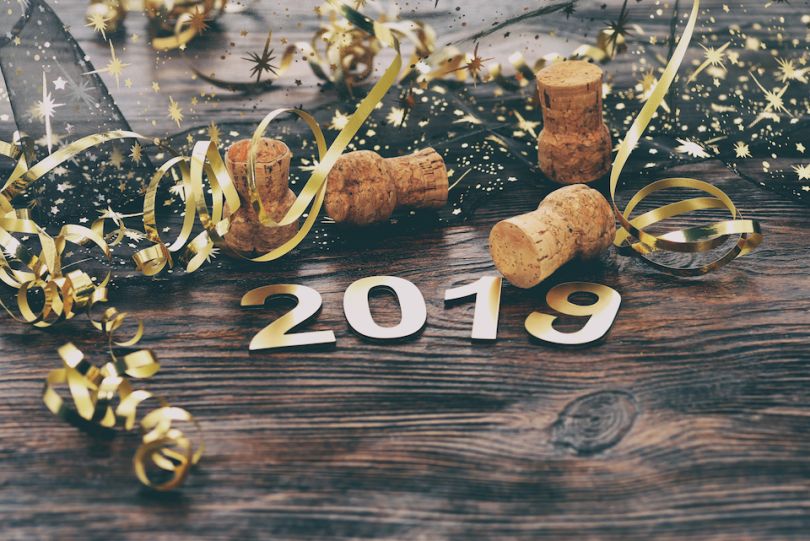 Last January, Facebook's CEO Mark Zuckerberg rang in the new year with this resolution on his Facebook page: "The world feels anxious and divided, and Facebook has a lot of work to do," he started. "My personal challenge for 2018 is to focus on fixing these important issues. ... If we're successful this year then we'll end 2018 on a much better trajectory."
The year didn't quite go as Zuckerberg expected.
Still, listing goals is an interesting and enriching enterprise, an opportunity to externalize those expectations we harbor, moving them from the ghostly medium of our conscience into the public record where they can be tracked or immediately tossed out (looking at you, intermittent fasting). As quantum physics confirms, nothing is real until it is measured.
We invited LA's tech leaders to share their New Year's resolutions with us, and their responses were practical, inspiring and, above all else, deeply relatable. 
Ophir Tanz is the CEO and founder of GumGum, a digital marketing platform for the visual web. A serial entrepreneur, Tanz is an active member of the Los Angeles startup and advertising community and has contributed to outlets including TechCrunch and Entrepreneur.
New Year's Resolution 
"To camp. To stretch. To exercise while traveling on business ... for once. To read more long-form (i.e. books) vs. short-form."
Lizzie and Joaquin Brown are the wife and husband team behind Yoga Wake Up, an app that wakes users up with a five- to ten-minute meditation sequence. The app hosts more than 30 different pre-recorded wake-up flows, including audio bites from well-known yogis.
New Year's Resolution 
"I want to surround myself with more people in alignment with my lifestyle goals, enabling me to make healthier choices with more ease, less challenge." — Lizzie 
"I want to stop looking at screens in bed." — Joaquin 
 
Benoit Vatere is the founder and CEO of Mammoth Media, a Santa Monica-based entertainment network specializing in mobile-first content. The company has raised $16 million in funding to date, with investments from Menlo Park VC firm Greylock Partners and Science Inc., where Vatere has been an entrepreneur in residence since 2015.
New Year's Resolution 
"Focus, focus, focus. Less is more. I am also very committed to raising awareness around mental health challenges faced by the founder community."
Barry Oberholzer started his career as a confidential informant, embedding himself in organized crime syndicates and channeling intelligence back to the CIA. (He wrote a book about it.) Today, he's the CEO and co-founder of the company behind SWORD, an iPhone and iPad case that can detect concealed weapons and explosives, run facial recognition and more, according to the company's website. The product is still under wraps but is scheduled to be unveiled in January.  
New Year's Resolution 
"Our 2019 resolution is about more than just dollars and cents and increasing sales. If you just look at the mass shootings and terror attacks in the past few years, we believe that we have developed a unique product that is proactive and can actually save innocent lives before a mass casualty event occurs — something that breaks down barriers of entry, such as pricing, to provide a solution that is affordable for clients from schools and small businesses right through to Forbes 100 companies."
Murad Mordukhay is CEO of Qencode, a cloud-based platform that encodes videos quickly and efficiently, according to the company's website.
New Year's Resolution 
"My New Year's resolution is to improve my concentration skills by reducing social media use, practice attentive listening and dedicate more time to mindfulness meditation."
Zane Lackey is the chief security officer at Signal Sciences, a software platform that specializes in protecting web applications, APIs and other cloud-based microservices for major online brands including Chef, Etsy, Adobe, Datadog, WeWork and more. Lackey answered by sharing his security resolutions for 2019.
New Year's Resolution 
"Don't get distracted by the headlines of zero-day, nation-state, APT, buzzword-filled cyberattacks. Instead, know where the real risks are and get the basics right.
Regardless of the size of your business, CISOs and other security professionals must focus on getting the common sense controls in place, such as two-factor authentication, full-disk encryption and web protection for the application layer where the risk has shifted to. Don't stress over the one-percent, nation-state, zero-day scenario when it's the 99 percent of common attacks that end up compromising most organizations."
Gabe Gottlieb is the CEO of Pathmatics, a marketing intelligence company based in Santa Monica. The platform, which has backing from BDMI and Upfront Ventures, provides marketing and advertising insights to brands, adtech companies and digital publishers. 
New Year's Resolution 
"2018 was a busy year for team Pathmatics. We achieved many milestones and worked with a ton of great partners in the digital ad space. It was exciting, but busy.
My New Year's Resolution is to slow down and take advantage of our amazing office location in the heart of Santa Monica. Not many people can say they are walking distance from the ocean – but we can. In 2019, I want to make surfing a huge part of my daily routine and bring that sense of single-minded focus, peace, and excitement to my team. We'll even try for surfing happy hours next year."