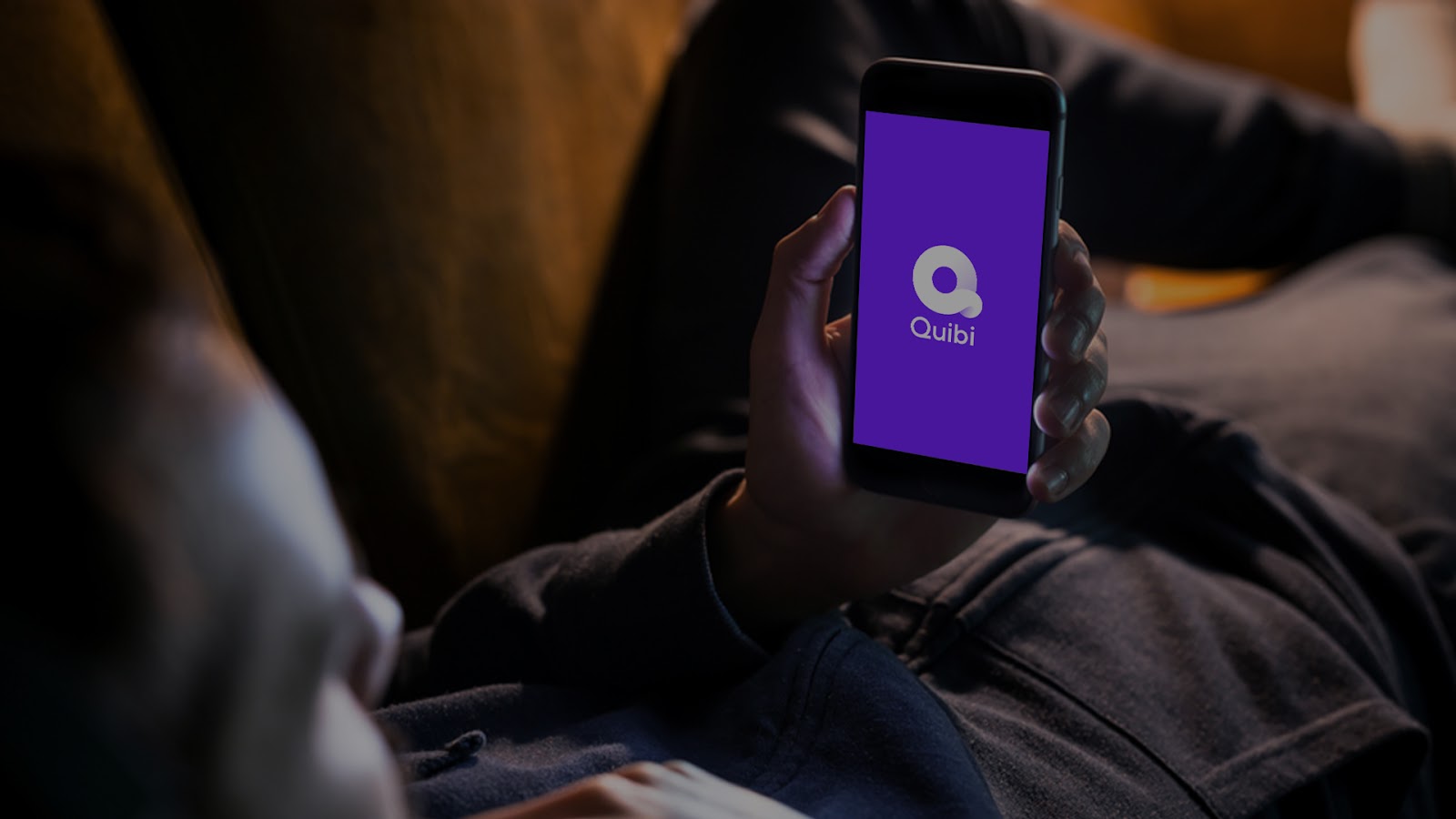 If Steven Spielberg were in the room, you'd want to impress him, too. 
In a Hollywood pitch meeting stuffed with techies, creatives and producers, the team at Quibi was trying to convince Spielberg that what they were building wasn't just another streaming platform. It was a new way to tell stories — that can only be told on a phone. 
It would be an oversimplification to describe Quibi as "like Netflix, only for a phone." The content has been written, shot and produced to be seen on a mobile device. Each episode is less than ten minutes, making it ideal for viewing on the go — but that's not the hallmark of what makes the platform stand out in the crowded field of streaming options. 
"When we talk about building content native that's to a phone, we're trying to enhance the storytelling by unlocking features of the phone," said Quibi's CTO Rob Post. "What would it mean if you could use your phone's camera in a story, or if you were able to move the frame around like it was your personal space? What if you could use somebody's location in your storytelling?"
Back in the pitch meeting, Post recalls Spielberg catching on right away. The famed director had an idea for a horror show — wouldn't it be cool to have it exclusively available after dark? Someone offered that perhaps it could be set to a timer so the show would only be available between midnight and 6 a.m.
"Then the technologists reminded everyone that a phone knows your location and what time of day it is," Post said. "We can literally make the show available right when the sun goes down. And then when the sun comes back up in the morning, it can disappear — like a vampire getting struck by sunlight." 
If impressing Spielberg was the goal, according to Post, they nailed it: that revelation got the director to lean in and say, "You can do that?"
Yes, they could: Quibi will debut "Spielberg's After Dark" at some point following the app's April 6 debut, giving horror fans an experience they can only watch after sundown. In early March, Built In LA spoke to key members of Quibi's tech team to learn how they built a new world of entertainment that lays squarely in the hands of the viewer.
Building a pocket-sized revolution
Like badges earned on the most low-stakes quest of all time, icons of streaming services continue stacking up on our connected devices. Despite the cultural explosion that occurs around each binge-worthy show that drops, the announcement of a new streaming service is often met with weariness. 
Do we really need another one of these?
With the jumble of logins both owned and borrowed, keeping up with the latest prestige drama to blitz through can feel like more of a chore than a leisure activity. But that's perhaps the most immediate difference between Quibi and other services: The content isn't just optimized for a phone — that's the only way it can be viewed. 
"What we've been able to do, in terms of content and how we deliver it, has been quite disruptive," said Lindsay Wyler, head of technical program management. "I've seen the highest amount of collaboration between content and tech here than I have at any other entertainment tech company. We're not just under the same roof — we're in the same room."
To make the platform a success, they would need all hands on deck: the input of engineers and product teams was just as vital as that of the content team, Wyler said. Whiteboarding sessions dominated early brainstorms when teams with wildly different fields of expertise were brought together to share knowledge. It was important to hear ideas from everyone.
"We had lots of discussions centered around how things would look and work," said Eric Buehl, head of engineering. "It's a very tactile thing in your hand that has this responsiveness that you don't really appreciate until it's in front of you."
BLOCKBUSTER FUNDRAISING
Quibi recently secured a $750 million funding round, bringing its total haul to $1.75 billion.
At the end of the day, the success of the platform rests on how reliable its tech is. After all, if it's glitchy and unwieldy, Post said, nobody is going to use it. 
To succeed at creating something people delight in using, the team said it looked carefully at the phone itself. Simple actions, like fast-forwarding ahead on a video, would inherently look different on a phone screen than a roomy living room TV. If a user is viewing content while holding their phone vertically, navigating a progress bar sitting in the traditional placement at the bottom of the screen would be difficult to do with any kind of accuracy. 
With that in mind, Post said they designed a vertical scrubber running down the side of the screen.
"One of the things that came out of creating this vertical scrubber was that we were using it on the right-hand side. Then, some left-handed people brought up that their thumb couldn't reach that side of the screen," Post said. "So, we created a left-hand mode where you can slide the timeline to the other side."
Little challenges like this seemed to solve one problem and create several others. But to Wyler, that wasn't a bad thing. 
"This actually ended up being an interesting and fun technical challenge for our Android and iOS engineers," she said. "Once we had vertical scrubbing for left-handed and right-handed users, things like the placement of where the time code goes became a complex challenge: You're not just dealing with the time code in one place. You're dealing with it in three different places."
The adjustment of on-screen elements led to one of Quibi's big breakthroughs, a crown jewel in the arsenal of traits that distinguish it from traditional streaming platforms: Turnstyle. Post recalls the creative team's feedback when observing the differences between vertical and horizontal viewing. 
"They said, 'What if it showed a different perspective of the entire story?'" Post recalled. "That means a completely new way of telling a story that's just blown our minds."
IN THEIR SHOES
In the keynote demo at CES in January, Chief Product Officer Tom Conrad showed a clip showcasing the potential of the Turnstyle technology. The clip utilized the protagonist's Nest doorbell camera to heighten the terror of having a stranger at your front door who wants to come in. The viewer, holding their phone just as the protagonist is, can share in her visceral reaction.
To accommodate these different perspectives, Quibi's shows are shot two different ways: one to be viewed on a phone horizontally, and one vertically. The viewer can toggle back and forth by simply flipping their phone 90 degrees. This creates a dynamic viewing experience: in portrait mode, the show can display shots that melt into the device, like texts, social media platforms and framing that fits the narrow screen. That same scene, when shown horizontally, can look completely different by better allowing for wider shots. 
"When you rotate the phone, there's no buffering or audio pops. There's no adjustment in perceived quality," Post said. "We're using well-established techniques for streaming services on how you might encode, what compression methods you use to encode, or different renditions that we have available. So if you're on a network that has fluctuating bandwidth, we can still deliver you the best possible experience."
Now playing on the small screen
The countdown clock on Quibi's wall has finally run out and the streaming service is now live. The tech team says they're well prepared for this monumental moment.
"We did a lot of work to simulate what a real user might do on our app," Buehl said. "We then used that data to load-test our systems and take those to the extremes of where we expected our usage could possibly be. Beyond that, we would stress-test individual components in order to make sure that we'd survive if we even exceed those expectations."
As with any launch, there will need to be quick iterations to appeal to the public's feedback. Post says it's in a unique position to pivot quickly because its content is so short. 
"We're not asking you to commit to 10 episodes of a new season, or to a two-hour movie," Post said. "We hope that when we launch, we're going to be collecting a lot of data around what people like and don't like about our shows that will then influence the home feed ordering and what we show to users."
When Built In LA talked to Quibi in early March, there was less than a month until the launch date. While jitters would certainly be warranted, the mood in the room was more excited than panicked. 
Wyler gives credit to the intensive planning stages and Agile methods the team employs.
"I'm feeling really good about where we're at," she said. "I think that's a testament to this team, how well we've communicated and set expectations on what we're building, and worked across the company to make sure that there's not a lot of last-minute things coming through the pipeline."
Buehl agreed. While Quibi has the potential to disrupt streaming as we know it, he stressed the importance of taking the platform's mission to heart and savoring the small moments that make up a larger narrative.
"These are the times that are the most memorable for technologists," Buehl said. "When you're shipping a product, it's important to stick your head up and remember that this is really fun. I think we're doing that while launching something amazing."