We live in a connected world where people are able to monitor their health via wearables, adjust the temperature in their home over the phone, and order groceries directly from their fridge.
It's all possible thanks to the wireless internet, and there has been no bigger innovator or advocate of this technology than Boingo Wireless. 
"In almost 20 years, we've grown from startup to the leading Wi-Fi company in the world, and the largest indoor DAS (cellular) provider in the United States," said CTO Dr. Derek Peterson. "And we're just getting started."
We recently spoke with Dr. Peterson and two other Boingoites to learn more about Boingo's work with 5G — and how the company's unique culture has enabled it to stay on the cutting edge for almost 20 years.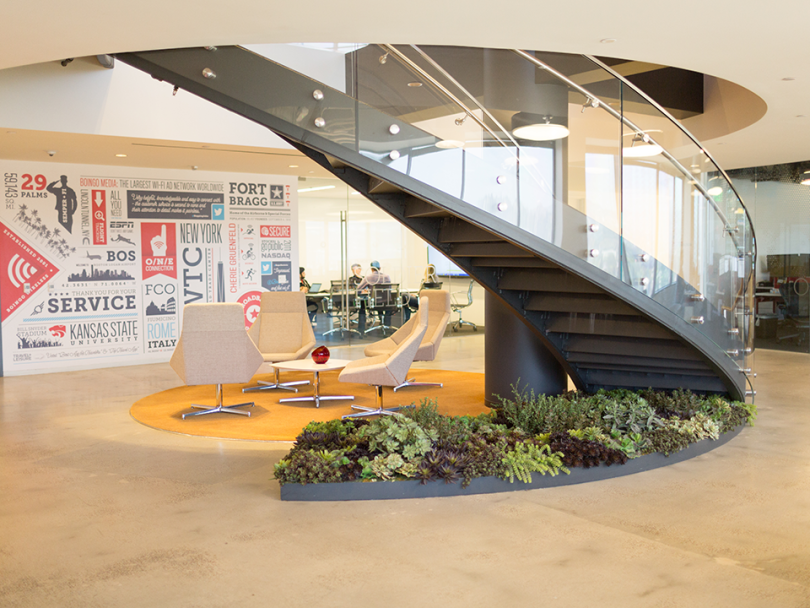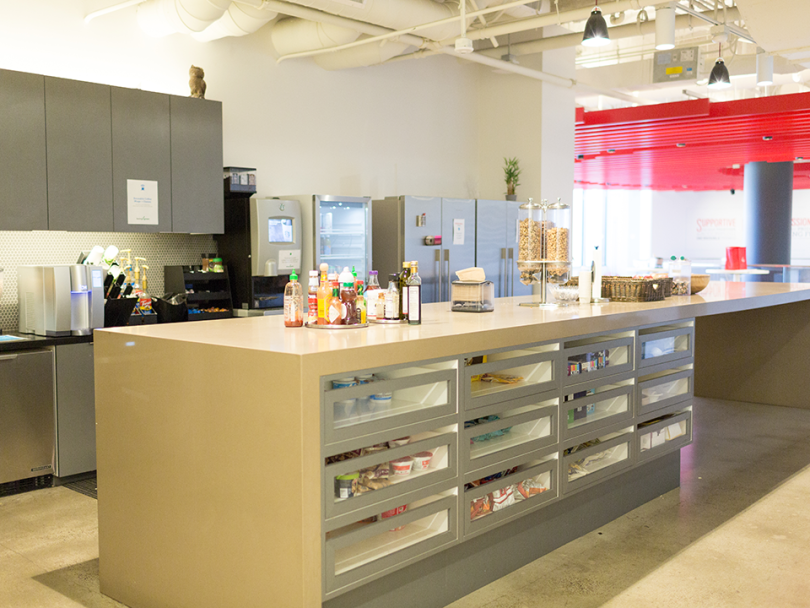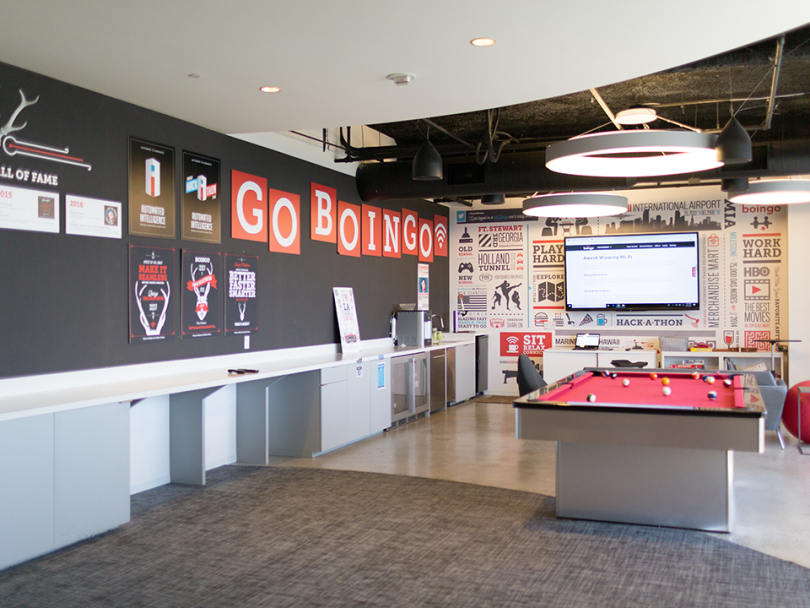 FOUNDED: 2001
EMPLOYEES: 483; 272 locally
WHAT THEY DO: Boingo helps the world stay connected. The company designs, builds and operates Wi-Fi and cellular networks at airports, stadiums, convention centers, multifamily communities, military bases and other commercial properties.
WHERE THEY DO IT: LA, New York, Columbia, S.C., and more offices around the world.
WHO THEY DO IT FOR: A lot of places, including the Los Angeles International Airport, the Hollywood Bowl, Soldier Field (home of the Chicago Bears) and the World Trade Center's Oculus building.
GIVE ME AN "S": The company's ideal candidate embodies the SPIRIT of Boingo: Supportive, People, Impassioned, Responsive, Innovative and Transparent.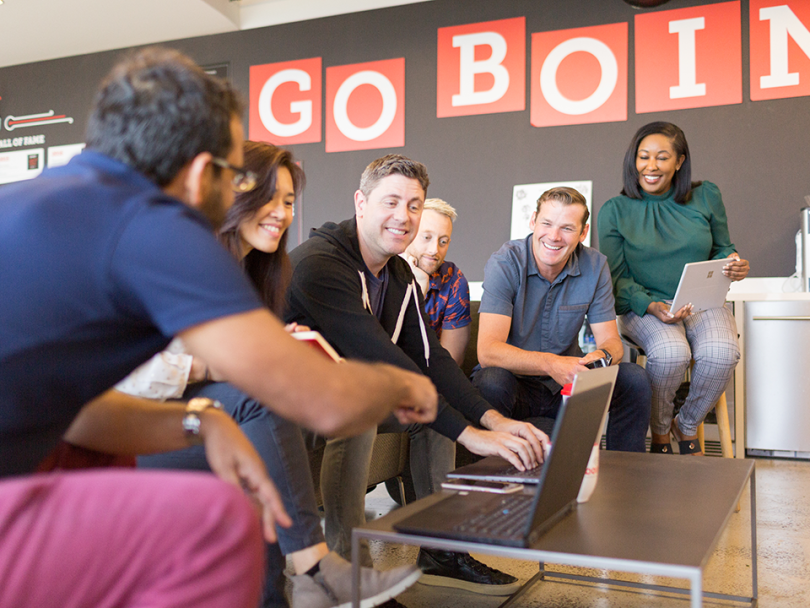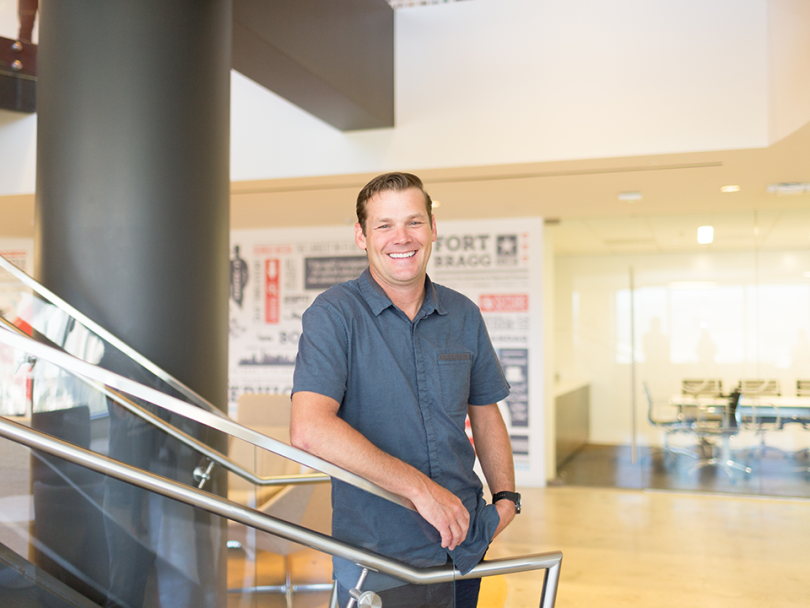 Dr. Derek Peterson, CTO
Derek, aka Dr. D, is responsible for Boingo's technical vision and strategy. He's leading the company's charge into the adoption and deployment of next-generation network technologies, which includes 5G, Wi-Fi 6, private LTE, Passpoint and network virtualization.
BEYOND WORK: When he's not in the office, Dr. D can be found dirt biking, doing water sports or training for a triathlon. Another fun fact: Dr. D is a living example of the IoT, as he has a chip implanted under the skin on his hand.
What role does Boingo have in shaping the future of 5G?
We want to make Boingo a key enabler of the converged 5G future, which will change how we live and work by connecting billions of people to billions of things. Boingo has been a big part of bringing this new network technology to fruition. It will require our business to prioritize automation and artificial intelligence at all levels so that we can adapt, scale and move with the incredible changes our industry is experiencing.
What benefits will 5G bring to consumers, and how Boingo is helping to drive this technology forward?
5G specifications address dense areas, which directly applies to indoor use cases and Boingo's business. We're working with carriers and venues to deploy 5G networks coast to coast, powering 5G connectivity with fast speeds and low latency using licensed, unlicensed and shared spectrum. This is part of our convergence strategy — leveraging all available bands to meet data demands.  
Boingo is uniquely positioned to manage the challenge of 5G upgrades. Over the years, we've moved our networks from 2G to 3G and 3G to 4G — 5G is no different.
We consciously built a company where people wanted to work and where people would succeed."
Culture can play a key role in driving innovation. What about the culture of Boingo's tech team makes it unique?
Since our founding, culture has come first at Boingo. We consciously built a company where people wanted to work and where people could succeed. We prioritize a culture that promotes collaboration and diverse thinking at every level.
From the leadership level, it's an understanding that great ideas can come from anyone. That's one of the reasons I lead our annual hackathon, which I liken to strength training for innovators and technologists. For 48 hours, employees apply insane technical creativity and push themselves to come up with the next big thing for our business — and win serious cash. Over 60 percent of hackathon ideas are turned into real applications, and last year, a hundred-plus employees participated. It's amazing how this initiative brings people together and leads to the creation of incredible new ideas.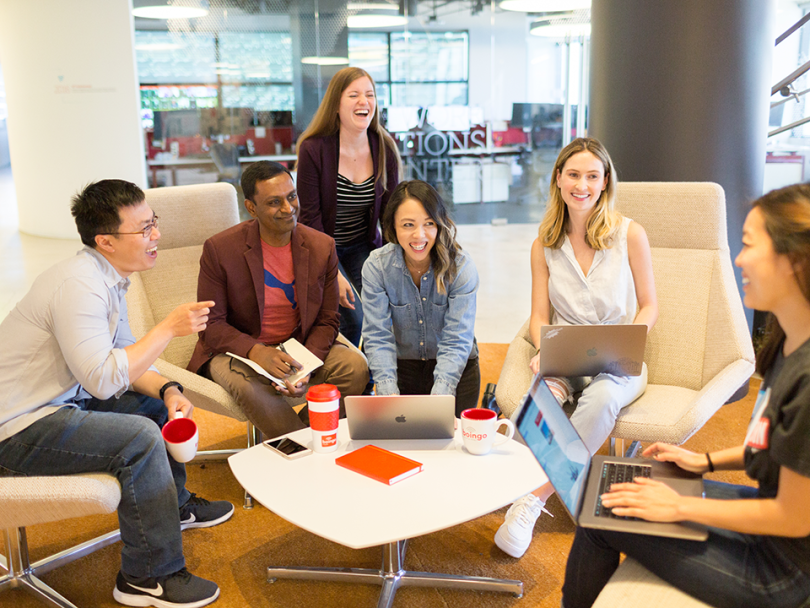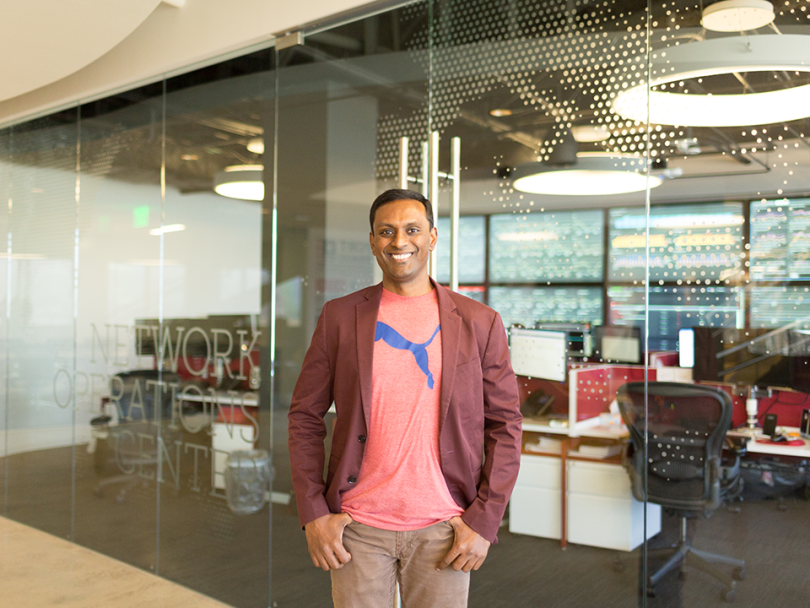 Kishore Raja, VP of Engineering and Strategic Programs
Kishore leads, executes and manages strategic R&D initiatives at Boingo. His goal is to usher an initiative from proof of concept to deployment, working cross-functionally across departments to make this happen.
BEYOND WORK: Kishore loves to play the piano and keyboard, in part because it requires the same patience, dedication and positivity as his work. He's a member of "Boingo Agile," Boingo's band that formed in 2013 and has played at company events.
Most people know Boingo for bringing Wi-Fi to airports. What are other areas of wireless technology is Boingo involved in?
Many people recognize Boingo as Wi-Fi in airports, but that's only part of who we are today. We have a high-speed internet business on military bases and multifamily properties around the world, servicing more than 300,000 residents. We also have a thriving cellular business that boosts mobile coverage in heavily trafficked locations like transportation hubs, entertainment venues and stadiums. And we're pioneers in Wi-Fi offload, where we leverage a technology called Passpoint that roams Tier-1 carriers like Sprint and AT&T onto Boingo Wi-Fi networks.
Boingo seems like a very future-focused company when it comes to technology. How do you ensure employees are able to stay current with developing technologies and trends?
Employees get a unique opportunity to work on products customers will be using for the first time ever. It's a unique position as your work can have a significant impact on the way people communicate. This is great motivation for anyone who likes to stay current with the latest trends in technology.
Boingo also participates heavily in industry standard alliances where we get to steer technologies, write whitepapers, speak at events, and most importantly, work side by side with many companies across the wireless ecosystem to take standards from concept to adoption. This includes device manufacturers, infrastructure vendors, carriers and more.
 
Employees get a unique opportunity to work on products customers will be using for the first time ever."
Boingo has twice been honored by the Digital Diversity Network's Innovation & Inclusion Awards, including in 2016 when you were spotlighted. Can you talk about Boingo's commitment to diversity and inclusion and what shapes it?
Diversity is a cornerstone of our success. No matter race, gender, age, religion or identity, we strive to be a place where everyone can bring their whole, authentic selves to work. Welcoming diverse perspectives when faced with a challenge is why we succeed. Having diverse viewpoints leads to better decision-making.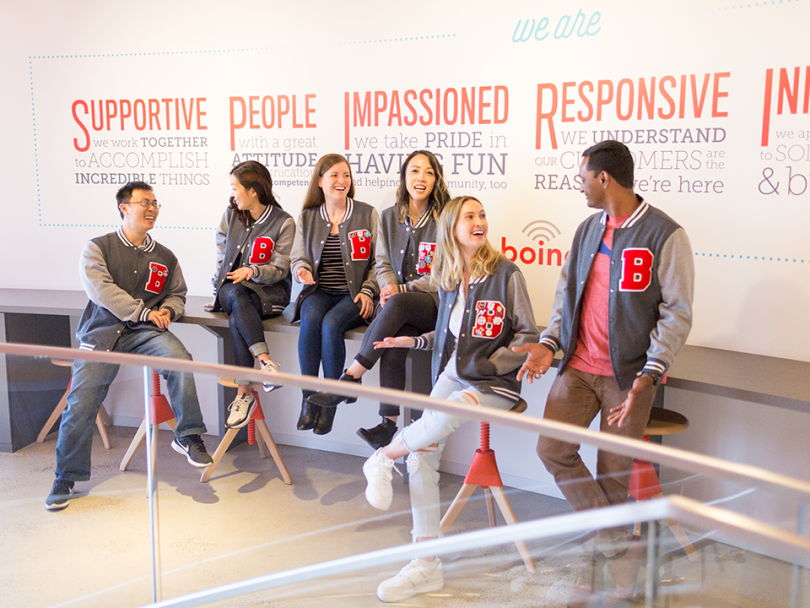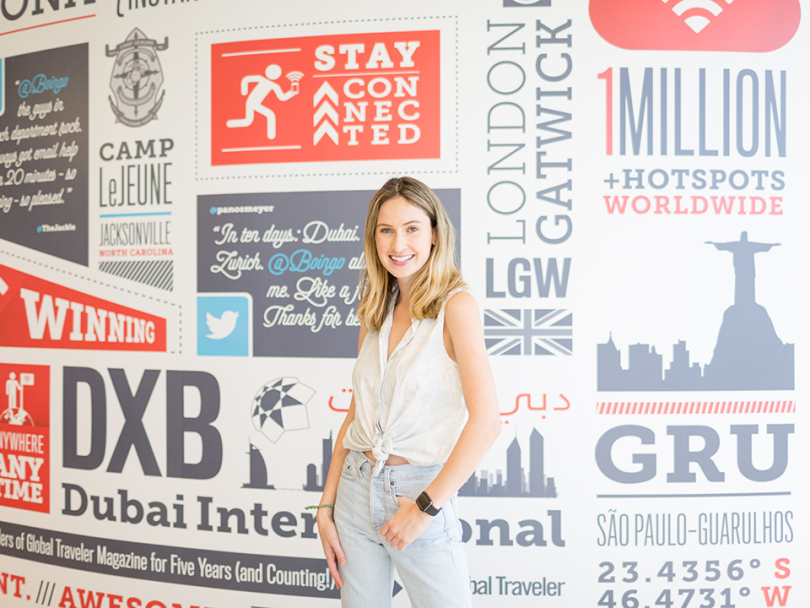 Spencer Johnson, Software Engineer
Spencer manages custom integrations and development within Boingo's business tools, including Salesforce and Atlassian.
BEYOND WORK: Spencer is known as Boingo's "in-house foodie." She's currently on a journey to eat at every restaurant on Jonathan Gold's 101 Best Restaurants List as a tribute to the Los Angeles Times' food critic.
You started at Boingo as an intern in 2015. What initially drew you to the company?
While at USC, I kept hearing the name "Boingo" whenever local tech companies came up. I looked into it and learned that Boingo plays a big role in connecting people, which sounded pretty cool considering I can't go a day without my iPhone. So, I pursued an internship and was fortunate to land a role in the engineering department. From day one, I knew this was the place for me. My strengths were celebrated, and I gained the experience necessary to pursue a software engineering career.
Fast-forward to today: What excites you most about Boingo and your work?
Without a doubt, it's 5G. With 5G, things like biometrics will reach new heights, especially at live events. Facial recognition technology will impact ticketing and security, while athlete wearables will deliver real-time data to fans.
For example, data may display that if LeBron James' heart rate is 80 beats per minute, he has an 85 percent chance of making a free throw. If it's at 130 bpm, the likelihood goes down to 30 percent. These are the type of immersive applications 5G makes possible. And it's really cool to be part of that.
 
It takes all of us to close the gender gap in technology. For me, I want to pay it forward and encourage future generations that no matter your background, anything is possible."
There's an obvious underrepresentation of women in tech. How is Boingo trying to change that long-held practice?
Boingo is a big supporter of women in engineering, which is one of the reasons I chose to work here. We have resources like our Boingo Women club, a group that empowers women to follow a fulfilling career through education, networking and mentoring opportunities. We're also trying to do our part in equipping a more diverse workforce of the future, sponsoring organizations that include Girls Who Code, Mayor Garcetti's Bixel Exchange Tech Talent Pipeline and others.
It takes all of us to close the gender gap in technology. For me, I want to pay it forward and encourage future generations that no matter your background, anything is possible.