In September 2015, millions of Snapchat users were captivated by a new feature: Lenses. Gone were the days of normal selfies — users could now take selfies with animated facial features and, most notably, open their mouths to see a flowing rainbow waterfall. 
Little did they know they were taking part in the first commercial wave of augmented reality integration.
Snap's user base has nearly tripled since it first introduced Lenses, so making sure the platform works as efficiently as possible for as many people as possible, while also protecting all of their privacy and security, has become even more of a necessity for Snap's success. 
We sat down with members of Snap's design, engineering and security teams to find out how they're making sure they stay on the right track.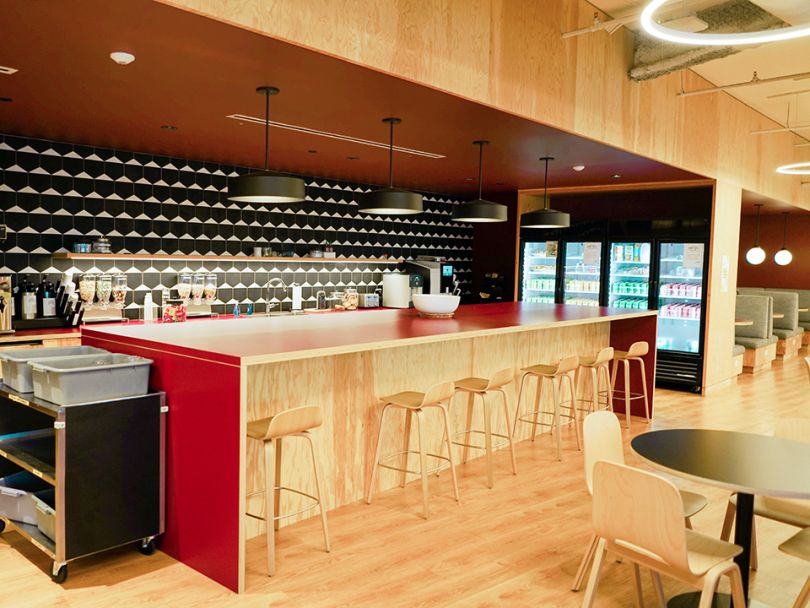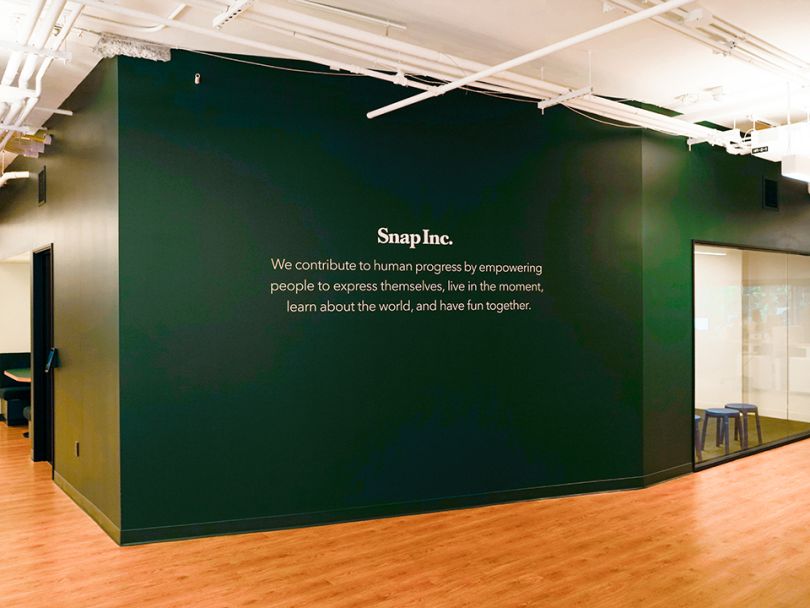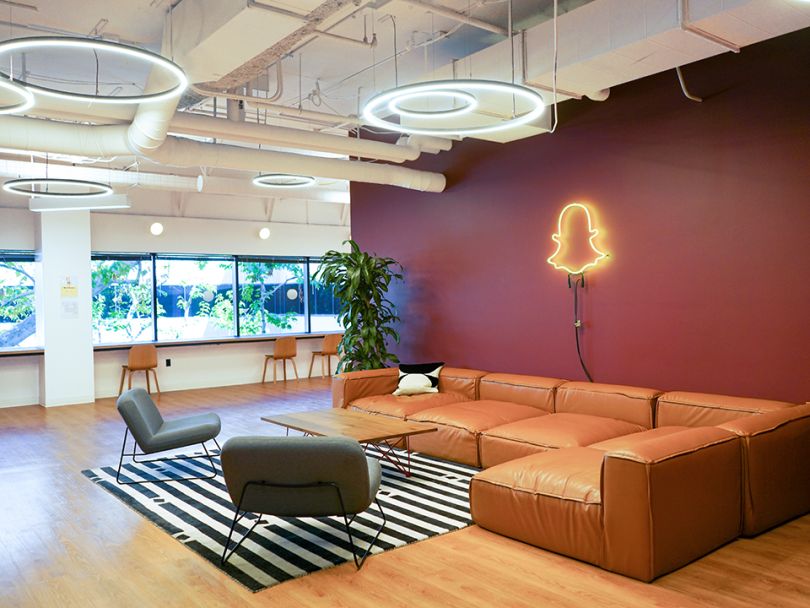 FOUNDED: 2011
EMPLOYEES: 3,200+ total, 1,600+ local
WHAT THEY DO: Snap Inc. is a camera company that is reinventing the way people communicate.
WHERE THEY DO IT: Santa Monica
FAMILY SUPPORT: Snap supports employees as they start families of their own. Not only does it offer generous parental leave — more than four months of maternity leave and two months of paternity leave — but it also reimburses up to $10k spent on adoption services. 
MAKE THE MOVE: Relocation shouldn't keep anyone from taking the job of their dreams. Snap helps eligible employees move to the area with final move flights, storage, package and delivery, corporate housing, moving cash and more.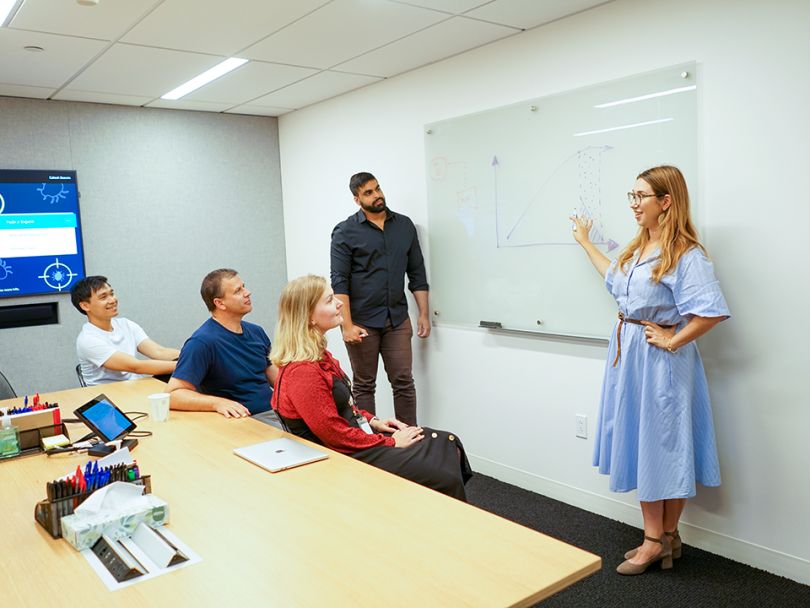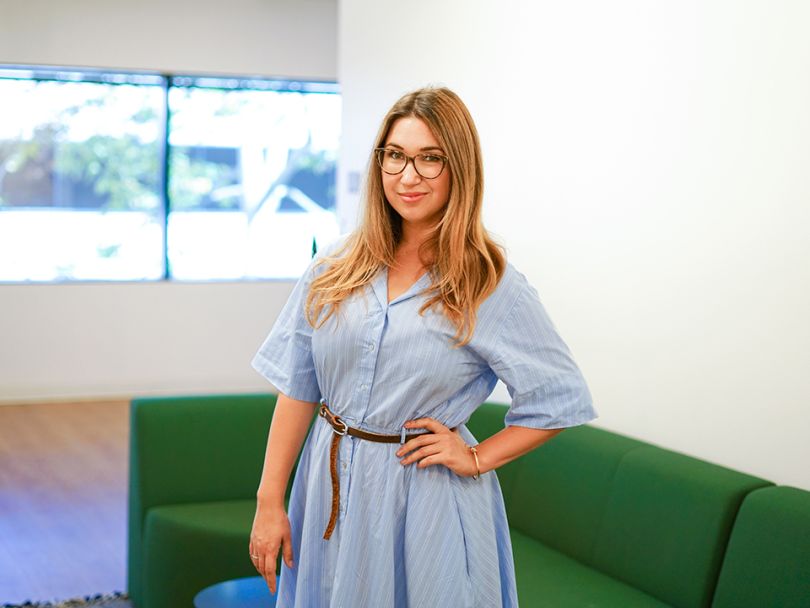 Lidiya Bogdanovich, Director, Lens Design
One of the most popular features on Snapchat are the Lenses that let people see what they'd look like with dog ears, fake facial hair or as a dancing fruit. Lidiya runs the team that came up with and executed all of those ideas. 
One of Snap's most widely-known features is Lenses. When you first joined Snap as a Lens designer, did you envision them becoming as popular and important to the company as they are?
I never could have envisioned that puking rainbows, cute dog ears, and a dancing hot dog would change the world and become the highest point in my career so far!
Funny story — I missed the launch of Lenses because I was on a 15-hour flight that day. When I landed, I had thousands of missed calls and messages, so I called my manager and first the question I asked was, "Did anyone pay attention to the launch? Do people like it?" He just told me, "You should see this..." It was the biggest news of the day, all around the world. It was crazy and so exciting. I was so deeply focused on the technology and design of Lenses that I didn't anticipate how much of a phenomenon they would turn out to be. My priority was simply making sure they looked amazing and worked flawlessly. 
Could you explain the process of how a Lens goes from an idea to showing up on people's phones? 
Creating a new Lens always starts with an idea — and the most amazing ones are usually based on our personal stories. First, we visualize the idea through a storyboard, which is a sort of visual script of a Lens. So far we've done 65,000 of these storyboards. For comparison, imagine a crowd of people at a large football stadium, where each person is busy thinking of ideas for Lenses!
After that, we prepare all of the necessary special effects like 3D, animation, textures, and more. At this point, you might spot people dancing and moving strangely around the office while others record it. You need to make a dinosaur? Become a dinosaur, feel like a dinosaur, dance like a dinosaur! Once that's done, we assemble the Lens in Lens Studio, our AR creation tool.
Once the design is finalized and polished, the Lens goes through the testing phase — and from there, it's ready for launch!
 
I never could have envisioned that puking rainbows, cute dog ears, and a dancing hot dog would change the world..."

The environment where someone works is often as important as the work itself. Could you describe the typical working environment for the Lens design team? How does this foster creativity and collaboration? 
Well, it's hard to describe, so imagine an office where: There's someone impersonating a dinosaur in motion capture costume, there are ambitious people who are inventing Lenses that the world will love, there are people cross-teaching each other Russian, Hungarian, Ukrainian and Filipino, there's someone eating pineapple saying, "Hey, have we done a dancing pineapple already? What if it does flips?" There are people printing, painting, testing, posing and, since we are global, many, many international video calls. And hugs. We love hugs. This team is made of hugs.
It's the most friendly, family-like atmosphere, where people of so many backgrounds and experiences (artists, mathematicians, sculptors, stand-up comedians, fashion designers, writers, veterinarians, actors — you name it!) come together to innovate every single day!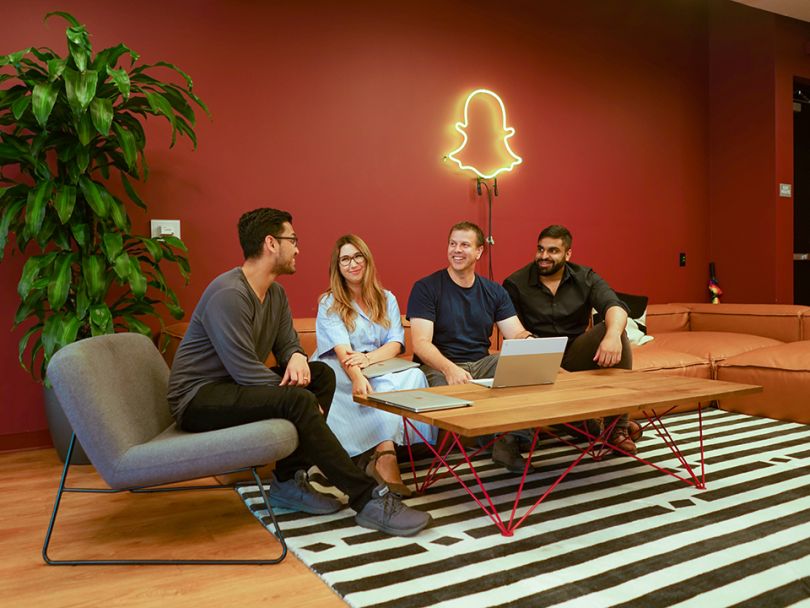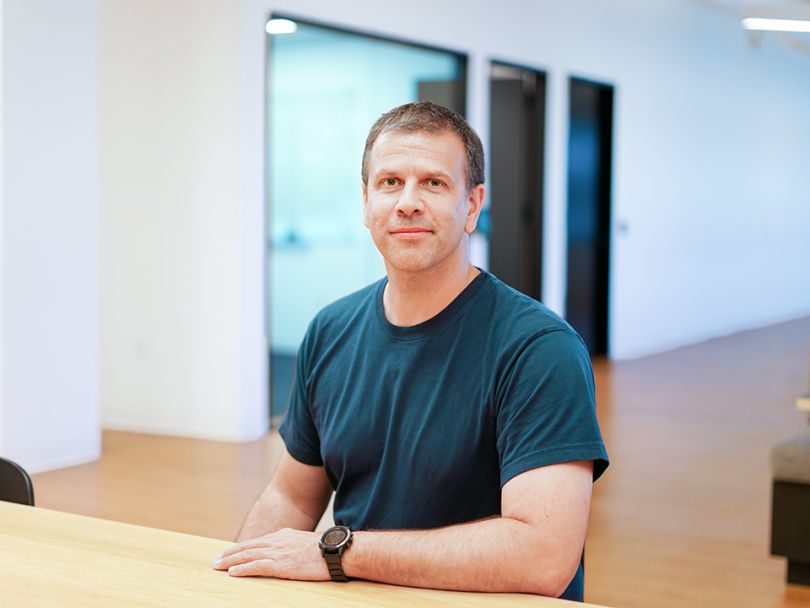 Matt Moore, Chief Information Security Officer
Matt leads a team of nearly 100 engineers and program managers who work on ensuring that both Snap's customers and employees are safe and secure. They develop parts of the core Snapchat application, build security-related infrastructure and run a variety of privacy programs.
You've got an extensive history working at other large tech companies. What encouraged you to make the decision to join the Snap team just over a year ago? 
For me, it was a huge decision to leave Google: I had been there for over a decade, I truly loved working there, and anything like changing jobs is always somewhat of a step into the unknown. 
There were two things that convinced me to join. First, there were a couple of folks that I knew and trusted at Snap who had worked for me at Google in the past. The excited way in which they talked about Snap and the work they were doing was very compelling. Secondly, Snap has made a massive investment in security and privacy, and it's a huge part of the company's DNA. Everyone I talked to — from Evan, the CEO, down to some of the junior security engineers — really believes this and understands how important it is for the success of our company. 
In general, how have you seen user privacy and information security evolve throughout your career? How have you seen Snap adjust to these changes?
Security as a topic has changed from something that was pretty much an afterthought for most businesses around 30 years ago to something that is now key to the success — or failure — of most businesses. There's not a week goes by without a headline detailing the latest security breach, so it's an ever-present threat. 
Snap has a huge investment in security and privacy, with a large team of around 100 people who are focused on these topics. We've built a world-class team and run a comprehensive, modern security program, which is designed to be adaptive and evolve along with the threats and risks we see.
 
Snap has made a massive investment in security and privacy, and it's a huge part of the company's DNA." 

Can you share some of the problems you solve when you come into work? Which technologies are you using or building to address them?
Given the breadth of what we do, we're solving all sorts of problems on a daily basis, both technological and people-centric, and we're usually evaluating difficult trade-offs. We aim to make security and privacy an enabler — that is, through clever engineering, we can make things possible for the business that would otherwise be unachievable due to security concerns. 
We've been figuring out how to build a massively scalable, centrally managed framework that allows us to build and deploy software seamlessly across both platforms and abstract away any differences between them. Whichever cloud you're building on, you get the same easy-to-use interface for deploying your services, and we get the same security guarantees, monitoring capabilities, and so forth.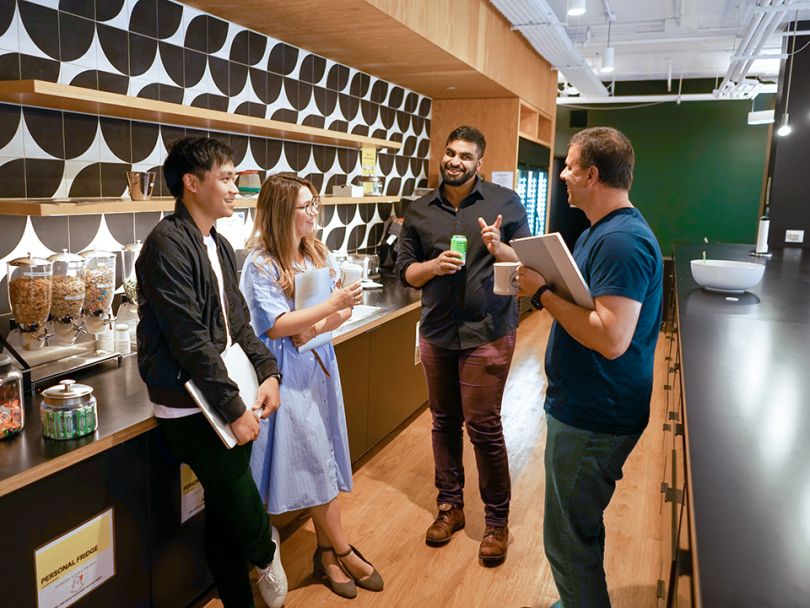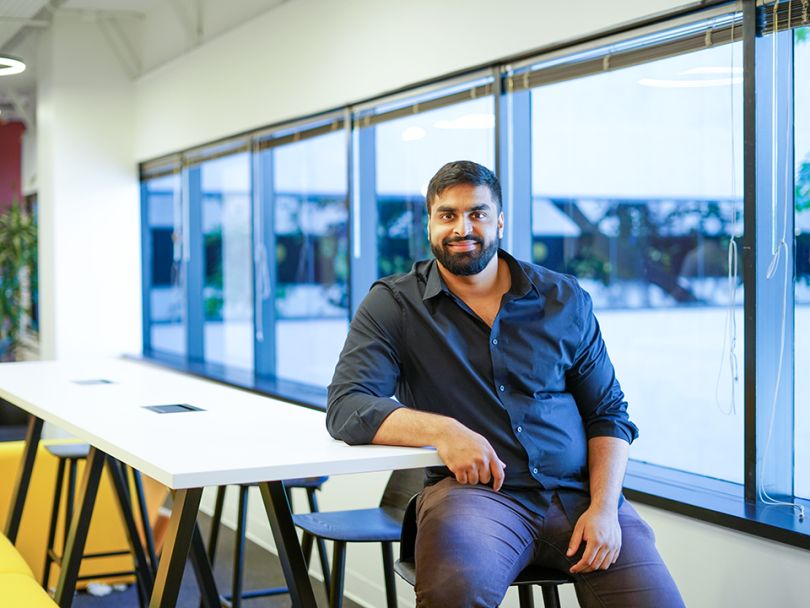 Samir Ahmed, Software Engineer
Whenever you see ads on Snapchat, you can think of Samir and his fellow engineers. They're responsible for running the system that determines what ads are relevant to which users. 
Around four years ago, you joined the team at Snap after leaving another large tech company. What went into that decision? What differences do you see between the two? What similarities?
Prior to Snap, I worked at Microsoft building productivity software. I decided to move on to Snap because the idea of going to work every day to create the "fun" that I had outside of work was appealing to me.
Engineering at Snap moves a lot faster than what I experienced at previous companies. There are a few reasons for this, but I think that it's largely because engineers at Snap feel they get far more ownership and responsibility than that at other companies. Features that might have tens of millions of users are often built by only a handful of engineers. At bigger companies, there may be three-to-ten times more engineers assigned to the same product. As an engineer, this is extremely fulfilling and it feels like the key to a feature's success is in your own hands.
Engineers often have to choose between facing unique challenges or working at a large scale. How does working as an engineer at Snap allow you to do both?
Working at such a large scale unlocks a whole new set of challenges because everything we do is amplified — including mistakes and bugs. Engineering solutions that work for 99 percent of users are not enough because the last 1 percent still means millions of Snapchatters would experience issues. We strive to build features that work 100 percent of the time.  
As an engineer, this means that even a small coding mistake that only happens 1 percent of the time can be challenging to measure, identify and prevent. Off-the-shelf engineering solutions often don't work at our scale, so engineers at Snap have to get creative and figure out how we make our app and servers work well for all Snapchatters, whether they have iPhones or Android phones, or whether they live in LA, New Delhi or anywhere else in the world.
 
I decided to move on to Snap because the idea of going to work every day to create the 'fun' that I had outside of work was appealing to me."

Companies are turning to machine learning and artificial intelligence more every day — even in ways most users aren't aware of. How do they come into play in your role
We rely on machine learning to help "predict" user behavior. Of course, this is never perfect since we can't actually predict the future, but with AI, we can predict with a higher probability which Snapchatters would be interested in a product, and which ones would not.  
Using this sort of machine learning can be slow and computationally expensive, so a large part of my role is ensuring that we can do this as fast as possible and as cost-controlled as possible.