Finding Their Place: Employees at Foursquare Discover Belonging and Growth
A leader in geospatial location technology, Foursquare's fluency in people and places have helped it develop a multi-pronged approach to building an inclusive culture that employees want to stick with.
Humans are social creatures. Our species naturally gathers in physical and digital spaces to build cooperative communities — at school, at work and in life. These shared spaces are imperative for people to create a sense of belonging and purpose. 
Foursquare is fluent in matters of people and places. In its early days, the company gained notoriety for pioneering the social media check-in, popularizing location sharing. Today, it has expanded into a geospatial location technology platform and developer console. 
The company has also carved out an approachable, safe space for its employees to grow. 
From day one of her interview process, Folashade Otuyelu, now an enterprise senior customer success manager, felt welcomed into the Foursquare community. She was on a Goldilocks job hunt. She'd worked at a massive, established corporation and she'd worked at a small, early-stage startup; this time, she was looking for something in between, and Foursquare stood out. "I loved the size," she said of her first impression upon applying for the role. 
After the interview process, that impression flourished. "Everyone at Foursquare was very engaging and warm right from the start. What really stood out to me was the sense of community and how helpful everyone was. Everyone spoke highly of my director. The level of engagement I saw in conversations with my potential colleagues really clicked," said Otuyelu.
At Foursquare, engagement and experience programs go above and beyond foosball and kombucha on tap. The company fosters a welcoming culture of growth and belonging through its learning and development stipends, DEI initiatives, and Fourward: its meaningful, tailored recognition program. 
Built In talked to Otuyelu, Jessica Lee, senior product designer, and Liz Tibbetts, head of product operations, for insight into the ways that Foursquare creates a sticky culture by meeting employees where they are.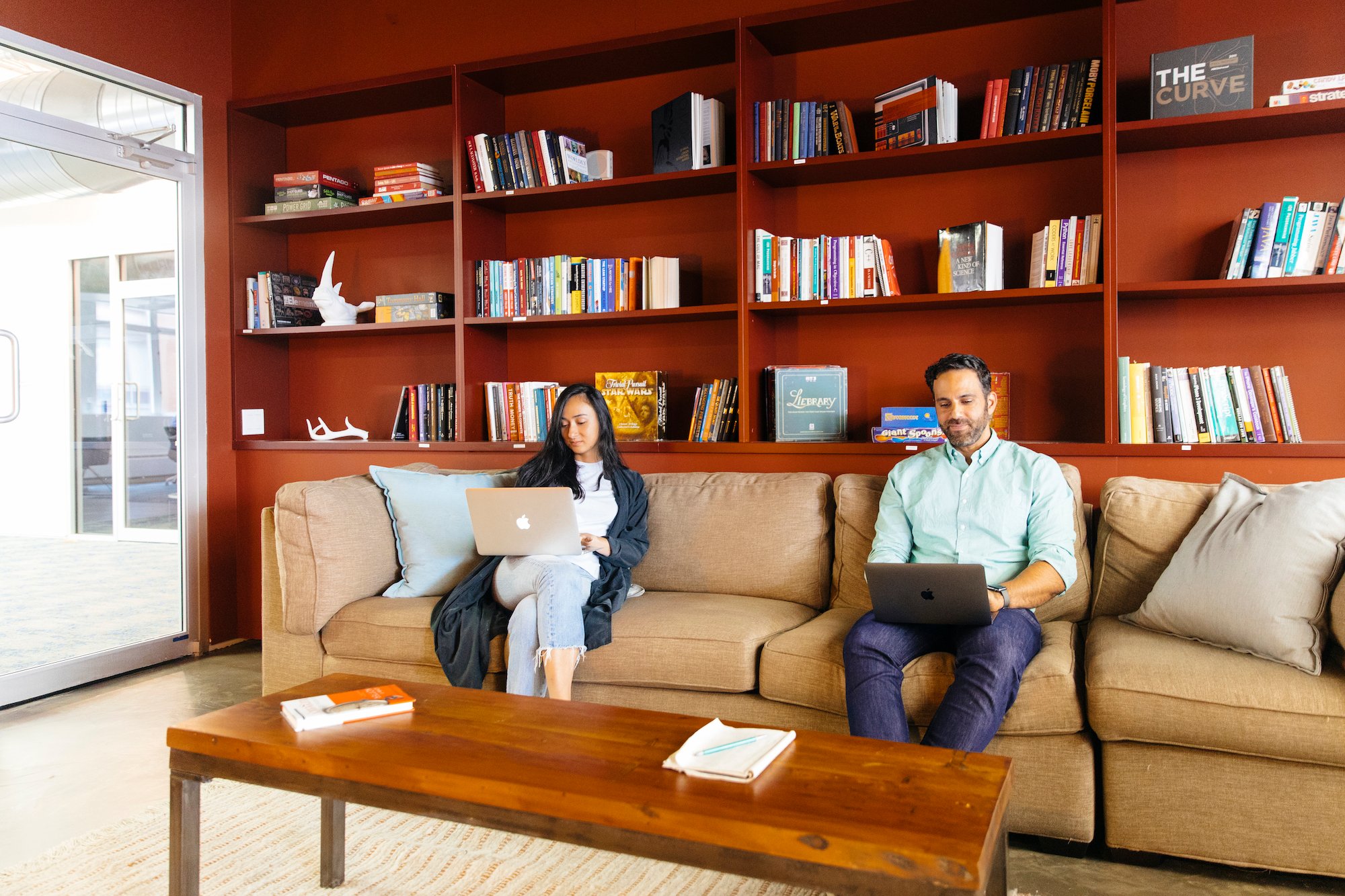 In April 2022, Folashade Otuyelu got on an airplane for the first time in two years. 
The occasion? Foursquare's annual sales kickoff in Los Angeles. It was the first time since the start of the pandemic that Otuyelu would be traveling, and it was the first opportunity for her to meet her colleagues in real life. It was exciting, but Otuyelu was also a little apprehensive. "I was nervous. I hadn't seen people like that in real life in so long," she explained. 
The anxiety was all for naught. "It was really easy. It was good to connect and meet soon after I started, which built on the community feeling I'd experienced during the interview process," she said. 
The sense of community has also been perpetuated through Otuyelu's involvement with employee resource groups such as Fourmation, which is for people of color, and Femmesquare, which is for femme individuals. 
"Fourmation is a safe space for people of color to have a dialogue about our impact and unique needs, and to create action items," she said. "We hold events, such as movie watches, and we facilitate conversations about the news. It's helpful to have a safe space because, while you try not to let external factors affect your work environment, sometimes it does have an impact. And your company's response can have an impact." 
It's helpful to have a safe space because, while you try not to let external factors affect your work environment, sometimes it does have an impact. And your company's response can have an impact."
In addition to these internal groups, Otuyelu was also able to represent Foursquare at BITCON 2022 in Orlando, a conference that connects Black people in tech. 
"There aren't a lot of Black people in the technical space. Attending the conference was good for my learning and from a networking perspective, to see what other Black people are doing in the technical space. We're also connecting with early-career individuals or college students and showing them the possibilities for their career paths," she said. 
THE ERGS OF FOURSQUARE
Femmesquare for women
Foursquad for veterans
Fourmation for people of color
Foursqueer for LGBTQ+ people
Foursquare Technical Women for women in tech
Squarents for parents
Liz Tibbetts has been with Foursquare for more than seven years. In that time, she's been able to explore several different career paths. Foursquare gave her the lateral freedom to figure out how to best apply her strongest skills. 
"Foursquare has allowed me to figure out my expertise and what I want to be doing. As my career path and desires have changed, I've had the leeway and managerial support to make those changes," she said. 
As my career path and desires have changed, I've had the leeway and managerial support to make those changes."
In addition to finding herself professionally, her personal identity has changed: Tibbetts became a parent. 
Since becoming a parent, Tibbetts has stepped into a leadership role at Squarents, the ERG for parents. "I had the opportunity to take over the ERG, which was hugely important during Covid-19. Parents in particular had very different challenges during those times and the ERG was a place that blossomed. Safety was a concern. The majority of us didn't have child care," she recalled.
The ERG helped change the overall company's culture toward parents — normalizing the realities of parenting while at work. "Two years ago, if my daughter had shown up on a Zoom call I would have been mortified. Now, we had an all-hands earlier this week where our CEO's son popped on the hangout, and it was no big deal."
Squarents was also able to make a tangible difference by offering feedback and guidance on the company's return-to-work plan. 
"There were so many dynamics to consider — what if I get Covid-19 in the office and bring it home to my kid, what if my kid gets it at school — and Foursquare was so receptive. We spoke and we were heard," she said. 
FOURWARD: A NEXT-LEVEL RECOGNITION PROGRAM
Fourward is a tailored rewards recognition program that was recently launched at Foursquare. Employees accrue points from shoutouts for work well done, or that aligns with the company's core values. Employees can then choose to redeem those points for rewards that are most meaningful to them, such as gift cards, hoodies or philanthropic donations, to acknowledge them on a job well done. This allows employees to see the ways the core values play out in everyday work. It also helps surface a lot of the accomplishments for team members that don't see the limelight. "I have a team that is operationally behind the scenes," said Tibbetts. "I have a humble member of my team who finished a project that took years to complete. No one understands the work that went into this. Through this program, he was able to get the recognition he deserved."
Jessica Lee is at a fork in the road of her career. Before her are two paths: a senior individual contributor path and a management path. 
Since starting at Foursquare, Lee has been working with her manager and utilizing her Bravely career-coaching benefits to determine which path is right for her. 
"I took a class on management from Nielsen Norman Group," she said. "A lot of that course was about how to prioritize projects and mentor a team. It helped me figure out if this was a path I wanted to go down at all." 
Despite this investment in her development toward a manager role, Lee is currently leaning toward the individual contributor route. Whatever she decides, she knows she has support. 
"The perks have really helped streamline my timeline. I've come to a decision about my career path a lot faster than if those learning and development benefits were not around. Very recently I've been able to talk to my manager about my career growth and how I came to that decision," she said. 
I've come to a decision about my career path a lot faster than if those learning and development benefits were not around."
Lee has also found guidance in the Foursquare Technical Women ERG, which hosts a monthly speaker series inviting women leaders to speak about their journeys in tech. 
"The most beneficial thing is to hear other people's experiences, the tangible experience of someone who has been in similar situations or had similar questions. That has helped inform my experience and decision-making," Lee said.
Through the experiences of Lee, along with her colleagues Tibbetts and Otuyelu, it is clear that the importance of community and connection are apparent not only in Foursquare's product, but in its inclusive culture, as well.