Luckmon Makes Gaming Lucrative for Casual Players
Originally operating on the concept of Web3-based rewards, the platform has since expanded to be more inclusive.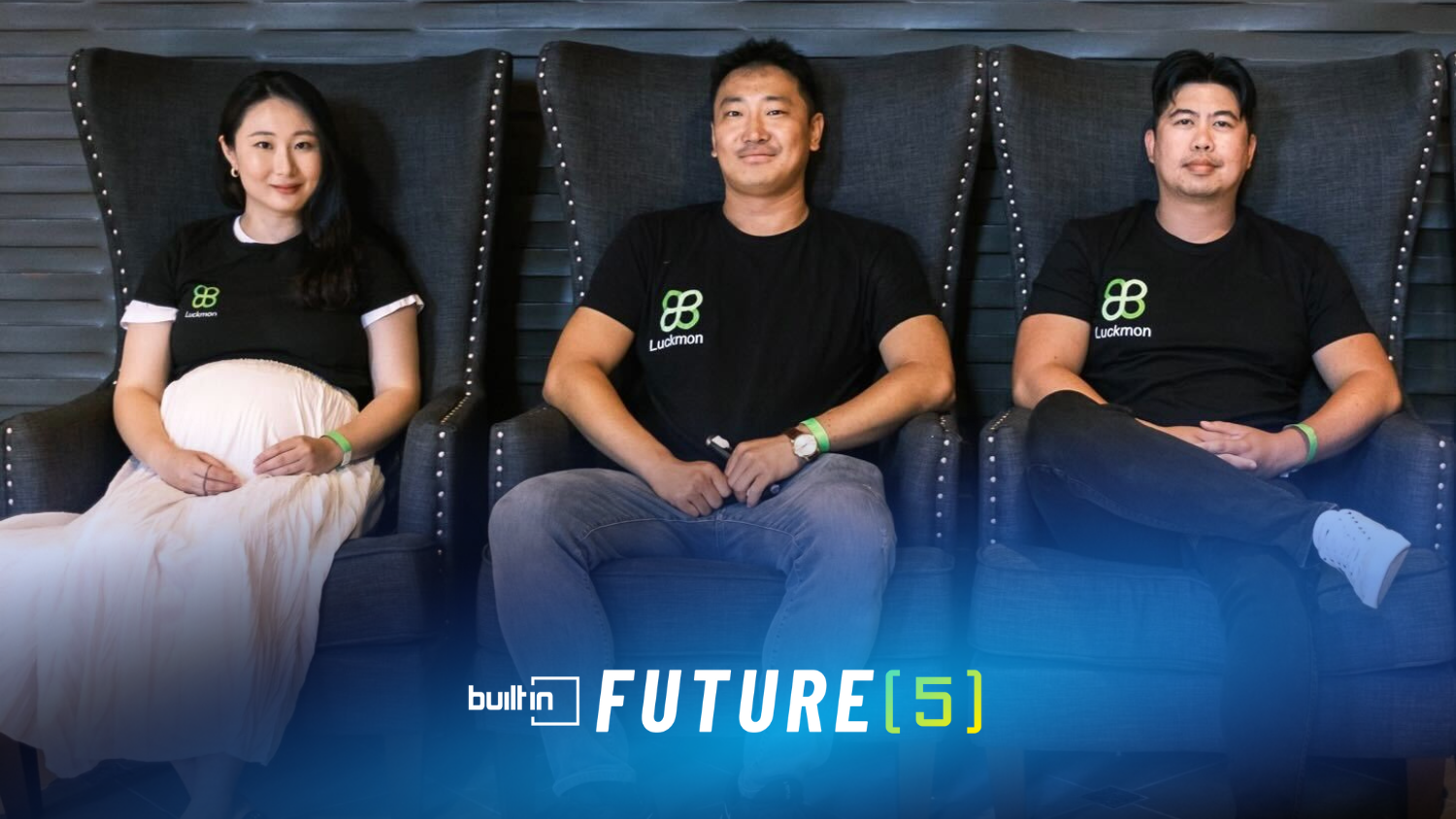 Sure the latest initiatives from the Teslas, Apples and Googles of the industry tend to dominate the tech news space — and with good reason. Still, the tech titans aren't the only ones bringing innovation to the sector.
In an effort to highlight up-and-coming startups, Built In has launched The Future 5 across eight major U.S. tech hubs. Each quarter, we will feature five tech startups, nonprofits or entrepreneurs in each of these hubs who just might be working on the next big thing. You can check out last quarter's Los Angeles round-up here.
* * *
Most people aim to spend their lives doing the things they love. Whether someone's hobby is traveling the world, cooking interesting dishes or beating their previous high score in a game, there are numerous ways to make these kinds of activities lucrative.
Thanks to SoCal startup Luckmon, gamers don't have to make it big in the streaming industry to profit from their passion. Geared toward casual gamers, such as those who enjoy mobile games more than sitting down in front of a console, Luckmon developed a system that can offer monetary rewards to people for playing certain games on their phones.
"Our mission is to become the best casual gaming platform out there for everyone everywhere," David Son, Luckmon's CEO, told Built In via email. "Luckmon games isn't about who the best player is, it's for anyone who loves to play games and make money."
To get the most out of Luckmon, users download its free app and gain access to its library of mobile games. Luckmon is available for both Android and iOS devices.
As users indulge in low-key games like Sudoku, they accrue points called Star Xperience, or SXP, that help them accumulate the in-app currencies of coins and gems. These currencies can be redeemed for gift cards at businesses like Amazon, Best Buy, Nike and more.
Luckmon games isn't about who the best player is, it's for anyone who loves to play games and make money."
Originally, Luckmon only focused on Web3 methods for rewarding players. However, its play-and-earn model has recently expanded to include Web 2.0-friendly offerings after witnessing how the growing gaming industry has changed over the past year. This way the broader user base of Web 2.0 gamers can still benefit from Luckmon's solution.
"We've started with the concept of rewarding gamers with NFT and blockchain-related rewards, but now we are building an even more inclusive reward system — from gift cards, physical goods, digital items and more in the near future," MC Tang, Luckmon's chief data officer, told Built In via email. "We've gone down many roads and ultimately we came back to the team's unique and specialized backgrounds to build the next innovative products that users would enjoy."
Luckmon's founding team, including Son, Tang and the company's VP of finance Jenny Yang, are all veterans of the game development industry. Most recently, Son served as the head of global business development at Korean game developer Vespa. Tang held design leadership positions at companies like Derby Games and Gold Games, and Yang spent time at computer game company Supercolony, as per their LinkedIn profiles.
Irvine-based Luckmon has grown substantially since its founding in 2021, and the founders don't intend to slow down anytime soon. In the near future, the startup plans to launch its third-party game partnership. Ultimately, this deal will allow users to earn rewards from the popular games they already know, play and love or from games yet to be discovered. 
"With so many amazing features we have in our bags, and the general positive response from early adopters, there are many things we are looking forward to sharing with [users]," Tang said. "One thing we are always focused on is how much delight we are bringing to our gamers."