What Does It Mean to Be an Ally to Women in the Workplace?
According to these women in tech, it's about providing encouragement through morale support and thoughtful action.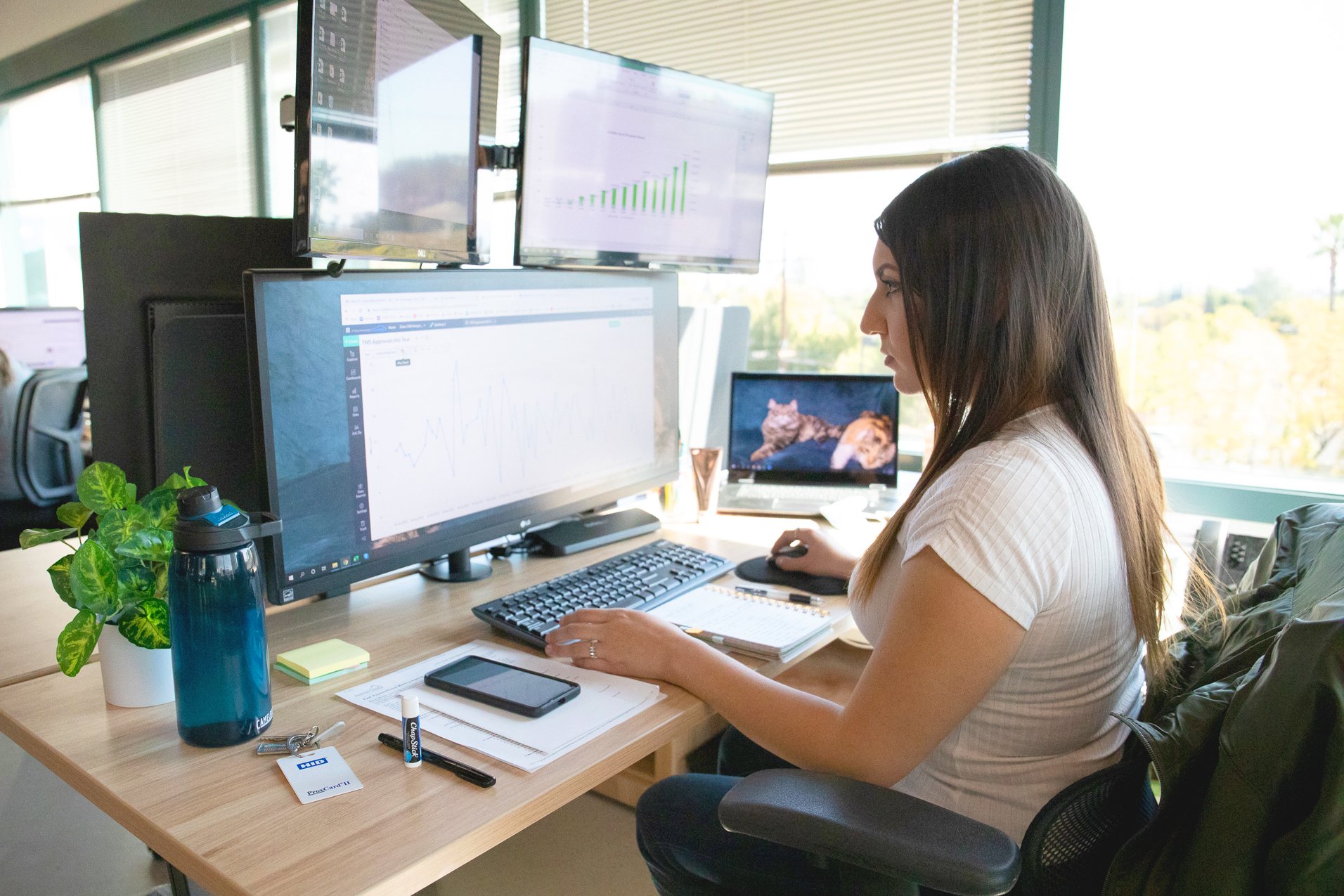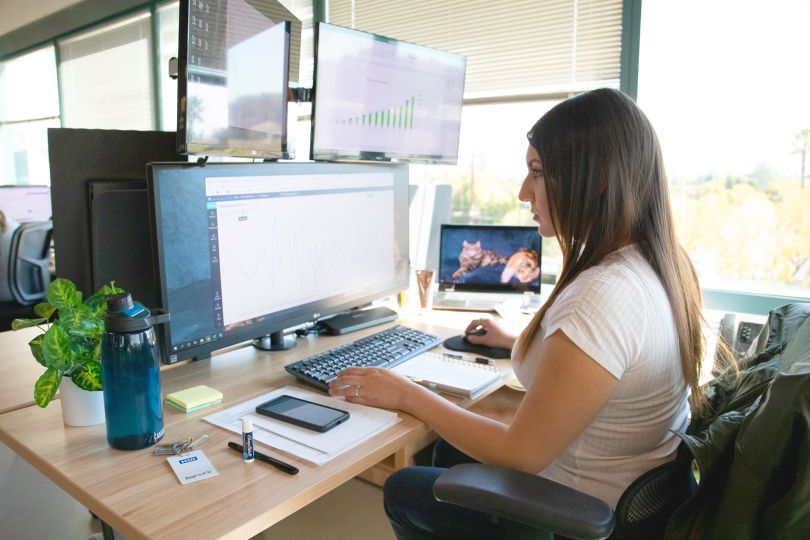 In the last few decades, women have made significant advancements in claiming leadership roles in tech. That said, there's still a long road to travel in terms of creating true equity and inclusion in the workplace. 
So what does a path to the above actually look like? Well, there's no one-size-fits-all solution. But there is one thing women in tech agree allies can do in order to help create a workplace where they feel heard, valued and supported: provide encouragement through morale support and thoughtful action.  
Being an ally can take on many forms, whether it's giving women the opportunity to prove themselves, building on each others' ideas, leveraging one's own experiences or encouraging young women to pursue their interests, whatever they might be. 
Below, five women in tech share what being an ally in the workplace means to them as well as examples of actions employees can take in order to support an increasingly equitable and inclusive environment.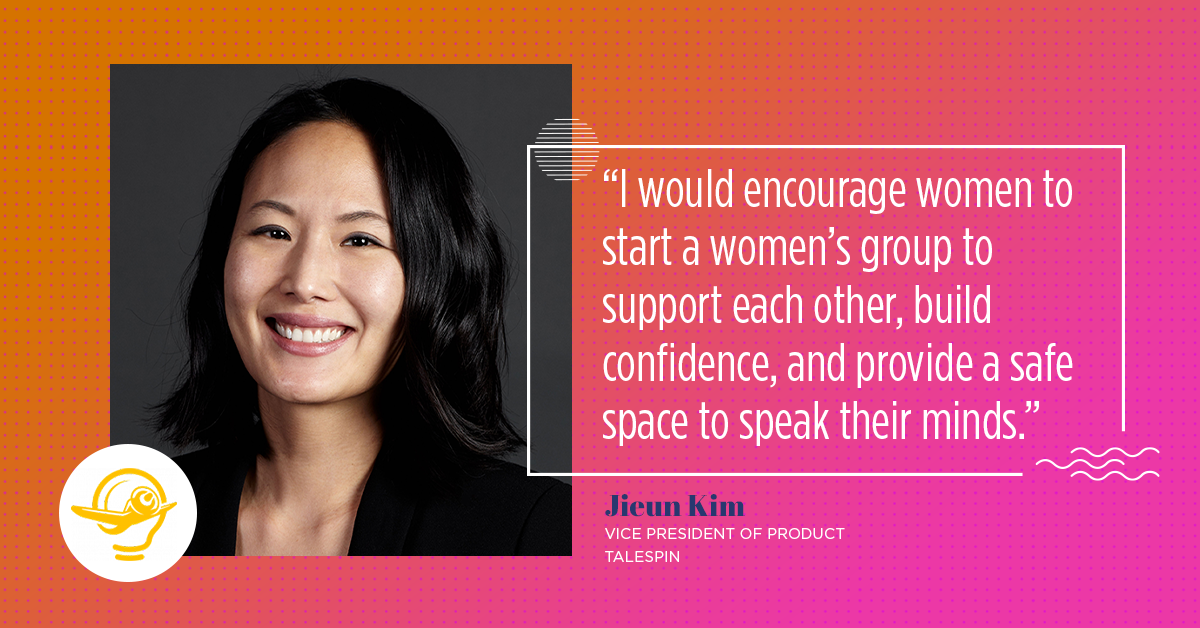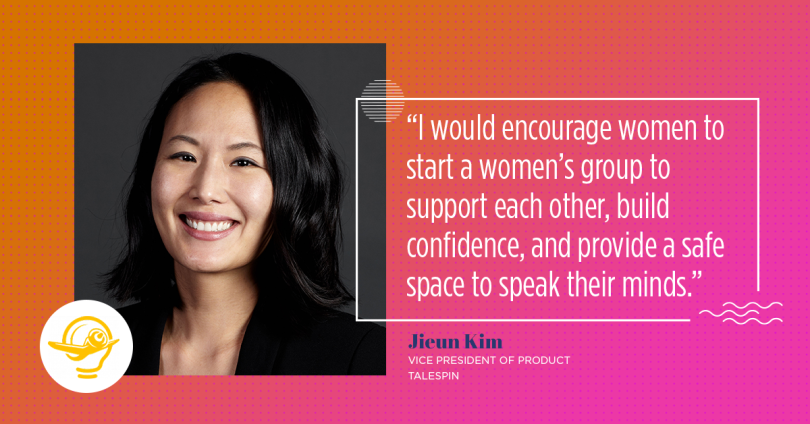 Build on each others' ideas
"Ensure that women's voices are heard," Kim said. "In far too many workplaces, women are faced with the same harsh reality that it's sometimes easier to stay silent in meetings than to speak up and share our opinion. It may be because we want to prove competency and share ideas only when we gather more evidence, or afraid to be interrupted and dismissed by a more outspoken counterpart. And sometimes we are ready to share, but others bring up the topic first while we wait politely for our turn to speak." 
"This ultimately hurts us in the long run. As silent participants, we will appear to be less impactful and effective. Promote a company culture where all women feel safe and empowered to speak their minds and foster a collaborative environment where everyone builds on each other's ideas."
"In one of my previous roles, I started and led a women-support group. The support group allowed us to share our experiences, learn how to approach topics with our managers, and know that we are not alone in the company. I would encourage other women to start a similar group to support each other, build confidence and provide a safe space to speak their minds."
Jieun Kim is the vice president of product at virtual reality company Talespin.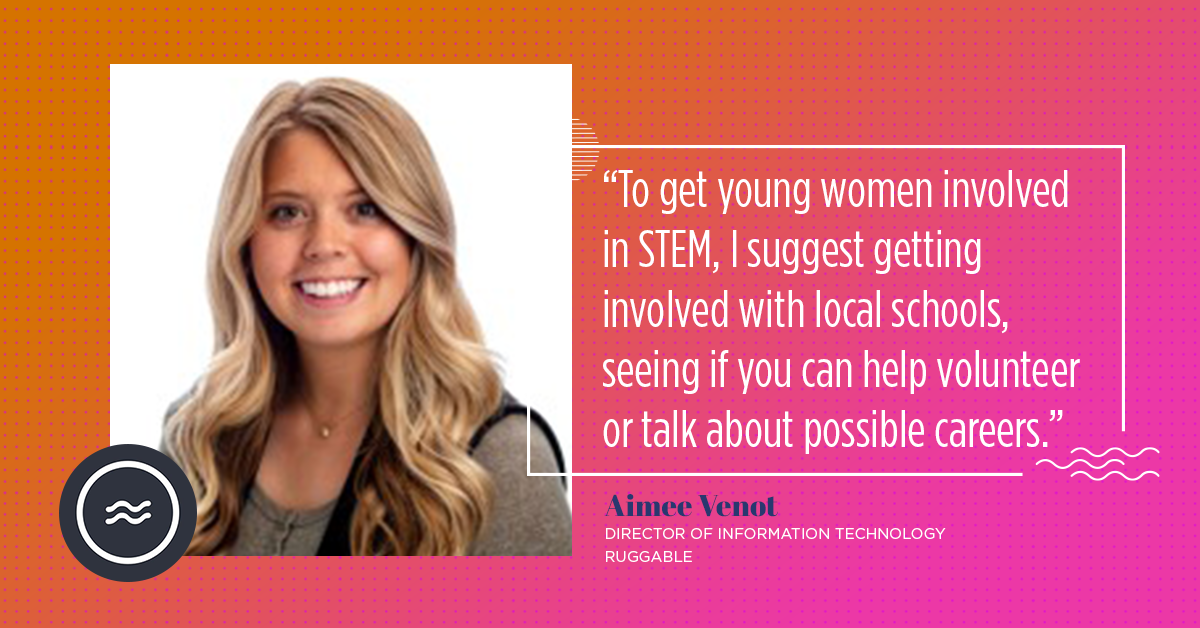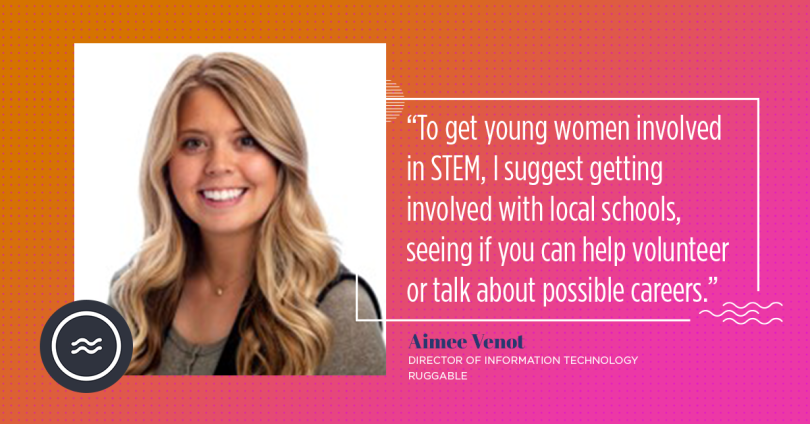 Encourage young women to get involved in STEM
"Specifically in tech, one way people can be better allies is to recognize that most organizations were originally structured with a male-dominated workforce in mind," Venot said. "Women have had to actively work to fit into this structure and will continue to have to do so until we see more representation. So in my opinion, we need to work on this problem upstream by encouraging young women to join STEM from an early age.
"Encouraging young women to get involved in STEM can look like a lot of things. I would suggest getting involved with local schools, seeing if you can help volunteer or talk about careers in STEM. Talk to job-seeking friends about the opportunities in the tech space. Finally, it's vital when recruiting to actively make sure that your hiring practices are as unbiased as possible."
Aimee Venot is the director of information technology at e-commerce rug company Ruggable. 
Take small, but important actions
"My ideas for how people can become better allies in the workplace are a compilation of small, but important everyday actions," Martinez said. "They include creating a space for women to speak during conversations, especially in meetings; speaking up for women specifically in non-public settings; celebrating the accomplishments women achieve daily; giving women opportunities to show their skills (especially in tech!); and having female representation at every level of the company to foster a more diverse decision-making agenda."
"To create space for women to speak during conversations, especially in meetings, assign someone in the meeting to make sure that everyone's point of view has been heard. If you notice that a woman is being cut off in conversations, allow room for her to speak by calling out the interruption and noting that she may have something to say." 
"If you notice something offensive being said or done, speak up in a constructive way and make sure the offender knows how they can improve. If there are open opportunities within the company, reach out to women and see if they would be willing to take on the opportunity. It's also important to make sure that the company's hiring manager knows about the ratio of men to women in the workplace and work toward hiring more women, especially in leadership roles. All these actions are small, but important, steps to becoming better allies to women in the workplace. It starts with actions!"
Iris Martinez is a senior software engineer at System1, a responsive acquisition marketing platform.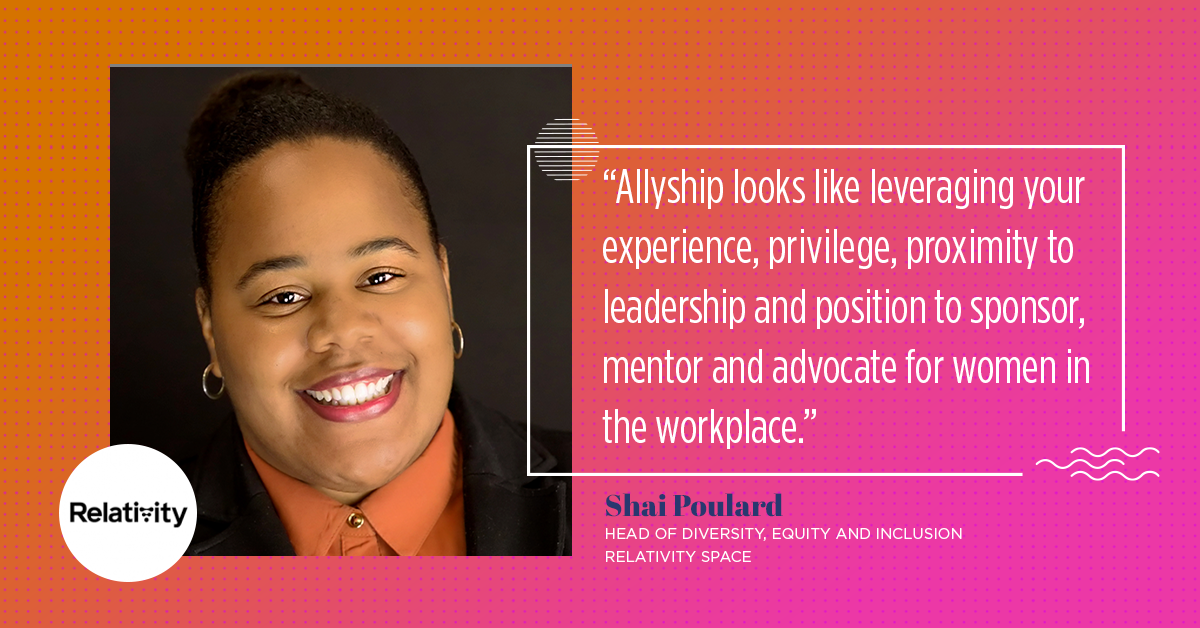 Leverage your own experience 
"One thing people can do to be better allies to women in the workplace is to choose to challenge systemic actions, behaviors and policies that serve as a barrier to the success of women," Poulard said. 
"Proactively educate yourself on the systemic inequity that women face in the workplace. It's also important to understand how you contribute to and benefit from these systems, and commit to actively working with your women colleagues to remove these barriers, even when it means giving up some of your privileges. Participate in conversations around women's equality, leaning in with curiosity to better learn how you can advocate for and support it. Leverage your experience, privilege and proximity to leadership and position within an organization to sponsor, mentor and advocate for women in the workplace."
Shai Poulard is the head of diversity, equity and inclusion at 3D printing, artificial intelligence and robotics company Relativity Space.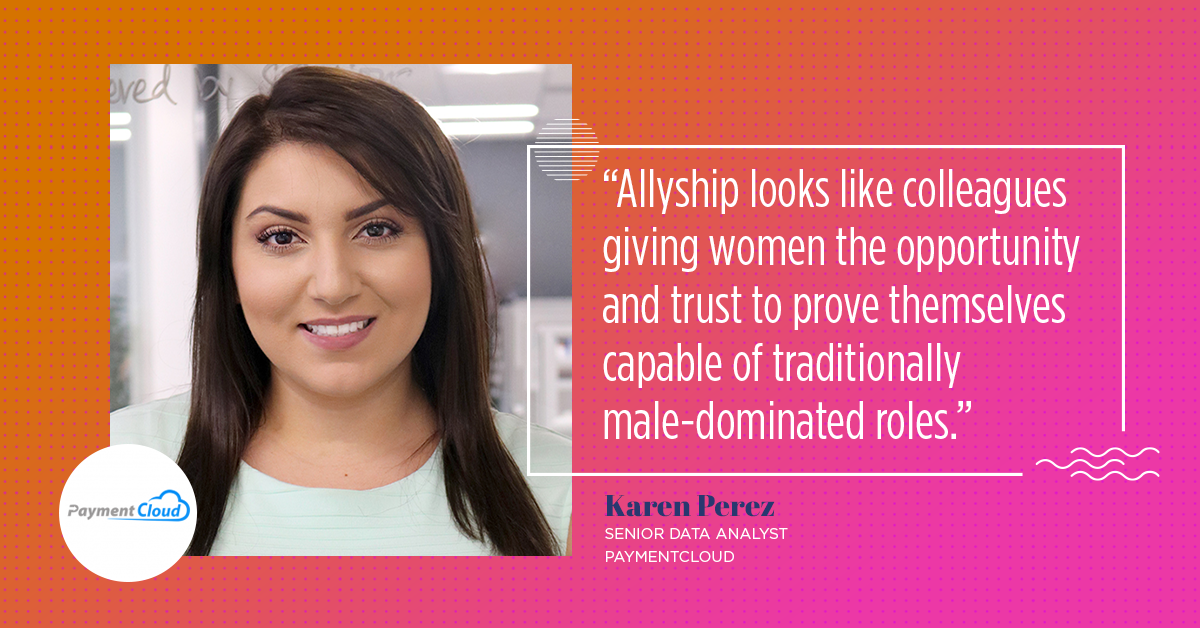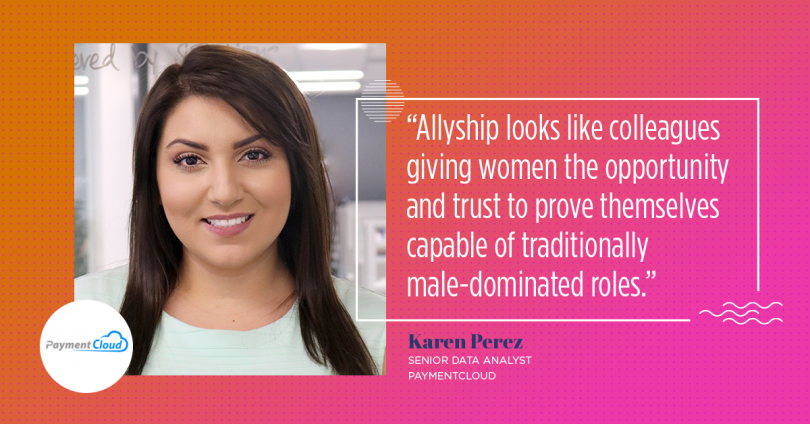 Give women opportunities to prove themselves 
"One thing people can do better is to objectively seek out each woman's natural inclinations and aptitudes and enable her to maximize her potential for the benefit of all," Perez said. "This means encouraging women to explore fields that fascinate them, regardless of who they normally see in those types of roles."
"I have a colleague with an enthusiasm for automation that makes her an exceptional web development project coordinator. Another teammate has an extensive grasp of mobile technology that drives her success as a consultant for our more complex products. These women have achieved great heights with the help of those around them. What allyship looks like is colleagues — leaders and peers alike — giving women the opportunity and trust to prove themselves capable of traditionally male-dominated roles."
Karen Perez is a senior data analyst at PaymentCloud, a fintech company designed to help businesses secure credit card processing.