Megan Aguiling has a straightforward method for assessing her workplace satisfaction.
"Am I as happy hovering over the water cooler as I am at a company-sponsored happy hour? If the answer is yes, I know I work for a great company," she said.
According to Aguiling, GoodRx hits that litmus test. The operations manager credits a leadership team for preserving a "family structure" even as the Santa Monica-headquartered prescription provider continues to grow.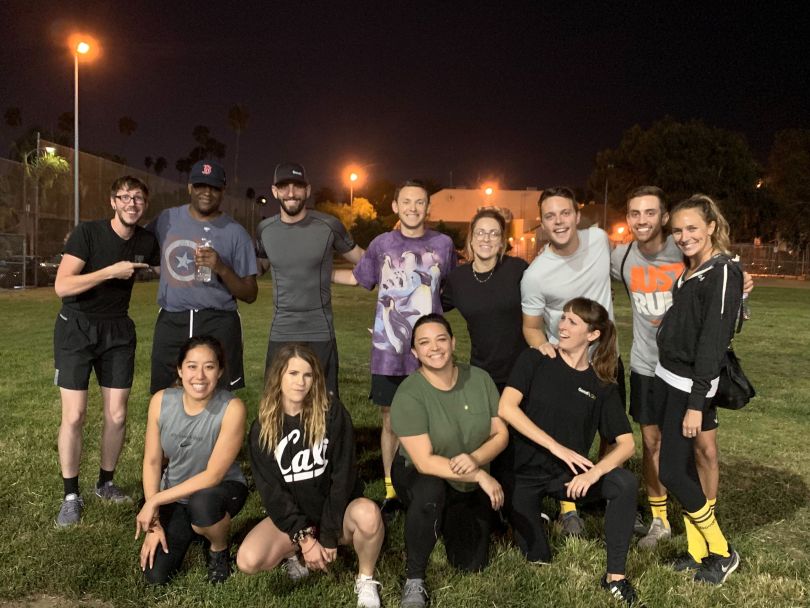 For example, Aguiling says kickball helps them instill camaraderie outside of the 9 to 5. Fellow team member and Health Economist Amanda Nguyen participates in Slack-facilitated crossword puzzles ("We've been keeping a data spreadsheet," she said. "We do it every day at 4 p.m."). And Operations Associate Ethan Faye joins post-work video game sessions ("I've gotten really good at Super Smash Bros. now," he said.).
 
"It's all just about being genuine. You can't fake that."

Such non-work activities, in turn, pave the way for bonding that positively impacts output. 
"I'm constantly impressed by how willing everybody is to step up if a co-worker is even in the slightest bit of need," Faye said. Faye himself is proof positive: At GoodRx's recent quarterly awards, he won the "Nice Guy Finishes First" honors.
Recently, Faye, Nguyen and Aguiling shared the essential attributes around which the GoodRx community coalesces: an atmosphere that prioritizes approachability over hierarchy, a shared sense of mission, and a mix of both formal and informal team programming. 
The effort to create a community doesn't always stick. What makes it resonate here? 
Aguiling: Because we all have bought into the mission, we share the same values and are genuinely happy that we make other people happy. That's how leadership runs that company, and it makes everything else just easily fall into place. It's all just about being genuine. You can't fake that. 
Faye: If you keep bringing in the right people to the company, and properly communicating what those values are and what everybody's individual impact is, then they will care and that care will be genuine. If that's communicated effectively to everybody, it will be shared amongst everyone. I think that's the core of the camaraderie. It's both a side effect and a cause.
Nguyen: In our recruiting process, we all have a sense of what we want in a person's values. Technical skill set and experience are important, but whether or not they would be a good fit in the culture is also really important. It's harder to train having the right mindset and attitude.
Good Medicine
It's not just kickball and crossword puzzles. Team-bonding plays out in a variety of ways, ranging from themed Slack channels (favorites include "dog watch" and "women at GoodRx") and cooking events (like potlucks and key lime pie bake-offs), to recurring all-hands gatherings and philanthropic initiatives like beach cleanups and food bank donations. "It's good to mix building community within ourselves with contributing to our own community," Aguiling said.
How does that community come through in practice? 
Aguiling: Something might be informal, like wanting to play a physical activity. Then, it turns into a group of us wanting to join a kickball league, which turns into a corporate team. There's a lot of things that happen that stem from an interest one person has, and then it snowballs. 
Nguyen: Someone had a bunch of stuff that they wanted to donate. We ended up bringing our stuff together, doing a clothing swap and then donating the rest to a women's shelter. Having a really open communication structure makes it easy to develop these bonds.
Faye: A lot of the things that we just put together on our own volition. My team plays video games after work almost every day at the office. I've gotten really good at Super Smash Bros. now because I play with my co-workers like three days a week. That's super fun and brings us together, even though we might not have the exact same out-of-work interests.
How does a culture of camaraderie benefit your day to day?
Faye: When you know that your community of friends at work is going to help you get through something, you feel like you don't have as much pressure. As a result, your end product is always going to be better. I feel a lot more motivated to be creative and to bring my A-game to work, when I like the people there and I know that they're supporting me.
Aguiling: I see my team as friends as well as co-workers. I know what's going on in their life. That helps me think like them. Then, when we have to roll out a project, I can basically anticipate what their needs are going to be because I know how they are. It makes us work way more effectively than if we were just friendly co-workers.
Nguyen: If you're happier at work, you are more likely to want to stay there. Being happy makes the other people around you happy, too. If you have one co-worker who's miserable, that can have a bad spillover effect.
Keeping Connected During CORONAVIRUS
The GoodRx team endeavors to keep close ties, even though the pandemic has physically kept them apart. Themed Slack channels like "COVID-19 open source" share pandemic-related resources, and "kudos" is a forum for shouting out remote success stories. Nor are the efforts solely internal: "We have 3D printers, and one of the engineers coordinated an effort with USC Medical Center to 3D print a bunch of face shields and donate them," Aguiling said.
What's your advice for any leader trying to cultivate a palpable sense of community?
Faye: Have a good combination of formal and informal structures of communication. Build a culture where it's acceptable to speak to upper management and have formal structures like positive and constructive yearly reviews. Also, balance between doing formal events and bringing in the people who share your values. Many will create informal events on their own.
Nguyen: Lead by example, and maintain an open form of communication to really listening to your employees — don't just pay lip service. Make sure you're investing in the professional growth and personal well-being of your employees. It's important to genuinely care about how your employees are growing and doing the best that they can in that role.
Aguiling: Share your ideas and your interests. Everyone has a wealth of knowledge. If you share all that information, you can develop that sense of community with each other. It's about respecting and liking the person who's working next to you in the trenches.