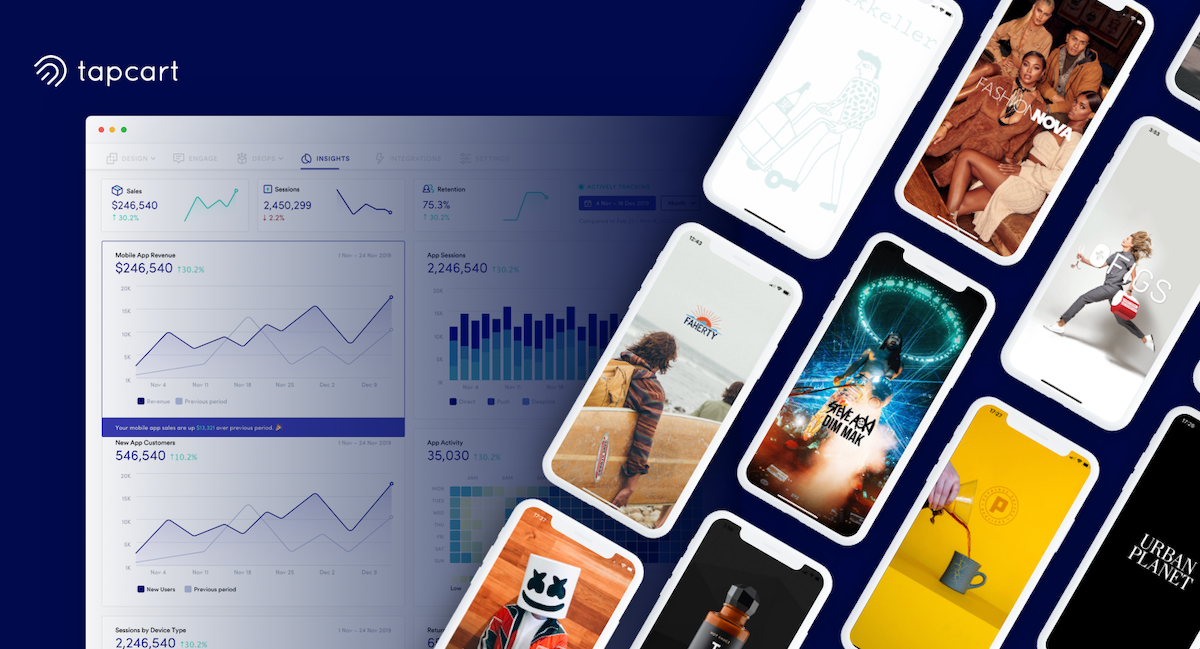 Tapcart announced on Tuesday that it raised $10 million in Series A funding. The Santa Monica-based mobile app development platform plans to use the funds to expand its sales and marketing presence in Europe and Australia, develop new features and fuel a hiring spree. Over the next 24 months, founder and CEO Eric Netsch said the 35-person company also plans to double its headcount, with a focus on product, customer success and marketing professionals.
"A big part of what we're working on is really expanding our products," Netsch told Built In. "Beyond just the mobile app side of our business, things like mobile web marketing, automation, e-commerce, personalization, really taking Tapcart from a single product offering into a suite of mobile commerce tools."
Netsch said the company plans to develop features that allow business customers to send personalized push notifications, mobile-optimized emails and offer data on how often a brand should be engaging consumer customers on mobile. He said the company is also aiming to launch a set of behavioral analytics tools soon that will offer retailers insight on when a consumer opens their Tapcart app, what products they view and which items perform best on mobile. These insights will separate Tapcart from competitors like Google Analytics and Hootsuite, Netsch said, which don't intentionally focus on how people use their cell phones.
"Surprisingly, there's really no company that's focused just on mobile commerce," Netsch said. "We want to essentially be that company that is the go-to mobile commerce suite."
Over the past 90 days, Netsch said Tapcart's retail customers have seen a 50 percent increase in revenue. He credited the growth to government shutdowns and consumers avoiding stores over the COVID-19 pandemic. This phenomenon has translated into growth for Tapcart, which Netsch said experienced its highest bookings and sales contracts ever during its first and second quarters this year. Netsch said he expected the coronavirus' disruption of traditional retailer channels to be permanent.
"Mobile is something that's very important during these times, especially with the retail component being shut down," Netsch said. "A lot of traditional businesses are jumping to revamp their mobile solution."
In addition to helping enterprise customers get on mobile, Tapcart is also focusing on its entertainment customers, like DJ Steve Aoki. The category has doubled in number year over year for the company and it plans to use the cash to build relationships with agencies that represent artists and social media influencers. Additionally, it's adding AR, VR and content features to help artists like Marshmello translate a new song into paid downloads from mobile subscribers. Right now, Netsch said Marshmello uses his Tapcart-developed app to offer fans exclusive music releases and merchandise.
"A lot of music and entertainment and influencers, they're essentially being gated off because all of their audiences are owned by Facebook and Instagram and YouTube," Netsch said. "This gives them a chance to take their audience back into their own hands and really control the messaging."
SignalFire led the round, with participation from Greycroft and Amplify. The Series A funds bring total investment in Tapcart to $15.1 million.