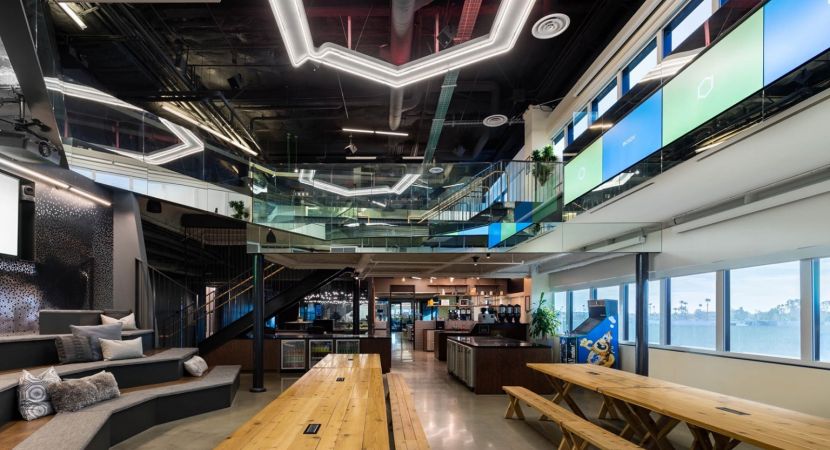 The Manhattan Beach office of BCG Digital Ventures runs on collaboration. That may sound like a corporate cliché, but that's only until you realize the 300-plus employees who work there spend their days building and launching startups in partnership with companies like Starbucks, UPS and Volkswagen. Since launching in 2014, Boston Consulting Group's corporate investment and incubation firm has founded more than 100 businesses. 
Powering the company's relentless startup development cycle are its designers, who work across the firm to usher ideas from the whiteboard into the real world. 
"The foundation of our teams' venture setups allows us to collaborate across the different cohorts and functions from day one," Syuzi Pakhchyan, BCG Digital Ventures' experience design director, previously told Built In. "For example, during the discovery phase of a project, everyone participates in the ethnographic research process whether you're a venture architect or designer. Similarly, everyone is expected to present final concepts to clients, not just venture leadership."
In addition to participating in ideation workshops at the office, designers also travel around the world to conduct research. Since California's statewide shelter-in-place order went into effect on March 19, both the ideation and research processes have moved online. Although the team's designers spend their days launching and building startups, their experiences conducting remote ideation and research are ones design teams across the tech industry can apply.
Bringing Weeklong Ideation Sessions Online
Ian Housham detailed the BCG Digital Ventures ideation process in a post on the company's Medium blog. The company's designers and their corporate partners spend a week identifying opportunities, solving problems and asking questions. At the end of the extensive ideation session, the team develops a business case around the best ideas and pitches them, with the winning pitches going into development immediately.
"Ideation, collaboration and innovation are more important now than they ever have been."
According to Housham, one of the key ingredients in this process is having everyone in the same room. Of course, that's not possible for the time being. However, that hasn't led BCG Digital Ventures to back away from its focus on ideation. In fact, the company's doubling down.
"Ideation, collaboration and innovation are more important now than they ever have been," Housham wrote. "Change, progress and development driven by ideas will be fundamental to businesses as we emerge from COVID-19 measures in the coming weeks and months."
The designers at BCG Digital Ventures have moved to recreate their immersive ideation sessions remotely, replacing conference rooms, whiteboards and posters with their digital equivalents. Housham writes that while his team has been able to replace in-person ideation with online tools, the process has required some tweaks. 
"We've learned that there is less flexibility in agendas when trying to manage a group online and that preparation is key," Housham wrote. "We've learned that more breaks are needed for participants to 'reset' mentally and facilitators to organize logistics. And we've learned that discussions and sessions can generally take a little longer."
 
Conducting In-Context Research Remotely
In the tech world, it's not uncommon for founders to launch companies without properly identifying product-market fit. It's a different story at BCG Digital Ventures, which sends its designers around the world to conduct in-person user interviews. During an interview with Built In, Juno Chen, experience design director, said she spent three months in China and Singapore launching her first venture, while Jessica Rudzewicz, an experience design lead, said she's conducted in-person interviews in Abu Dhabi.
It is through times like now that we get to evolve."
With global travel at a virtual standstill, BCG Digital Ventures has begun conducting remote interviews. In a Medium blog post, Leticia Cervantes, one of the firm's lead strategic designers, detailed her three most important best practices for remote user research: Make the user feel comfortable and confident, capture the contextual environment of the user, and stay on topic. 
Cervantes wrote that allowing interviewees to select the platform the interview is conducted on can go a long way toward making them feel comfortable. With regard to capturing contextual and environmental details, her recommendation is for recruiters to spell out ahead of time that a video tour will be required and for interviewers to provide specific instructions to interviewees about what they'd like to see. Finally, to avoid spending too much time talking about current events, Cervantes said it's helpful to set aside time upfront to discuss topical issues and to focus questions on what has motivated past behaviors.
"The videoconferencing layer will feel like the double-sided mirror in a focus group environment, so it will be up to us to break that barrier," Cervantes writes. "We need to consciously avoid falling into guided conversations or portraying authority. We must continue to defer judgment and focus on understanding the why. It is through times like now that we get to evolve."