Barry has been fired thousands of times.
No, Barry is not the world's worst employee. He's a character in a simulation created by Talespin, a Culver City-based startup that develops virtual, augmented and mixed reality workforce learning and training tools. 
Barry's mood ranges from defensive to despondent depending on how participants deliver the bad news. Firing him isn't easy, and that's the point. Talespin's simulation is part of a new wave of VR training programs designed to teach soft skills, like letting a longtime employee go without causing him to fly into a fit of rage or start sobbing.
 

Talespin's workplace simulation technology has caught the attention of Cornerstone OnDemand, a Santa Monica-based enterprise learning and talent-management software company. The company is beginning to explore the application of VR technology in the enterprise learning and development industry, with Director of Product Management Elvis Ha leading the charge. 
"Where we're seeing the most opportunity is with soft skills, leadership skills and diversity and inclusion," he said. "These are the most desired skills to develop across all the organizations that we work with. And that carries through to virtual reality."
 
LinkedIn's Most In-Demand Soft Skills Of 2020
Creativity
Persuasion
Collaboration
Adaptability
Emotional Intelligence

The International Data Corporation estimates that the market for VR and AR training will grow to $8.5 billion by 2023, and a number of corporations are already investing in applications that teach employees how to operate equipment safely and perform complex jobs.
For example, Farmers Insurance worked with Talespin to develop a VR experience to train claims adjusters on assessing in-home damage; KFC created a VR experience modeled after an escape room to teach new employees how to fry chicken in less than 10 minutes; and ExxonMobil has designed VR safety training for technicians and operators on oil and liquified natural gas rigs. 
But beyond training for role-specific tasks, many more companies need help finding candidates with the kinds of soft skills that Barry is designed to develop. That's why VR training technology is making the leap from industry-specific applications into offices across the country, as companies discover its ability to provide impactful soft skills training at scale.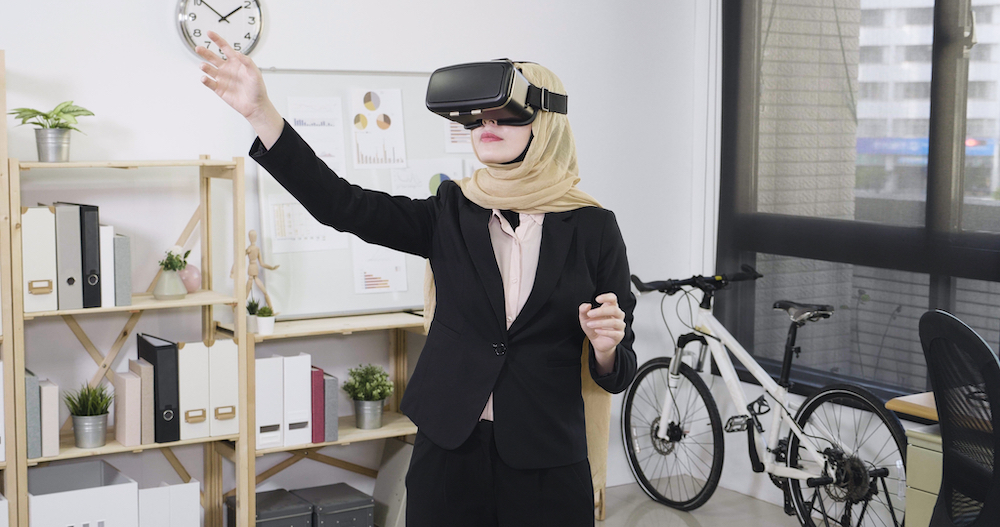 "They Forget That They're In A Headset"
It isn't easy to simulate the experience of firing someone.
To bring Barry to life, Talespin created a 3D scan of a real actor and recorded a wide variety of gesticulations, facial expressions and hundreds of lines of dialog. Artificial intelligence, speech recognition and natural language processing ensure that Barry is able to understand what is being said to him and that he responds accordingly. Talespin provides feedback to help users learn from their mistakes and has built a gamified scoring system to track progress. 
While it requires a lot of work upfront, Ha said virtual reality's scalability gives it a promising future as a training tool. Barry can exist in multiple scenarios — and he's not the only person users can practice letting go.
"People have reacted differently — even with the same script — to new character models and personas, which could expose biases that are inherent in our behavior," Ha said.
 

While Talespin animates its virtual avatars and the environments they inhabit, another Los Angeles startup specializing in VR soft skills training has taken a different route. Vantage Point develops VR sexual harassment and diversity, equity and inclusion training programs using 360-degree video shot in 8K and photo-realistic avatars. 
"We're paying close attention to the quality of the product to make sure that when people enter the headset, they forget that they're in a headset," said CEO and Founder Morgan Mercer. 
Mercer said Vantage Point consults with specialists trained to communicate with those who have experienced trauma, employment law firms and behavioral and cognitive scientists when developing its D&I and sexual harassment training programs. The company also works with actors who have firsthand experience with — or feel strongly about — its training topics.
Actors Sarah Ann Masse and Katherine Kendall — both of whom have publicly accused Harvey Weinstein of sexual misconduct — are featured in Vantage Point's sexual harassment training experiences.
"We are quite literally interviewing people who have spoken out against some of these large corporations to make sure that [the VR experience] escalates in a way that feels natural, not jarring or overdramatized," said Mercer. "It's subtle enough where some people won't get it, and the discrepancy between those who do and don't understand sparks interesting conversations around perspective."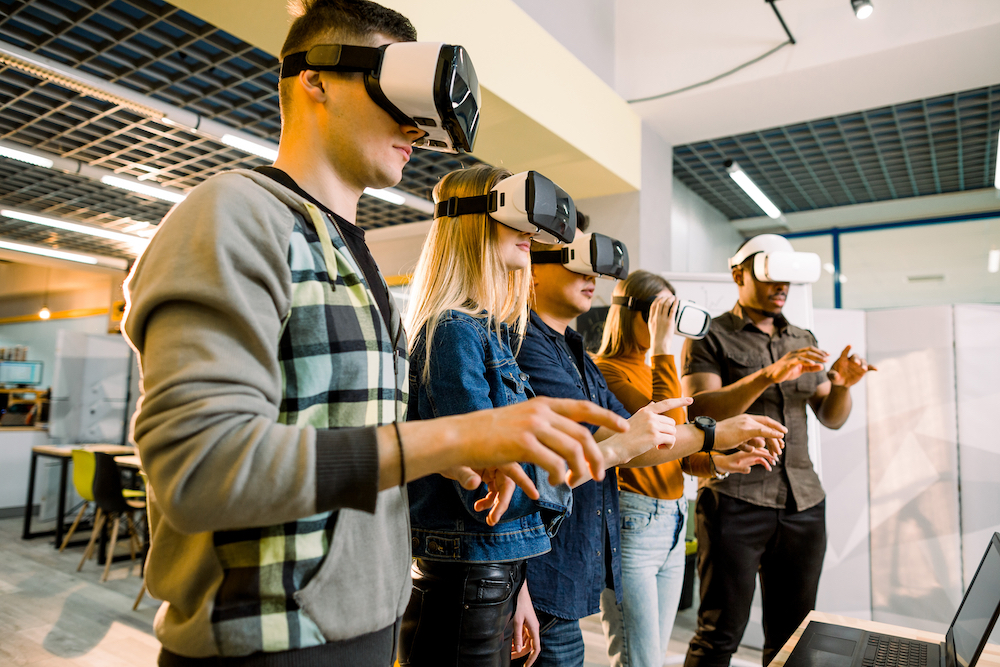 VR, Coming To An Office Near You
As startups like Talespin and Vantage Point increase the quality of VR training, more established companies like Cornerstone OnDemand are helping lay the groundwork for the technology's adoption on an enterprise level.
In November, Cornerstone announced a partnership with Oculus for Business, which provides a platform for large-scale VR software deployments. Under the agreement, shared clients of both companies will be able to build apps that track VR training completion data with Cornerstone's learning management system. Ha said that tracking results is a major consideration among companies considering VR training technology.
"Unlike other initiatives in learning and development, IT has to buy in because you're dealing with brand-new devices that organizations aren't necessarily comfortable with," he said. "Business stakeholders have to see proof that this type of training can generate positive business results."
When it comes to measuring progress, VR may actually have an edge over more traditional in-class and video training programs. For example, edtech company Skillsoft's online executive soft skills training asks direct reports to gauge the improvement of their boss' communication abilities. 
Being really immersed and feeling it, versus just watching a video or role-playing in a classroom, is really special stuff."
By contrast, Vantage Point has developed algorithms that measure a user's hesitancy, confidence, behavioral patterns and more within a simulation. That data can then be measured against data gathered from others in their department, company or industry to provide a more objective measure of a person's soft skills. 
Beyond statistics, the power of the experience itself is what may ultimately make VR a mainstay in HR and learning and development departments across corporate America.
"Barry is really life-like in terms of his facial expressions, voice and emotions," said Ha. "It's an affecting and empathy-developing experience. Being really immersed and feeling it, versus just watching a video or role-playing in a classroom, is really special stuff."