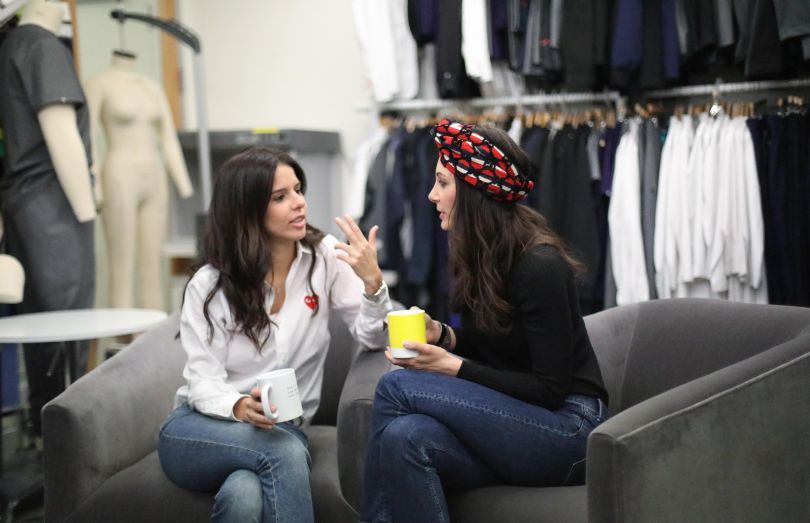 Get out of your comfort zone.
That's the business advice Yaela Shamberg, co-founder and chief product officer at InvestCloud gives young recruits looking to level up.
"An early example was having to make dreaded cold calls," said Shamberg. "My CEO set my success marker at receiving 50 "No's" by the end of the day as opposed to making a certain number of sales or meetings. When I start each day now, I stop and think about what  I can do immediately to move this business forward, and ask myself if I'm doing enough work that makes me uncomfortable."
For executive women in tech, sharing advice is one of the best ways to help other women reach senior level positions. In 2019, only 4.8 percent of CEOs are women on the Fortune 500 list. If the numbers are to become more level, there's a need for women in leadership roles to manage and invest in other women.
We asked seven women executives to share their advice on scaling startups. Some themes? Learning from past mistakes and creating clear lines of communication. 
1. Build From The Ground Up
"All of our challenges have had to do with growing quickly and as founders, that's the best kind of challenge to be faced with solving. When we were first starting out, we were challenged with keeping inventory on the shelves. It took time to understand our markets' buying behavior. We accomplished that through data, detailed modeling and forecasting, and having marketing, analytics and operations teams work together to create a holistic picture of our consumer," said Spear.
Often what it means to be an OG hire at a business is that your role isn't clearly defined yet. "
"I was the first hire in our LA office," said Parks. "Which meant starting from scratch in a lot of ways. We needed to launch our social accounts, build processes and start building out the framework of the company we envisioned." 
"Often what it means to be an OG hire at a business is that your role isn't clearly defined yet. You jump in where help is needed, you work nimbly and you execute on what you know works as efficiently as possible, she added. "I've learned through my experience building companies that an initial push for organization is paramount: How is your server organized? What are your naming conventions? Are your team budgets built?"
"Getting these questions answered right away allows you to scale quickly and in an organized way that shows the value of a shared language across departments." 
2. Do Whatever It Takes
"When building a business, you find yourself doing all sorts of crazy tasks and frequently being out of your comfort zone," Shamberg said. "InvestCloud started as a small motley crew working out of a garage with big plans to sell a global digital cloud platform. I had a background in business but no experience coding. Before I knew it, I was using our code generator and my business knowledge to build products like our demonstration platform to show  prospective clients, as well as dozens of apps that we delivered to our first several hundred users."
I've stepped in to help build systems, processes, budgets and KPIs around new initiatives."
"Over the last two years, I've been energized by the problem-solving inherent in a startup, including doing things in a new way while experiencing rapid growth", Davies said. "I've worked with our co-founders on two rounds of fundraising, helped triple the team and have stepped in whenever we have a new strategic priority to help build systems, processes, budgets and KPIs around new initiatives."
3. Make Communication Clear and Strong
Chloe Parks, Creative Director at Feals: "The biggest challenge is scaling strong communication," Parks said. "When a company is moving quickly and everyone is hyper-focused on the execution of their own workload, it's easy to forget about communicating information cross-departmentally. Highlighting communication and transparency early on can be tricky, but it's so incredibly valuable. I've found that asking for what you need (even when it feels like overkill) is the best way to build a shared understanding of what communication can mean for the company. Asking important questions such as, "who is the stakeholder and what is final approval on this? When is this due? Who is taking notes in this meeting?" can really go a long way when it comes to getting everyone on the same page."
The biggest challenge is scaling strong communication."
Malindi Davies, Chief Operating Officer at Tamara Mellon: "Every day has challenges: some of them are big, some of them are small," Davies said. "My relationships with people across and throughout the organization are incredibly important to me, and each challenge has been solved by a combination of great questions and great thinking by my friends and colleagues. I've learned I absolutely love Italian-made luxury shoes and I've learned that working with co-founders I respect, like and trust makes all the learning easier, fun and meaningful."
4. Always Be Scaling
"When we started FIGS, we knew we wanted it to be a be a formidable brand that truly disrupted the antiquated, $60 billion global medical apparel industry, so setting ourselves up to scale was top of mind from day one."
"Fundraising is a huge part of setting yourself and your business up for success. We raised our $5 million Series A in 2016 and $65 million Series B in 2018, which was the fourth-largest raise of any female founder that year," said Hasson.
Fundraising is a huge part of setting yourself and your business up for success."
Yaela Shamberg, Co-Founder and Chief Product Officer at InvestCloud: "Every growing company faces dynamic and constantly changing challenges," said Shamberg. "When I think about some primary areas we work hard to keep on top of, they are resourcing, leadership and innovation. Each year as we look back, we look ahead, and then identify what areas of the business need focus and attention in order to scale. Then we fix the problem by matching it with the right executive-level capacity. This can only be done when you have a core team of individuals who are willing to embark on new terrain, learn new skills, tackle new challenges, get things wrong, ask for help, offer help and embrace discomfort." 
"If you're strongest team leaders aren't too timid to take things head on, or too egotistical to invest in others, and aren't busy pointing fingers and playing office politics, you can gain huge leverage from them, which scales beautifully."
"I joined GoodRx in late 2018 to build and scale the quality assurance engineering team and bring holistic, scalable, quality engineering practices to the whole company," said Halder.
"Throughout my career, I've learned it's important to assess the strength of your existing team to set up success for your future goals. As we've scaled, I came up with the hiring strategy of hiring three different types of QA engineers. We have someone who handles release and works on product for the SDET team. We have a software developer in test who creates tools and an offshore QA team that helps us expedite our releases," said Halder.
"I have always played an integral role in fundraising, including running pitch meetings and supporting the diligence process of continuing conversations with interested investors," said Skuza. "One of the most important lessons I have learned is when you should be raising — and more importantly, when you don't necessarily need to raise. I have also learned that the right investor is the one who you feel a genuine partnership with versus someone who wants to fund based on valuation or brand name alone. Think of the right partner almost like a marriage, someone who will see you through the good times and the bad times. 
"Additionally, because I am a female founder, it's important to find investors who treat me like an equal and value my voice the way they would  a male leader. Unsurprisingly, there is still a ton of work that needs to be done in this area," said Skuza. 
5. Delegate, Delegate, Delegate
Olivia Skuza, Co-Founder and Co-CEO at NuORDER: "Finding time was a major obstacle, as I never felt like I had enough of it. As the business grows, it is essential to move away from the decision-making process, which can be difficult," Skuza said. "Your business is your baby, and relinquishing control was not an easy process for me. So, discovering which areas of business and tasks to put all your focus on, and which ones to delegate is necessary and important."
"One of the most critical job functions I've invested in has been in nurturing customer relationships and identifying key growth opportunities."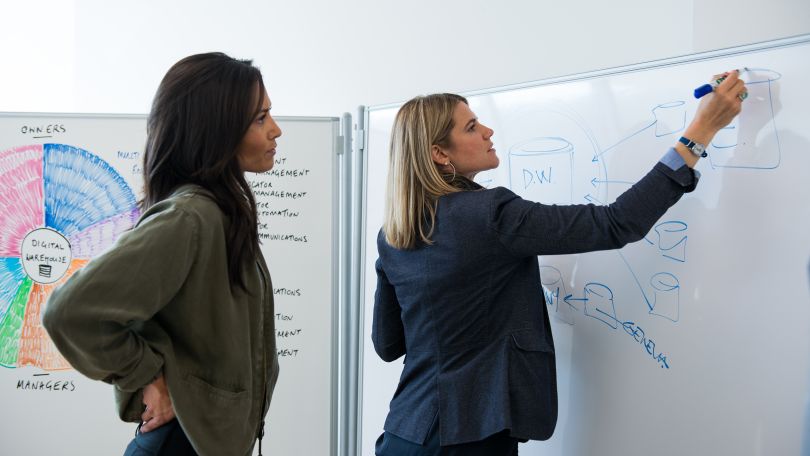 6. Focus on the Value of Your Business
Heather Hasson, Co-CEO and Co-Founder at FIGS: "Know your business's value and focus your money and energy there," Hasson said. "For us that was making sure our two disruption points never failed, which were physical products that made boxy, ill-fitting scrubs a thing of the past and fast, seamless ordering via a branded, vertically integrated e-commerce site the future. By simplifying, we were able to focus on what mattered."
Know your business's value and focus your money and energy there."
Trina Spear, Co-CEO and Co-Founder at FIGS: "What we learned was that everything everyone had thought about this "niche," "stagnant" and "boring" industry was wrong," Spear said. "Medical professionals like to shop. They take pride in their wardrobe and they love being offered new products. Through trial and error, setting up a nimble and robust supply chain and aligning team strategy with forecasting, we've never unintentionally sold out of something since our first year in business."
7. Get Out of Your Comfort Zone
Yaela Shamberg, Co-Founder and Chief Product Officer at InvestCloud: "The most distinct lessons I've learned have been how to be comfortable being uncomfortable and how to reframe the definition of success. I had to pick short meaningful markers for success and identify small specific outcomes." 
Be comfortable being uncomfortable."
"An early example was having to make dreaded cold calls,"  Shamberg said. "My CEO set my success marker at receiving 50 "No's" by the end of the day as opposed to making a certain number of sales or meetings. I had to get rather comfortable with being rejected and being uncomfortable. When I start each day now, I stop and think about what I can do immediately that will help to move this business forward, and ask myself if I am doing enough work that makes me uncomfortable."