There are many benefits to remote work besides wearing sweats to the "office." 
Working remotely allows many employees to be their most productive in accordance with their lifestyle. A recent study from Owl Labs reported that remote employees are 22 percent happier than employees who work in the office. With no commute, a personalized office space and a flexible schedule, the perks of working remotely are ideal for many nontraditional employees looking for better work-life balance. 
The only hiccup? It can be quite challenging for managers to keep track of a team of remote employees across different time zones and ensure they feel included in the office culture.
MatchCraft creates marketing software for international companies, helping them sell and manage search, display and social campaigns for businesses of every size. To operate in over 44 countries and across 23 languages, they need employees across the globe.
According to Assistant Director of Client Engagement Sally Powell Huege, giving employees the flexibility and freedom they need actually results in higher quality work.  Read on to learn the management tactics she utilizes to make sure her remote team feels connected and engaged.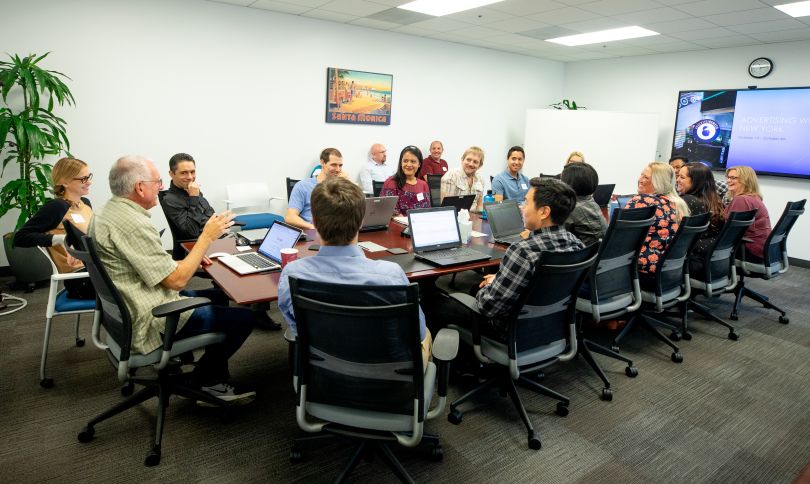 Describe your remote team. Why has your company chosen to have remote employees or teams across several offices?
The client engagement team at MatchCraft personifies the spirit of the telecommuting culture since 80 percent of the team works remotely. It is a global group with team members in four different countries across the globe and in several states within the U.S. 
Having remote team members benefits both them and our company. The employees report increased satisfaction due to no or a reduced commuting time and a better work-life balance. The company, in turn, is able to reduce overhead costs and access talent in several regions rather than limiting ourselves to talent in a location with a physical office. As a bonus, we have also noticed some improvements in productivity. 
We also like the fact that we are able to be a good corporate sponsor and reduce costs and the carbon footprint associated with commuting.
What team-building activities do you do with your remote team?
Since a large part of MatchCraft's workforce is remote, the company organizes events such as global happy hours, annual costume contests and volunteering opportunities through the MatchCraft Gives Back initiative #matchcraftgivesback. This month alone, MatchCraft sponsored three volunteer days in three different states.
Having a view into when team members are online, out of the office for breaks, lunches or appointments is an important part of our remote team being successful and productive."
How else do you ensure your remote team is engaged, challenged and successful?
Our team has a group chat focused on problem-solving and meets on a weekly basis. Each week the meetings are facilitated by a different team member. The designated facilitators are the notetakers and have the ability to highlight topics that interest them. They can also bring in guest speakers from other teams at MatchCraft. 
Company-wide engagement is ensured via presentations covering a wide variety of topics, and we share training sessions with our partners like Google, &amp and Bing. We also have monthly all-staff meetings where the recipients of our prestigious Golden Egg award are recognized.
Many members on the team have personal growth goals such as improving their public speaking ability or learning another aspect of the business. Having a large remote team can make fulfilling these growth opportunities a challenge. Client engagement team members are asked to lead client-facing meetings and quarterly business reviews, which provide opportunities to increase communication skills, product knowledge and public speaking.  
MatchCraft is currently expanding growth initiatives to include communications workshops that will be hosted live and available virtually. 
With a growing remote employee population, we practice schedule transparency across the team and organization. Having a view into when team members are online, out of the office for breaks, lunches or appointments is an important part of our remote team being successful and productive. We accommodate flexibility when possible and promote work-life balance. The client engagement team and all teams across MatchCraft are required to have a set schedule to ensure that project deadlines are met. However, we look at team members' needs and our clients' needs to come up with schedules that work for our employees, our organization and our clients.