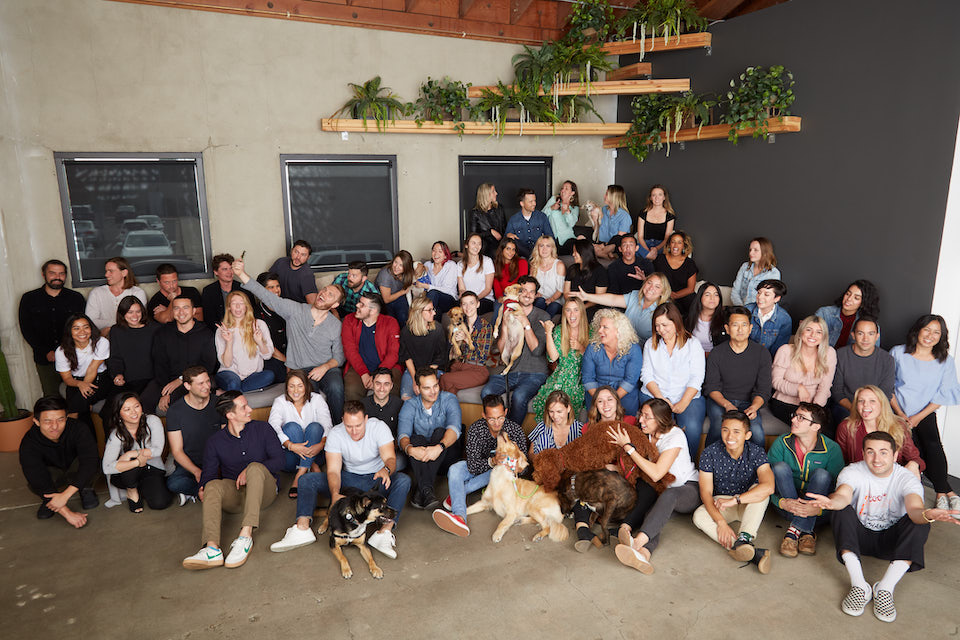 When it comes to building and establishing company culture, you can't cut corners. 
This is especially true when it comes to young and fast-growing companies like MeUndies, the direct-to-consumer lifestyle brand that sells much more than just men's and women's underwear. The company launched in 2011 and grew rapidly, thanks in no small part to the fact that talented techies were attracted to its unique and thriving culture.
We recently caught up with MeUndies' Director of People Operations, Ellen Sweeney, to learn more about what makes the company's culture unique and how her team fosters an environment where employees feel comfortable and confident.
You've been with MeUndies for over four years. How has the company's culture evolved in that time, and what's stayed the same?
MeUndies has always had a unique culture. We're a team of authentic, passionate, hardworking and thoughtful individuals. Because of this, our culture was and still is founded on the motivation to build a great brand while embracing the journey and having fun working together along the way. It has been this way since I joined, and it is truly a testament to the original hires and our Founder and CEO Jonathan Shokrian. As we've grown up as a brand, our culture has grown with us. Four years later — and about eight times the number of employees — we're still a group of authentic, passionate, hardworking and thoughtful individuals. 
Cultures don't become established by accident. How does the MeUndies people team foster and promote culture?
Aside from ensuring that we are recruiting amazing people, we also work to really understand what makes our team tick. We focus on gathering employee feedback and getting to know team members. For example, we've found that our team is eager to grow and learn, so we rolled out an annual $1,000 independent learning and development budget. We've also found that people across the team want to improve their communication and public speaking skills, so we've attended two Groundlings Improv communication trainings. 
As far as traditions go, we have our annual company retreat, which will be in its fifth year in October. The team comes together for two days and two nights to bond, hear about different aspects of the business and kick up our heels for some relaxation and fun. It's an event that people look forward to from the day they join MeUndies. Ultimately, we want our team to feel welcomed to be who they are, motivated to grow their careers and, frankly, just happy to be here every day.
Ultimately, we want our team to feel welcomed to be who they are, motivated to grow their careers and, frankly, just happy to be here every day."
Transparency plays a big role in the business of MeUndies. What impact does it have on your company's culture and employees?
It's incredibly important to keep the entire team abreast of what's happening across the business. A regular flow of information helps the team be comfortable and confident in where we are going. We have monthly all-hands meetings where we cover how we're tracking toward our company OKRs, product launches, financial updates, team promotions and more. Between these monthly meetings, we're consistently using our "Biz 411" Slack channel to share quick updates like weekly financials, changes to launch schedules and new hire announcements. This is a practice that is always evolving and a piece of our culture that will be crucial to keep consistent in the coming years.
As someone who has grown their career at the company, can you describe how MeUndies creates an environment that enables team members to grow their skill sets and careers?
I'm a big believer that our job is to invest in the professional development of our team so they can grow and flourish as people and professionals, whether that's here or if they one day leave us to start a company or pursue a new passion. Our founder and CEO deeply values inclusion and invites team members to executive off-sites to learn and contribute or present at the quarterly board meeting. He is instrumental in pushing our team members forward and out of their comfort zones so that they keep growing quickly. 
We have several touch points throughout the year to facilitate the team's development. There's an annual review with managers in January, a 360 review in May and weekly manager one-on-ones for ongoing feedback. In addition, employees are encouraged to use their independent learning and development budget for conferences, courses in the classroom, certification exams and more. 
Can you describe the candidate experience at MeUndies and how your culture impacts or shapes it?
Whether a candidate is hired or not, we want them to walk away feeling equally excited about the experience as well as the company. Our Senior Recruiter, Lauren, does an incredible job ensuring candidates are treated thoughtfully and have a comfortable experience. Rather than looking for a "culture fit," we operate by assessing across the same core values we hold our team accountable to. We look to hire people who will contribute to, and complement, the MeUndies team in their own authentic way.