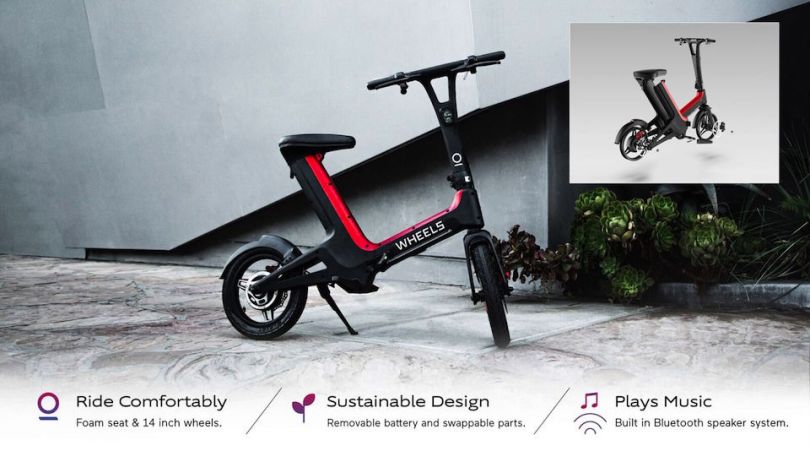 Southern California's latest entry into the last-mile transportation business, Wheels, announced it raised $37 million in new funding today. 
The company, the latest in a series of companies co-founded by entrepreneurial brothers, Josh and Jon Viner, comes after the brothers launched, Wag, their third enterprise in 2014. To date, Wag has raised $361.5 million. 
The brothers decided to leave day-to-day management at Wag in late 2017. Between January and June 2018, the Josh and Jon hired a new executive team and transitioned from CEO and president, respectively, to members of the company's board. 
They co-founded Wheels — along with Chris Stavlas, the former vice president of growth at Wag — once that transition was over. 
"We've always been super interested in this problem of getting cars off the road. It's always been a huge passion of ours," said Jon in an interview with Built In LA. "When we first saw some of the scooters —particularly Limes — launched on Sunset, we thought, 'Wow, this a really cool experience. You can just jump on one of these things and get from point A to point B.'"

The new bike in town 
Wheels is similar to its competitors, Lime, Bird and Jump (to name a few). Its squat, black and red electric "mini bike" has a kickstand and hand controls, but unlike most last-mile bikes, it's electric. And, unlike most last-mile electric vehicles, it's a bike. 
Wheels' wager? Learning to ride an electric scooter is a new behavior for most people, one that not everyone is going to be excited to learn. Most people do, Wheels' bet goes, know how to ride bikes. Add an engine and that vehicle will appeal to a broader demographic of last-mile riders, namely older non-millennial riders. 
"We thought there was an opportunity to create a version 2.0 in the space that reaches a much broader market. We wanted to build something from the ground up where we thought about what companies before us have done that they've been great at, and what they've done that they haven't," Josh explained.  
Wheels bikes have 14-inch wheels, a broad seat and a low center of gravity. They're also modular — the battery pops out to be collected and recharged — and Wheels is set up to manufacture its own spare parts. 
To launch Wheels, the brothers chose one of the most congested last-mile markets in the country — the Gaslamp neighborhood of San Diego. According to the company, early signs are strong. Wheels reported more than seven rides per bike per day this past weekend (which, according to a Wheels press release, is competitive), and one in three riders is over the age of 35.

Money matters 
With $37 million in new funding, Wheels plans to grow out its 30-person HQ team. The company, which is based in West Hollywood, just down the street from Wag, is hiring across all departments, including engineering (software and mechanical), product management, analytics, finance and more. They've also welcomed ops and product execs from Bird, Lyft and Uber. 
In the meantime, the company's San Diego presence is expanding, with LA close behind. Wheels just signed a 12,000-square foot warehouse facility in LA, a sure sign of things to come.