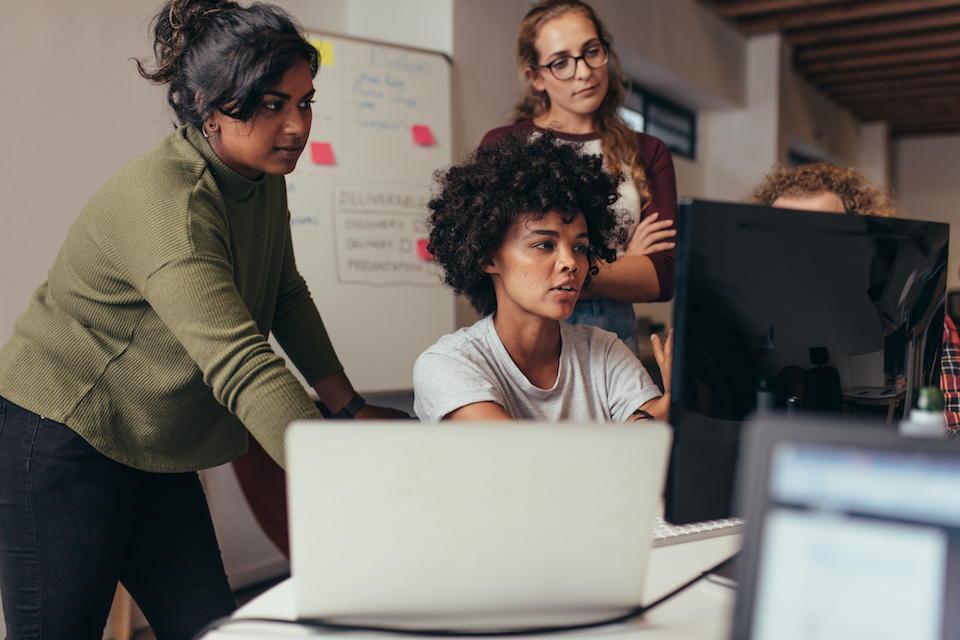 Los Angeles is a sprawling city, and largely because of that fact, a diverse one.
As the tech community continues to grow in this community, conversations around diversity and inclusion have become increasingly prominent. The reasons are well documented. Tech is heralded for bringing new jobs and ideas. But equity in the groups who benefit from these two things? That's more of a work in progress.
Luckily, there's already a lot being done to stem those trends here in LA. We put together a list of seven amazing organizations who are shaping the conversation around diversity in the city. Here's who's stepping up — and how to get involved.  
Blacks In Tech Los Angeles (BIT-LA)
Mission: Blacks In Tech Los Angeles (BIT-LA) was conceived as a place where like-minded African American tech professionals, innovators and enthusiasts could come together, network and lean from one another. Participants run the gamut from bloggers and digital media specialists to web designers and developers. The group has over 2,000 members and meets on the first Wednesday of the month.   
Learn more: The group runs off of their page on Meetup. Heads up that you must be admitted to the group to attend an event.
PledgeLA
Mission: PledgeLA is a partnership between over 80 VCs and tech leaders, the Annenberg Foundation and the city. The group was formed to promote civic engagement and diversity and inclusion initiatives in the LA tech community. Signatories to the pledge commit to making their company demographics data public, while working with nonprofits and the community to bolster their inclusion efforts. PledgeLA was signed into effect in October 2018 in reaction to diversity concerns within LA's growing tech community.
Learn more: Find out more about current diversity stats at the PledgeLA website or read about the launch of the program in their 2018 announcement.
Society of Hispanic Engineers (SHPE)
Mission: The Society of Hispanic Engineers was founded in Los Angeles in 1974 by a group of city employees. Since then, the organization has gone national, with 230 chapters across the country and more than 10,000 members. The group partners with other local STEAM organizations and meets regularly with the goal of providing members access, support and development. Their annual SHPE regional leadership development conference happens every year in October.
Learn more: Check out the LA chapter's page.
LA Tech 4 Good
Mission: Co-sponsored by the Nonprofit Technology Network and NetSquared, LA Tech 4 Good is dedicated to developing technology that makes a positive social impact for Angelenos. The group meets monthly in Downtown LA and is open to nonprofit professionals, social entrepreneurs and anyone interested in the intersection of tech and social good. Upcoming events include an evening with TecniLatinx VR Labs and a celebration of World AI Day.  
Learn more: Join the Meetup group to hear more about upcoming events and volunteer opportunities.
The Jewish Business Networking Organization (JNET)
Mission: The Jewish Business Networking Organization is a networking group for professionals in the LA community. With chapters in Culver City and Ventura, JNET includes professionals across industries, geared toward those with an entrepreneurial spirit in both the public and private sectors. (Yes, there's nosh.)
Learn more: To become a member, visit the JNET website.  
Women Who Code LA
Mission: With more than 2,200 members on Meetup, Women Who Code LA is one of the largest and most active communities of female engineers. The group's mission is to grow representation for women as technical executives, founders, VCs, board members and software engineers. Women Who Code events offer free technical advice, study groups, panel discussions, lightning talks and keynotes featuring influential tech industry experts, innovators, and investors.
Learn more: Visit their national site or LA Meetup page for information on upcoming events.
California Diversity Council (CDC)
Mission: The California Diversity Council was formed in 2009 to help teach organizations about best practices around diversity. The organization has advisory boards in LA, Southern California and the Bay Area. CDC events include networking and mentoring opportunities, community outreach, education and development programs for corporate leaders and more.     
Learn more: Visit the organization's website and learn more about their annual statewide conference.