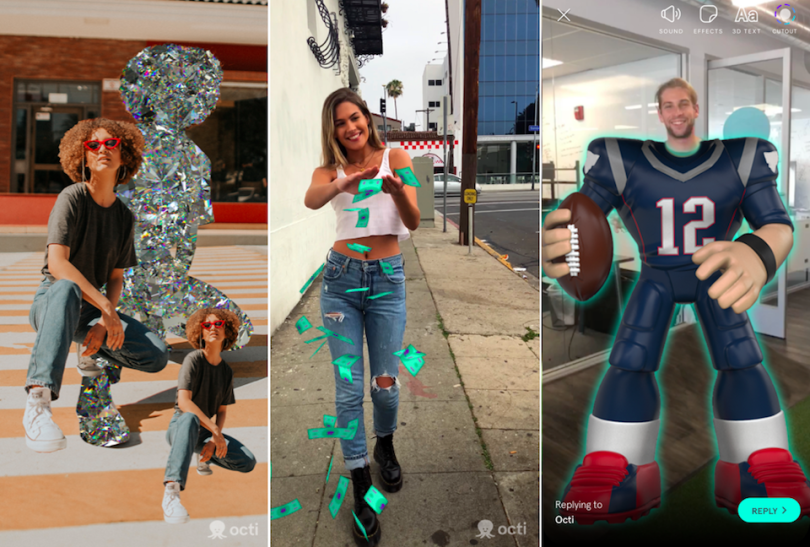 As venture capitalists and entrepreneurs enter the second half of 2018 following a wildly successful June, an LA-based augmented video startup announced a fresh batch of funding — and a strategic partnership with the NFL Players Association.
Octi, which uses machine learning and computer vision to let users share interactive videos with friends, raised $7.5 million in funding from athlete-driven accelerator OneTeam Collective, entering into a partnership with the NFLPA to create and distribute avatars of more than 2,000 active professional football players.
"The Octi platform offers an entirely new ability to amplify human interaction and communication through a simple smartphone camera," said co-founder and CEO Justin Fuisz in a statement provided to Built In LA. "What makes Octi special is that we're building our technology to reflect the ways that humans have always expressed themselves through gestures and physicality."
With the funding, the company will build out its team of computer vision scientists, researchers and machine learning engineers. Octi will also explore integrations with third-party companies and mobile applications across the fitness, gaming and fashion industries.
Octi's mobile AR technology creates a wide range of opportunities for players and fans."
"The NFLPA and the OneTeam Collective are constantly looking to collaborate with the newest consumer technologies, and we were impressed by Octi's team and the new platform they have built to change the way we communicate through video," said Ahmad Nassar, president of NFL Players Inc. and chairman of the board of OneTeam Collective in the statement. "Octi's mobile AR technology creates a wide range of opportunities for players and fans. We are incredibly excited about our investment and partnership with Octi."
In addition to the contribution from OneTeam Collective, Shasta Ventures, I2BF Ventures, Bold Capital Partners, Day One Ventures, Human Ventures, Live Nation and AB InBev participated in the round. Several well-known angel investors also joined in, including the former vice president of product at Snap, Tom Conrad; WeWork CPO Shiva Rajaraman; Adobe CPO Scott Belsky; A&E Networks Chairman Abbe Raven; and Joshua Kushner.