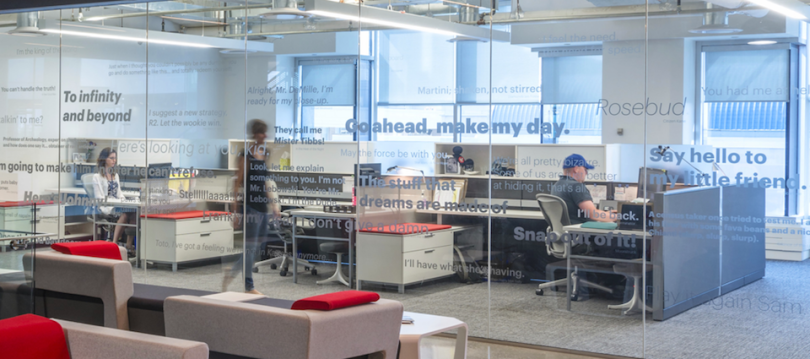 For more than 100 years, Deluxe Entertainment has operated at the forefront of the entertainment industry, introducing groundbreaking inventions that shaped film and contributing to some of the most celebrated movies of all time.
But as the way people consume media began to shift, it became apparent to the Burbank-based company that their technologies, too, needed to evolve. So they started working on an all-in-one, cloud-based content platform that helps content creators and distributors keep up with rapidly shrinking and increasingly complex production schedules. The result of the team's work is Deluxe One, a tech suite and marketplace that helps production companies manage every aspect of their work, from creation to distribution.
We spoke with Deluxe CTO Allan Lamkin about what Deluxe One means for content owners, how microservices are changing the entertainment industry and how his team stays ahead of the curve in an ever-evolving space.
What was the genesis of Deluxe One? What went into its production?
I guess you could say it has been 100 years in the making. This is a natural evolution for our company and is driving the industry forward. Deluxe One has been a full company effort with focused development over the past 18 months to transform our services and capabilities into microservices.
Like our customers, Deluxe has been advancing digital capabilities through content production and distribution. With industry changes driving global demand, shorter release windows in many languages, and more content providers and distributors than ever before, Deluxe had to transform into a more tech-forward, platform-based creative and distribution company to enable the new set of requirements. Deluxe One offers everything from creation to delivery unified into a single platform built on microservices so our customers can use whatever services they need to fit their workflows. We want to provide value and allow our clients to leverage all our services across the supply chain in a simple and efficient way.  
Deluxe is always looking at new technologies to find the best solution to new problems as they arise."
What technologies does your team work with? Is that evolving?
Deluxe One is built on a flexible architecture with the latest technologies, including virtualized infrastructure automation, container orchestration, cluster management and service discovery. This includes modular microservices for effective scaling of resources and integration through the Deluxe One API. The platform is based on a cloud architecture and a global infrastructure for endless capacity, allowing new apps and services to be added all the time. Further, using machine learning, Deluxe One is able to make smarter, data-driven decisions around content and automate processing. The platform is also metrics driven, with advanced delivery metrics and real-time monitoring of performance data. Deluxe is always looking at new technologies to find the best solution to new problems as they arise.
What are some of the challenges that come from operating at the intersection of technology and entertainment?
The rate of change in the industry is unprecedented, and in each growth stage, the next set of challenges has to be tackled. For example, each new format also means larger files sizes and multiple output versions to various destinations. Managing a single movie master in the terabytes with multiple versions requires a proper, scalable architecture for data movement and processing at scale. Add on top of that shorter and shorter turnaround times and you have to keep finding faster and more efficient technology and workflows to solve problems. That is not easy when you are dealing with complex projects and massive data sets.
The rate of change in the industry is unprecedented, and in each growth stage, the next set of challenges has to be tackled."
How does your team collaborate with different studios to integrate new features to the Deluxe One platform?
With the Deluxe One platform, we understand that one size doesn't fit all. We are a trusted partner to all of our customers, including the studios. As new formats enter the market or new content creation needs occur, Deluxe creates the required solutions.
More often than not, it is the Deluxe solution that allows the mainstreaming of whatever is next. With the modular design of the Deluxe One platform, we have made it easy to expand and add functionality as needed; that is one of the massive benefits of the microservices architecture. The platform also allows access to industry-leading providers through the Deluxe One marketplace. Integration with content providers, studios or with preferred vendors through the Deluxe One API is part of the platform, designed to be an extension of their in-house platform as well.