Responsible for everything from developing that keen familiarity with a brand, to garnering customer insights that inform future product innovation, marketing teams work with every department within the company to help a business grow. Recently, Built In LA spoke to three local marketing teams about their day-to-day responsibilities, goals and what it's like to shape their company's identity and future.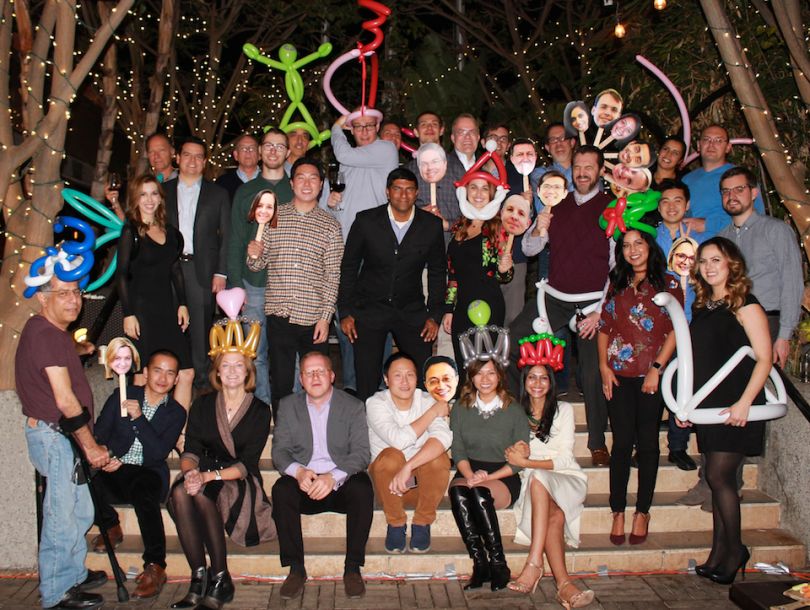 Headquartered in Santa Monica with offices all over the world, adtech company Matchcraft is known as one of the first tech companies to settle down in LA, but today, the company boasts offices in the Netherlands, Brazil and India, as well. Marketers Avni Agrawal, Lauren Kardos and Vikky Mach discussed how closely they work with other departments, how the company's message has developed and their collective love for a particularly well-known entrepreneur.
How closely does the marketing team work with other departments to craft a message?
Being a part of the marketing team at MatchCraft entails working alongside almost all of the other departments in the company. We work with our product team on updates and releases, our client engagement team on maintaining knowledge bases for clients, our business development team on conferences and case studies, our taxonomy team on content control and — last but not the least — our research team on data evaluation.
How and when does that message change?
Our message is always the same no matter who we are speaking with: "To help businesses succeed by empowering digital marketing companies with our battle-tested technology and global expertise."
That being said, our tone changes as our audiences change. Even though we have been around for 20 years. MatchCraft continually strives to maintain a culture that gives employees the excitement and flexibility of a startup but the stability of an established company. As such, we employ a more casual tone when communicating via content published on our blog, but maintain a more formal tone when speaking at conferences or interacting with clients.
We believe product and brand marketing go hand in hand. Having been in this industry for two decades now, we understand that branding is a never-ending exercise, and with the constant product enhancements supplied by our engineering team, refraining from marketing the product is never an option.
What are some of the moving parts of marketing a tech company for the public?
The key to being a tech marketer is being adaptable. Adtech is so fast paced that if you do not keep up with the latest trends, you might as well resign yourself to page two of Google search. We read a lot of industry publications, attend webinars, network and constantly evolve our marketing strategy.
Is there one company that impresses you with their marketing efforts?
Sending a Tesla roadster into space was a stroke of sheer genius and it certainly will take other car companies, elaborate and massively creative endeavors to beat that.
Just like Tesla, we like to make our competitors sweat to get to our level of innovation.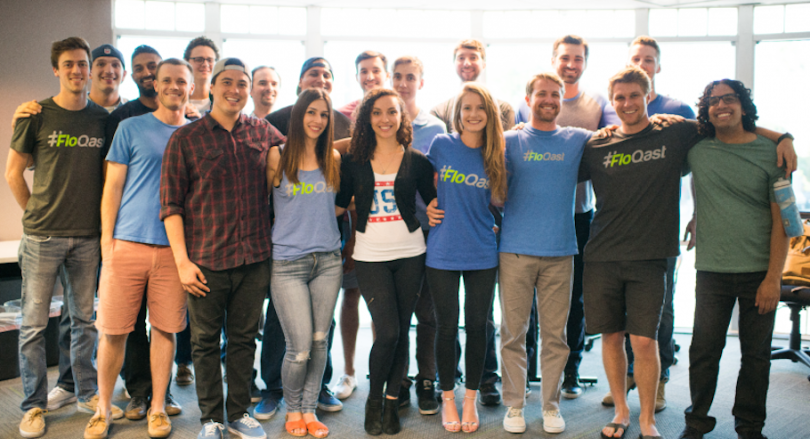 A major part of Sylvia LePoidevin's role at FloQast, a local fintech company that develops a software designed to help corporate accounting departments, is to support the company's sales team. That said, branding the Sherman Oaks-based company as one of the coolest places to work in L.A. is also a key focus for LePoidevin.
How closely does the marketing team work with other departments to craft a message?
Although we rely on other departments to help craft messaging — especially getting input from former accountants — the most important element is making sure we are using our customers' words, and where possible, their voice.
We work most closely with departments such as sales and account management, because they're on the front lines, talking to our prospective and current clients every day. Before we were able to scale our marketing operations, we completed a foundational messaging project to lock down our tagline and supporting points; the core part of which was interviewing current clients to ensure our message was worded in our customers' "language."
Are there certain times during the year in which priorities shift from product to marketing the company as an awesome tech startup?
Definitely. When we moved into our new office [the location of an upcoming Built In Brews] a couple of months ago, we increased our office space six-fold and could greenlight a lot of hires that we simply didn't have space for before, which was important as our team grew 250 percent last year. We worked with local communities and publications — like Built In LA — to help get the word out about what we were doing to redefine how a critical business function, the financial close, is performed.
How does the marketing team collaborate?
We're a very tight-knit team — most of us sit within a few feet of each other — but we have a number of productivity tools we rely on. We use Asana — an online project management tool — to organize deliverables and deadlines. We would also be lost without Google Drive for document management, and Zoom for online meetings.
What are some of the moving parts of marketing a tech company to the public?
There are three core focus areas for our marketing team: helping our sales team fill the pipeline through demand generation efforts, helping to train and enable our sales team to provide the support materials they need to sell and, finally, to build our name among corporate accounting teams so they know how we're different.
Is there one company that impresses you with their marketing efforts? Why?
Zendesk was among the first tech companies that marketed B2B software in a simple, easy-to-understand and visual way. They weren't afraid to show their quirkiness, which helped make them more approachable and their content more engaging. Zendesk was at the forefront and many companies have sought to emulate how Zendesk communicates their solution offerings and engages their audience.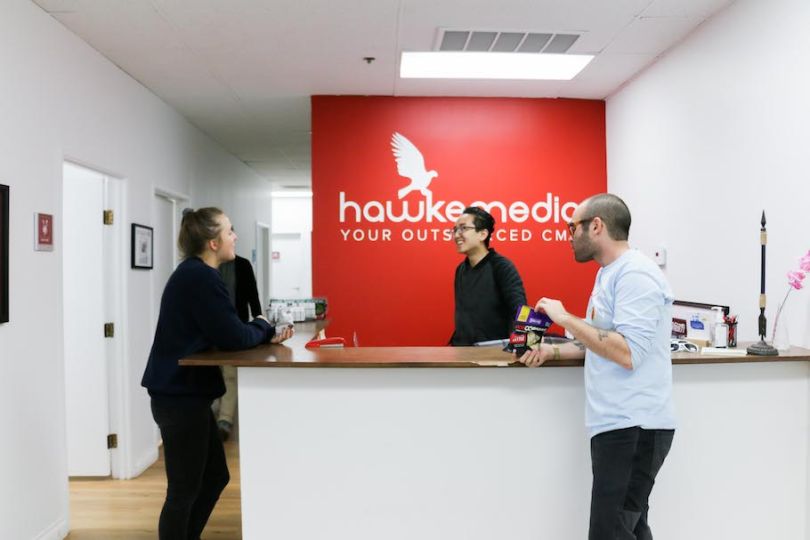 Veteran marketer Dustin Luther took over as Hawke Media's VP of marketing after nearly a decade at Malibu-based Dun & Bradstreet for the better part of seven years. Having worked in marketing for more than a decade, Luther spoke candidly about how a company's marketing efforts involve more than just the marketing team itself.
How closely does the marketing team work with other departments to craft a message?
Marketing really should be a collaborative process and I can't think of a campaign when we weren't working extremely closely with other departments to craft the messaging. As a digital marketing agency, the product we're marketing is the service we provide to our customers, so our messaging needs to start with the client experience.
Whether we're building out acquisition campaigns specific to one of our services, creating content designed to engage with thought leaders or crafting collateral for our sales team, our campaigns almost always start by working with people from our operations, product and sales teams to understand their needs and then flesh out the target audience, the value propositions, and the tools at our disposal to help spread the message.
How does the marketing team collaborate?
Our marketing team collaborates every day, starting with a standup meeting each morning to quickly discuss what we're working on and any roadblocks we expect to run into that day. Perhaps more importantly, our entire team is aware that we're a service department for the rest of the organization. Sure, our key goals are aligned with increasing revenue for the company, but it's achieved by listening to the needs of our teammates, partners, clients and executives, and then prioritizing our marketing campaigns to maximize our impact. Implicit in this understanding is that great collaboration starts with great listening.
What are some of the moving parts of marketing a tech company for the public?
There's a never-ending stream of new marketing opportunities, so staying focused on big-picture opportunities is always a challenge. The real challenge is finding employees who can both think strategically and grind away when necessary. It's really not easy.
One thing that has helped our team is to differentiate between the critical baseline projects that we need to complete to remain credible and the more risky projects that have potential to really move the needle. Of course, we spend the majority of our time on the non-risky best practices, but we actively score the risky projects and make sure there's a place for them in our workflow because it's those types of projects that excite our entrepreneurial inclinations and keep us challenging ourselves to be innovative marketers.
Is there one company that impresses you with their marketing efforts?
I'd have to say I'm most impressed with Tesla. I utterly appreciate our CEO and think he's one of the most dynamic CEOs in the space. But can you imagine having a leader like Elon Musk who could leverage his rocket company to send a product for his other company into space for an almost incalculable amount of free publicity? That would be unreal and amazing.