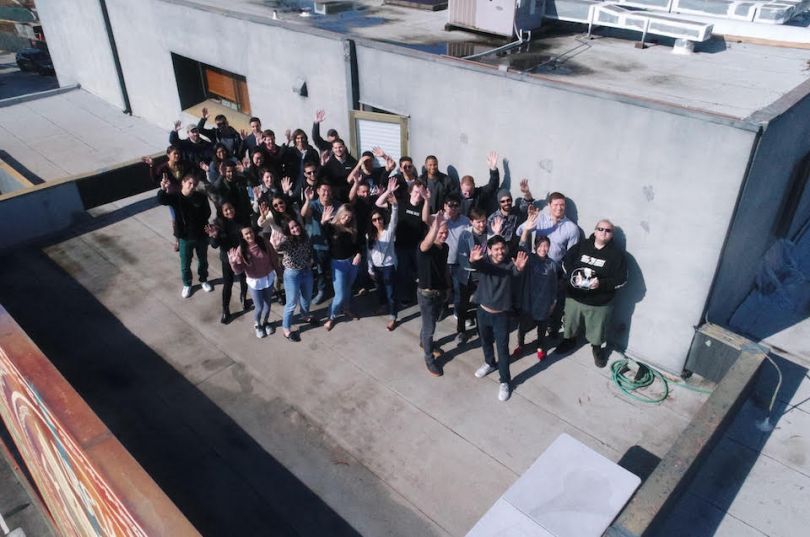 Some startups believe the sky is the limit. But why stop there?
DroneBase, a Santa Monica company that uses drones to gather data, images and videos for a wide range of industries, announced on Thursday that it has raised a $12 million Series B investment.
The company will use the funding to expand its range of enterprise offerings with a new service called AirCraft Pro. AirCraft Pro lets companies combine drone imagery with LEGO-like augmented reality elements to designate areas of interest, create drone racing courses and AR art installations.
"We want DroneBase to have the best customer experience for both our enterprise clients and pilots, and that means automating the operations layer so both parties can focus on what they do best," said co-founder and CEO Dan Burton. "We're advancing how drones can make enterprises more efficient, and this new funding will allow us to make AirCraft Pro a reality."
Upfront Ventures and Union Square Ventures led the round together, with participation from DJI, Hearst Ventures and Pritzker Group Venture Capital. Hearst and Pritzker Group are first-time investors in the company.
Ty Findley, a Pritzker Group senior associate, said the decision to invest came after seeing results from the startup's collaboration with another Pritzker portfolio company: SMS Assist.
"DroneBase is quickly scaling the world's largest pilot network, and we believe the company is well positioned to become the operational standard for drone flight services across geographies and industries," said Findley in a statement. "Watching DroneBase's partnership with SMS Assist has really impressed us with their ability to offer a scalable, affordable and timely aerial data capture solution. PGVC is excited to partner on their Series B."
Founded in 2014, DroneBase is a marketplace that connects drone pilots with businesses in need of their services. The startup's services are available in all 50 states and more than 60 countries, according to the statement.
After booking drone services on DroneBase's marketplace, users can access the captured video, images and data through a custom-built, shareable webpage. The startup's customers include Zillow, Hilton and commercial real estate titan JLL.
DroneBase said it has completed more than 100,000 assignments for its clients. Its industries of focus include real estate, construction, insurance and telecommunications.
One of Built In LA's 50 startups to watch in 2018, DroneBase has raised more than $17 million from investors.
DroneBase will also use the investment to invest in its API to provide better data to clients. The startup recently introduced new technology that automates the process of getting airspace clearance in certain U.S. locations.