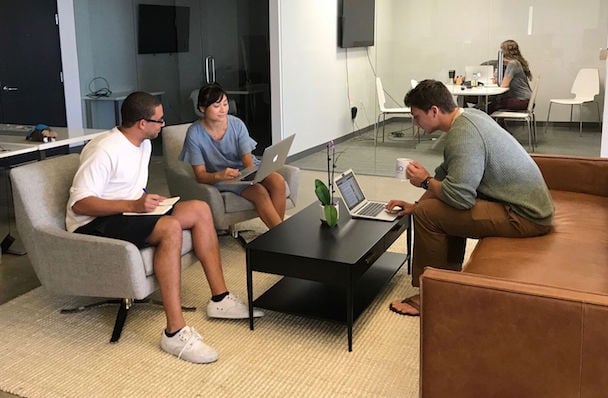 A painful reality facing many young Americans is the massive amounts they owe in student loans. Saddled with thousands of dollars to pay, millennials are putting off major life events and purchases that have typically followed a few years after college graduation.
Tuition.io would like to help with that. The company, which today announced the close of a $7 million Series B has developed a platform that allows businesses to deliver student loan contributions as a perk, helping them acquire, engage and retain talented tech workers.
"Student loan is a crushing burden on 44 million people in this country, and when you begin to understand what the implications of that burden are, it's profound in how it can negatively change people's lives," said Scott Thompson, CEO of Tuition.io. "We feel very comfortable with our product-market fit, and with the Series B, we plan to hire aggressively to be able to check off everything we have on our roadmap for the next few years."
While the round, led by Wildcat Venture Partners, will allow the company to add to its headcount — Thompson estimated that the sales and engineering teams would double in size next year — the newly forged professional relationship with Tuition.io access to a firm with a wealth of knowledge about startups and specifically fintech startups.
"I've known Bryan Stolle [Founding Partner at Wildcat Venture Partners] for a while now, and I really like what he brings to the table as an investor, but what's really important to me is his experience as an entrepreneur," said Thompson. "He knows the journey we're on and the things that I have to do to ensure this business works. As a CEO, it's important for me to be able to forge a relationship with someone who's been there and done it before."
Thompson isn't new to the startup game, by any means, but Tuition.io is certainly the smallest company he's worked for in years. Formerly the president of PayPal and the CEO of ShopRunner, Thompson originally sat on Tuition.io's board before taking over as CEO last year. So why would a tech giant with experience managing industry leaders take on leading a small startup outside of Silicon Valley? Because its cause matters to him.
"I looked at the addressable market — which is gigantic —  the ability to be a clear leader, and the chance to build a business with an interesting margin structure that actually generates cash, and the opportunity is obvious," said Thompson. "But to be able to do it with a mission that people can readily understand was what really made the decision easy."  
Upon becoming CEO, Thompson was able to see firsthand the challenges the millennial workers face with student loans. Consequently, Thompson has become a tireless advocate of student loan reform. He acknowledges that — while necessary — the loan debt negatively impacts a large part of today's workforce as never before.
"Paying student loans postpones things like home purchases and starting families, so I knew at a high level that the mission is really important, but when I started working closely with the team and saw how many of them had student loans, I really started to internalize everything."
In addition to the funding news, Tuition.io also announced it opened an office in San Mateo, which comes hot on the heels of the company moving to a new headquarters on the Promenade in Santa Monica. The company also revealed the additions of tech veterans Scott Simmons as COO/CFO and Danica Bracy as senior director of partner success.
Images via Tuition.io.
Have a news tip for us or know of a company that deserves coverage? Let us know and follow us on Facebook.