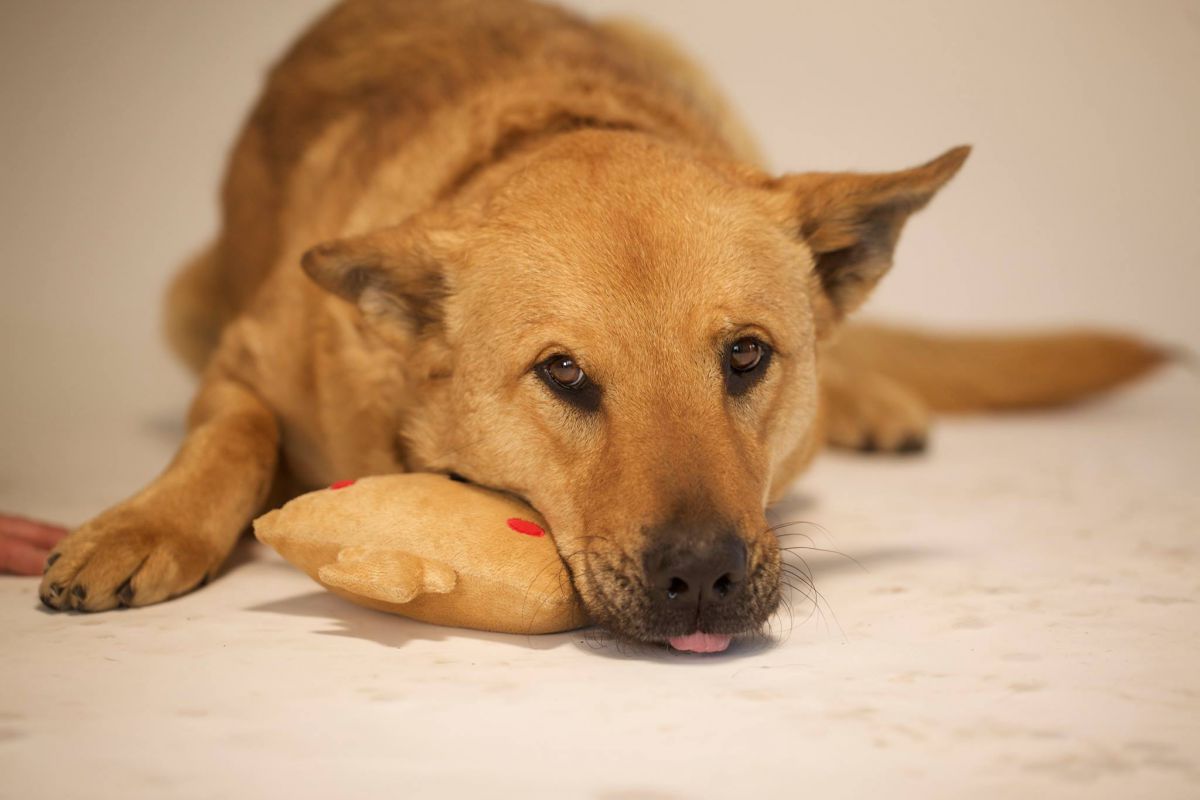 For entrepreneurs, the opportunity to go on a show like Shark Tank is a once-in-a-lifetime opportunity. That's exactly what Chris Pouy was thinking when he pitched his startup, Cow Wow Cereal Milk, on the show.
It did not go well.
"It was terrifying," he said. "Once it was done, I thought, 'I'm never doing this again — I'm just going to collect a check every two weeks and work for someone else.'"
Pouy returned to life as a copywriter, helping global brands develop new and interesting ways to market themselves. If anything, he knew that he would never, ever start a business again. 
But then a dog named Peluche changed all that.
Adopted at the South LA Animal Shelter as a puppy, Peluche — which means "plush" in Spanish — had a penchant for the dramatic pretty early on. DirecTV controllers and shoes were no match for the small puppy.
When returning from work one night, found Peluche having the time of his life with a toy that had become caught in his collar. Equal parts amused and confused, Pouy realized his dog might have actually stumbled upon a great idea for a company.
"I saw how much he enjoyed playing with this thing, so I decided to make a prototype of my own," said Pouy. "Eventually I settled on a piece of elastic that I secured to a toy and then his collar. It acts as like a pillow for when he's laying on the floor, and obviously, he's pretty entertained."
It took Pouy several months before he decided to act on his dog's idea for a startup. He decided to name the company after the pup, and decided that for every toy the company sold, he would donate one to a local animal shelter like the one he found Peluche at.
"There is a lot of fear and second-guessing that's involved in starting your own business, no matter what it is, and that's probably what took me so long to test the waters again," said Pouy. "I feel like I'm finally doing something that matters, something that has an impact on people and animals."
Peluches unofficially launched in June, and online sales spiked. According to Pouy, the quick sale of those initial units was a pleasant surprise, and the support from friends, family and early-buyers has been fantastic.
"The amount of support that I've had has been overwhelming," he said. "You don't want to put something on Facebook and be like, 'hey everybody, buy this stupid toy that I've made,' but so many people went out and started buying them. People started posting photos of their dogs having a blast, and I started to think that this was going to work."
Pouy was quick to admit that the Peluches project isn't paying the bills quite yet, but the amount of support he has received thus far gives him hope and confidence. Over the next several months, he plans to continue to lean on his dog as he introduces the brand to dog owners and pet shop vendors alike. 
As he does, Pouy said he has no problem giving credit where credit is due.
"I knew that if I ever did something again, it had to feel perfect, and this feels perfect," he said. "Technically, it's not my idea; it's the dog's idea. I was really just a sounding board."
Images via Peluches.
Have a news tip for us or know of a company that deserves coverage? Let us know and follow us on Twitter @BuiltInLA.