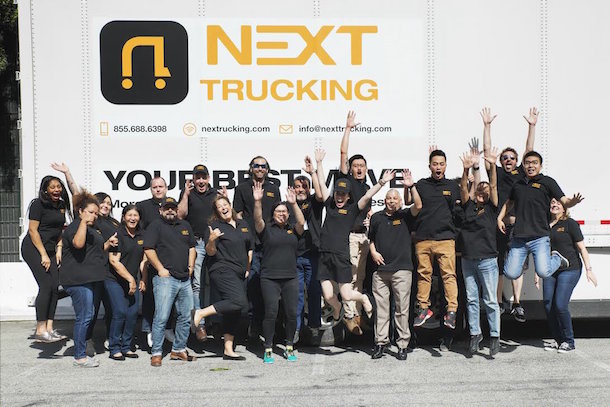 Trucks aren't exactly known for their speed.
Neither is the trucking industry writ-large. After years of relying on paper files and clipboards, the nightmarish logistics industry might be finally getting the overhaul it needs with NEXT Trucking.           
Headquartered in Lynwood to give the company easy access to the ports of Los Angeles and Long Beach — which, if combined, rank in the top 10 busiest port facilities in the world — the startup's platform matches small and medium-sized trucking companies with shippers searching for competitive pricing, streamlined communication, payment options and even referrals while ensuring that nothing falls through the cracks.
"NEXT Trucking is an online trucking marketplace and app designed for shippers and truckers," said co-founder and CEO Lidia Yan. "Through its intelligent matching capabilities, we maximize productivity while remaining trucker-centric. Allowing carriers to select from real-time and future availabilities and preferred routes and rates, our platform connects drivers from small and medium-sized trucking companies with shippers searching for efficiency and competitive pricing."
In January 2017, year-over-year imports to the Port of Los Angeles increased by 13.1 percent. Given the logistical challenges that stand in the way of getting cargo off the docks, onto a truck and to the place it needs to be, a lack of experienced cargo carriers can create a billion-dollar problem.
"Currently, the dispatching process is extremely inefficient," Yan said. "Truckers spend hours negotiating back and forth with brokers for inefficient routes and low rates. We provide a solution for truckers by making the market more transparent."
Given the old school manner in which most companies in the industry have operated, Yan says there has been some resistance when it comes to actually introducing the tech.
"Every startup is a challenge, but it was especially risky for us to create a solution designed to change an industry that is very antiquated," Yan said. "Truckers are extremely hardworking and humble," she said. "While it is traditionally not the most tech-savvy industry, once truckers understand that we are here to help them, we firmly believe that many of them will work with us. They know we are not here to replace them, but rather to help them find work more efficiently."
In March, the startup finalized a $5 million Series A, which was led by China Equity, chosen for its strong ties to the Chinese shipping industry. According to Yan, the partnership will allow them to develop and strengthen relationships in the world's largest exporter.
Now boasting more than 40 full-time employees, the company is in the process of raising a Series B, which they hope to close by the end of Q3 of this year.
Images via NEXT Trucking
Have a news tip for us or know of a company that deserves coverage? Let us know and follow us on Facebook.