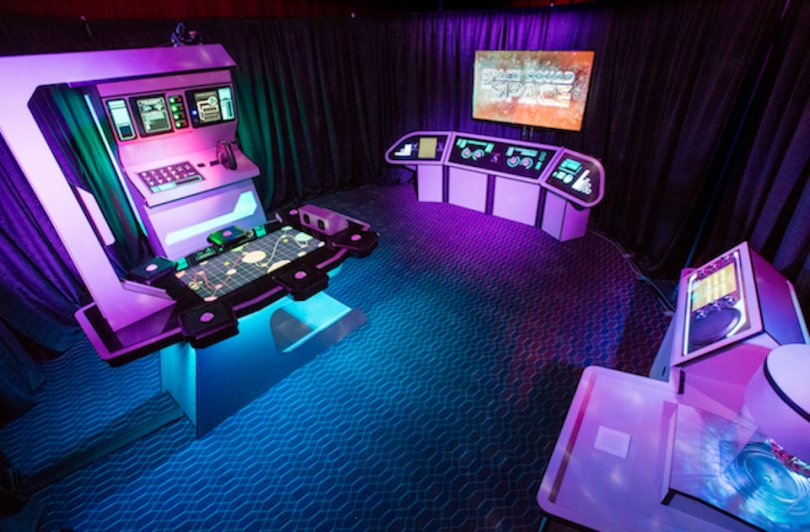 Very few startups boast a liberal usage of lasers and explosions, but Two Bit Circus isn't your average tech startup.
With a portfolio littered with projects like a STEAM carnival, a live-action game room that puts players in the cockpit of a spaceship, and a wise-cracking robot bartender, it's easy to see why co-founder Eric Gradman describes his company as "the future of fun."
"Technology has advanced leaps and bounds, but the best things out there are still bowling and laser tag," said Eric Gradman, Co-Founder/CTO, Chief Typist and Mad Inventor at Two Bit Circus. "The kind of technology we've spent the last eight years building, there's an incredible appetite for the sort of experience that lets you and your friends come together and have a time unlike any you could have at home."  
Officially founded in 2012, Two Bit Circus was never meant to be a business. Founded by two buddies, what is now an exciting presence on the local tech circuit was originally just an art project.
Well, kind of.
Nine years ago, Gradman and his friend Brent Bushnell began collaborating together on an interactive whiteboard for their own enjoyment. 
"Once upon a time, Brent I both had ordinary day jobs. We just wanted to make something cool," said Gradman. "We didn't realize we were collaborating on an art project until it was done. We spent 48 hours just coding and building this interactive whiteboard project, and when we were done, we realized people were going to love playing with it."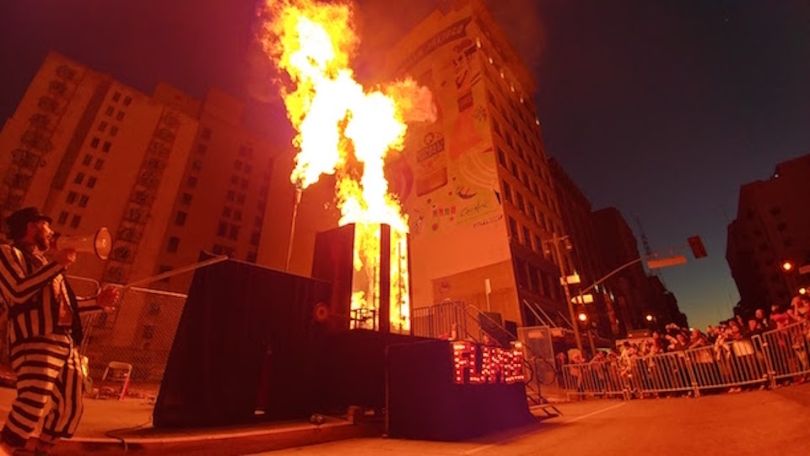 As they started presenting some of their pet projects at parties and events, big businesses took notice, and Two Bit Circus was born.  
"Big brands started seeing what we were producing and told us they would love to pay us to bring the art to their corporate events. It slowly dawned on us that there was a huge market for experiential entertainment and location-based entertainment," Gradman said. 
With five years of experience under their belts, a staff of 35 and an old power plant for an office — complete with 60-foot high ceilings — the company's creative process is still refreshingly informal.
"We have a very important rule when it comes to brainstorming ideas: save your practical thinking until later," said Gradman. "We often talk about what we call 'intermediate impossibles.' Throw out the biggest, craziest idea you can think. Even if it's impossible, it might spur somebody at the table into a new way of thinking that yields something practical."
In January, the company turned heads in a more traditional way, announcing they had closed a $15 million Series B. And that funding will be funneled into the company's quirkiest concoction to date: micro amusement parks.
"How hard is it to sell people on the story of lasers and robots and fire? It's actually really, really easy," said Gradman of the fundraising process. "People hear what we want to build, and it just resonates. The trick is making the story sound reasonable, and that's the thing we've demonstrated over almost a decade of building crazy stuff: given a good idea, we can actually make it. The only trick we have to pull off now is operationalizing it for a number of micro amusement parks."
To cope with the demands of establishing and maintaining a tech-focused amusement park, the company recently hired Kim Schafer, formerly the CEO of Great Wolf Lodge, the largest chain of indoor waterpark resorts in North America.
"As a natural rapid prototyper, I've always built example number one, and then left it in an undignified heap in our warehouse. Kim really comes from a background where you have to take this stuff, get it in front of hundreds of people every day and handle all the operations," said Gradman. "I think it's a beautiful partnership because it's going to let us take our crazy ideas and put them in front of people in a manageable way."
While the company is keeping the exact details of their first amusement park under wraps, they are seeking beta testers for their upcoming attractions. But as they work diligently on their most audacious project yet, Gradman said he still marvels at just how much fun it all is.
"Brent and I have always been driven to create stuff, because when you see someone having a good time, it makes all the effort worth it, and we get to multiply that by 10,000," said Gradman. 
Images via Two Bit Circus.
Have a news tip for us or know of a company that deserves coverage? Let us know and follow us on LinkedIn.