Cam Kashani is the Godmother of Silicon Beach.
Ever since founding CoLoft, one of LA's first coworking spaces and an impromptu clubhouse for future startup stars like Ziprecruiter, Uber LA and Fullscreen, Kashani has taken on the role she's been given by the tech community wholeheartedly.
But, as life changed suddenly for Kashani after a split with her business partner and husband, she had to leave CoLoft. Two years later, Kashani, who is also the mother of four-year-old twin boys, has a new venture: a human accelerator, focused on fostering the individual, rather than their idea.
Kashani spoke with us about the legacy of CoLoft, failure and what it's like focusing on individuals instead of their ideas.
How did CoLoft get started?
Really, we were just wondering why there wasn't an AA for entrepreneurs, where we can all fail together. CoLoft spawned from my first failure, MedMinister.com. That one was brutal. Two years, $200,000 and three customers. It was a dagger in the heart. It all happened during the Great Recession, and I couldn't even find a job after the plug was pulled. But as I say, 'scarcity spawns creativity,' and from that failure spawned CoLoft.
My co-founder — who is also my ex-husband — and I really wanted that sense of community and belonging, and at the time, it wasn't available. CoLoft was based on community. "Community-first, profits will come," and that is how I built it. 
What did CoLoft mean to the LA startup community?
From where I was at CoLoft, and how we created this community for entrepreneurs, I got to see LA's startup community from its inception. When CoLoft started, there was nothing happening here. There was one event every two months and the same 90 people would show up each time. There was such a want to be able to create this community and stand out from the Bay area, but there was also this frustration. We have some of the best schools in the world, and all the tech people were moving up north. 
I might be biased, but I believe that CoLoft played a big part in the formation of the tech community in LA. When PandoDaily did an article on us back in the day, they described us as the "Cheers of the LA tech ecosystem." Because the heart of CoLoft was so pure, and the core was so strong, it helped foster this type of energy that we still have now. 
What was it like being fired from CoLoft?
I was at that point where I had no idea what the hell I was supposed to do — I identified myself as CoLoft Cam, it was like my first child — and overnight I found myself as a single mom (to twin boys, no less) with no income. I went into a really deep depression.
I fought really hard for CoLoft for awhile, that's why the divorce took like two years. Finally, I got to the point where it just didn't feel like it was worth it anymore. I was given the option to buy it, but it just made no sense because it wasn't sustainable. So I closed that chapter and basically crawled into my bed for three months. Jasmine [Hannaby], my current business partner at COACCEL, was there for me. She would call me every day and work with me, help put me back together, and she gave me such hope. To think that this person who works with top CEOs and Senators believed in me really made me believe in myself. To work with her now is awesome. And I'm walking proof that what we do at COACCEL really works. We believe that people, you, are the product.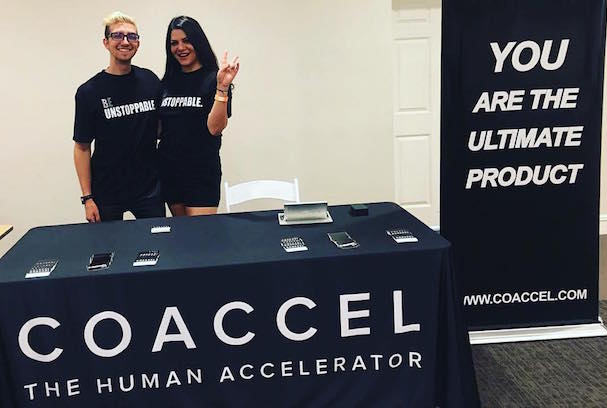 What did you do after you came to the realization that you had to start again?
I started looking for a job. That's when I saw a severe lack of humanity in business. I knew if I worked anywhere, I would lose my soul. They treat you as transactions, not as humans, and I don't get that. My commitment in life is humanizing business. Then finally I had an epiphany and started imagining this accelerator where people are building from fulfillment, and not from void. We focus on accelerating the person because the product is just an extension of you.
How did you come up with the idea for COACCEL: The Human Accelerator?
COACCEL was created based on my story, and on the fact that everyone needs a support system. We build powerful, mindful leaders. I have a theory that startup accelerators focus on the product, which is great, but the entrepreneur becomes attached to the product. So if it fails, the entrepreneur looks at himself or herself as a failure, and we might lose another bright mind to going down the safe path.
So, basically, COACCEL, is a three-month program where my business partner and myself help individuals — not businesses at this point in time — creating a customized plan for each person to accelerate themselves and their work, in a short amount of time, while offering tools and support like a traditional accelerator does (minus the investment). Our current clients include entrepreneurs, executives and politicians. 
What makes a successful entrepreneur?
In order for an entrepreneur to be successful, there are five traits that are critical: self-awareness, detachment, resilience, passion and persistence. You're going to fail, you have to be able to bounce back. What we're doing isn't just accelerating you through your work and what you're doing. We provide the resources and the support to get you to where you can really be in three months. 
I have one client who was really down on herself when we met. Within six weeks, she walked in and told me she was a badass, and that meant a lot to me — I've been there before.  
Why do businesses fail?
All the drive in the world might mean a product fails, but the human doesn't. The way that CoLoft became successful was because we learned from the failure beforehand, and we learned how to apply the lean startup methodology when the lean startup methodology wasn't a book. People get so excited, and there's this weird founder ego thing that happens at the beginning, where you really believe that your idea is the best idea ever. It takes a lot of tenacity, and the reason why most businesses fail is because they quit. 
Failures will always happen, you just have to shift the way you see them. The failure has nothing to do with you, it's just the circumstance that happened. 
Where do you see the LA startup community fit in the world's tech ecosystem?
Everyone is different. LA is in the top three for growth in the US which is incredible, considering we weren't on the map five years ago. For a long time, LA had a problem with money. There were no funds down here and there was no venture capital, and it forced businesses to have business models. I see it growing rapidly, and I don't see a reason why it will stop. I see Silicon Valley as saturated, and it's become robotic in a lot of ways. 
There's a magical energy in LA, and as more people move here, they're getting a sense of it. There's a balanced lifestyle more in LA that is attractive to people that want to build things. I think finding that balance helps people realize that they want to create something that matters.
What was it like seeing the community start to boom as your own company was at the epicenter?
It was unexpected. We just wanted to create this cool community, and then I got a partnership with Startup Weekend and brought it to LA. The first Startup Weekend in LA was in April 2010, and to this day, people still refer to it as ground zero for LA tech. That moment was magic. We started having investors come into CoLoft and ask questions about the community and we saw more and more talented people coming around. Some of our alumni include Fullscreen, Uber LA and Instacart, whose founder actually won the first Startup Weekend before Instacart existed. Some of the main players from Tinder were around, too.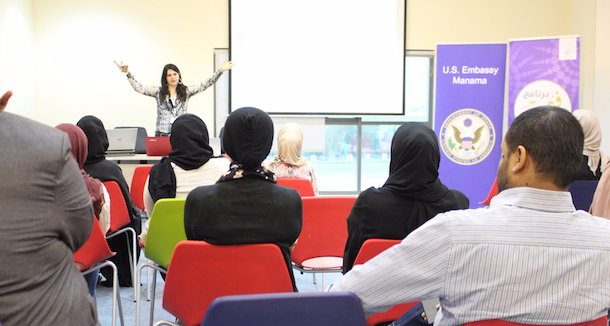 How can the local success stories support the tech community they came up in?
They're constantly innovating and creating a lot of new jobs, that's number one. The buzz is really a win-win for everyone. I think a startup is the most successful when they're hiring the people they know they won't be able to keep because they're the ones that are really going to make a difference. At the same time, if they're creating a company that nurtures talent, then the companies are more successful and the people are more successful.
How are you able to create a balance?
I don't know how I do it sometimes. I think I just have an appetite for life, and I don't take things too seriously. I think it's very important to have a relaxed attitude in life, because sh*t's going to happen, and you need to be able to roll with it. Mindfulness is a big part of our program because the more you live in the moment is best. When I'm with my children, I'm mommy. When I'm here, I'm working. 
Images via Cam Kashani. Some responses have been edited for length and clarity. 
Have a news tip for us or know of a company that deserves coverage? Let us know and like us on Facebook.