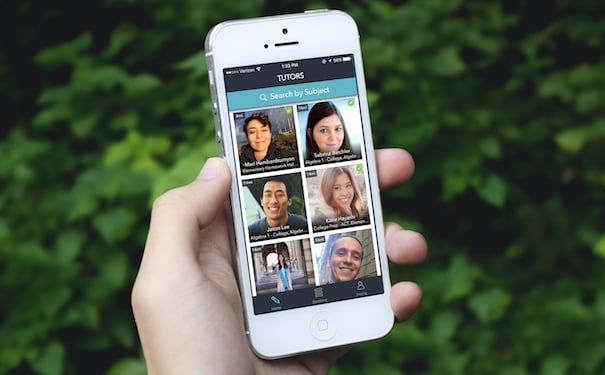 Following in your father's footsteps is a tradition as old as time. Especially if your father is the serial entrepreneur behind two of LA's most well known tech companies.
Dillon Rosenblatt, a high-school senior and son of
and founder Rich Rosenblatt, has created his first startup at the age of 18. His creation, , is an on-demand service offering students in-person or online tutoring sessions at 70-90 percent less than normal rates.
Dillon and his fellow high school co-founder, Tyler Makhani, created the site a few years ago when they struggled to find a suitable tutor at a good price. At 15-years-old, the duo raised a seed round from their friends and family to start building a beta version of the site. 
Using both physical and Facebook advertisements, they recruited educators looking for a way to make extra income. By senior year, Dillon and Tyler found the time to focus on Tutors and officially launched the product at the end of 2015. 
And we had to ask, was Rich Rosenblatt's involved in the company's founding? 
"Primarily my dad wanted this to be something that I did with [Tyler]," Dillon said. "And we had as little influence from him as possible. But with that said, our dinner conversations or a conversation between father and son have always been about business and things like that. He teaches me about entrepreneurship and I teach him about sports — that's the back and forth. He has kind of trained me to take on this task and throughout the process, if I had any questions, he was available to receive them and give great advice. He was able to introduce me to a few good people, teach me how to build a team, and from there we just kind of ran with it."
Dillon runs a team of five full-time employees, many of whom are college graduates and established developers. When it comes to his age affecting his leadership, he says mutual respect goes a long way. It's a lesson he learned from observing his father:
"He'd be on the phone and explain to me what happened afterwards and I learned a lot from that," Dillon recalled. "And it wasn't just specific situations, but more general truths about relations with other people and management. He taught me the biggest thing, no matter what, is hard work. There is no substitute for hard work in business."
Dillon says he has found a good balance between his work and social life while still finding time to keep his grades up. As for college, he is currently waiting to hear back from USC and aspires to graduate from the Marshall School of Business. 
"I hope to continue with this passion for entrepreneurship and do as much as I can. And whatever success happens is going to be a result of hard work and a little bit of luck. I'm hoping to climb as high as I can."