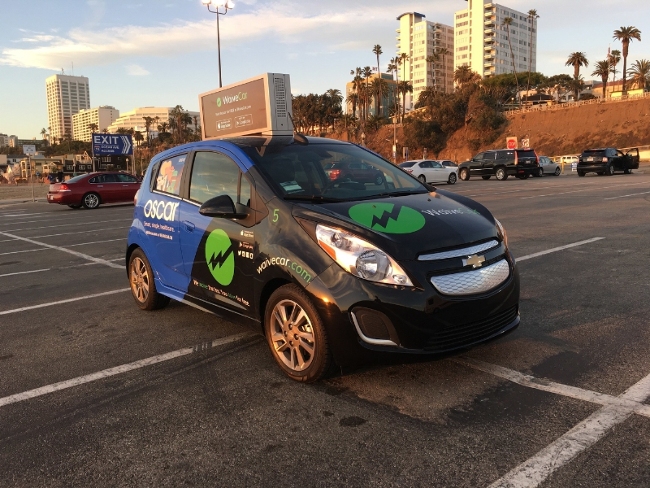 An LA-based company is launching a new kind of car-sharing service today — and it's free to use.
— the first car-sharing program running primarily on advertising dollars — can be rented today in Santa Monica and Venice Beach.
"WaiveCar rides are free because the cars work as mobile billboards. You're paying us just by driving the cars," said WaiveCar CEO Isaac Deutsch in a statement. "Our motto is: We waive the fee, you drive for free. All you need is a smartphone, a clean driver's license and a credit card."
WaiveCar's 20 car fleet of compact, four-door cars are 100 percent electric and emission-free. Each "mobile billboard" has an 80-mile range per charge and is free to use for up to two hours and $5.99 per hour after that.
"WaiveCar's advertising technology allows advertisers to not only show ads on a particular day or time, but also in specific GPS-defined areas," said CTO Zoli Honig. "This is a new, innovative advertising medium for companies, and a powerful way of fostering green, renewable energy in our communities."
The mobile app is available on iPhone or Android to find the nearest car and book immediately. The app unlocks the door for you remotely, and the keys are inside.
WaiveCar plans to offer 200 cars and expand to the rest of Los Angeles in the coming months.