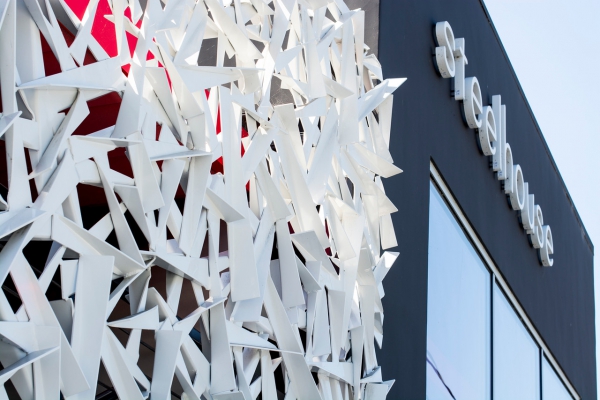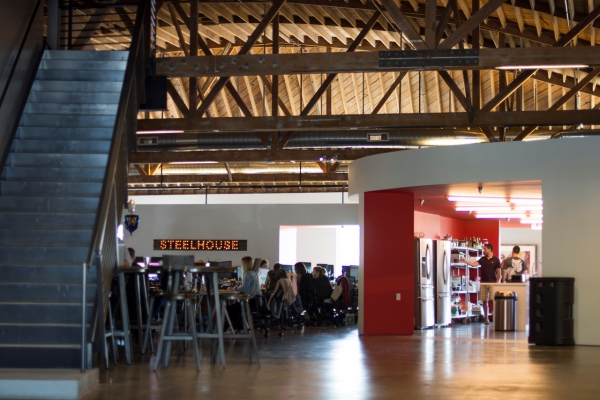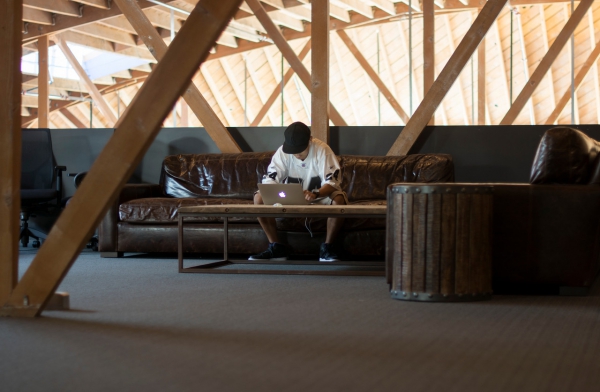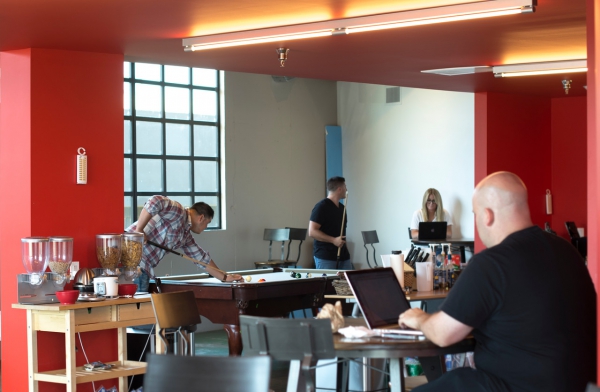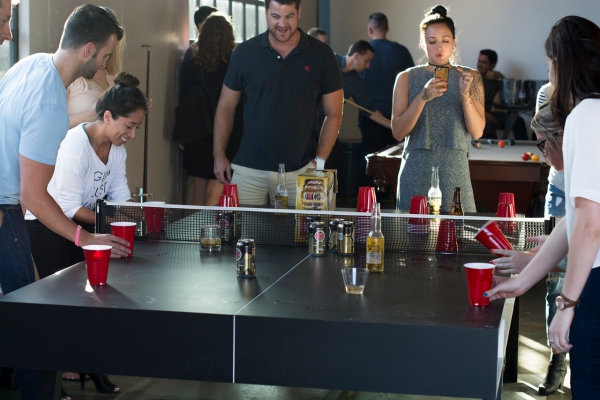 Answers provided by CEO Mark Douglas
What were your considerations when picking an office space and designing its layout?
The building itself was a perfect fit because it had so many of the features we were looking for including high ceilings, a loft, and a completely open floor plan. But the designer's plan for the place is really what sold me. It's important to me that everyone sits and works together. The entire executive team, including myself, sits right alongside every other team member. The only "rooms" in the building are conference rooms. We don't even require teams to sit together; we let everyone choose their own space to sit. 
The location was key because, as we all know, the commute in Los Angeles can make or break your work-life balance. We actually mapped out where everyone lived, and decided Culver City would give the most people a short commute. We also feel a sense of attachment to the local community, we host art shows featuring different local artists throughout the year, and invite our neighbors and industry to attend.
What are some of the perks of working in your office? 
The number one perk at SteelHouse is trust. We create an environment where we trust everyone to make good decisions, including when and where they work, and how they do their jobs. We don't have traditional rules and approvals like a number of other companies; including giving employees unlimited vacation time to take as often and long as needed, without having to track or account for days. We also share very detailed financial info at company meetings. 
As for the more traditional, or tangible perks, we make sure team members have a place to relax and socialize while at work. So in addition to weekly food deliveries and food trucks; we have a BBQ on the patio outside, a dog run so employees can bring their dogs to work, a variety of game tables, and designated lounge areas where there are no meetings allowed. We also offer up to $2,000 per year for team members to pay for vacations and better enjoy life outside of SteelHouse. The balance between work and fun is one we pay close attention to. 
On the active side, we have organized weekly meditations, yoga, boot camp, and competitive sports for team members to get away and mentally recharge.  
We also feel the long term success of all team members is important, so we open and fund an investment account for each person to support their efforts in planning for the future. All new team members also attend a week long training where we not only cover the SteelHouse platform and business, but also the ad tech industry in general, ensuring all team member have the knowledge they need to succeed.   
Why are these important to you?
We really want everyone to feel like the office is a second home. Sure, we have a fully stocked kitchen, laundry machine and a shower, but the idea is not to try and keep team members in the office… it's to make sure they feel like they are at home while they are here. Any given night, there are people who choose to stay at the office and socialize with each other around the pool table or on the porch.
This home and family mentality has really taken a hold here. Many people have taken the initiative themselves to organize weekly competitive soccer and basketball matches. And there is a yearly Vegas trip, organized and paid for by team members.
How do you think office design affects work culture?
I think the design and comfort of the office has a huge impact on our work, creativity, and culture. I want every employee to want to be here, and feel like they have whatever they need to be effective at their job. The camaraderie everyone feels inside the office is reflected in the success of our clients and therefore SteelHouse as a whole.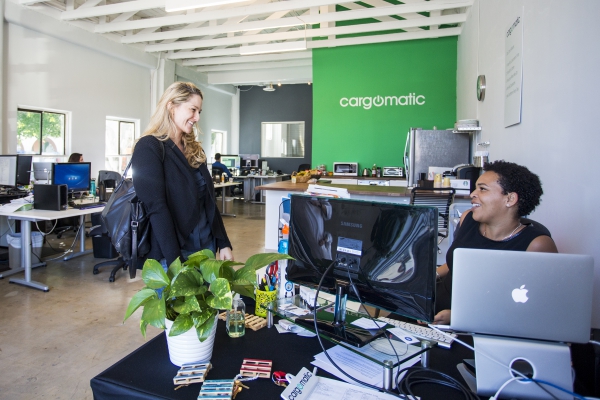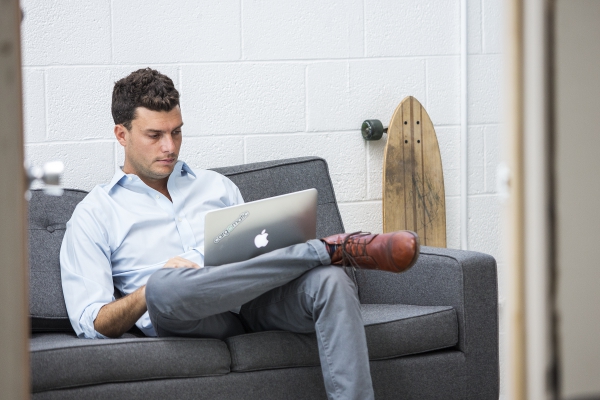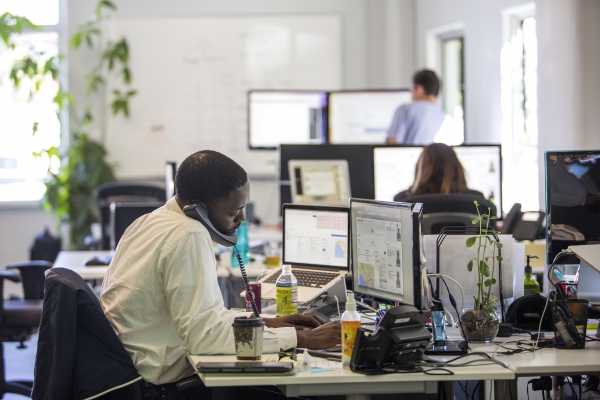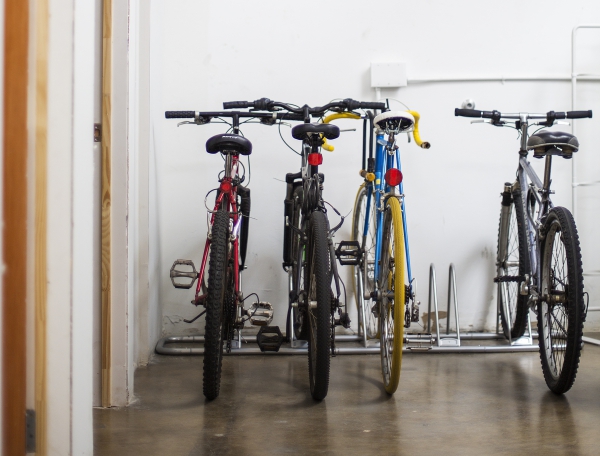 Answers provided by CEO Jonathan Kessler
What were your considerations when choosing an office space and designing its layout?
We didn't want a buttoned up, corporate environment. We were looking for a more creative space to spur innovation — white-washed brick, exposed beams, and open work spaces with lots of skylights. 
What are some of the perks of working in your office? 
We have a stocked kitchen, catered lunches two days a week, standing desks and storage space for bikes and surfboards. But our biggest perks aren't the free snacks or even a super cool office, per se. It's the opportunity to work on and solve real world problems. Learning, making a difference and finding solutions to bottlenecks that bring our economy down...that's the biggest perk. Of course, being in the heart of Venice, two blocks from the beach, is also nice. 
Why are these important to you?
We're working to transform the logistics industry, which requires a lot of hard work and thinking outside the box. We wanted to create a space where people actually want to spend time, where they feel relaxed and inspired. A lot of our employees stay really active, surfing or biking before work and playing basketball and beach volleyball together in the evenings. Being in Venice is really conducive to that kind of active lifestyle.
How do you think office design affects work culture?
Open spaces encourage creative thought, team building and collaboration. And providing plenty of natural light is the best way to keep everyone in a good mood as we focus on scaling the business and hitting key growth milestones.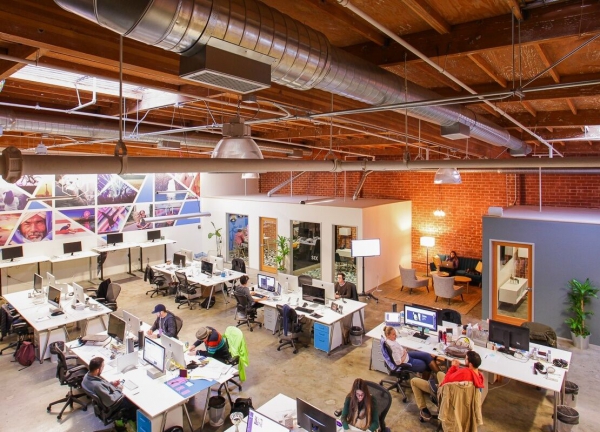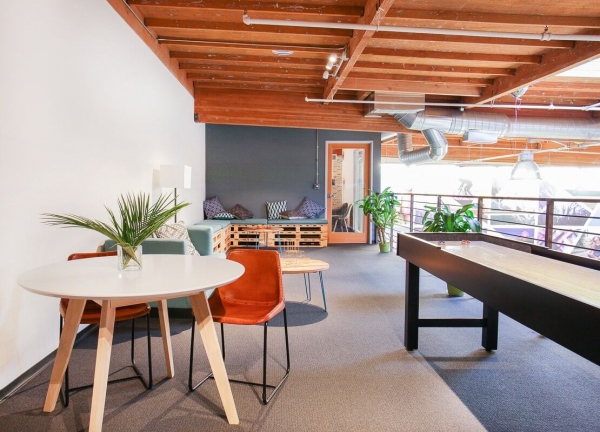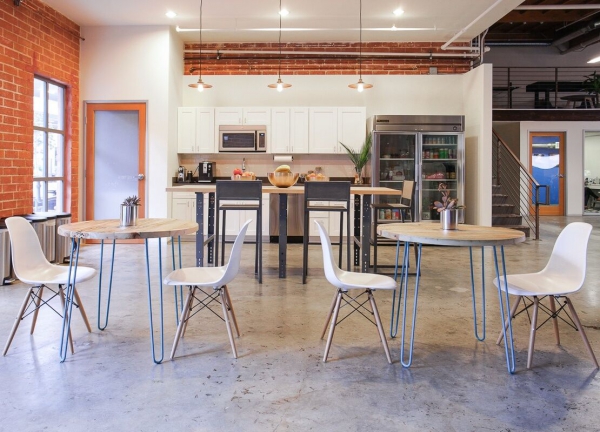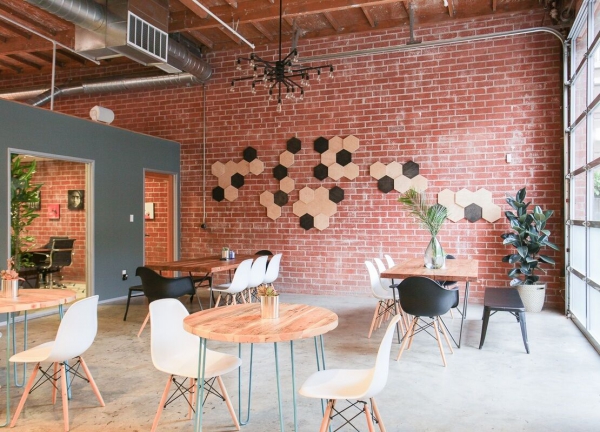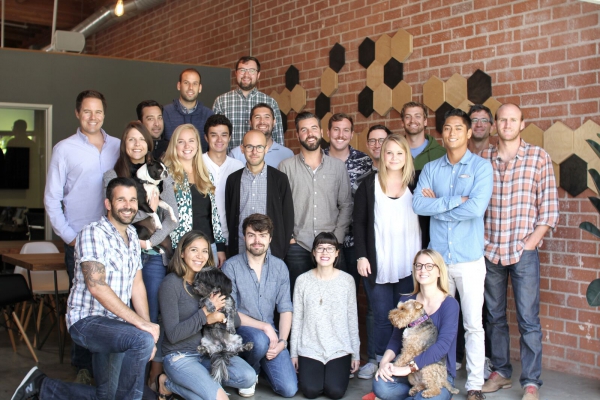 Answers provided by Todd Emaus, Cofounder and VP of Product
What were your considerations when choosing an office space and designing its layout?
We wanted a space that fostered collaboration while also protecting focused time for people to be effective in their work. With that in mind, we ended up at our space in Marina del Rey. It is a large open floor plan, but also has multiple breakout rooms for quiet time or small group meetings. We put in a bank of standing desks on the back wall for people who find that more comfortable for working. Some of the walls are covered with whiteboard wallpaper for sketching out ideas while others display photos from Twenty20 photographers around the world.
What are some of the perks of working in your office?
We provide lunch every day for the entire team. We also have a stocked kitchen with drinks and snacks in case you need a bit more fuel during the day. A few options for coffee machines for your morning or afternoon caffeine fix. There's an indoor shuffleboard table upstairs for taking a quick break if you need one. Every Thursday we have a company happy hour, where the team celebrates the week together; we often invite a few local Twenty20 photographers to swing by and visit too. A couple times a year we do a team offsite to do something fun together. The past few have been playing paintball, going to see a co-worker's play, a beach day in Hermosa, and going sailing.
Why are these important to you?
The perks that we offer are all oriented toward building a great company together. They help us get to know and care for each other. They help us stay focused on what we need to do to keep growing. And we hope they make coming to work at Twenty20 fun.
How do you think office design affects work culture?
The design plays a big role in how people work and communicate together. Teams sit in close proximity to one another, but throughout the day you'll bump into just about everyone at some point. This makes communication and collaboration a natural part of every workday, which makes us all better at what we do. As with everything we do, we consider ourselves a perpetual work in progress so if something about the design or layout isn't right then we change that up and make things even better.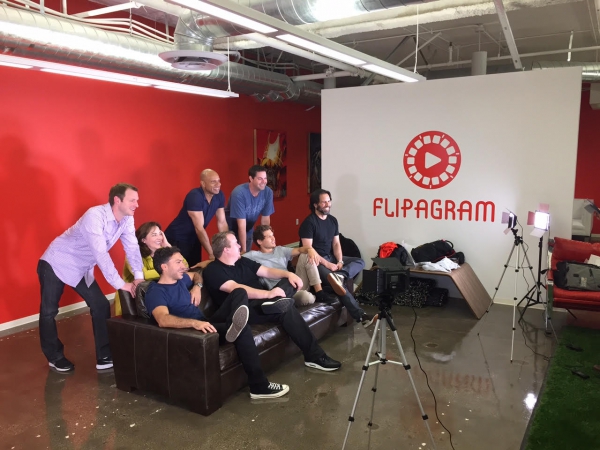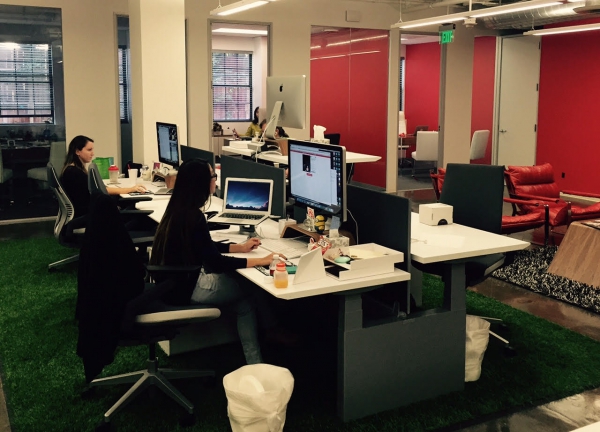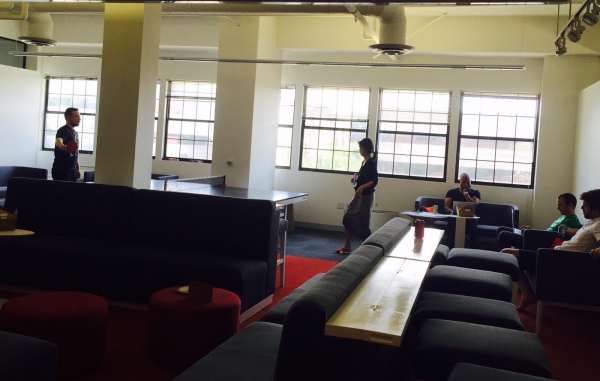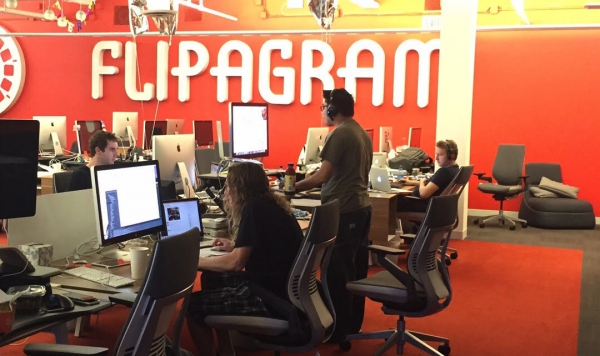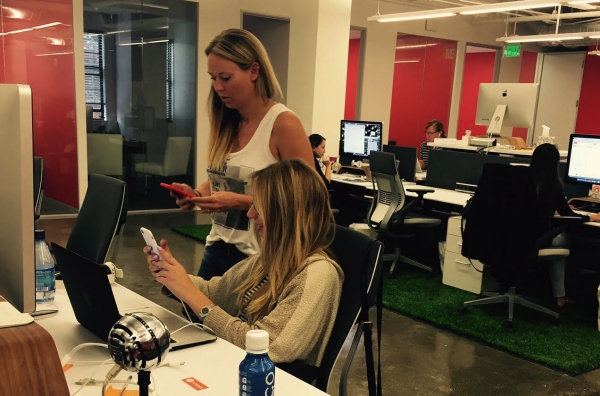 Answers provided by Phoenix Normand, Executive Assistant and office designer
What were your considerations when choosing an office space and designing its layout? 
HOW our people work—100%. And building a space with as many modular components as possible so that it can be reimagined and executed with ease.
What are some of the perks of working in your office?
1) Competitive salary and equity for all 2) Company pays for 100% of Health Coverage premiums for you and your family (medical, dental, vision, short-term/long-term disability, life insurance) 3) 401(k) 4) Open Vacation Policy 5) Free lunch/snacks 6) Free parking 7) Discounted Gym membership 8) Relocation reimbursement for moving closer to the office 9) Cash incentives for not driving to work 
Why are these important to you? 
We value the hard work everyone contributes and it's reflected in compensation, perks and benefits. We spend lots of time here so we strive to make the days as streamlined and healthful as we possibly can.
How do you think office design affects work culture?
It's imperative to get it right. Often the latest trend (e.g., open plan offices) doesn't always lend itself to the best working environment for all employees. The design of your office should be similar, in my opinion, to the design of a home. There should be places to congregate, but also space specifically designed for concentration or privacy. Difficult to execute in open plan, but not impossible. Again, imperative to get it right in order to give people the best opportunity to succeed.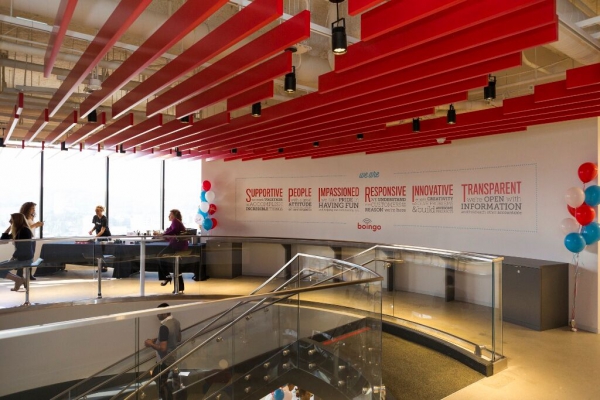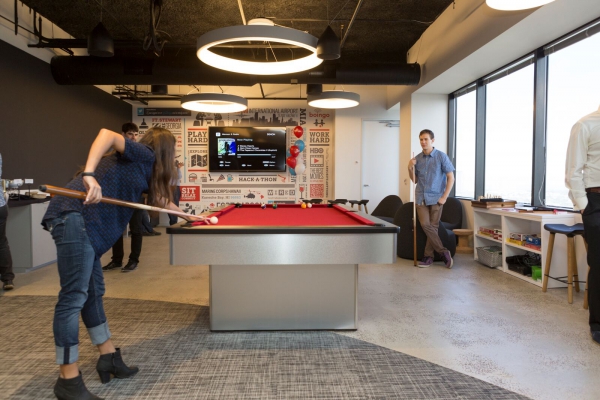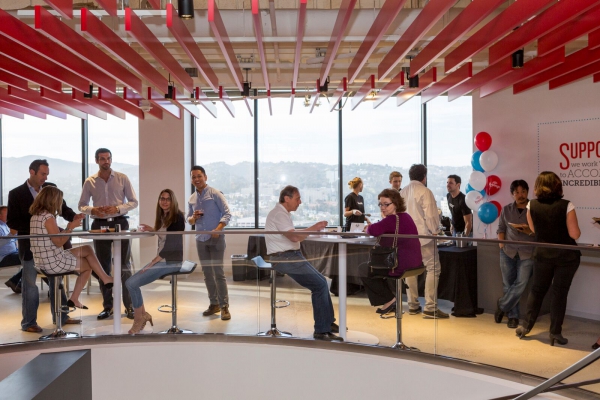 Answers provided by CMO Dawn Callahan
What were your considerations when choosing an office space and designing its layout?
Our new WWHQ was created to be a space that is highly collaborative, open and inspirational—a place where we could continue Boingo's legacy of pioneering connectivity for the next generation. Together with our architectural firm, Gensler, we created a blend of "me space" and "we space" - cool spots throughout the office to huddle with colleagues or work away from your personal space. We wanted the environment to illustrate who we are and what we do – and that is reflected throughout the interior branding. Most of all, our office design had to be leading edge, just like our people and culture. 
What are some of the perks of working in your office? 
One is the 360-degree view—we are on the top two floors of a high-rise, so everyone has jaw-dropping views from the Hollywood Sign to Catalina Island.
We are very focused on employee health and wellness. Everyone has sit/stand desks, there is a Mother's Lounge for new moms, as well as a room dedicated to bike storage for folks who commute by bike. We even hold occasional yoga classes on-site. Our Café is stocked with unlimited snacks and beverages. We begin the week with Bagel Monday. We frequently bring in lunches for the team from some of the tastiest places in the Westwood neighborhood. 
We have a Tavern outfitted with comfy furniture where you can play video games, pool, and partake from the Boingo keg. And The Den is a conference room filled with Fatboy beanbag chairs—it's great for brainstorming. 
Boingo holds a series of fun events throughout the year including International Beer Day, an annual pie-eating contest, pool tournament, Halloween costume contest, summer picnic, bowling night, and more. 
The Boingo team enjoys an incredible benefits package that includes equity for every employee, unlimited vacation, subsidized gym memberships, smartphone reimbursement, tuition reimbursement, and, of course, a free Boingo Wi-Fi account! 
Why are these important to you?
Boingo has a deep commitment to the people who work here. We created a strong culture of inclusion, transparency, innovation and respect.
Boingo CEO Dave Hagan said, "Each day, as I walk into the office, and look at the 360-degree views of Los Angeles, I think that this office is simply amazing. But the view I am most proud of, and that is the most amazing of all, is the team collaboration that occurs within Boingo's four walls."
How do you think office design affects work culture?
People spend a lot of time at an office, so they should feel good about their work environment. We labored long and hard with Gensler to create a space that would enhance our culture and retain our "start-up spirit." We definitely believe that our investment in our new WWHQ illustrates a commitment to offering our Boingo employees a terrific workplace…and a terrific place to work.