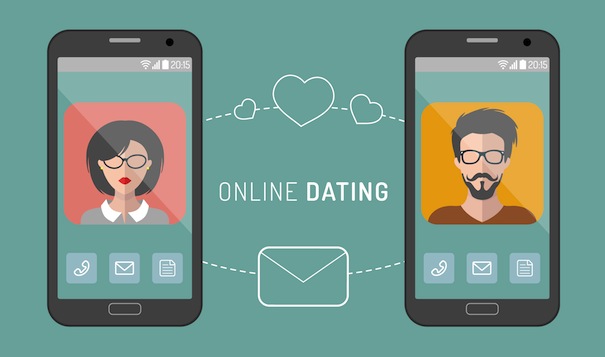 I have been active on dating apps ever since they entered popular culture three years ago. There have been a few good dates and more than a few bad dates but, through it all, the courting process is pretty entertaining.
But something within me changed in the past month and I've suddenly lost the desire to swipe. The vapid mentality of judging someone on five carefully selected pictures has taken its toll and it's time to bow out. So this, ladies and gentleman, is my farewell to the dating app world — and I'm going out with a bang. I have spent the past two days on 12 different dating apps and, needless to say, I have become a significantly weirder person.
Buckle up and follow me down the rabbit hole as we explore the best and worst the dating app world has to offer.  
What makes it different: Just like a 1970s house party, Align is completely focused on your zodialogical compatibility.
I am secretly an astrology nerd. Ever since a scantily-clad fortune teller in Las Vegas explained to me what it meant to be an Aries, I was hooked. Growing up I routinely checked my horoscope and judged the sign of every girl I had a crush on. You know, really normal behavior. I was hoping Align would reinvigorate that interest and it did to some extent. With compatibility descriptions below each potential match, I can learn important things like if my Leo moon would agree with her fire sign.
What I liked: It creates a completely unique perception on potential matches
What's the catch: You have to sift through some people who are clearly way too into astrology.
What makes it different: This app leads with an interesting fact before showing you a picture, hoping that you can make a decision purely based on personal interest.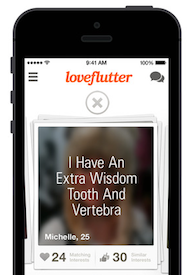 One of the worst parts about dating apps is the terribly superficial feeling that develops as you swipe left on 90% of people. Meeting people in real life is about finding similar interests, not how they look in their Facebook profile photos. The fact-first layout was initially refreshing, but once you place your finger on the screen to swipe up or down, the person's picture appears, revealing who was behind the veil. This causes an existential crisis in which you debate your initial intent to swipe up for their interesting fact or swipe down now that you see who wrote it. It's tough. It's heartbreaking. But it is still entertaining.
What I liked: It provides a shred of humanity to the soulless online dating world.
What's the catch: That shred does not stick around for long.
What makes it different: You have the power to match your friends together, but remain at the mercy of your friends' matching you.
Honestly, I couldn't get too far with this one. I only had two other friends on Hitch which really limited my fun (unless you consider a completely self-sustained love triangle fun). I understand the direction the app is headed in and think it's a genius marketing ploy to get more people on board through invites, but the reality is that I'm on this weird dating app journey alone and I'm not willing to drag others down to my level.
What I liked: You get matched by people who legitimately know you.
What's the catch: As we all learned from When Harry Met Sally, matching up friends is playing with fire.
What makes it different: Hinge matches you with second or third degree friends of people you know on Facebook.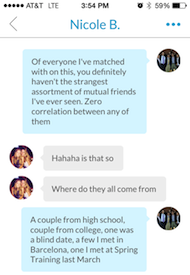 I have been using Hinge on-and-off for about a year now and I think it's safe to say it's the most effective option out there. By facilitating matches between people with mutual friends, it not only creates easy conversation but also narrows down the selection to legitimately relatable people. And if you're unsure about a person you've matched with, it only takes one text to a friend to get the real scoop.   
What I liked: It is incredibly easy to start conversations and seeing their full names lets you creepily check out their Facebook or LinkedIn before deciding to start a conversation.
What's the catch: Limited matches per day.
What makes it different: It's identical to Tinder but when a match is made there is a two day time limit and the girl must be the first one to message. It's like a Sadie Hawkins day for dating apps.
I was shown Bumble last weekend and was immediately impressed. So impressed, in fact, I grew very suspicious. The first 12 girls I saw were all supermodel quality — which was a drastic change coming from Tinder — but then I began to realize the quality faded progressively, leading me to believe that Bumble has created some sort of algorithm to put their most liked users first to draw in new users. Regardless, I have generally seen more consistently attractive women on Bumble which is an obvious plus, but the amount of matches has been significantly less than other apps.
What I liked: Girls talking first is a relieving change of pace and it gives you an invaluable insight on how to start a conversation like a normal person.
What's the catch: Many girls fail to initiate the conversation within the time limit.
What makes it different: The app lists three facts and you have to choose which is lie before deciding to swipe left or right.
It makes a lot of sense to apply such a classic icebreaker game to a dating app and the app itself has a nice, simple design. Learning two things about a potential match is a huge advantage, but the hidden greatness of this app lies in the creativity and humor of the lie. It is a good glimpse into their sense of humor and interests.
What I liked: Easy to start a fun conversation about something they are genuinely interested in talking about.
What's the catch: Not a lot of info outside of the picture, age, and two truths.
What makes it different: The OG of mobile app matchmaking has stood the test of time, creating an entirely new culture of left and right swipers.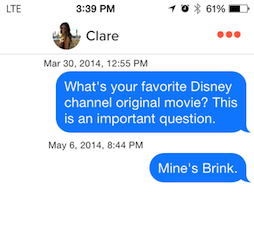 I began using Tinder when it came out in 2012 and have had two brief but enjoyable relationships spawn from it. However, I have stayed clear recently due to its lack of filtering. I'm trying to invest as little time as possible on a dating app and the amount of people on Tinder has made it impossible to sift through the strange to find a suitable right swipe. That being said, its entertainment value has not diminished.
What I liked: The amount and variety of users.
What's the catch: The amount and variety of users.
What makes it different: Hoping to create a more personal matchmaking experience, Coffee Meets Bagel only gives you one option a day. They also have a virtual currency called "beans" that helps you unlock more info.
This was always one of the apps I had heard about but had never given a chance. It's actually great in its simplicity, but in 48 hours I clearly got a very small sample size of the userbase. If you want to take an extremely casual approach to online dating, I think this is the move. You don't feel like a terrible person for swiping through a hundred profiles and, once you do match, your attention is focused on this one person.
What I liked: It creates a simple, personal experience.
What's the catch: If you're looking to waste some time swiping for 10 minutes straight, this won't be very satisfying.
What makes it different: You create your date first and then find the date later.
It is way harder to come up with an interesting date than I thought. I'm strictly a "drinks at a bar" type of guy, but in the How About We universe, that doesn't cut it. Nevertheless, I mustered up something decent and was blown away to see the amount of thought girls had put into their dates, but the great thing about the app is that you can always go with the better option.
What I liked: Someone's date idea is a good testament to their personality.
What's the catch: Sometimes your personality isn't as great as you'd thought.
What makes it different: After answering some questions, they give you a percentage of compatibility. You can then swipe through matches or scroll through a browsing list.
I can't say I ever really got into a groove on OK Cupid. There are definitely cool and unique features but it felt like I was too young for the site from the beginning. You can upgrade your compatibility filter with a monthly subscription but, in this case, that wasn't something I was willing to do.
What I liked: The compatibility percentage is very useful.
What's the catch: You can't get too far with the app without paying.
What makes it different: Unlike other apps that only require a picture, age, and location, Match actually asks real questions that could impact your potential match.
With a scrolling interface similar to Instagram and suggested match section, Match is arguably the most logically designed of all the apps. But unfortunately it's all a hook to have you sign up for a rather expensive monthly fee. Maybe I'll be willing to pay that in five years, but for now I have to keep it free and easy.
What I liked: Best designed and most thorough of the apps.
What's the catch: Too expensive for someone casually looking.
What makes it different: Formally known as Bang With Friends, Down is all about that one primal urge.
By far the most entertaining of these dating apps — but not in the intended way. In a utopian world, the users of this app would all be athletic and sultry but, unfortunately, the reality is that they...aren't. Great idea, impossible to execute.
What I liked: It is hilarious to swipe through
What's the catch: You need to pay to see a decent amount of matches and it probably won't be the best investment you've ever made.
Bonus
What makes it different: One of the original matchmaking apps, Grindr is a gay, same sex, or bi social network.
Was I out of place? Yes. But I heard so much about LA-based Grindr it needed to be included in this article. One thing was for certain, this was easily the most body-oriented of all the apps. Most profiles didn't even come close to a face. But the app itself is well-designed, asks thorough questions, and the proximity feature is extremely accurate.
What I liked: You can find someone on the same block or in the same bar.
What's the catch: A lot of ads take away from the experience.

Have a tip for us or know of a company that deserves coverage? Email us via [email protected]