Hawke Media didn't fail amid rapid growth, but it also didn't flourish — initially. 
When Lauren Makielski started two years ago, she watched leadership hit its peak bandwidth as the digital marketing consultancy expanded too quickly.
While waves of new hires joined the business, Makielski said Hawke's services side naturally bucketed themselves into different management tiers. The executive level, however, didn't prepare for the influx of direct reports. 
"We reached an unsustainable critical mass," said Makielski, who is an operations manager and executive assistant to COO Tony Delmercado. "My boss had nearly 10 direct reports at one time, each needing individualized attention to grow their teams effectively."
Hawke responded by restructuring leadership from a flat management approach into a hierarchy and adding key hires to evenly distribute responsibility, including an EVP of services and a director of client success.
"That was able to reset us," Makielski said. 
Other challenges continued to pop up as the company doubled in size over two and a half years to 150 employees, including the need for a new office as well as a complete overhaul of communication workflows.
These obstacles may have slowed Hawke Media down in delivering a la carte professional marketing services for businesses of all sizes, but it didn't break them. If anything, employees say it's made the company even stronger.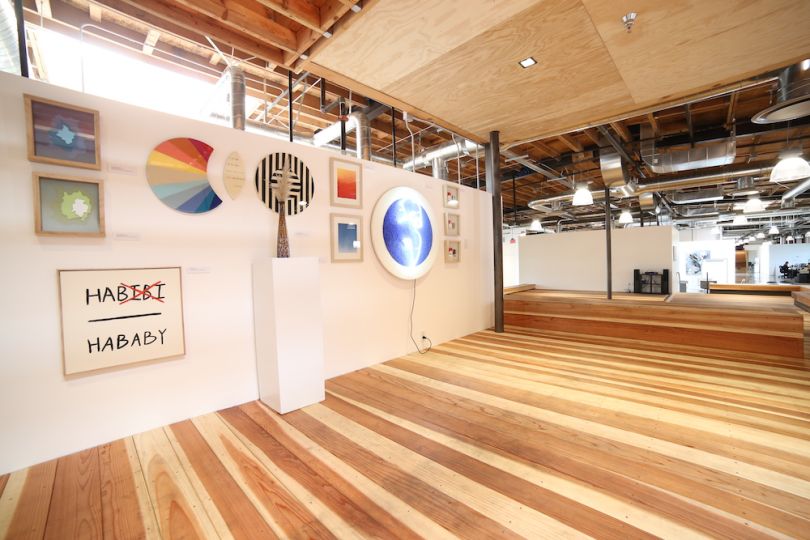 Growing pains
Before Hawke Media worked through and overcame its growing pains, it had to address them. Here are the challenges they faced.
Need for a new space
In 2018, after four years in business, Hawke Media had outgrown its Santa Monica offices. Teams spanned two buildings, scattered amongst six different suites that resided on separate floors. 
Makielski: Our CEO Erik Huberman likes to say it was like a British comedy with everyone walking in left and right to random offices, with each team in their own suite.
James Han, Content Editor: While I was our workspace coordinator, we had to move our entire sales team to an office a couple of blocks away because we ran out of space. It was disorienting. Our routine of high-touch, in-person communication took a hit too, which ended up slowing things down. 
Loss of 'intimacy'
That "small startup vibe" prized at most young companies started to diminish as more faces became less recognizable.
Scott Taylor, Executive VP of Sales and Marketing: We had gone from these romantic memories of when we first started to missing a lot of those people who were with us from the beginning. It's just the natural progression of the industry, but it's a sad moment culturally. It's inevitable that you're going to grow and have to part ways with those romantic ideals. You start passing people by in the hallway, and you don't know who they are. 
Premature Scaling
According to Entrepreneur, 74 percent of startups fail due to premature scaling, which is defined as expanding a business before a product or team is ready. Operational inefficiencies like loose recruiting strategies, shaky leadership structures and employee turnover often follow, which can lead to the bleeding of financial resources and eventual closure.
Faults exposed
Hawke Media prided itself on empowering people with the autonomy to make decisions, but as the company grew, this turned into a problem. 
Makielski: We had to dismantle our pre-existing communication structures because employees were used to letting only one or two people know about an implemented change. Now, we've got teams of 10 who need to be alerted, and, at times, the whole company. In the past, our HR and operations teams were much smaller and onboarding tasks could be turned around quickly. 
When a new hire was starting, there weren't always announcements. After we grew sizeably as a company but before we re-thought our communication, there were times where a new employee would not have a desk or a computer on day one. Today, we have automated communication between our recruiting, HR, accounting, workplace and management teams for when a new hire signs their offer letter and has a start date.
Leadership rush
Rapid growth often spurs opportunities for people to step into leadership roles. But if a company moves too quickly, leadership development can take a hit.
Taylor: It's been a challenge to train and mentor managers and give them the time that's needed to fully develop and prepare them for the job. It's like football: A quarterback gets drafted out of college to a pro team, the lead QB gets injured, and the coach puts in a brand new drafted player on the team. This happens all the time at a company like Hawke. Before, the second QB we put in was going into the game completely blind, but now, we have training processes in place for all of our new leaders so that they feel like they can throw touchdowns right away.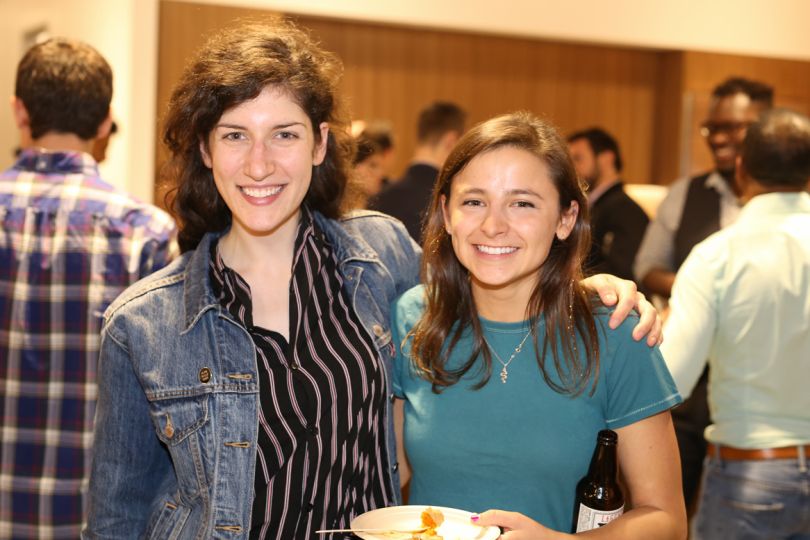 Adjusting and overcoming
Employees said that the growth obstacles hindered but didn't halt Hawke Media's progress. While Hawke's growth introduced a slew of issues it also led to overall improvement and opportunity.
Creating a social space
In spring 2019, Hawke Media relocated "the Nest," the team's nickname for the office, from a collection of suites across multiple buildings in Santa Monica to a single, 25,000 square-foot office in West LA. The new pet-friendly spot includes an indoor stage with stadium seating, kitchens, outdoor patios and an open layout. 
Taylor: Our new office accommodates our entire team with plenty of room to spare. It lets people know that we're in the game, and we're serious operators. It was a big investment, but the impact and the perception our office gives was the right move for our brand and for new business. 
Makielski: One client literally gasped when they came to our new office after having seen our previous one. Our office has become a place where people don't necessarily leave when 6 p.m. hits. We stay, hang out, host impromptu happy hours and see our office more of a social place. The move has been incredible for our employees as well as for the business.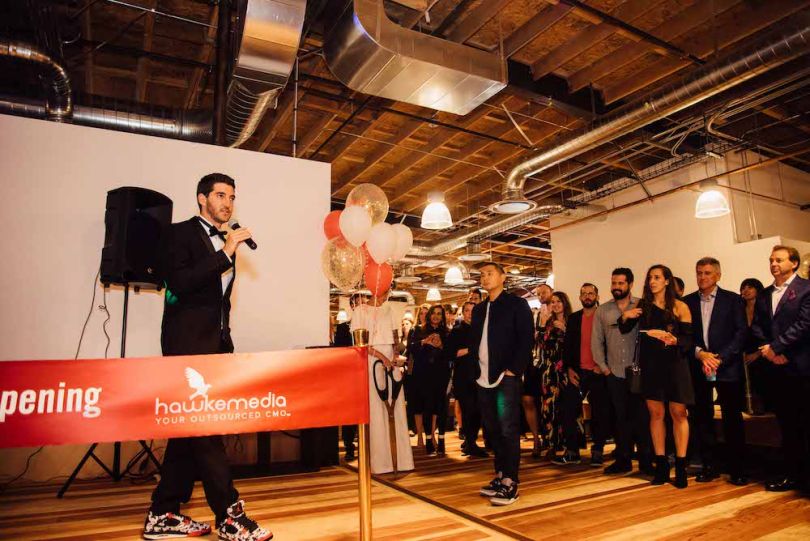 Forging connections
The new office, which COO Delmercado helped design, aimed to encourage collaboration with its open floor layout. To build on that and help bring the growing team together, Hawke began hosting recurring internal and client events.
Makielski: We host our annual Hawkefest, which is a full day anti-conference featuring e-commerce industry speakers and attendees, and we host monthly happy hours. Just last week we held a virtual quarantine conference that had over 2,000 attendees. At all of these, we see a high level of internal participation, especially from our new hires. 
Taylor: The entire company gets together every Friday morning over coffee and bagels to hear from the founders and celebrate employees who have gone above and beyond. It's a great effort to restore that level of intimacy that's so important to our culture. 
Han: Hawke also encourages people to lead projects outside of their job responsibilities that bring us together. We had one of our creative managers, who is an artist, develop an art space and gallery to showcase his work along with other artists throughout the company and community. Another colleague launched a composting initiative that supports community gardens. 
 
Delegation under the right circumstances with the right leadership is good."
Upgrading communication
Hawke's growth reached a tipping point when decisions that used to only impact a couple of people now could impact the entire organization. To adjust, teams had to develop new ways of communication. 
Han: On our content team, we've implemented several initiatives to accommodate for the speed at which we're growing. This includes templatizing our procedures to help onboard new hires quickly and to make sure our team operates cohesively so that teammates can step in if help is needed. 
Makielski: I've started documenting every process that exists in our company accompanied by a status showing whether it's undefined, happens on the fly, or if it's a defined process. If it's defined, I look into if everyone knows how to follow it and if there is a guide. For example, no one knew how to arm and disarm our security system if they were the first ones in or the last ones out of the building, so I created a guide for employees to successfully handle the alarm. If I can make some sort of documentation to exist for something that didn't beforehand, I count that as a win for us. 
Leadership restructuring
One of Hawke's largest internal shifts occurred at the leadership level, as the company moved to a top-down hierarchy from a flat approach. As a result, additional opportunities for employees became available.  
Taylor: What we're finding is that if everybody has a seat at the table, across management, then nothing gets done — there's a log jam of opinions. Delegation under the right circumstances with the right leadership is good. Processes become more efficient. We've tried to do that by hiring missing roles, putting the right leaders in place, and creating an executive team who oversees each function of the organization such as the EVPs of services and client success. We also encourage employees throughout Hawke to contribute and speak up through their management channels. 
Han: There are so many opportunities for individuals to grow into expert roles, no matter how long they've been here. I started here in an operational role with the intention to join our content team. I made this known and received the support from our leadership to begin working with them in my spare time. When a role opened up, I interviewed and made the transition. They take our career development seriously and support us on our career journeys. There's always room to grow here.