The culture at the crowdsourced shopping platform Slickdeals can be summed up by three simple letters: W.T.F. 
No, the people of Slickdeals aren't angry or surprised (or both) at providing deals on hundreds of products, but rather rely on its culture of winning, team and fun (W.T.F.) to constantly do better for their customers and their fellow co-workers. 
We spoke with CEO Josh Meyers, as well as two other Slickdealers, to get a sense of the culture at the company, what #SlickdealsFamily means to employees, and how the company is taking deals to a whole new level.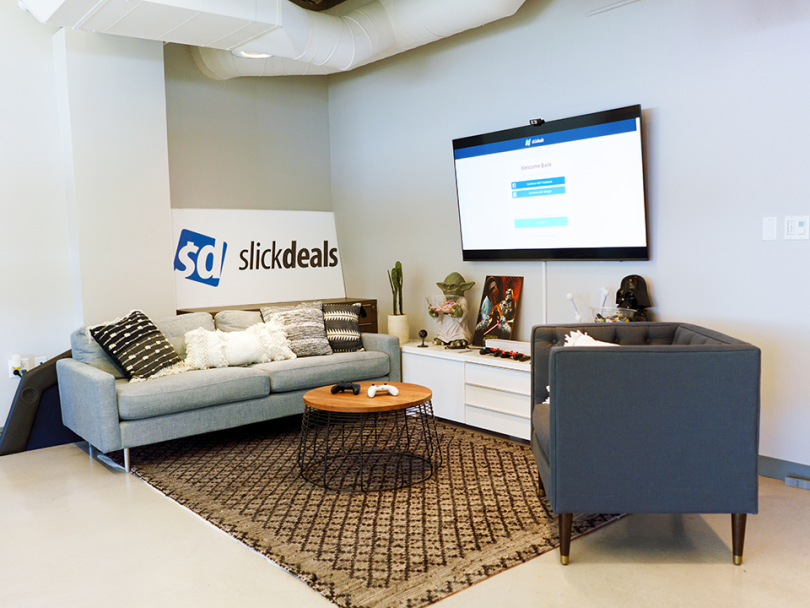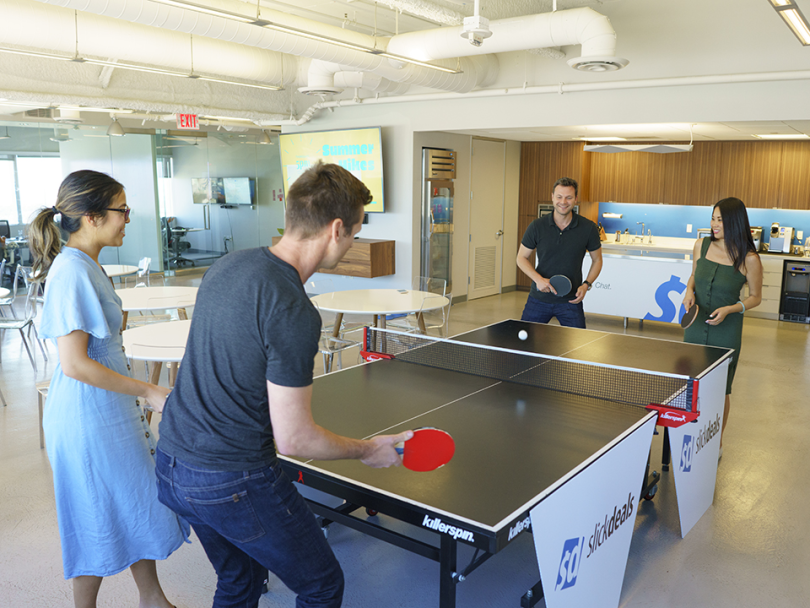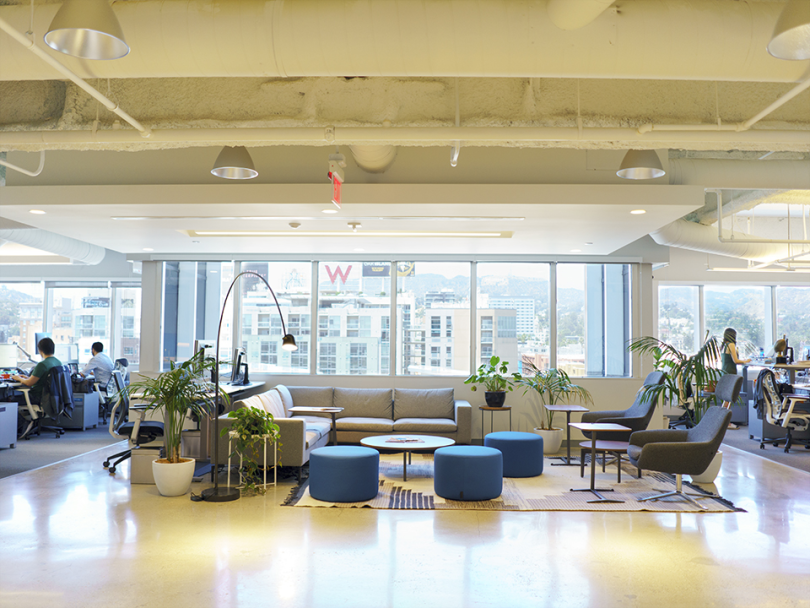 EMPLOYEES: 141; 67 locally 
WHAT THEY DO: Slickdeals is a crowdsourced shopping platform that generates more than 1 billion visits annually. They provide a platform for product discovery and uncovering the best deals for consumers. 
WHERE THEY DO IT: LA and Las Vegas
VIP DEAL ACCESS: Before deals are announced to the public, Slickdealers are given access early access (e.g. Lauren's trip to Thailand, described in more detail below).
A SLICE OF THE PIE: Emphasizing ownership as one of its core values, Slickdeals awards equity to its full-time employees — many of whom reaped the rewards after the company sold to the merchant banking division of Goldman Sachs and Hearst.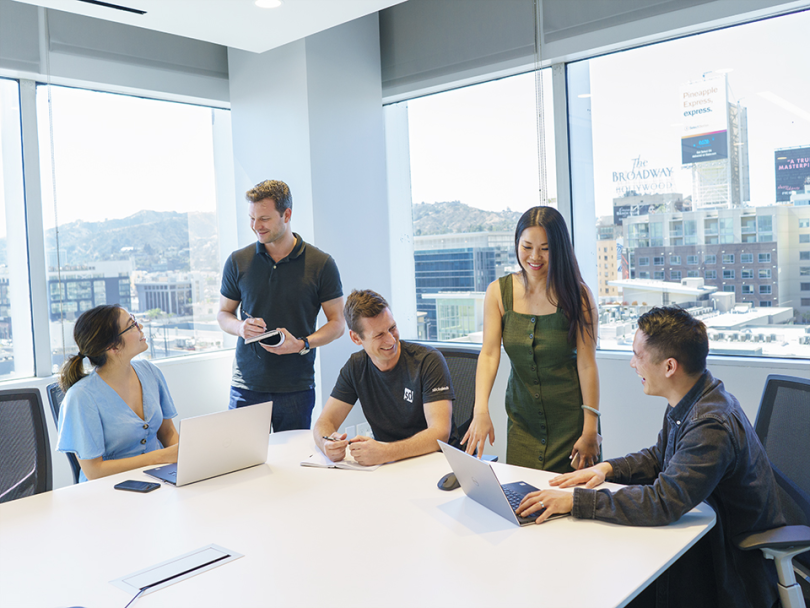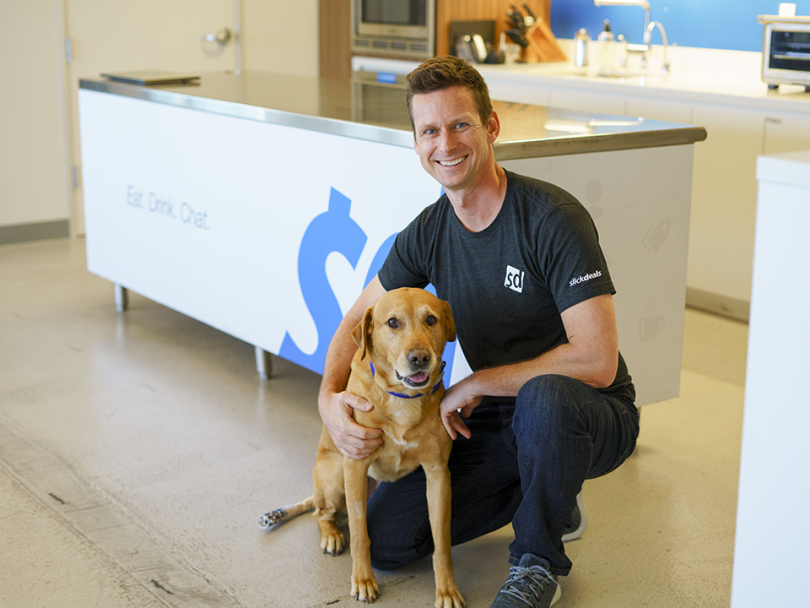 Josh Meyers, CEO
Josh is, simply put, responsible for everything, but his most important jobs are setting the company's overall strategy and building a great team of people. 
STAYING ACTIVE: It's all sports for the CEO. A regular of the Slickdeals ping-pong table, Josh also helps organize bowling outings for the company. Outside of work, he's taken up wakesurfing. 
What's your guiding mantra on building a culture within the workplace? What have you done to bolster culture at Slickdeals?
When you build a stellar team that enjoys working together, that leads to fun. And when people are having fun, they are productive and work smarter, and that leads to winning. Once you build a culture and business model around continuing to win, you keep the cycle going.
We don't just write our values down somewhere and then expect that we've done our part. Because they are integrated into our culture, we created a values week and centered activities around each of the core values. Something as simple as a Jenga game on the day dedicated to teamwork became a true embodiment of the word as teammates worked out strategies on the best way to win at the task.
 
...I'm extremely proud of the amount of rapid growth and change we've been able to introduce into the business while also honoring our history and evolving our culture."

Tell us about a moment in your company's history that made you proud to be its leader. How did it reflect the values you've instilled here? 
Slickdeals is a community-based business, and we have built an incredible connection with our users. Recently, a user wrote in to tell us that the savings they've achieved by using Slickdeals over the years helped fund their child's college education. It's stories like these that confirm the impact and connection Slickdeals has created with its consumers, and it's an example of the type of thing that drives our team to continue building and growing a product that helps shoppers win everywhere.
You've been with the company since there were only a dozen people in the office. What has it been like to maintain the culture while scaling throughout the last few years?
Slickdeals celebrates its 20th anniversary this year, and I'm extremely proud of the amount of rapid growth and change we've been able to introduce into the business while also honoring our history and evolving our culture. We've grown from 12 employees to over 100 in just a few short years, and we've been able to merge new team members — as well as team members who have been here since the beginning — to form a highly effective team of passionate people who are helping to take Slickdeals to the next level.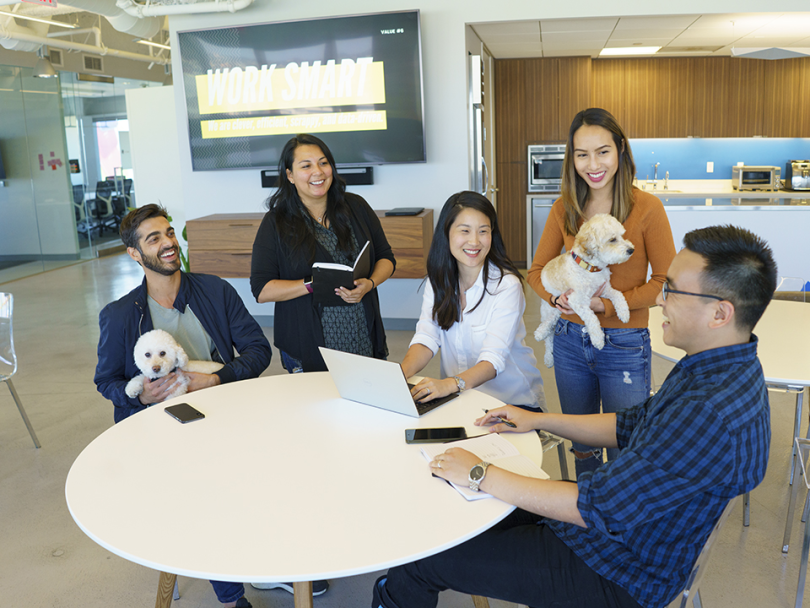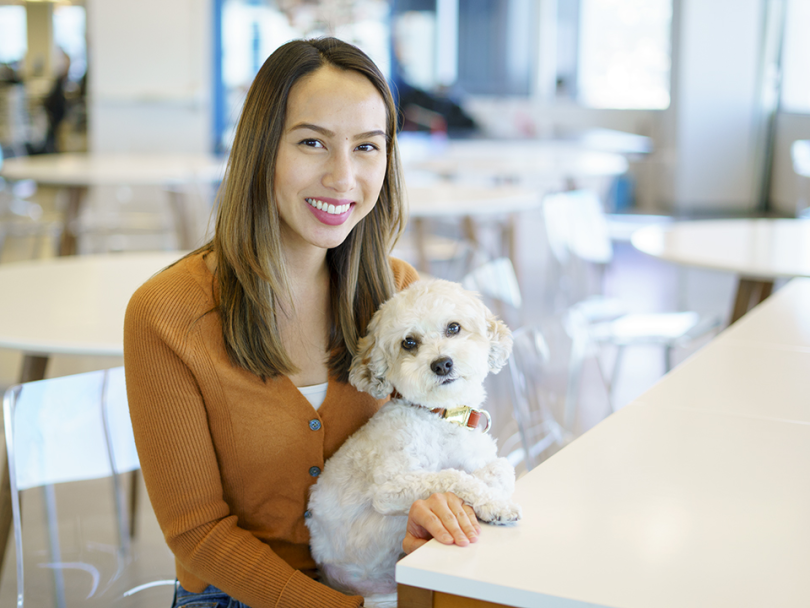 Lauren Nguyen, Marketing Manager
Lauren plays a key role in managing paid online marketing campaigns and implementing and analyzing data to help stakeholders across the business. 
YOGA NOW, GYM NEVER: Like a lot of us, Lauren hates the idea of going to the gym. But, when she took a class and enjoyed it, yoga became the de facto destresser Lauren had been craving. 
You came in as an intern, earned a full-time position and have stayed for years since then. What about the culture has made it so easy to stick around? 
I've been at Slickdeals for over four years now — we've since doubled the number of people in our office — and I continue to stay because I think the company does a great job of fostering growth and potential. We work in an environment where the best ideas win, regardless of where or who they're coming from. This mindset and culture allow everyone to thrive and push themselves, regardless of their title or level.
Slickdeals hosts daily deals from across the web, and we're told you booked an impromptu trip to Thailand — a deal on Slickdeals — with some of your co-workers. What was that experience like?
When the opportunity to book a $600 business-class trip to Thailand came up, it was a no-brainer. When it came to planning our trip, hotel and activities, it was fun being able to discuss which reward points we should use and sourcing recommendations from other co-workers. It was great to be able to share that once-in-a-lifetime experience with my co-workers! 
 
We work in an environment where the best ideas win, regardless of where or who they're coming from."

We've heard about the popularity of the hashtag #SlickdealsFamily. Can you tell us a bit about that? In what ways do you actually feel like a "family"? 
A lot of our Instagram posts have the hashtag #SlickdealsFamily, and it truly does feel like that. There's a running joke that "I grew up here": I got my first dog (who has become the unofficial office therapy dog), learned about 401(k)s, set up my first savings account, and even failed — and retook and passed — my driver's exam all while working here. I remember being really nervous about my driver's exam and receiving a lot of words of encouragement and support before and after I failed it.
I don't have any family in Los Angeles, so it's awesome being able to get to know [SVP of Content Marketing] Billy's family, have Sunday "Game of Thrones" watch parties (RIP), go to his kid's Little League games, and watch his youngest son grow up.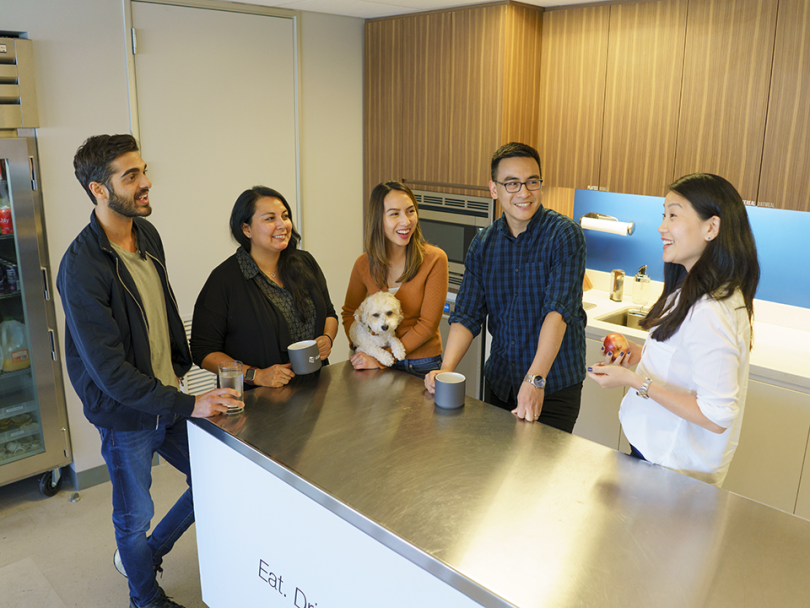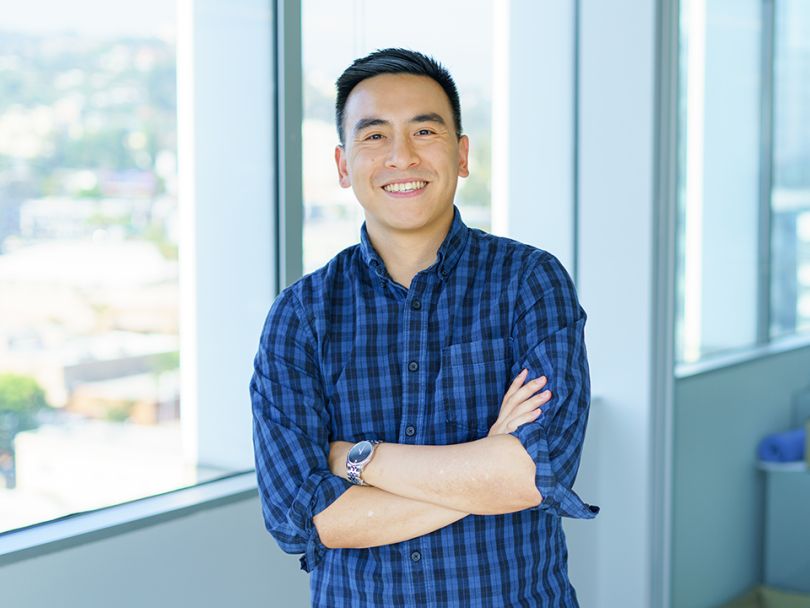 Leo Chau, Senior Product Manager
The loyalty and extension team — Leo's team — is responsible for developing new offerings for Slickdeals. What's next on the docket? "A browser extension and loyalty platform that will allow our users to take the power of the Slickdeals community with them when they shop online," Leo says.
BEATS AND DRIBBLES: Two of Leo's passions are music and basketball. As a point guard, pianist, guitarist, cellist and bassist, Leo loves being able to gel with his teammates — whether on the court or on stage. 
As a product manager, you deal a lot with roadmaps. That being said, what's your roadmap for your team, as well as Slickdeals as a whole? 
Since building a browser extension and a loyalty platform is a new venture for us as a team and as a company, my biggest goal for the team is to empathize with our users and figure out different ways to help them get the best deal every time they shop online. When we find ways to make users' lives better, we're doing our job.
For the company, I want to help build and shape a product and a brand that people will recognize so I can hear everyday people come to each and other and say, "Check out this new thing I bought, it was a Slickdeal — I saved so much money!" 
 
...there are real, honest people here who are genuinely passionate about their work and are willing to roll up their sleeves and do the problem-solving and work."

There's a three-letter acronym — W.T.F. (winning, team, fun) — that helps guide the culture at Slickdeals. Has this come out in your day-to-day work? 
For the beta release of the browser extension, I brought over a suitcase full of craft beers — sours, stouts and IPAs from San Diego and Los Angeles — over to our Las Vegas office for a bunch of beer lovers on our team.
The entire team stayed late to make sure everything was lined up and in place before our big release. After we hit the "Go" button, we watched the numbers tick up, and we celebrated by cracking open those beers and going to a giant team dinner at one of the best restaurants in town.
What's been the most surprising part of life at Slickdeals since you've started?
What I was pitched in the interview actually came true. It's been a pleasant experience that there are real, honest people here who are genuinely passionate about their work and are willing to roll up their sleeves and do the problem-solving and work. 
I've experienced environments where people just checked in for their job, but at Slickdeals, I've found that passion stems across all the teams and that's been incredibly motivational.