Though MuteSix has grown from 35 to 150 employees in just a few years team members like Senior Facebook Campaign Manager Lea Hong says it still feels very much like a small office. That's due in part to the digital advertising studio's scrappy attitude and ability to pivot as rapidly as the industry.  
As MuteSix continues to grow — even after its acquisition by Dentsu Aegis Network in late August — it still remains firmly focused on creating innovative ad solutions, which means considering a brand's big-picture goals as well as the nitty-gritty details. But for the MuteSix team, there's no task too big or small to push the boundaries of what's possible for its clients.
We caught up with a few team members to learn more about how MuteSix sets itself apart from the competition and what makes it an inspiring place to work.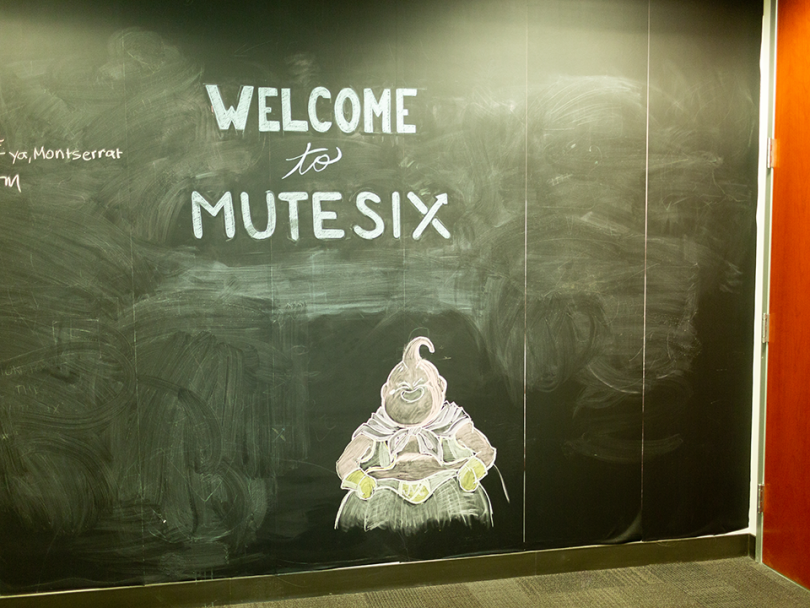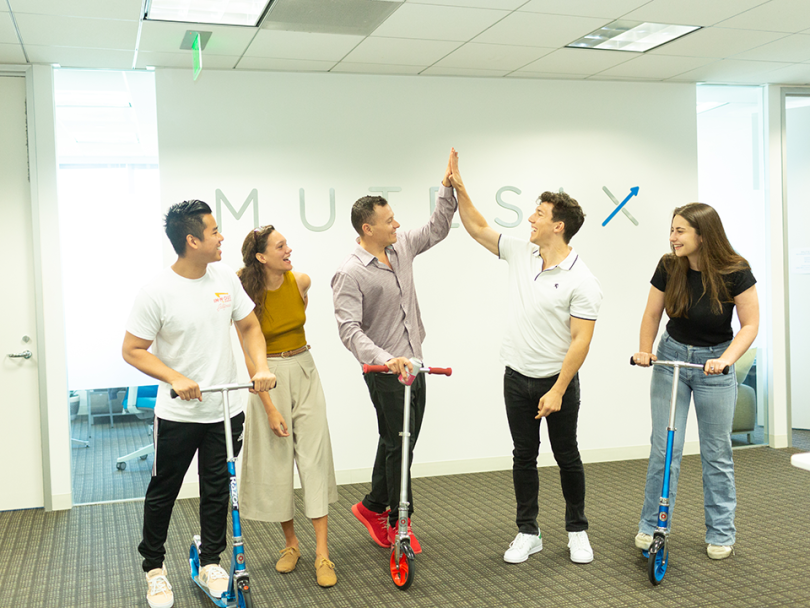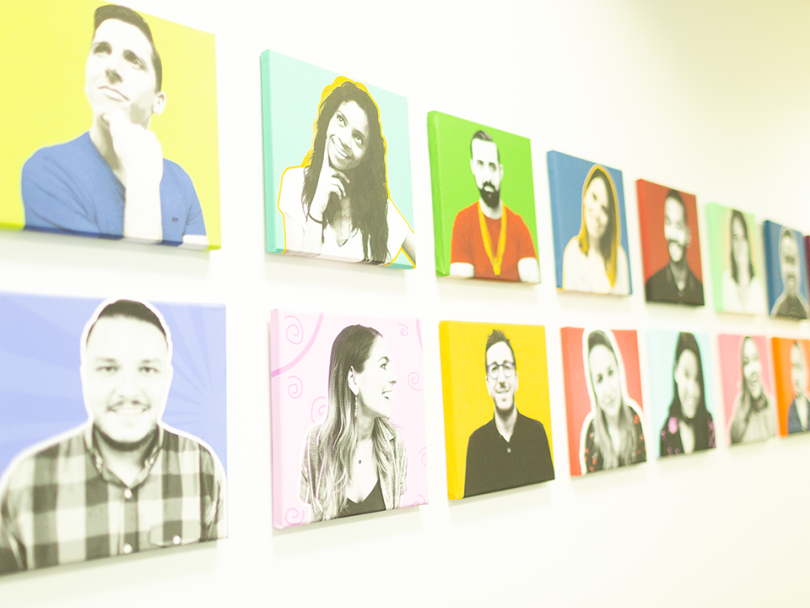 FOUNDED: 2014
EMPLOYEES: 150, 145 locally
WHAT THEY DO: MuteSix is a digital and creative studio providing ad solutions to help grow next-generation brands and enterprise market leaders. 
WHERE THEY DO IT: Los Angeles
NOTABLE CLIENTS: Carbon38, BURST Oral Care, Grunt Style, Pinterest, Theragun and Zumba
NOTABLE PERKS: Free cold brew and kombucha, a dog-friendly office and an onsite gym are just a few perks.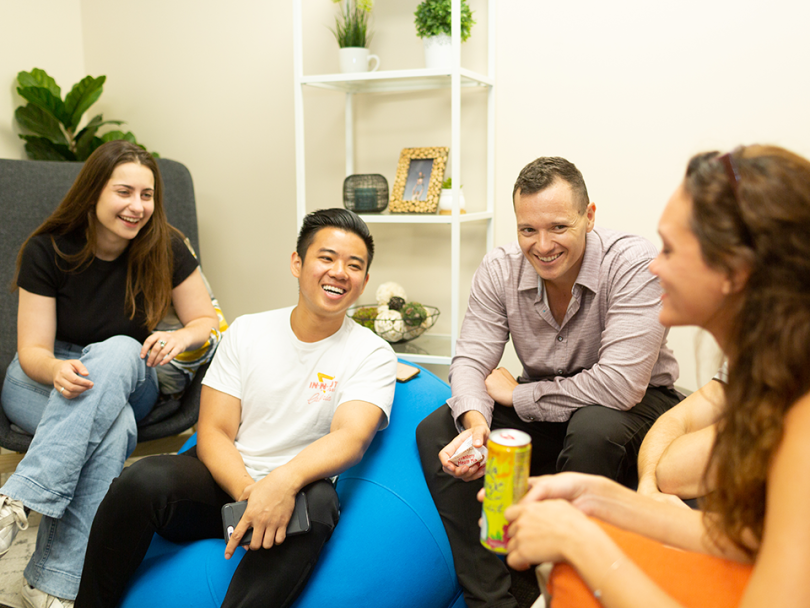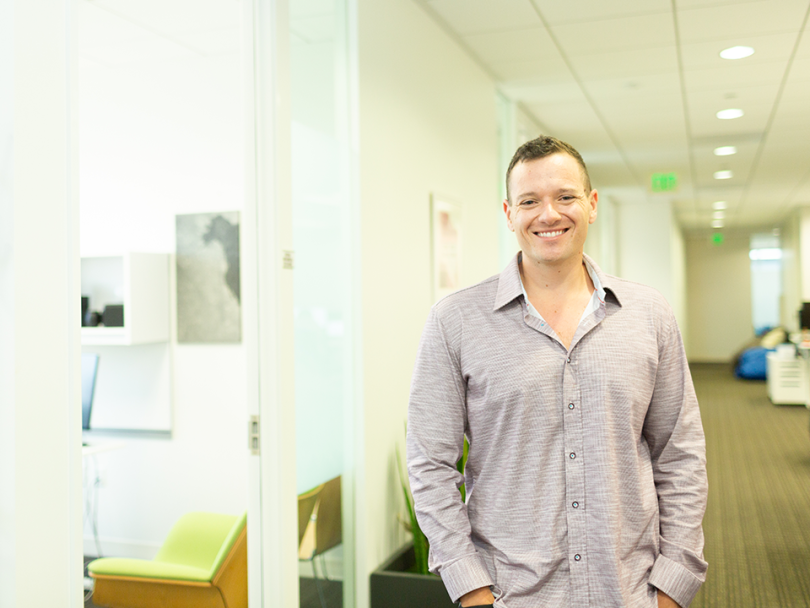 Moody Nashawaty, Chief Strategy Officer
Moody is in charge of high-level strategy, setting the course for where MuteSix is headed, and implementing and carrying out strategies and solutions.
BEYOND WORK: Like all of us, Moody is a lover of food, but he also enjoys cooking.
Digital marketing is a very crowded space. What does MuteSix do that others in the field don't or can't?
We are very flat. Even the senior leadership is still in the weeds, testing new strategies, taking controlled risks and looking for new ways to scale for our clients. Digital marketing is changing so fast that we are constantly adapting our sails to the wind, and I don't see our competitors moving as fast as us. 
One of our biggest differentiators in the market is our creative services. We are a force with 150 creatives who are building a skill set for responsive digital video. And the production quality is TV-grade stuff! We also recently incubated an influencer department, which is finding traction and performance for brands as well — it's really exciting. In a nutshell, we do whatever it takes to drive performance and scale for digital brands. 
What have you learned about customer acquisition marketing during your tenure?
The product and service need to be right before you can scale. If you have not tested and fit your product to market, your customer acquisition efforts will be much harder. I've also learned to think about the sequence of the customer journey: What set of thoughts will they have as they are approached by the message? How will this sequence of marketing messages guide prospects through our funnel with the least resistance? Nailing this is crucial for making a profit.
 
Our spirit will always drive the company forward and that will never change."

What do you see on the horizon for MuteSix?
Our spirit will always drive the company forward and that will never change. What could change are the services we offer to drive client success. As digital evolves and consumers change their buying habits, so will our services and offerings to help brands deliver. Our team will have to grow, our existing team will have the chance to learn new skills, and MuteSix will adapt and change as it always has. If anything, in five or so years we will only be more equipped to help brands achieve success faster.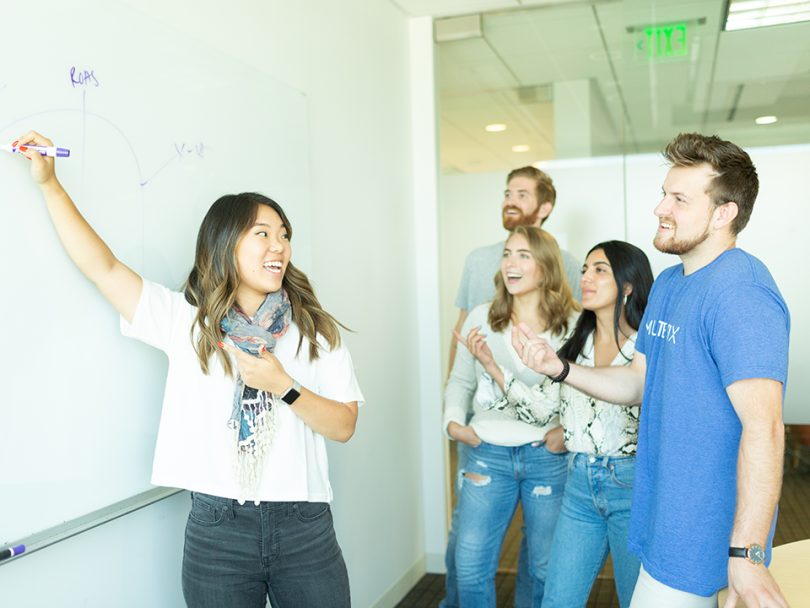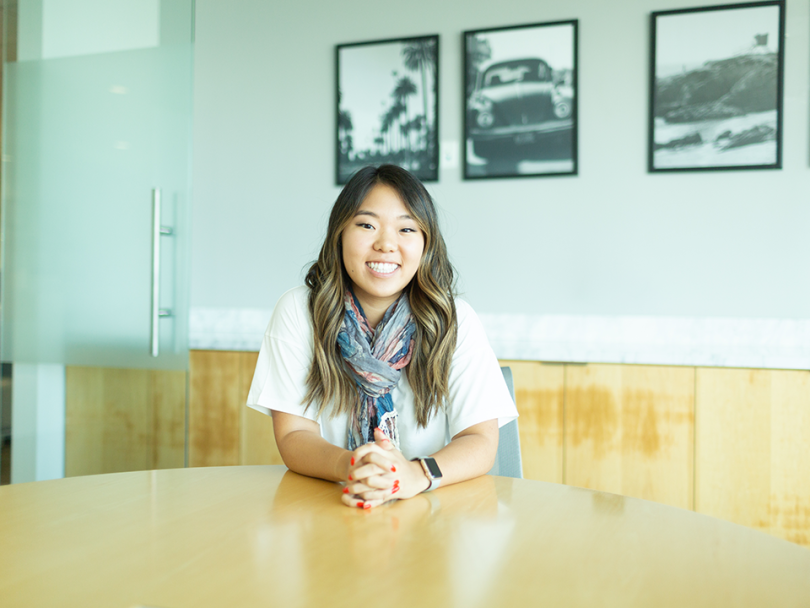 Lea Hong, Sr. Facebook Campaign Manager
Lea is responsible for leading her clients' digital marketing strategy, including managing Facebook and Instagram ads, guiding and executing full-funnel campaign strategies unique to each business, ideating ad creation, and implementing website CRO best practices to improve conversion rates and online revenue.
BEYOND WORK: Lea likes to unwind by cooking, especially air frying healthy foods. She's also a big fan of boxing and pilates exercise. 
Day-in and day-out, you're working with Facebook. What have you learned about Facebook marketing that your competitors haven't?
MuteSix has mastered the art of Facebook ad creative as an agency. Our company has an entire creative team that consists of over 40 talented people — producers, editors, designers and animators — who work side by side with our campaign managers to create the best ad content in the industry. We challenge our clients to constantly move the needle, push their creativity and find new ways to lower their cost to acquire a customer. A client of mine recently worked with our in-house creative team and we storyboarded, shot and edited multiple ad creatives that led to doubling our return on ad spend. Not only that, but he completely sold out of his product!
 
We challenge our clients to constantly move the needle, push their creativity and find new ways to lower their cost to acquire a customer."

What sets MuteSix apart in terms of customer acquisition marketing?
MuteSix truly takes a full-funnel approach across all different digital channels when it comes to acquiring a customer. From the first touchpoint down to the conversion — and even retaining loyalty — we ensure that every business is set up for success on the digital front. I've personally gone through multiple website redesigns with my clients just so that we can make sure that we're giving users the best experience possible while improving our conversion rates across the board. Without a strong online foundation, no matter how much money you throw into ads, you won't be able to sustain growth or scalability. 
In addition to the website, we're always optimizing and testing different landing pages, designs and ad creative on Facebook, email, Google, Amazon and Snapchat. We're now tapping into influencer marketing as well, which is a huge opportunity in this day and age. There is no such thing as "that's not my job" at MuteSix — anything and everything pertaining to digital marketing is our bread and butter.
You're coming up on your second-year anniversary at MuteSix. What types of professional or career development resources have you been able to take advantage of  at MuteSix?
We have a small library in our office full of books about marketing, growth hacking, digital strategy and ad creative over the years. Our CSO, Moody, is great at recommending books that can help shift our thinking from pigeonholing ourselves to one service to instead becoming a big picture digital marketing expert. Taking what I've learned from these books and applying them to real-life businesses has been so much more fulfilling compared to learning something vague about marketing in school and writing an essay about it. I'm always learning at MuteSix, whether it be from my colleagues, books, articles or clients.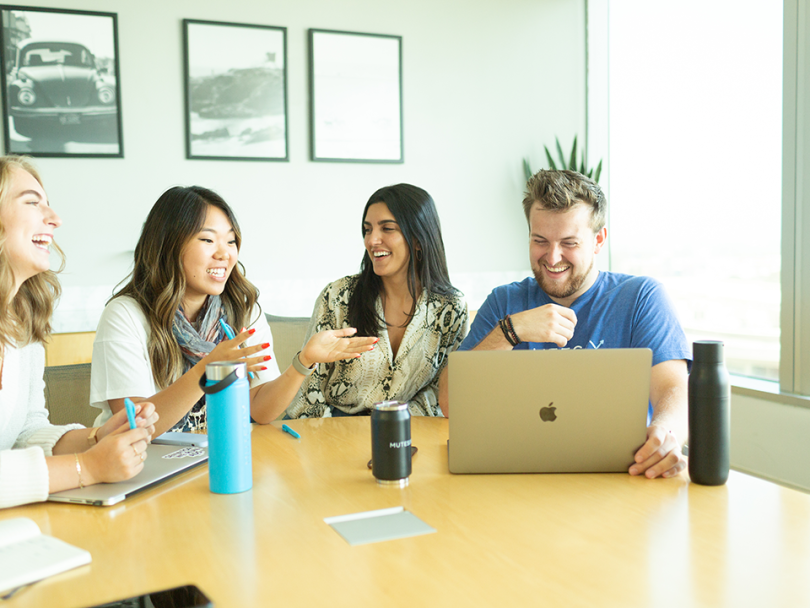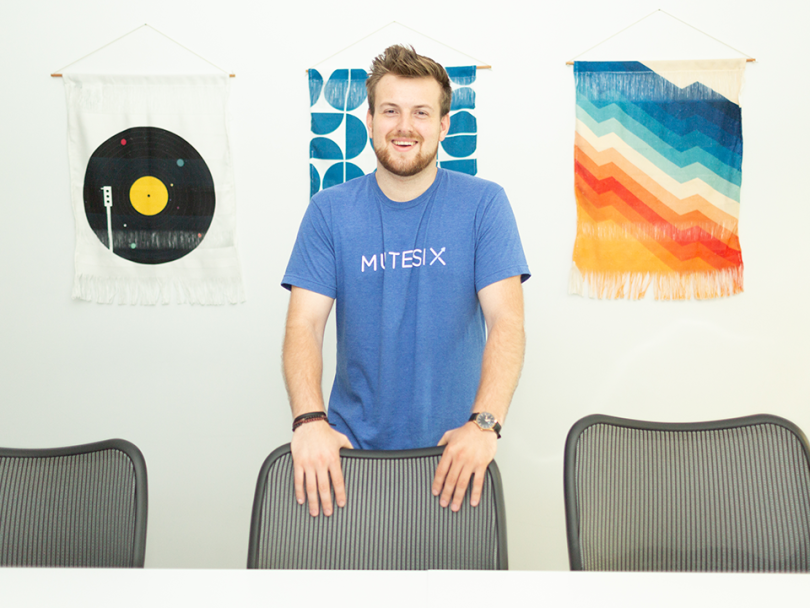 Alex Bocquet, Sr. Facebook Campaign Manager
Alex handles all of the digital marketing strategies for MuteSix's brands, including media buying on Facebook and Instagram, creative concepting from ideation to execution, and optimizing the sales funnel for a higher conversion rate. 
BEYOND WORK: Alex spends his weekends DJing at LA nightclubs, often while others from MuteSix are in attendance.
What initially drew you to MuteSix? 
After graduating from business school, I wanted to get into an entrepreneurial environment where I could develop my digital marketing skills and actually enjoy my work. I was also looking for a startup environment where growth and hard work were encouraged. A mentor of mine recommended MuteSix and, after meeting with some of the key players at the company and hearing their vision, I immediately knew it was where I wanted to be.
 
I've learned more at MuteSix in 12 months than I have in five years of trying to figure out digital marketing by myself."

You've just wrapped up your first year with MuteSix. How have you grown since joining? 
Since I've been at MuteSix, I've grown from an entry-level to a senior position. I attribute a lot of this success to my peers and mentors at the company — they essentially shaped an accelerated incubator around me and helped me grow. I've learned more at MuteSix in 12 months than I have in five years of trying to figure out digital marketing by myself.
In terms of customer acquisition marketing, what sets you apart from competitors?
Unlike our competition, we look at the whole funnel from A to Z. We don't just "run ads"  — we audit the entire customer journey from the moment they see their first ad on Facebook to the moment they purchase the product. That includes ad copy, creative, targeting, website optimization, pop-ups, pricing and more. Our goal is to create a funnel as seamless as possible so our prospect can go straight to the sale with very little friction.