MediaAlpha is transforming from a startup into a team that sets the pace for the industry globally. Over the last few years, the marketing technology company has grown from modest beginnings in a small office in LA to global offices on three continents. And after increasing revenue year over year (again), they're getting ready for 2019 to be yet another breakout year.
We stopped by to talk with some people who've been at the company for a while to see how all this growth has affected a team that's famously close.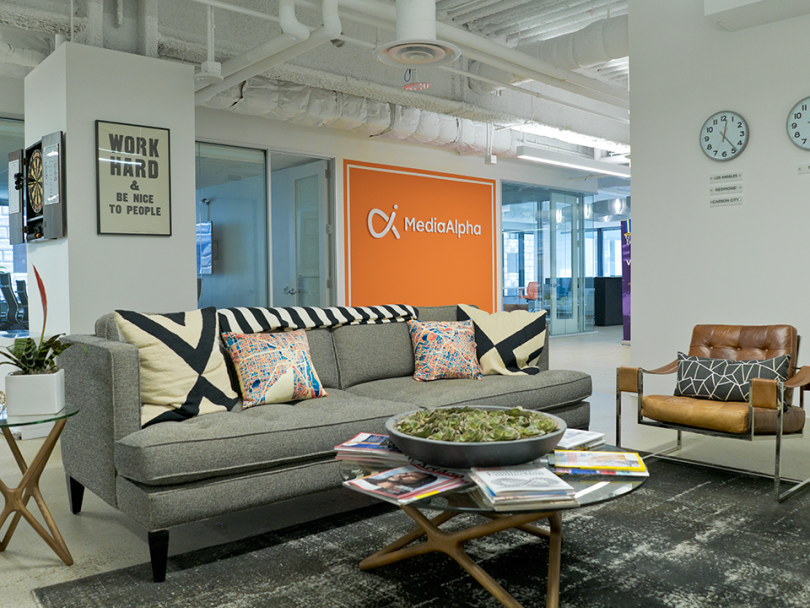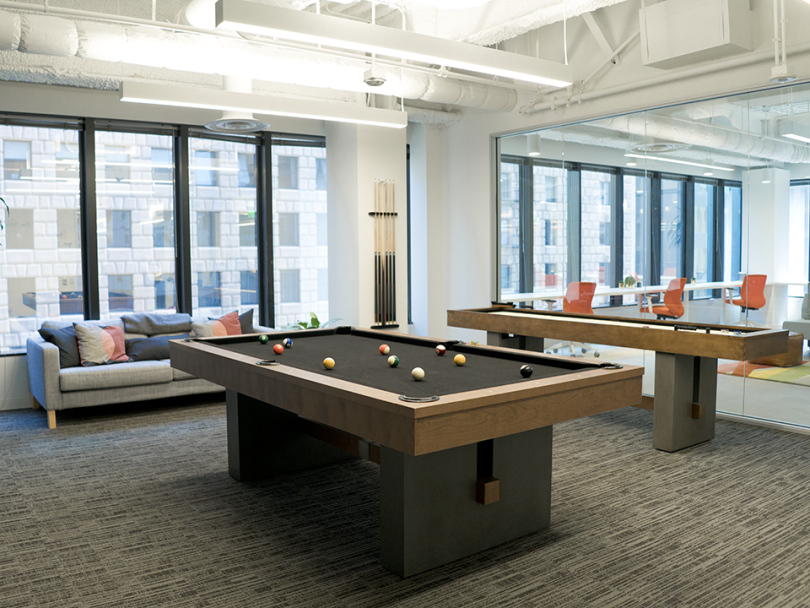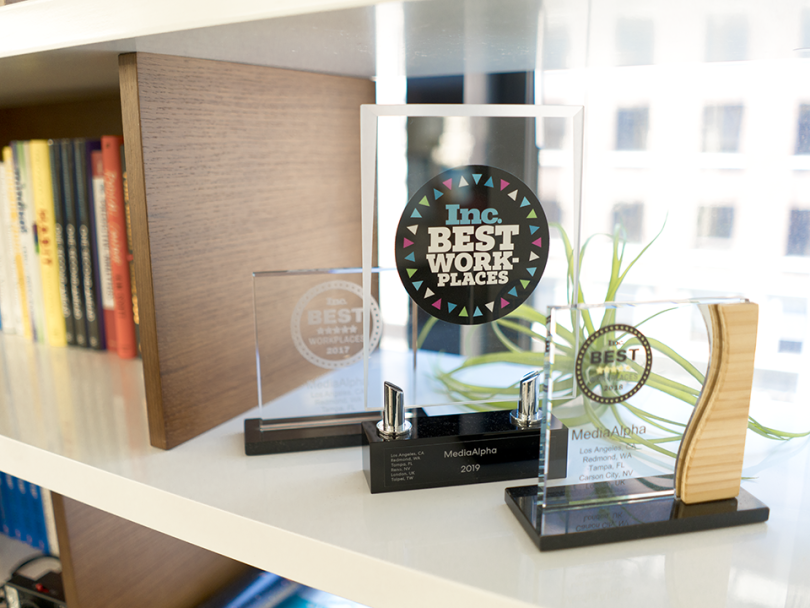 FOUNDED: 2011
EMPLOYEES: 81 on three continents, 37 in Los Angeles
WHAT THEY DO: MediaAlpha is a marketing technology company that operates exchange platforms allowing real-time transactions between advertisers and publishers of performance media. 
WHERE THEY DO IT: Downtown Los Angeles 
COOL PERKS: A fully-covered healthcare program, including vision, dental and life insurance, as well as a continuing professional development and learning program. Plus, they have a book club.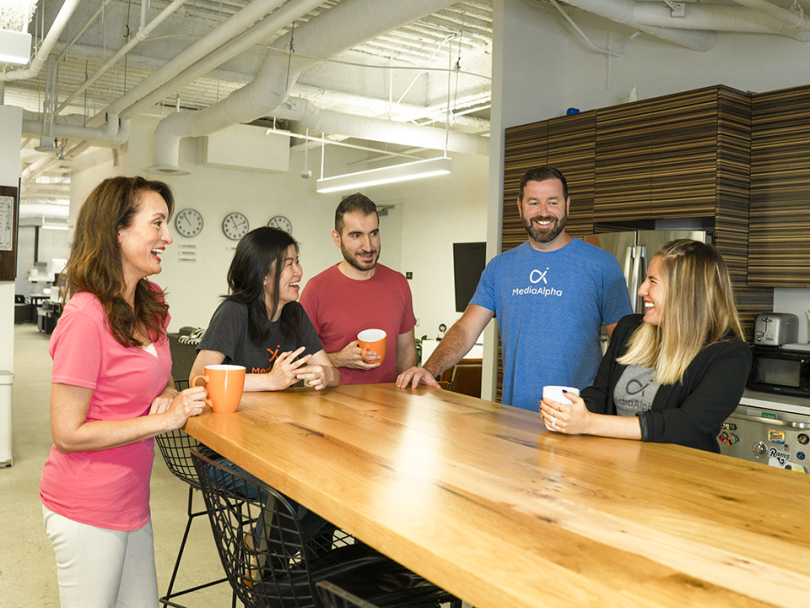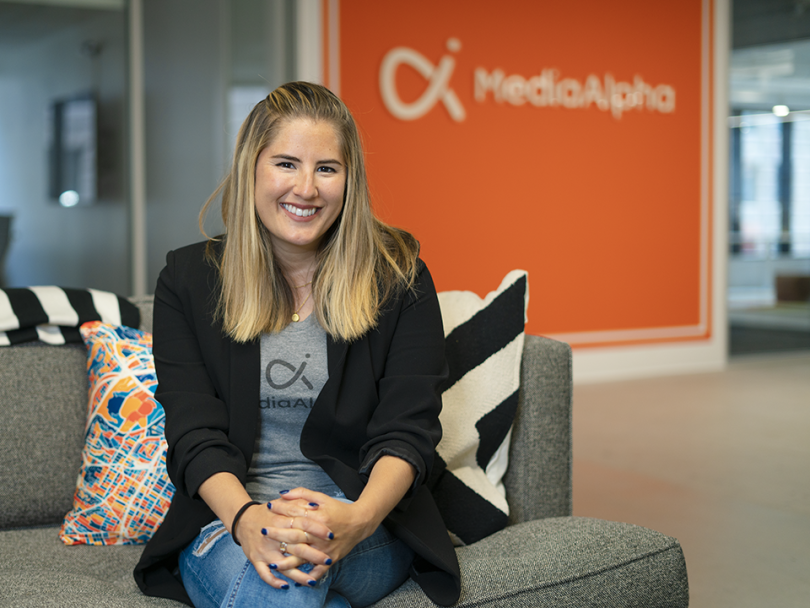 Tawny Graham, Director of Demand Partnerships 
Tawny is responsible for increasing gross account revenue. She also develops and mentors the customer success team. 
BEYOND WORK: When she's not in the office, Tawny is a long-distance runner, wine aficionado and an avid traveler.
Can you explain to some of our readers who may not be familiar with marketing technology what exactly it is that you do at MediaAlpha? 
At MediaAlpha, we empower digital advertisers and publishers to buy and sell performance-based, vertical search advertising through our programmatic, real-time bidding platform. 
To break that down a bit further, performance advertising is a form of advertising where the buyer pays only when an ad directly contributes to a user making a call or clicking, thereby becoming a lead. Vertical search is when a consumer conducts a search on a website they have visited previously and their search produces a refined set of results that are specific to the product or service they are seeking. Some examples of vertical search websites include Kayak, Credit Karma and Bankrate. Vertical search advertising appears within and among the search results.
As far as who we work with, we break down our clients into two broad buckets. There are those in the insurance industry — think auto, home, renters, health, and more — and we have our non-insurance verticals, so things like travel, education, personal finance and home services.
What makes MediaAlpha so good at connecting advertisers and publishers?
The MediaAlpha platform eliminates the middleman and creates a transparent marketplace between buyers and sellers of digital vertical search advertising. Traditionally, visibility of who the publishers are, as well as the exact placement where ads are running, is not typically included within a digital performance advertising interface. MediaAlpha changed all that and has made openness and transparency the norm.
 
No matter how big we grow, we will still be a family."

You've been with the company for a while, what has changed since you arrived?
Although we have grown, we are still very much a team. We are small but mighty! We all support each other not only to achieve our common business goals but in other aspects of life. No matter how big we grow, we will still be a family. When I joined, the office was quite small, and we had maybe ten people. Fast forward to today, we have 81 people on three continents. As our team has grown, opportunities to work in different areas of the business have appeared. That was something I was able to take advantage of and, as we expanded, I transitioned over to the travel vertical, where we connect consumers with the right brands when they are ready to purchase.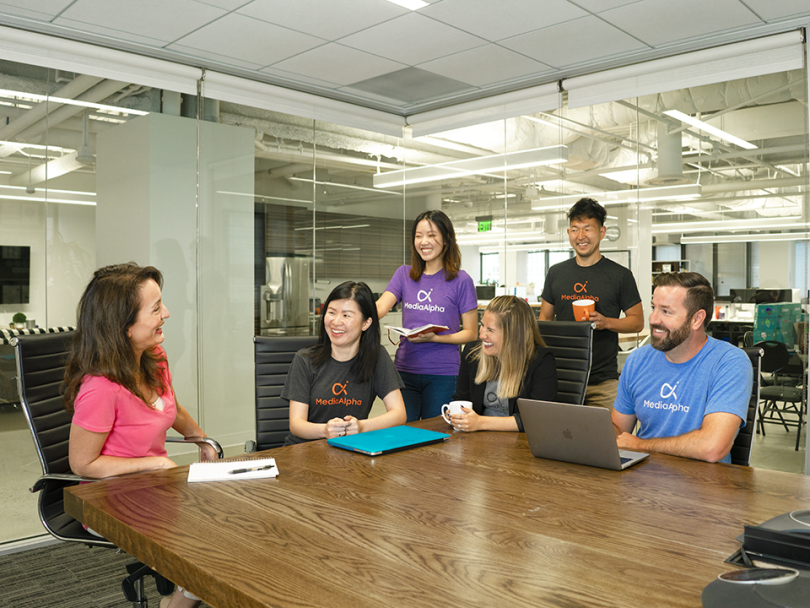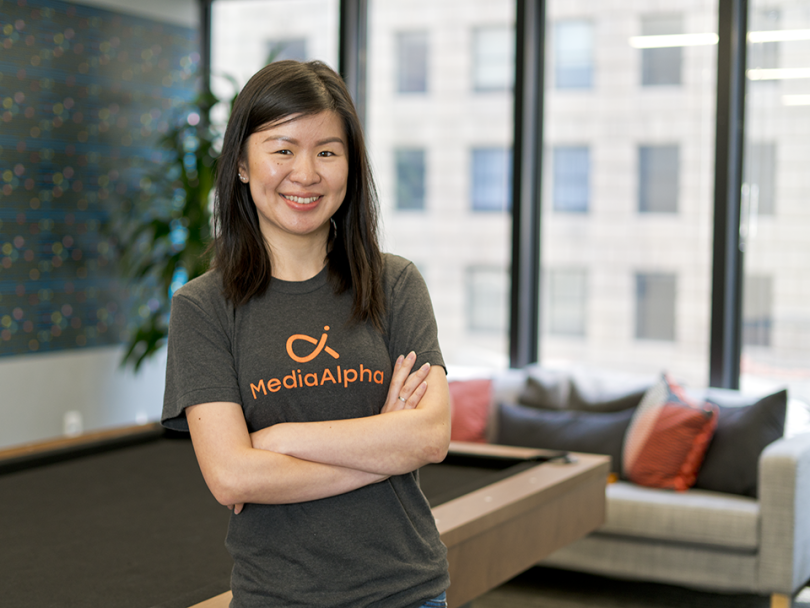 Lily Fong, Accounting Manager
Lily works in the accounting department and oversees things like payroll, advertising billing and, of course, making sure MediaAlpha gets paid. 
BEYOND WORK: Lily likes to hike and if she has the chance, you'll probably find her in Yosemite National Park.
Every company needs an accountant — why did you want to work here? 
What surprised me the most when I joined was how great the benefits are at MediaAlpha. We have catered lunches, paid insurance, cellphone and gym membership reimbursement and flexible working hours. I love the location, and I can wear t-shirts and jeans to work — and that's my type of company. The people here make it worthwhile. Everyone is friendly, respectful and super smart. We have a great culture, and it doesn't feel like work to me because I get to work with a group of talented people. Beyond all that, I wanted to work here because we have a robust and fluid platform and are constantly making improvements to the product. 
 
We have a great culture here and it doesn't feel like work to me because I get to work with a group of talented people."

What's the work environment like at MediaAlpha?
MediaAlpha has an open office environment. It is quiet sometimes, but since we work next to multiple teams, it can also get loud at times. It's not a big deal, though, because we have the nap room, a game room and some private rooms we can retreat to if we need to crank out some work.
Working at MediaAlpha has definitely pushed me out of my comfort zone. At a lot of companies I've worked for in the past, management just wanted everyone to get their jobs done. At MediaAlpha, the executives genuinely care about their employees and their growth. They offer so many resources to help with professional development. There is professional training, book clubs and they even have a management tool to help us measure and stay on track of our professional goals.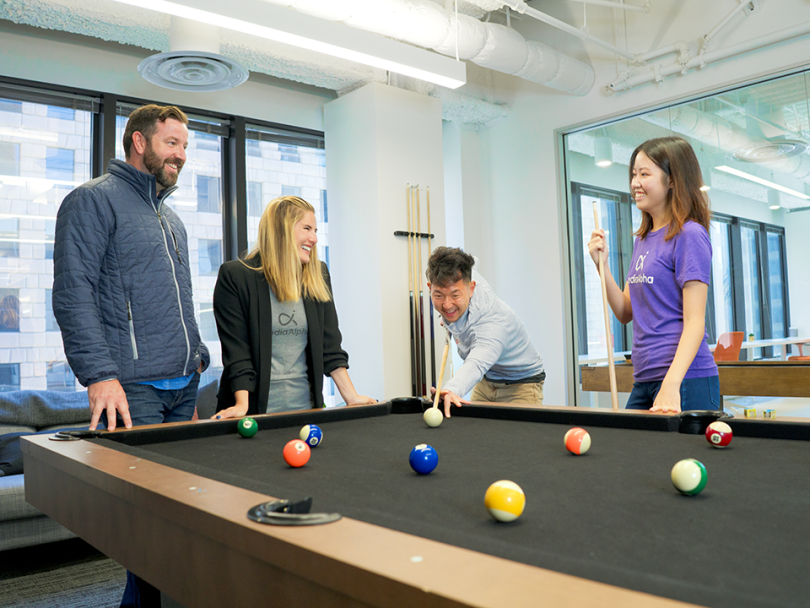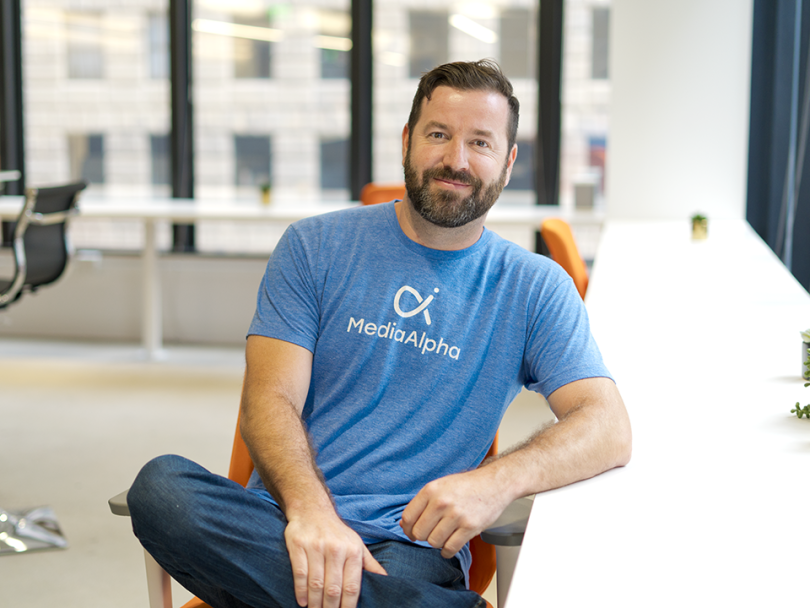 Robert Perine, VP of Product
Robert's job is to figure out what clients need and share that with the engineering team, which then transforms that knowledge into new business opportunities. 
BEYOND WORK: Robert is all about the outdoors and, when not in the office, he's camping or rock climbing with his wife and two kids.
How has MediaAlpha's product changed since you've been here? Where is it going next? 
Our advertising platform and marketplaces help insurance, travel, finance and education companies gain new customers and access new revenue streams. The product team makes sure it can be done as efficiently as possible. So, our core mission remains the same. It's our job to maintain the highest quality marketplaces and provide industry-leading capabilities. That said, our clients' needs are always changing, and we strive to stay ahead of the curve by developing close relationships and a deeper understanding of each business we work with. It is very difficult to predict how markets or customer needs will change, so we have to remain nimble. For the foreseeable future, we will continue to invest in automation and predictive analytics.
 
I love that we are small enough to know each other personally, and we are successful enough to enjoy tremendous autonomy and flexibility."

What's the vibe like at MediaAlpha? What sort of person does well here? 
I love that we are small enough to know each other personally, and we are successful enough to enjoy tremendous autonomy and flexibility. We focus on doing the little things better each day rather than chasing shiny new objects or putting out fires. I'm constantly excited to learn from my growing product team. We have new design and content experts that are helping us do a better job of showcasing the great progress we are making. 
Our organization is very open and very flat. A huge part of my job is encouraging team members from all parts of the business to work directly with engineers to share knowledge and deliver solutions. To be successful here, you have to be curious and proactive. We work in a very niche space, and the best way to learn is by asking lots of questions. I am inspired by the level of success we have achieved with such a small team and without boatloads of cash from VCs. We are thoughtful about how we use our time and who we hire.